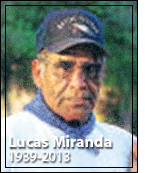 Obituary of Leroy "Lucas" Miranda (Pechanga tribe) was born on July 8, 1939 and passed into eternal life on July 30, 2013. Lucas was one of ten children born to Bill and Minnie Miranda. Born and raised in San Jacinto, Mr. Miranda resided on the Pechanga Indian Reservation for about 20 years before his death. He was a tribal elder of the Torres-Martinez band. He also is a U.S. Marine Corps military veteran. Mr. Miranda is survived by a sister, Christine Murphy, of Pechanga; two brothers, Bill Miranda of San Jacinto and Irvin Miranda of Pechanga and many, many close family members and close friends that loved him very much.
Viewing will be on Thursday, August 8, 2013 from 4-8 pm with a Rosary at 7 pm at Inland Memorial Harford Chapel, Hemet, CA. Graveside services are Friday, August 9, 2013 at 11 am at San Jacinto Valley Cemetery, San Jacinto,CA. – Source (edited): legacy.com
Leroy "Lucas" Miranda
by Ernie C. Salgado, Jr. (Soboba tribe)
On Friday, August 9, 2013 I attended the funeral of a lifelong friend, Leroy "Lucas" Miranda. "Lucas", we seem to have always called him "Lucas" since he was tagged with the nickname. How he came about the nick name and who he was as a friend is what I want to share with you.
"Leroy 'Lucas' Miranda was my friend; he was proud of his heritage, he was an honest man and a man of integrity. Those that knew him respected him as a man and as an elder."
When we were kids at San Jacinto Elementary School, in the City of San Jacinto "Lucas" was one of the school yard leaders. He wasn't a bully but it didn't take much for him to slap you up along the side of your head. He was a very good athlete and was fast afoot. I always remember he was pigeon toed. He walked with his toes pointed in toward each other. His cousin Johnny "Cake" Razon was also pigeon toed and just as fast.
Recess and lunch were our favorite classes as most of us didn't understand the value of education at that time although we had some very dedicated teachers that did everything possible to encourage us to learn without much success. Years later I was blessed with the opportunity to personnel thank some of these teacher. Sad as it is most of these great teachers would not be allowed to teach today because God was forever present in the classroom as was discipline. However, that's another story for another day.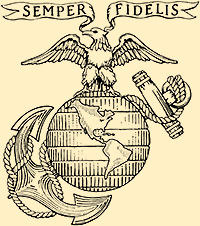 "Lucas" was a year ahead of me in school so off to high school he went. I joined him a year later. He joined the United States Marine Corps (USMC) at the end of his 10th grade year, 1954-55, I think. He wanted me to go with him, but I wanted to play football and I didn't think I could handle the military discipline nor did I think he would either. But was I ever wrong.
"Lucas" became a poster boy for the Marine Corps and he loved it. He became a Military Policeman and was later stationed in Guam where he excelled earning the rank of staff sergeant. Upon his Honorable Discharged from the service he planned on joining one of the local police forces. But because he was American Indian his chances dropped from none to zero. He wasn't able to handle the rejection and racism.
After the disappointment of not being able to pursue his dream of becoming a civilian policeman he took his first drink of beer and re-enlisted in the Marine Corps. This time it was a disaster as his drinking turned into a serious problem for him.
HOW HE GOT THE NICKNAME "LUCAS"
After his final discharge from the military is when he got the nickname "Lucas".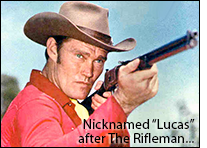 During one of his escapades he got hold of his dad's Winchester Model 1892 rifle, the same kind used by the popular television program The Rifleman starring Chuck Connors as Lucas McCain (1958-1963) and he ended up in downtown San Jacinto on a Saturday night.
I don't know if any shots were fired but eye witness accounts became more embellished with each telling until it became legendary. No one was hurt, but there were a lot of frightened people. According to eye witnesses, Lucas handed over the rifle to the "Barney Fife's" and they proceed to arrest him, but he became offend when one of the officers decided to use his baton on him.
Lucas was not a violent man, but he could defiantly fight. As I was saying one of the officers decided to use his baton on him and Lucas automatically took it away from him and went on to explain to him how to use it correctly and gave it back to him.
The officer got upset and came at him again and again Lucas took it away from him. By this time the other officer decided to help his fellow officer and went after Lucas. Any way, to make a long story short, after putting both officers on the ground he  allowed the Chief of Police to arrest him. And so the "legend of Lucas" was born.     
Leroy "Lucas" Miranda was my friend; he was proud of his heritage, he was an honest man and a man of integrity. Those that knew him respected him as a man and as an elder.
He was an enrolled member of Pechanga and he also had roots at Torres Martinez on his mother's side. He was the grandson of the legendary "Fig Tree John", John Razon a former tribal leaders of Torres Martinez.
Life is full of "ifs" but I do know in my heart that "if" he would have had the opportunity he would have been a great policeman. I also know that he would have been locking my sorry ass up as well.
God be with you "Lucas" rest in peace.  
Very respectfully,
Ernie C. Salgado Jr.
Tribal blogging program
Tribal: Luiseño
Reservation: Soboba Indian Reservation
FOUNDER/CEO: www.calie.org
EDITOR: The Indian Reporter www.theindianreporter.com
Web Site: www.apapas.com
CONTACT
RESUME/BIOGRAPHY