Publishing Corner:
ROY COOK NEWS BLOG
THE INDIAN REPORTER
TRIBAL BLOGGERS
Indian Community:
TRIBAL COMMUNITY
PROFILES
SOARING EAGLES
Science & Wonder
ASTRONOMY PORTAL
KID'S CLUBHOUSE
Indian Heros:
VETERAN COMMUNITY
MEDALS OF HONOR
CODE TALKERS
FAMOUS CHIEFS
HISTORIC BATTLES
POEMS ESSAYS
SPORTS-ATHLETES
MISSION FEDERATION
FAMOUS INDIANS
California Indian Art:
MISSION BASKETS
RED CLAY POTTERY
ETHNOGRAPHIC ART
CAVE ART
MUSIC
CALIE Library:
FEDERAL Resources
HEALTH & MEDICAL
INDIAN BOOK LIST
HISTORICAL Documents
Academic Financial Aid:
SCHOLARSHIPS
GRANTS & FUNDING
Tribal Governments:
TRIBAL COURTS
SOVEREIGNTY
SOCIAL SERVICES
TRIBAL DIRECTORY
Indian Gaming:
INDIAN CASINO FORUM
CLICK for more information www.hemetmobility.com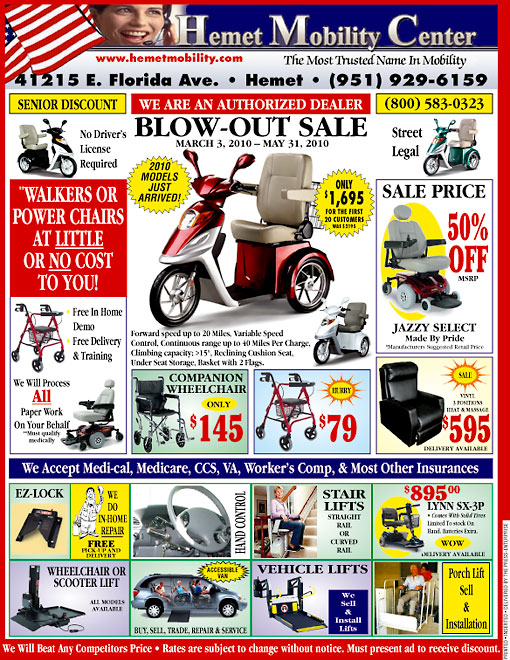 CLICK for more information www.hemetmobility.com
HEMET MOBILITY CENTER
CALL US TODAY:
(951) 929-6159 or (800) 583-0323
SHOWROOM:
HEMET MOBILITY CENTER
41215 E FLORIDA AVE.
HEMET, CA 92544
Hemet Mobility Center is The Most Trusted Name in Mobility in Southern California specializing in wheelchairs, scooters, lifts, accessible vans for seniors, handicapped.
Our center features the most innovative and top name-brand wheelchair accessible vans, handicap accessible vans, and mobility products.
Our goal is to help the physically challenged and disabled elevate their quality of life through increased mobility.
View our extensive on-line catalog of new and used inventory of mobility vans, handicap vehicles, wheelchair van conversions, and adaptive mobility equipment.
Hemet Mobility Center does in-home repairs.