57 MILLION HITS!!!
Feb. 2008-Sept 2013
NATIVE NEWS
Assignments Editor
Publishing Corner:
TRIBAL BLOGGERS:
ROY COOK NEWS BLOG
THE INDIAN REPORTER
JOURNAL FROM SDC
KAREN VIGNEAULT
BOOK STORE
Indian Community:
TRIBAL COMMUNITY
SOARING EAGLES
LEADER PROFILES
OBITUARIES
TANF GUIDE
KID'S GUIDES
Science & Wonder
ASTRONOMY PORTAL
KID'S CLUBHOUSE
Indian Heros:
VETERAN COMMUNITY
MEDALS OF HONOR
CODE TALKERS
FAMOUS CHIEFS
HISTORIC BATTLES
POEMS ESSAYS
SPORTS-ATHLETES
MISSION FEDERATION
FAMOUS INDIANS
California Indian Art:
MISSION BASKETS
RED CLAY POTTERY
ETHNOGRAPHIC ART
CAVE ART
MUSIC
CALIE Library:
FEDERAL Resources
HEALTH & MEDICAL
OBAMACARE
INDIAN BOOK LIST
HISTORICAL Documents
STD Information
Academic Financial Aid:
SCHOLARSHIPS
GRANTS & FUNDING
Tribal Governments:
TRIBAL COURTS
SOVEREIGNTY
SOCIAL SERVICES
TRIBAL DIRECTORY
Indian Gaming:
INDIAN CASINO FORUM
CALIFORNIA INDIAN EDUCATION
Welcome to the official California Indian Education (CALIE) website, the American Indian tribal community leader in on-line Native American educational resources and community services in Southern California Indian Country. We collaborate with the thirty California Indian Education Centers established by the California Department of Education; the Southern California Tribal Chairmen's Association, Inc. (SCTCA); and the twenty seven federally-recognized Tribal Governments located in Southern California. Please CONTACT US to become involved with your community website!
NEWS | COMMUNITY VOICES | JOBS | EVENTS
Español | 中文 | 日本 | Française | Deutsch | 한국어 | Россию | پارس
FEATURED ARTICLES & COMMUNITY NOTICES:
THANKSGIVING MEMORIES ON THE SOBOBA RESERVATION, 1955
Yester-Years
Rez Ball - Thanksgiving Day 1955
NOVEMBER 28, 2013 -- Rez Ball 2pm, Thanksgiving Day 1955 on the Soboba Indian reservation at what is today referred to the number one ball field. It seems like it was yesterday but in reality it was a life time ago. The baseball field was not like it is today with beautiful manicured grass, state of the art lights, shade trees, covered bleachers, paved parking lots and nice drinking fountains. No, it was a mix of hard sand, dirt and small rocks and dusty. We drank from a community water hose if there was water and if not from a shared water cooler... READ MORE.
NATIVE AMERICAN ACTORS CALL - CASTING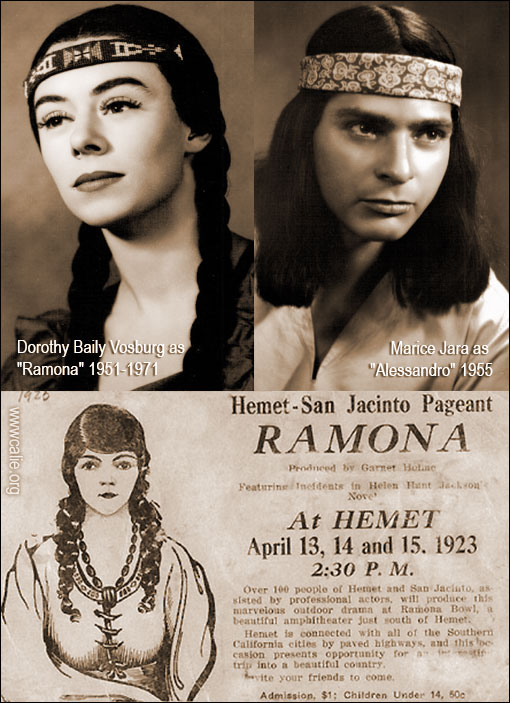 Click for an impressive collection of historical photos on Facebook...

Become a part of local Southern California history and folklore...
The Ramona Pageant Association is casting Native American actors for its 91st season for the roles of:
Ramona (female, mid twenties)
Alessandro (male, mid twenties to early thirties).
Actors must have stage experience and be physically fit with good voices to work outdoors in the Ramona Bowl Amphitheatre in Hemet, CA.
Interested actors please email your photos and resume to Dennis Anderson at wa6tmy@verizon.net or for further information call 951-652-4172. There is pay involved.
Rehearsals begin in late January on weekends only with performances scheduled for April 11, 12, 13, 26, 27 and May 3, 4 of 2014.
WATCH THE FREE TRAILER DOCUMENTARY (it's pretty interesting):
California's largest and longest-running outdoor play, a southern Riverside County tradition since 1923. With more than 400 cast members...

AMERICAN INDIAN WAR VETERANS HONORED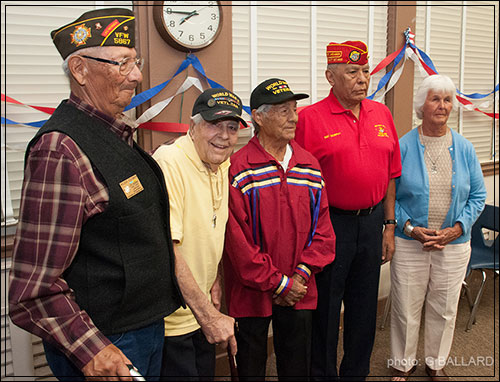 Local San Diego intertribal community war veteran survivors pose for photographs, Nov. 13, 2013 (l-r):
Wilbur Solomon (USN, Korea)
Manuel Flores (USMC, World War II)
Joe Renteria (USN, WW II)
Henry R. "Hank" Murphy (USMC, Korea)
Carmen Lucas (USMC, Vietnam)
OBAMACARE: AFFORDABLE HEALTHCARE ACT FOR NATIVE AMERICANS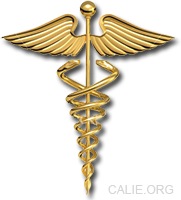 Whether you're for or against "Obamacare" it's the "law of the land" and its Open Enrollment Period officially began on October 1, 2013.

Our portal includes Consultation with California Tribes (what American Indians and Alaska Natives can expect when they consider buying a health insurance plan from Covered California™); official information about Getting Started in the Marketplace; Enrollment and Assistance options; tools for Shopping and Comparing plans; and Qualifying for low-income assistance...
GET THE FACTS.
FEDERAL GOVERNMENT OVERHAULS PROCESS FOR RECOGNIZING INDIAN TRIBES

US Overhauls Process for Recognizing Indian Tribes
By MICHAEL MELIA Associated Press, August 25, 2013
His tribe once controlled huge swaths of what is now New York and Connecticut, but the shrunken reservation presided over by Alan Russell today hosts little more than four mostly dilapidated homes and a pair of rattlesnake dens.
The Schaghticoke Indian Tribe leader believes its fortunes may soon be improving. As the U.S. Interior Department overhauls its rules for recognizing American Indian tribes, a nod from the federal government appears within reach, potentially bolstering its claims to surrounding land and opening the door to a tribal-owned casino.
"It's the future generations we're fighting for," Russell said....
This proposal, if enacted, could help scores of unrecognized American Indian tribes across the United States achieve "federal recognition" by the U.S. Department of the Interior Indian Affairs. Becoming a federally recognized Native American tribe is important because it can qualify tribal members for increased health and educational benefits, including validating their tribal sovereignty.
IN MEMORY OF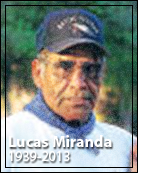 Obituary of Leroy "Lucas" Miranda (Pechanga tribe) was born on July 8, 1939 and passed into eternal life on July 30, 2013. Lucas was one of ten children born to Bill and Minnie Miranda. Born and raised in San Jacinto, Mr. Miranda resided on the Pechanga Indian Reservation for about 20 years before his death. He was a tribal elder of the Torres-Martinez band. He also is a U.S. Marine Corps military veteran. Mr. Miranda is survived by a sister, Christine Murphy, of Pechanga; two brothers, Bill Miranda of San Jacinto and Irvin Miranda of Pechanga and many, many close family members and close friends that loved him very much.
Leroy "Lucas" Miranda


by Ernie C. Salgado, Jr. (Soboba tribe)
"Leroy 'Lucas' Miranda was my friend; he was proud of his heritage, he was an honest man and a man of integrity. Those that knew him respected him as a man and as an elder."
On Friday, August 9, 2013 I attended the funeral of a lifelong friend, Leroy "Lucas" Miranda. "Lucas", we seem to have always called him "Lucas" since he was tagged with the nickname. How he came about the nick name and who he was as a friend is what I want to share with you... READ MORE.
SPORTS VIDEO
"This game has been in our blood for a thousand years...".
WATCH official Crooked Arrows theatrical movie trailer—visit: crookedarrows.com website.
Kent Eanes/Peck Entertainment
Tyler Hill, in "Crooked Arrows."
A reluctant new coach faces the challenge of leading a team of unhappy youths to a championship. On the way, setbacks are encountered and eventually overcome, and everyone, from the coach to the star to the last guy on the bench, learns something. Wouldn't it be great if "Crooked Arrows," a new movie about a Native American lacrosse team that takes on the prep school snobs, upended sports movie convention?
Not going to happen. Joe Logan (Brandon Routh), the son of the chief of the fictional Sunaquat tribe and onetime lacrosse star, manages the casino on the tribe's land; at his boss's insistence, Joe wins the tribal council's approval for an expansion, over the objections of his father, Ben (Gil Birmingham).
First, though, the council says Joe must go on a spiritual quest, which Ben decides means coaching the Sunaquat's disorganized high school squad. "Restore pride to our people and their game," Ben tells Joe. It's called "the medicine game" for a reason, he adds. "Let it heal you."
Initially, the team keeps losing. But when Joe introduces Crooked Arrow (Dennis Ambriz), his lacrosse guru and general wise man, the team starts to immerse itself in lacrosse's meaning to the tribe's culture. Soon on a winning path, it is headed for the big game against the Coventry School, where Joe once played.
Directed by Steve Rash, "Crooked Arrows" gets points for its glimpses of Native American culture and history — the film's backers include the Onondaga Nation.
Submitted by Roy Cook
2013 PROFESSIONAL POWWOW PHOTOS: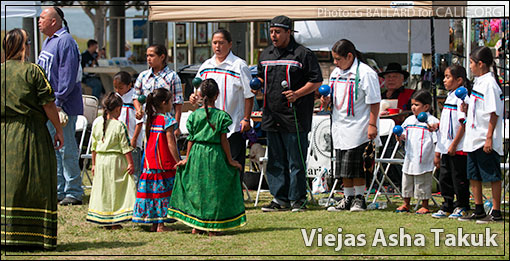 Viejas Asha Takuk singers, lead by Ral Christman (Kumeyaay).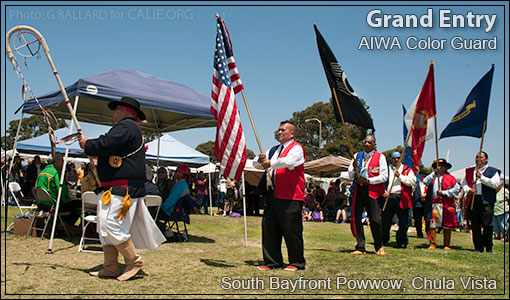 Grand Entry, AIWA Honor Guard.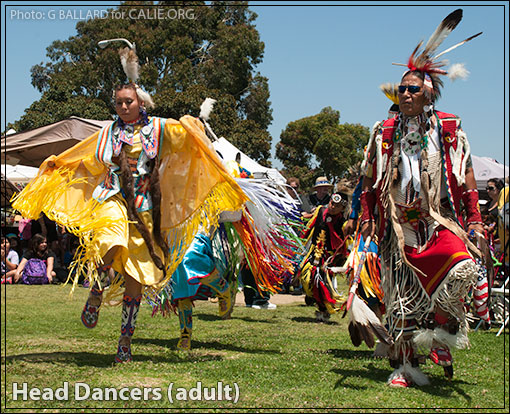 Head Dancers: Male: Richard VanDyke (Parker) (Omaha), female: Sandra Rivera (Navajo).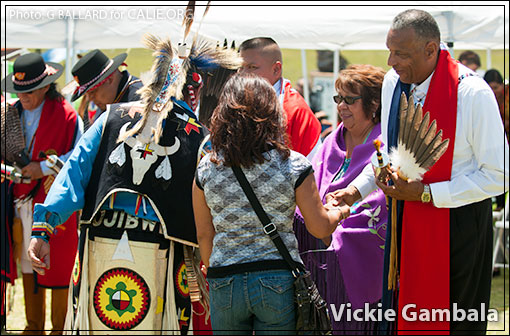 Vickie Gambala is honored by American Indian community members...MORE PICTURES/STORY.
+++++++
CALIE 5TH ANNIVERSARY:

This is a fairly typical Hourly Trend for CALIE statistics...
CALIE.ORG continues growing... please contact our CEO/ASSIGNMENTS EDITOR, Ernie Salgado, for more information about becoming involved with California Indian Education.
From the CEO, Editor:

"Dear Tribal Community,"

(especially U.S. Military Veterans and their families)

TRADITIONAL Native American Indian & World Quotations
When people hurt you over and over, think of them like sandpaper. They may scratch and hurt you a bit, but in the end, you end up polished and they end up useless.
- Chris Colfer (Actor, singer, 1990-)
READ MORE Earth writings...


INDIGENOUS AMERICAN INDIAN TRIBES CALIFORNIA
CALIE is committed to serving the educational needs of the Indigenous peoples of California and building a better future for all Americans across the United States of America.
There are some 565 federally-recognized Indian tribes in the United States (approximately 109 of them are located in California, with some 18 of those in the County of San Diego), plus millions of Native American urban Indians who may depend on and benefit from tribal educational programs... please take a moment to send us your FEEDBACK & SUGGESTIONS for improving this tribal educational resource.
Contact CALIE ASSIGNMENTS EDITOR to request a news reporter to cover your tribal events.
House Republicans Attempt to Dismantle Vital Education Funding to Indian Country
by Levi Rickert, editor-in-chief in Native Challenges
source: nativenewsnetwork.com
WASHINGTON – This week, House Republicans announced their intention to bring to the floor a highly partisan bill that deconstructs the Elementary and Secondary Education Act HR 5. The deeply flawed HR 5 undermines our national commitment to equity in education by consolidating federal funds currently designated for special populations. If HR 5 is enacted, American Indian, Native Hawaiian, and Alaskan Native students would be greatly harmed by the GOP proposal to dissolve their dedicated funding and the associated educational initiatives that exist under Title VII of the current reauthorization... READ FULL BREAKING NEWS STORY
Congresswoman McCollum issued the following statement:
"I object in the strongest terms to this abandonment of our federal trust responsibility to Native American youth. Students throughout Indian Country are already bearing the brunt of sequestration's cuts to education. Now this partisan bill would strip away the guaranteed funding and the crucial academic and cultural supports that Native students need. I commend Mr. Young, Ms. Gabbard, and Ms. Hanabusa for advancing this amendment to restore and improve the Indian, Native Hawaiian, and Alaska Native Education Title."

OFFICE OF TRIBAL GOVERNMENT RELATIONS
Eastern Region Training Summit for military veterans
WHEN: April 9-10, 2013
WHERE: Pala Casino Spa & Resort, Pala, California
DOWNLOAD BROCHURE PDF
Registration Required

PALA NEWS PHOTOS: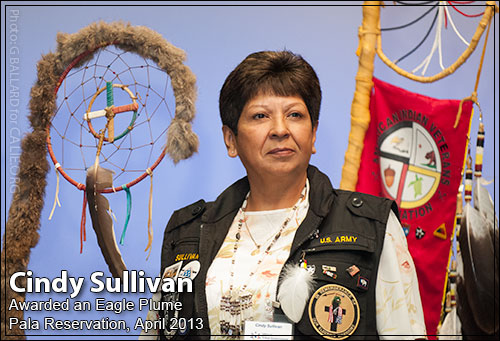 Cindy Sullivan (Pala tribe) is a well-known Southern California American Indian female war veteran. National American Indian Veterans NAIV National Commander Donald Loudner (Crow Creek Sioux) presented her with an Eagle Plume and she posed with the plume on her vest for the above portrait shortly after the ceremony, April, 9, 2013....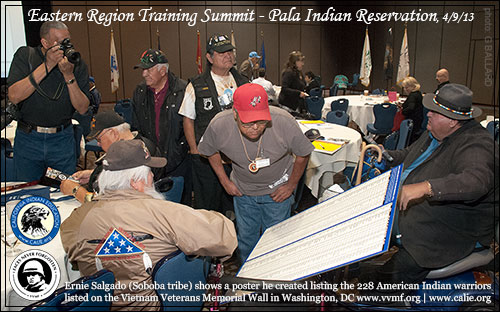 Ernie Salgado, Jr (Luiseño, Soboba tribe) shows a poster he created listing the known 230 Native warriors listed as Native American on the Vietnam Veterans Memorial Wall in Washington, DC. Mr. Salgado is collaborating with the Vietnam Veterans Memorial Fund VVMF, and American tribes to identify all the American Indian and Alaska Natives on The Wall project.
PALA VETERANS STORY & MORE PHOTOS. Alternate americanindiansource.com RELEASE (PDF).

CALIFORNIA INDIAN SOVEREIGNTY CENTER (CISC) Notices:
NEWSLETTER | REPORT | CALENDAR 2013

Dear Tribal Community,
A few years past the Vietnam Veterans Memorial Wall was created to honor the 58,282 brave American warriors that were killed in action or missing during the Vietnam War.
The Vietnam Veterans Memorial Fund is currently expanding the honoring of these heroes by building The Education Center next to "The Wall."

Two local American Indian boys — Joe Pink (Pala), and Willie Lyons (Morongo) — are already included in this memorial.
BARONA INDIAN RESERVATION, JANUARY 23, 2013 — Janna Hoehn (Vietnam Veterans Memorial Fund VVMF), representing Jan Scruggs, presented the "Faces Never Forgotten" project to American Indian veterans to develop Tribal involvement in the national project... READ MORE.
YOUR PERSONAL INVITATION
I would like to extend an invitation for you to join us at Ahmium in identifying any other of our brothers or sisters that were killed or missing in Vietnam or any of our Wars or "Conflicts".
Please read my COMPLETE LETTER for more information, including special contact information....
Ernie C. Salgado Jr.
Executive Director, Ahmium Education, Inc.
Soboba Tribal Member
To submit your letter for posting, please CONTACT THE EDITOR.
Serving the Southern California Inter-Tribal Community with employment information, job fairs, job listings, vocational training, education, courses and leads to full and part time jobs in Southern California. Help understanding employment laws and regulations, and where to get legal help within the Tribal Judicial System.
To post your job notices here, please CONTACT WEBMASTER...


Contact CALIE ASSIGNMENTS EDITOR to request a news reporter to cover & blog your tribal events.
The fun places where to find active fun things to do in Southern California, educational, family values, sports, cultural, and entertainment in San Diego area.
2014:
CMIC's Leadership Training for Entrepreneurial, Small Business, Economic Development
Who Should Apply?
Highly-motivated Native individuals who want to start a business & Native business owners who want to expand their existing business...
WHEN: February 5-7, 2014 (2-1/2 days)
March 5-6, 2014 (2 days)
April 2-4, 2014 (2-1/2 days)
April 29-30, 2014 (2 days)
WHERE: Training locations to be determined
DOWNLOAD POSTER, SPONSOR, APPLICATION PDF
CMIC website
2013:
SOUTHERN INDIAN HEALTH COUNCIL SIHC

EVENTS & NOTICES:
Posted by Brandie Taylor

Healthy Families Dinner & Crafts
Southern Indian Health Council
CAMPO: Oct. 22, 2013
MANZANITA: Oct. 17, 2013
JAMUL: Oct. 24, 2013
CAMPO: Oct. 22, 2013
VIEJAS: Oct. 16, 2013
BARONA: Oct. 8, 2013
DOWNLOAD FLYERS PDF

+++++++

8th Annual Out of the Darkness Community Walk, American Foundation for Suicide Prevention
WHEN: October 19, 2013
TIME: 8:30am
WHERE: Embarcadero, N. Seaport Village
San Diego downtown
DOWNLOAD PDF REGISTRATION/FLYER

+++++++

Walk for Wellness in honor of Domestic Violence Prevention Awareness & Breast Cancer Awareness: Join us for a one-mile walk!
WHERE (several locations): Alpine Clinic, Campo Clinic, Barona Golf Event Center
DATE: Oct 3, 2013
SIHC.ORG website for more info
DOWNLOAD PDF POSTER

+++++++

Native American Men and Womens' Wellness Conference
Southern Indian Health Council
WHEN: October 3, 2013
WHERE: Barona Golf Event Center
Barona Indian Reservation
DOWNLOAD JPEG FLYER

+++++++

Flu Clinic: Get Vaccinated Today!
Southern Indian Health Council
WHEN: October 1st
TIME: 1-4pm
WHERE: Alpiner
DOWNLOAD FLYER PDF
+++++++
AH-HA-KWE-AH-MAC
MATAAYUUM Gathering Kumeyaay Acorns
WHEN: October 19-20, 2013
DOWNLOAD PDF FLYER FOR MORE INFO
+++++++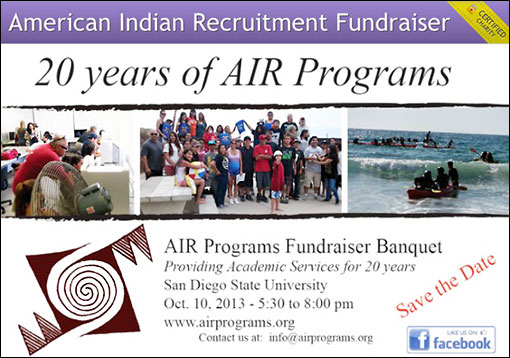 AMERICAN INDIAN FUNDRAISER
AIR Programs Fundraiser Banquet
WHEN: Oct. 10, 2013
TIME: 5:30-8pm
WHERE: San Diego State University
Posted by Brandie Taylor
WEBSITE
+++++++
California Natives Have Talent
Music | Art | Comedy | Dance | Traditional
WHEN: October 19, 2013
WHERE: Viejas Ipai Tipai Park, starts 4pm
calinativeshavetalent.com
+++++++
AMERICAN INDIAN FUNDRAISER
AIR Programs Fundraiser Banquet
WHEN: Oct. 10, 2013
TIME: 5:30-8pm
WHERE: San Diego State University
WEBSITE
ONGOING SCHEDULED EVENTS:

4TH SUNDAYS
MUSIC | CONCERTS | ART | CULTURE
Dorothy Ramon Learning Center, Inc.
SCHEDULE
+++++++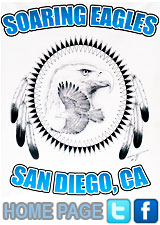 SOARING EAGLES COMMUNITY NIGHTS
See flyers for more info
SOARING EAGLES WEBSITE
DOWNLOAD POSTER May 29th
DOWNLOAD POSTER June 26th
+++++++
TRIBAL FOOD BANK & CLOTHES DRIVE
Tribes 4 Christ
WHEN: Fourth Monday of every month
TIME: 3-4:30pm
WHERE: La Jolla Tribal Hall Gym
22000 Highway 78, Pauma Valley, CA
PHONE: 760-742-1481
DOWNLOAD POSTER (PDF)
We operate on a first come, first serve basis and we are open to all people groups. Everyone is welcomed to browse but actual shopping doesn't start until 3:00pm every 4th Monday of each month. We partner with the North County Food Bank of San Marcos and they bring us fresh fruit and veggies and different kinds of breads, pastries and some times milk and eggs. Please help us get the word out.
To post your event, please CONTACT WEBMASTER...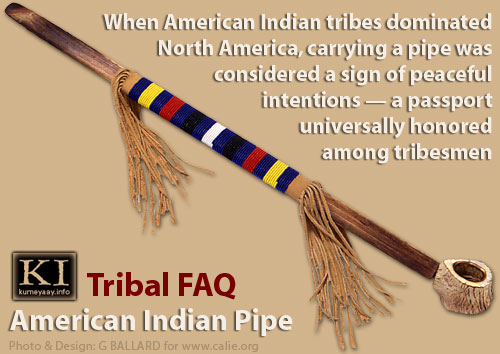 TOP 50 Frequently Asked Questions about American Indian tribes — "American Indian or Native American?" | "Tribe or Band?" | "Who is an American Indian?" | "What is Indian Country?" | "Tribal Sovereignty" | "Indian Preference Jobs"...
NEW: AMERICAN INDIAN WOMEN IN HISTORY


Sacagawea, Shoshone, c. 1788-1812, Guide


Maria Tallchief, Osage, "America's First Prima Ballerina"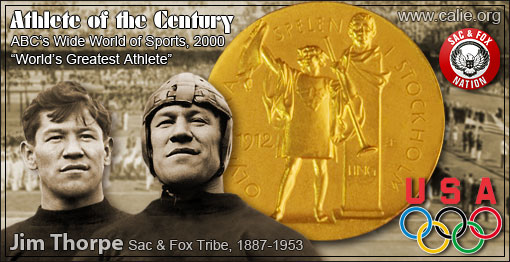 JIM THORPE (Sac & Fox Tribe) 1987-1953,
"Athlete of the Century" | "Greatest Athlete in the World"....


AMERICAN TRIBAL SOVEREIGNTY — American tribes practiced their own forms of government for thousands of years before European intrusion and the formation of the United States government. The Constitution of the United States, U.S. Supreme Court, federal and state laws, as well as historical treaties all support the tribes' present-day legal rights to self-government and certain forms of tribal sovereignty....


JOHN CHIEF MEYERS (Cahuilla, Riverside, CA), 1880-1971, MLB teams the "Ironman" played for: New York Giants, Boston Braves, Brooklyn Robins. Career batting average .291, played in four World Series (1911, 1912, 1913, 1916)....


American Indian Boarding School Experience
CALIE is compiling a historical Web portal for research into what happened circa 1850-1930...


VIEJAS "V-STARS" hold successful Public Safety & Native Wellness Conference for Native American Indian youth and families...professional photo blog.
www.californiaindianeducation.org AKA www.CALIE.org www.californiaindianeducation.com • CALIE.ORG is not affiliated with www.calie.com www.calie.gov www.cali.gov www.calie.edu www.cali.com www.cali.org www.calie.gov