72 MILLION HITS!!!
Feb. 2008-July 2014
NATIVE NEWS
Assignments Editor
Publishing Corner:
TRIBAL BLOGGERS:
ROY COOK NEWS BLOG
THE INDIAN REPORTER
JOURNAL FROM SDC
KAREN VIGNEAULT
BOOK STORE
CREATIVE INDIAN
Indian Community:
TRIBAL COMMUNITY
SOARING EAGLES
LEADER PROFILES
OBITUARIES
TANF GUIDE
KID'S GUIDES
Science & Wonder
ASTRONOMY PORTAL
KID'S CLUBHOUSE
Indian Heros:
VETERAN COMMUNITY
MEDALS OF HONOR
CODE TALKERS
FAMOUS CHIEFS
HISTORIC BATTLES
POEMS ESSAYS
SPORTS-ATHLETES
MISSION FEDERATION
FAMOUS INDIANS
California Indian Art:
MISSION BASKETS
RED CLAY POTTERY
ETHNOGRAPHIC ART
CAVE ART
MUSIC
CALIE Library:
FEDERAL Resources
HEALTH & MEDICAL
OBAMACARE
INDIAN BOOK LIST
HISTORICAL Documents
STD Information
TRIBAL FAQ
Inspirational Quotes:
TRADITIONAL
WORLD
Academic Financial Aid:
SCHOLARSHIPS
GRANTS & FUNDING
Tribal Governments:
TRIBAL COURTS
SOVEREIGNTY
SOCIAL SERVICES
TRIBAL DIRECTORY
Indian Gaming:
INDIAN CASINO FORUM
CALIFORNIA INDIAN EDUCATION

Welcome to the official California Indian Education (CALIE) website, the American Indian tribal community leader in on-line Native American educational resources and community services in Southern California Indian Country. We collaborate with the thirty California Indian Education Centers established by the California Department of Education, and the twenty seven federally-recognized Tribal Governments located in Southern California. Please CONTACT US to become involved with your community website!
NEWS | COMMUNITY VOICES | JOBS | EVENTS | DEATHS
Español | 中文 | 日本 | Française | Deutsch | 한국어 | Россию | پارس
FEATURED ARTICLES & COMMUNITY NOTICES:
Letter from the CALIE Editor & CEO Ernie Salgado
SUBJECT: Riverside Co. Supervisor Tribal Support for Rose Salgado
Dear Tribal community,
I am asking for your support for my younger sister, Rose Salgado, for the position of Riverside County Supervisor for the Third District which includes the local communities of San Jacinto, Hemet, Menifee, Temecula, Murrieta and the surrounding unincorporated communities.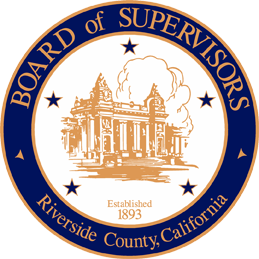 The Third Supervisorial District was vacated earlier this month with the election of the Third District Supervisor, Jeff Stone to the State Senate. The process to replace the outgoing Supervisor is for the Governor of California to make the appointment. There is no timeline for him to make the appointment to fill the position however we believe he will do so in January or February of 2015.
My sister Rose was nominated by representatives of the Third District and has already received the support of the Cities of San Jacinto and Hemet City Councils and United Way and several other organizations. She has received verbal support from the majority of the Tribes in Riverside County and we are expecting their letters with the coming week. We expect other cities, organizations and unincorporated communities to submit letters of support.
I understand that your tribe or organization may not be located in Riverside County or within the Third Supervisorial District of Riverside County. However, we would like to demonstrate to the Governor the vast support for my sister, Rose from the Tribal community. 
Also, the reason I am requesting your support for my sister in because she is not allowed to actively campaign or solicit funds. Our extended family and her supporter are implementing a grassroots effort to bring about her appointment to the Riverside County Board of Supervisors as the Supervisor for the Third District of Riverside County.
Rose is highly qualified for this most important position and will be a positive role model for the tribal community and the people of the Third Supervisorial District in Riverside County.  
For you review I will be linking a copy of Rose Salgado's resume and a draft letter for your review and approval. Also included is the mailing address for the Governor. And if you would please send me a copy of your letter of support for our files we would really appreciate it.
Yours truly,
ERNIE C. SALGADO, JR
Please mail your letter of support to Governor Brown at the address listed below and if you would please CC Cynthia Gomez the California Tribal Advisor to the Governor:
Governor Jerry Brown
c/o State Capitol, Suite 1173
Sacramento, CA 95814
Email Governor Brown
Cynthia Gomez, Tribal Advisor
Office of Governor Edmund G. Brown Jr.
1550 Harbor Blvd., Suite 100
West Sacramento, California 95691
Office: (916) 373-3710
Email Cynthia Gomez
Educator Roy Cook selected as 2014 American Indian Heritage Month Local Hero:
October 29, 2014
By Monica Medina
He is a tribal writer, self-published author, journalist, and a Native singer and American Indian artist. He's also an educator, one who carries the teachings of his elders and passes them on to the next generation. Meet Roy Cook, a 2014 American Indian Heritage Month Local Hero.
In nominating him as a Local Hero, Devon Lomayesva, board member for the American Indian Recruitment Programs, notes, "Roy has been a dynamic figure in the San Diego urban and reservation Indian community for decades, contributing to the educational, cultural, and historical presence of Indians in San Diego County and beyond. The breadth of knowledge and information he has, and will continue to share, will have a lasting impact on Natives and non-Natives alike."
As a champion of his community, Cook's achievements are many. Yet, ask him about his life—his childhood, his dreams and from where he draws his inspiration—and he may not answer directly. Instead, he notes that the answers can be found on a website he has developed: AmericanIndianSource.com.
Yuman Language Family Summit 2015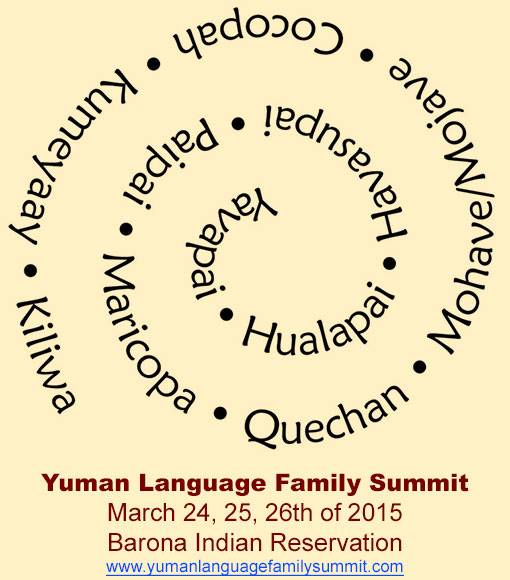 Roy Cook americanindiansource.com:
Soaring Eagle and Wildcat Singers in Tecolote Canyon at Baskets and Botany


by Roy Cook, Opata-Oodham, Mazopiye Wishasha: Writer, Singer, Speaker
It was a brisk sunny California day. October 11, 1014 from 10am to 4pm at San Diego City Park in Tecolote Nature Center, celebrated the traditions of the original Californians: the Kumeyaay Native American people.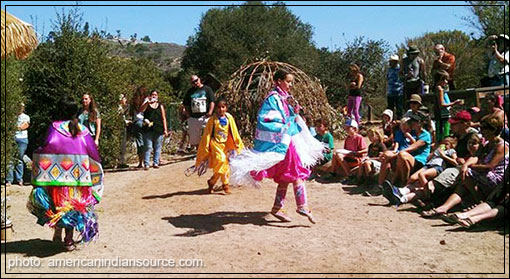 Of note was the respectful appreciation for our favorite elder, Jane Dumas. Although she is no longer with us she was recognized for her past contributions. She had been associated with Tecolote Nature Center for the past 40 years.
The Baskets and Botany event offers tribal songs, basket weaving, informative displays, pottery, and sand painting. You can go on a bird walk, eat Indian fry bread, or learn to make a Native American craft project in the craft room with Indian Soaring Eagles friends: Vickie Gambala, Mara Peters, Dina Brandon, Lizzete Flores and young friends.

Additionally: Stan and Martha Rodriguez provided Kumeyaay baskets, jewelry, games and tools. Also, in an outdoor specialty area, Sylvia Mejia did the clay art and pottery activity.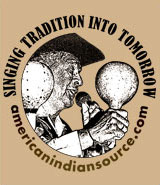 At noon in the activity area Juan Meza Cuero was again invited by Park Ranger, Marla Gilmore to sing Wildcat songs. We were able to present five adult singers for the noon presentation: Song leader-Juan Meza Cuero, Stan Rodriguez and his son, Ben Nance, Henry Mendibles and Roy Cook.
Juan has been singing the songs of the Tipai-Kumeyaay for over seventy years. Click on more on the Wildcat songs and Jon Meza Cuero or Bird songs in general.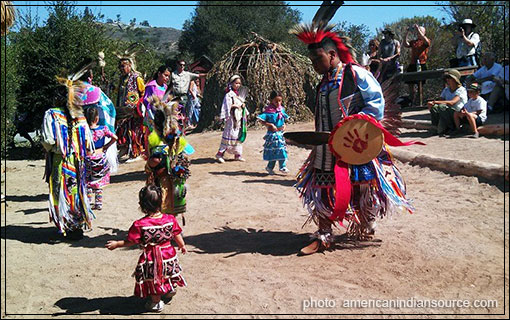 For the first time the Soaring Eagle dancers presented the dance styles and songs of the pow wow tradition. The one PM presentation was also held in the activity area and featured the Native American children in colorful traditional outfits. Songs were sung by Ben Nance and Roy Cook for the children. Led by dance instructor Chuck Cadotte there were many 'Kodak' moments for all to treasure and enjoy. Some of the younger dancers were eager to participate.
Maybe we will see you at the next Tribal culture event.
Mehan, thank you.
New Articles by Roy Cook:
Balboa Park Beckons Soaring Eagles
The late afternoon shaded, green grass with cooling breezes called the community to gather in the traditional circle. The Soaring Eagle youth program is always about the children. After an August 27, 2014 warm afternoon, the summer gathering held in the Pepper Tree Grove of Balboa Park for the last time this summer is most welcome... READ MORE.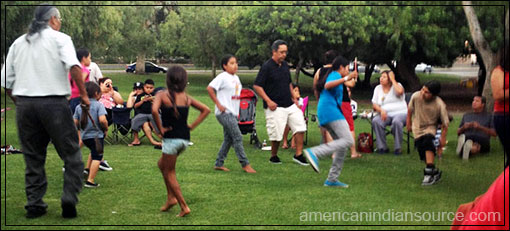 Soaring Eagle Balboa Park Experience

The Soaring Eagle youth program is all about the children and this August 20, 2014 summer gathering is held in the Pepper Tree Grove of Balboa Park for the second time this summer. This evening is unique because we can see the seeds of our Indian music, dance, respect and spirituality being introduced to new sets of families and very young dancers. We are empowered by the reception and pow wow trails traveled by past youth and parents in the Soaring Eagle experience. We can all share in our pride of culture and dancers achievements.
Announcements and prayers for all our community were provided by Honored elder Randy Edmonds... READ MORE.
John Hood, Diné, USMC
John Hood, Dine' USMC shared with us. "My father passed; A man often seen on horses in his younger years, just as his father did; This man named me after his older brother, Johnnie D. Hood (US Army); Who died as a POW in the Bataan Death March In WWII; Dad had me carry the name with honor; A name well preserved with his nephew, a Vietnam Viet with UMSC; A shield that walked for him in Navajoland in his absence; But thanks to my dad, I guess there is a handshake and hug up yonder; The blessings are mine to share with dad. May your walk be in beauty as well."

Not all Navahos were trained as code talkers and yet they suffered more tortures. One account is: Joe Kieyoomia suffered months of beatings before the Japanese accepted his claim to Navajo ancestry.
He survived the Bataan Death March that killed thousands of starved U.S. and Philippine soldiers. When the "Navajo Code" had the Japanese baffled, Kieyoomia was questioned and then tortured, although he could only understand bits and pieces of what trained Navajo Code Talkers were saying, the code was so sophisticated that he eventually told the Japanese that it sounded like nonsense to him.
Kieyoomia was not trained as a code talker and did not know about the code. Stripped naked and made to stand for hours in deep snow until he talked, Joe Kieyoomia's feet froze to the ground. Finally allowed to return to his cell, a guard shoved him, causing the soles of his feet to tear... READ MORE.
Family Health Watch:
Could Grandparents Really Lower Their Risk of Alzheimer's by Doing This?
New research reveals that women who take care of their grandchildren one day a week are less likely to develop Alzheimer's. This is because the mental activity derived from looking after youngsters can actually increase brain function... READ MORE.


blog.thealzheimerssite.com
Articles, short films and informational videos about alzheimer's and the family.
SUPPORT TRIBAL EDUCATION: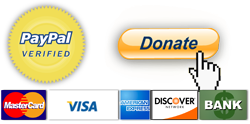 We have established a convenient Verified Corporate PayPal account to receive payments and financial donations — please click on an amount below and follow the instructions on PayPal's secure server to support California Indian Education:

$25


$50


$75


$100


$250


$500


$1,000


Unspecified amounts
Thank you, your donations and gifts are tax deductible under our 501(c)3 non-profit tribal community organization.
Please visit our Volunteer, Sponsor & Advertizing opportunities portal for additional information.
INDIGENOUS AMERICAN INDIAN TRIBES CALIFORNIA
CALIE is committed to serving the educational needs of the Indigenous peoples of California and building a better future for all Americans across the United States of America.
There are some 565 federally-recognized Indian tribes in the United States (approximately 109 of them are located in California, with some 18 of those in the County of San Diego), plus millions of Native American urban Indians who may depend on and benefit from tribal educational programs... please take a moment to send us your FEEDBACK & SUGGESTIONS for improving this tribal educational resource.

TRADITIONAL Native American Indian & World Quotations

I am an Indian, American Indian. I prefer 'American Indian' (because) anyone born in the western hemisphere is a native American.
- Russell Means, Republic of Lakotah
(Activist, actor 1939-2012)
READ MORE Earth writings...


CALIE.ORG Website Turns Six Years!
Established February of 2008 by Ernie C. Salgado Jr., www.californiaindianeducation.org website celebrated its sixth anniversary during Feb. 2014.
STATISTICS (calie.org domain only):
HITS: 61,000,000 (about 2 million Hits a month)
PAGES VIEWED: about 100,000 per month
UNIQUE DAILY VISITORS: 1.86 million (logging about 50,000 per month)
OUR TOP 10 MOST POPULAR PAGES:
Please contact our CEO/ASSIGNMENTS EDITOR, Ernie Salgado, for more information about becoming involved with your tribal community website and supporting California Indian Education.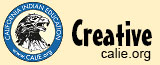 CALIE.ORG/creative is developing a Wordpress site to showcase the best tribal inspired creative multimedia content on the Internet — everything from photojournalistic still documentaries, research articles, posters. Creative Indian is a work in progress...
Something to Say: Success Principles for Afterschool Arts Programs From Urban Youth and Other Experts
Market research offers insights into how to engage urban tweens in afterschool arts.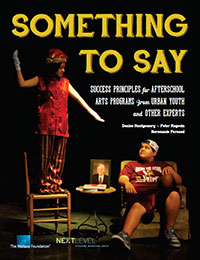 How can high-quality arts programs attract and retain low-income urban tweens?
Drawing on hundreds of interviews with young people, their families, leaders of exemplary programs and others nationwide, this report offers some answers, including 10 principles for developing effective programming.
An infographic illustrating key findings, a report "knowledge-in-brief," a video introduction and video profiles of six outstanding arts organizations offer compelling supplemental reading and viewing... DOWNLOAD PDF (22MB).
Author(s): Denise Montgomery, Peter Rogovin, Nero Persaud
Published by:

Native American Girl Super Hero

added to CALIE Famous Indians...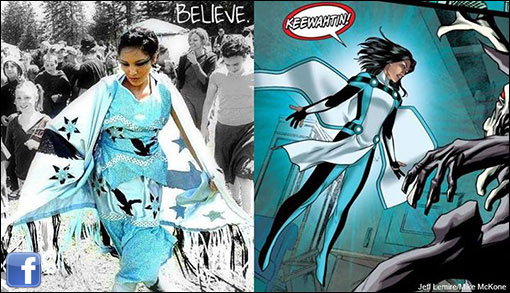 DC Comics: A MIGHTY GIRL CREE
DC Comics' new teenage superhero was inspired by Native American education activist Shannen Koostachin (Attawapiskat First Nation).
The new DC Comics animated character called Equinox, a ficticious 16-year-old girl from the Cree Indian community of Moose Factory, Ontario, Canada, will appear in a five-issue story in the Justice League Canada comic book.
Equinox possesses special powers connected to the Earth that change with the seasons.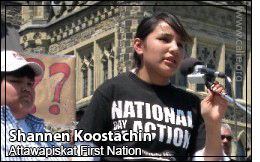 At the age of 14, Shannen was nominated for the International Children's Peace Prize in 2009 for her educational activism. Tragically, Shannen was killed in a car accident in 2010.
However, her dream lives on in Shannen's Dream, a youth-driven movement advocating educational funding for safe and culturally-based programs for First Nations children across Canada, and in the new Attawapiskat tribal school that will bear her name.... READ MORE.
True Story of Wilma Mankiller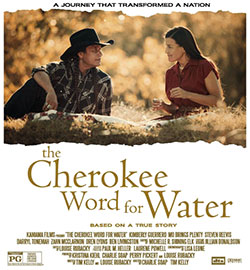 The Cherokee Word for Water is a feature-length motion picture that tells the story of the work that led Wilma Mankiller to become the first modern female Chief of the Cherokee Nation.
"It's a woman's story. It's how a woman goes about unifying a community toward a greater purpose that serves everyone regardless if they are male or female, old or young, Cherokee or non-Cherokee, you know, it's about getting back to being human beings," Kimberly Norris-Guerrero (Cherokee) said. Kimberly played Mankiller in the film.
WATCH THE FREE MOVIE TRAILER:
(more videos in CALIE CREATIVE)
Tribal Funeral & Death Notices:
April Pico Taylor
Santa Ysabel (download flyer).
Robert Augustine Orosco
1982-2014
Soboba (download flyer).
Merrie Maxcy Quis Quis
1918-2014
Santa Ysabel (download flyer).
Eunice A. Guachena
1937-2014
Santa Ysabel (download flyer).
Theodore "Ted" Guachena
1938-2014
Santa Ysabel (download flyer).
Patsy "Pat" Salgado
1946-2014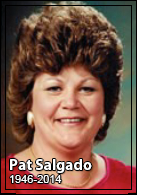 Patsy "Pat" Ann Salgado went to heaven on June 22, 2014. She was born March 30, 1946 in Kingsport, Tennessee where she lived until the age of nine. She and her family moved to Chicago, Illinois and later to Gary, Indiana. In 1962, again with her family, she move to Long Beach, California were she attended Poly High School. She was a beloved homemaker, wife, mother, grandmother and great-grandmother... Mrs. Salgado is survived by her husband of fifty one years, Ernie C. Salgado Jr., of the Soboba Band of Luiseno Indians...
READ OBITUARY.
Teddy Lou Qwe Pablo
1992-2014
Campo (download flyer).
Albert Benjamin Linton
Santa Ysabel (download flyer).
Vincent Louis Burch
Campo (download PDF).
Jane Dumas
Jamul (download PDF).
Abe Pena
Santa Ysabel (download PDF).
Alice Ponchetti
Santa Ysabel (download PDF).
EDWARD THOMAS ARVISO
Rincon (download PDF).
JANICE CUERO PRIETO
1950-2014
Campo (download PDF).
TINA LOUISE LINTON HOLMES
Santa Ysabel (download PDF).
Contact CALIE ASSIGNMENTS EDITOR to request a news reporter to cover your tribal events.
President Obama is looking for tribal leaders to join his environmental Task Force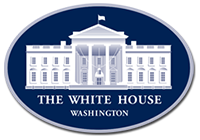 State, local and tribal leaders across the country are already contending with more frequent or severe heat waves, droughts, wildfires, storms and floods, and other impacts of climate change.
The Task Force will provide recommendations to the President on removing barriers to resilient investments, modernizing Federal grant and loan programs to better support local efforts, and developing the information and tools they need to prepare...
Task Force members comprise governors, mayors, county officials and tribal leaders, representing a diverse range of communities — see the complete FACT SHEET: Executive Order on Climate Preparedness.

US Overhauls Process for Recognizing Indian Tribes (AP) google.com | DOWNLOAD PDF

EDITORIAL: Jamul Casino, local organized opposition
RE: U-T San Diego article by Karen Pearlman, Feb. 7, 2014: JAMUL CASINO PROPOSAL DRAWS STRONG OPPOSITION; SUITS FILED
Editorial by Gary G. Ballard, Feb. 8, 2014
Few quotations in the news move me to publicly comment these days about American Indian affairs, but this is such a profound statement:
"Jamul will never be the same (if the Jamul casino is built). It would bring other big-city problems, more noise, more crime, more traffic, more light pollution."


Dianne Jacob, San Diego County Supervisor
I am not sure if San Diego County Supervisor Jacob conveyed these words in an official capacity or as a local citizen, yet they bear discussion from an historical perspective.
First, I will say to Ms. Jacob and her neighbors — yes, that's called "progress" and American Indians certainly know a thing or two about "progress." ... READ EDITORIAL.
Jill Sherman-Warne in recovery: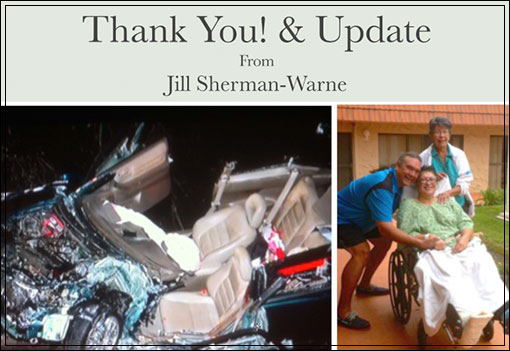 Dear Community,
My family and I give our sincere thanks to the many friends and colleagues that have sent cards, flowers and most important, the prayers and encouragement for my recovery. Following a Native American Environmental Protection Coalition (NAEPC) meeting, I was hit by a drunk driver (twice the legal limit) in a head on collision at 65 mph. This was a life changing event, but we look at the positive, I am alive. After 4 months of rehab and surgeries, I am not home yet but I hope to be home soon. I will have some permeant disability, but I will be back to work for Indian country soon. This terrible accident reminds me there is much more work to do for our Tribal members and I want to be a part of it DOWNLOAD PDF.
Jill Sherman-Warne
Serving the Southern California Inter-Tribal Community with employment information, job fairs, job listings, vocational training, education, courses and leads to full and part time jobs in Southern California. Help understanding employment laws and regulations, and where to get legal help within the Tribal Judicial System.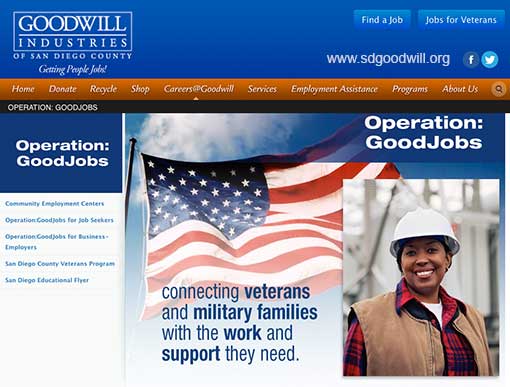 Jobs & Job Training for Veterans in County of San Diego
Goodwill Industries of San Diego County has launched several programs (including Operation:GoodJobs) serving military veterans and their families. These programs focus on eliminating barriers to employment to facilitate your transition to the civilian workplace, prepare for your career, and assist you on the road to economic independence....
Operation:GoodJobs
The Operation:GoodJobs program is being supported by a $5 million grant from the Walmart Foundation and encompasses five states and twelve Goodwill Industries organizations. Each Goodwill organization is partnering with many agencies and organizations in the local area to help ensure that you and your family have every opportunity to succeed.
To post your job notices here, please CONTACT WEBMASTER...


Contact CALIE ASSIGNMENTS EDITOR to request a news reporter to cover & blog your tribal events.
The fun places where to find active fun things to do in Southern California, educational, family values, sports, cultural, and entertainment in San Diego area.
2015: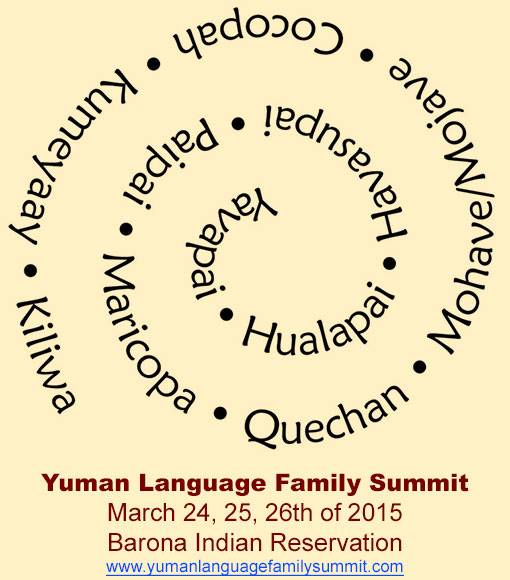 2014:
+++++++
SOUTHERN INDIAN HEALTH COUNCIL SIHC

EVENTS & NOTICES:
Posted by Brandie Taylor

+++++++

Parenting Classes
(10-week course)
DOWNLOAD PDF

+++++++

Educational Groups
Alcohol & Drug Dependency, Suicide Prevention, Domestic Violence, Anger, HIV/AIDS/STDs, Loss & Grief, Historical Trauma, and more...
Open to all ages 15 years and up.
WHEN: Thursdays, 5:30-7pm
WHERE: La Posta Substance Abuse Center
DOWNLOAD PDF
ONGOING SCHEDULED EVENTS:

4TH SUNDAYS
MUSIC | CONCERTS | ART | CULTURE
Dorothy Ramon Learning Center, Inc.
SCHEDULE
+++++++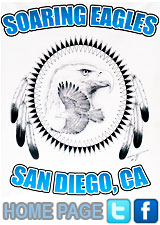 SOARING EAGLES COMMUNITY NIGHTS
See flyers for more info
SOARING EAGLES WEBSITE
+++++++
TRIBAL FOOD BANK & CLOTHES DRIVE
Tribes 4 Christ
WHEN: Fourth Monday of every month
TIME: 3-4:30pm
WHERE: La Jolla Tribal Hall Gym
22000 Highway 78, Pauma Valley, CA
PHONE: 760-742-1481
DOWNLOAD POSTER (PDF)
We operate on a first come, first serve basis and we are open to all people groups. Everyone is welcomed to browse but actual shopping doesn't start until 3:00pm every 4th Monday of each month. We partner with the North County Food Bank of San Marcos and they bring us fresh fruit and veggies and different kinds of breads, pastries and some times milk and eggs. Please help us get the word out.
To post your event, please CONTACT WEBMASTER...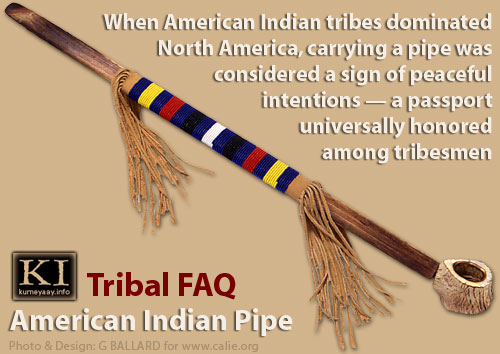 TOP 50 Frequently Asked Questions about American Indian tribes — "American Indian or Native American?" | "Tribe or Band?" | "Who is an American Indian?" | "What is Indian Country?" | "Tribal Sovereignty" | "Indian Preference Jobs"...
NEW: AMERICAN INDIAN WOMEN IN HISTORY


Sacagawea, Shoshone, c. 1788-1812, Guide


Maria Tallchief, Osage, "America's First Prima Ballerina"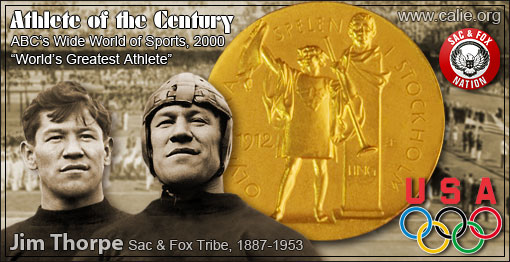 JIM THORPE (Sac & Fox Tribe) 1987-1953,
"Athlete of the Century" | "Greatest Athlete in the World"....


AMERICAN TRIBAL SOVEREIGNTY — American tribes practiced their own forms of government for thousands of years before European intrusion and the formation of the United States government. The Constitution of the United States, U.S. Supreme Court, federal and state laws, as well as historical treaties all support the tribes' present-day legal rights to self-government and certain forms of tribal sovereignty....


JOHN CHIEF MEYERS (Cahuilla, Riverside, CA), 1880-1971, MLB teams the "Ironman" played for: New York Giants, Boston Braves, Brooklyn Robins. Career batting average .291, played in four World Series (1911, 1912, 1913, 1916)....


American Indian Boarding School Experience
CALIE is compiling a historical Web portal for research into what happened circa 1850-1930...


VIEJAS "V-STARS" hold successful Public Safety & Native Wellness Conference for Native American Indian youth and families...professional photo blog.
www.californiaindianeducation.org AKA www.CALIE.org www.californiaindianeducation.com • CALIE.ORG is not affiliated with www.calie.com www.calie.gov www.cali.gov www.calie.edu www.cali.com www.cali.org www.calie.gov