Soaring Eagles Performance, Barrio Station
by Roy Cook, Opata-Oodham, Mazopiye Wishasha: Writer, Singer, Speaker
On March 12, 2009, the Barrio Station Auditorium 2175 Newton Ave, 92113, is pleased to add the Soaring Eagles American Indian Dance group to their 39th Annual Benefit dinner program.


CLICK TO DOWNLOAD 10-inch high-resolution Roy Cook photo.
Barrio Station Executive director, Rachael Ortiz, greeted the overflowing attendance with gracious patience. As many were meeting people that see each other each day others were renewing friendships delayed and some were greeting each other after long absence of association, it is all good. She said, "Our friends are what we look to for support in the constant struggle to protect 'Madre Logan' and our hope for the future, the children." And then, "Now everyone sit down so we can start our evening program."

Ron Christman table.
The SCAIR Soaring Eagle dancers are the dinner entertainment for this event. There are swirling colors on traditional regalia. Very young dancers bringing their pride in they're cultural identities to share this evening. Hours of loving labor are reflected in the decorative outfits worn by the dancers.
Randy Edmonds, Kiowa elder and SCAIR senior advisor, identifies the categories of dance and along with Chuck Cadotte encourages our American Indian future heritage to do this thing at the Barrio Station. Caesar E Chavez Humanitarian awardees Ron Christman stated, "In order to move forward, we have to know where we come from." The children dancing embodied the Tribal expression of family.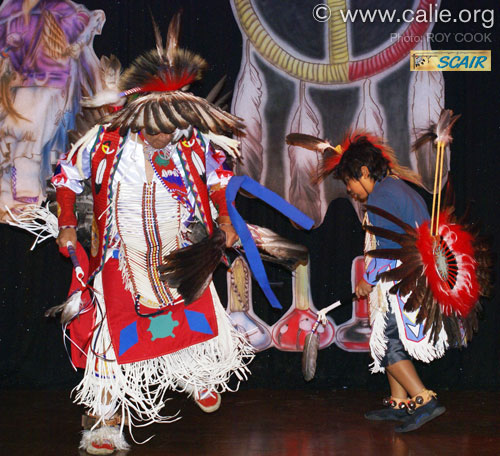 Soaring Eagles dancers.
At times, our dreams can take flight and we will find ourselves in company with stars. Tonight there are Stars on stage and at the tables. Honorees, annual donors of support, community groups, educational institutions, recovery programs and outreach to labor and business organizations are represented in this firmament.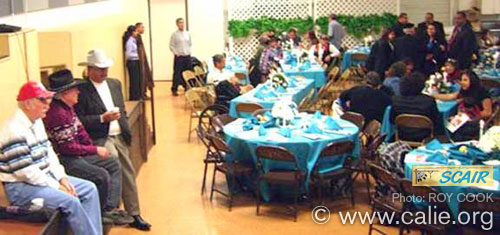 Recognized with awards this evening are: Josefa 'Pepa' Flores, Margarita Magana, Anthony 'Tony' Castillo, Kathy Patoff, Louis 'Louie' Cardenas, Salimu Anderson and Ron Christman. There are special representative cultural drum honoring songs for Salimu and Ron. This was a night to remember.

Ron Christman takes a photo with his award.
The Soaring Eagles are sponsored by: Southern California American Indian Resource, SCAIR. Singing for the Soaring Eagles is the San Diego Inter-Tribal Singers Drum.
Thank you all for the opportunity to share our Tribal culture and your generous participation with the Soaring Eagles, Muchisimas gracias, Aho, Mehan!
Back to Roy Cook's Articles page.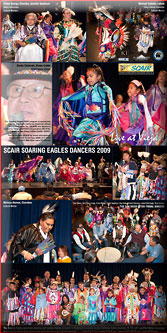 DOWNLOAD HIGH RESOLUTION EAGLE DANCERS POSTER.
+++++++
SOARING EAGLES Proudly Sponsored by:
Southern California Indian Resource Center, Inc. SCAIR
San Diego Indian Center
Coordinated by:
San Diego City Schools Indian Education Program
Indian Human Resource Center
Project Coordinator: Vickie Gambala
VOLUNTEERS NEEDED: If you would like to volunteer or help support the Golden Eagles Indian students, please contact Vickie Gambala off the SOARING EAGLES WEB SITE including new class schedule, registration and art poster DOWNLOAD.
+++++++
POW-WOW REGALIA
See Roy Cook's CALIE Pow-wow History and Information article for more info and professional photographs portfolios and movies about Native American powwows in Southern California, San Diego County.