61 MILLION HITS!!!
Feb. 2008-Dec. 2013
Publishing Corner:
ROY COOK NEWS BLOG
THE INDIAN REPORTER
TRIBAL BLOGGERS
Indian Community:
TRIBAL COMMUNITY
PROFILES
OBITUARIES
Science & Wonder
ASTRONOMY PORTAL
KID'S CLUBHOUSE
Indian Heros:
VETERAN COMMUNITY
MEDALS OF HONOR
CODE TALKERS
FAMOUS CHIEFS
HISTORIC BATTLES
POEMS ESSAYS
SPORTS-ATHLETES
MISSION FEDERATION
FAMOUS INDIANS
California Indian Art:
MISSION BASKETS
RED CLAY POTTERY
ETHNOGRAPHIC ART
CAVE ART
MUSIC
CALIE Library:
FEDERAL Resources
HEALTH & MEDICAL
INDIAN BOOK LIST
HISTORICAL Documents
STD Information
Academic Financial Aid:
SCHOLARSHIPS
GRANTS & FUNDING
Tribal Governments:
TRIBAL COURTS
SOVEREIGNTY
SOCIAL SERVICES
TRIBAL DIRECTORY
Indian Gaming:
INDIAN CASINO FORUM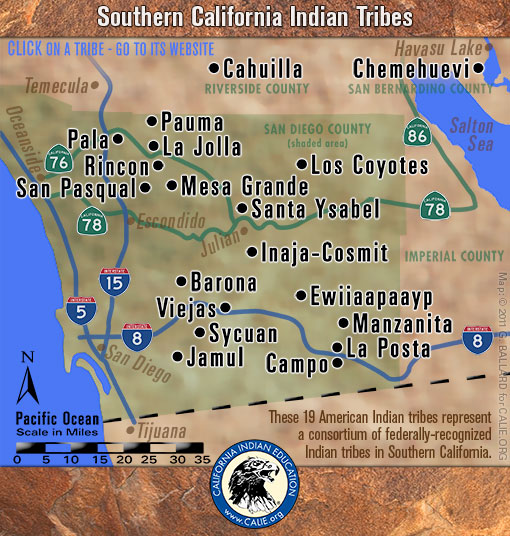 SOUTHERN CALIFORNIA TRIBAL MAP
SOUTHERN CALIFORNIA TRIBAL CHAIRMEN'S ASSOCIATION (SCTCA) is a multi-service non-profit corporation established in 1972 for a consortium of 19 federally-recognized Indian tribes in Southern California.
The primary mission of SCTCA is to serve the health, welfare, safety, education, cultural, economic and employment needs of its tribal members and enrolled Indians in the San Diego County urban areas. A board of directors comprised of tribal chairpersons from each of its member Tribes governs SCTCA.
19 SCTCA MEMBER TRIBES:
BARONA BAND OF MISSION INDIANS
Lakeside, CA 92040
CAHUILLA BAND OF MISSION INDIANS
Anza, CA 92539
CAMPO KUMEYAAY NATION
Campo, CA 91906
CHEMEHUEVI INDIAN TRIBE
Havasu Lake, CA 92363
EWIIAAPAAYP BAND OF KUMEYAAY INDIANS
Alpine, CA 91903
INAJA-COSMIT BAND OF INDIANS
Escondido CA 92025
JAMUL INDIAN VILLAGE - A KUMEYAAY NATION
Jamul, CA 91935
LA JOLLA BAND OF LUISENO INDIANS
Pauma Valley, CA 92061
LA POSTA BAND OF MISSION INDIANS
Boulevard, CA
LOS COYOTES BAND OF CAHUILLA & CUPENO INDIANS
Warner Springs, CA 92086
MANZANITA BAND OF THE KUMEYAAY NATION
Boulevard, CA 91905
MESA GRANDE BAND OF MISSION INDIANS
Santa Ysabel, CA 92070
PALA BAND OF CUPENO INDIANS
Pala, CA 92059
PAUMA BAND OF LUISENO INDIANS
Pauma Valley, CA 92061
RINCON BAND OF LUISENO INDIANS
Valley Center CA 92082
SAN PASQUAL BAND OF INDIANS
Temecula, CA 92592
IIPAY NATION OF SANTA YSABEL
Santa Ysabel, CA 92070
SYCUAN BAND OF THE KUMEYAAY NATION
El Cajon, CA 92019
VIEJAS BAND OF KUMEYAAY INDIANS
Alpine, CA 91901
This concept is currently being developed by CALIE CEO-President Ernie C. Salgado, Jr. (Soboba).
www.caligov.org
www.californiaindiangovernment.org
www.californiaindiangovernment.com
Please CONTACT ERNIE SALGADO for more information, including placing banner ads or sponsorships.