24 MILLION HITS!!!
Feb. 2008-Jan. 2012
Publishing Corner:
TRIBAL BLOGGERS:
ROY COOK NEWS BLOG
THE INDIAN REPORTER
JOURNAL FROM SDC
KAREN VIGNEAULT

Indian Community:
TRIBAL COMMUNITY
PROFILES
SOARING EAGLES
OBITUARIES
Science & Wonder
ASTRONOMY PORTAL
KID'S CLUBHOUSE
Indian Heros:
VETERAN COMMUNITY
MEDALS OF HONOR
CODE TALKERS
FAMOUS CHIEFS
HISTORIC BATTLES
POEMS ESSAYS
SPORTS-ATHLETES
MISSION FEDERATION
FAMOUS INDIANS
California Indian Art:
MISSION BASKETS
RED CLAY POTTERY
ETHNOGRAPHIC ART
CAVE ART
MUSIC
CALIE Library:
FEDERAL Resources
HEALTH & MEDICAL
INDIAN BOOK LIST
HISTORICAL Documents
STD Information
Academic Financial Aid:
SCHOLARSHIPS
GRANTS & FUNDING
Tribal Governments:
TRIBAL COURTS
SOVEREIGNTY
SOCIAL SERVICES
TRIBAL DIRECTORY
Indian Gaming:
INDIAN CASINO FORUM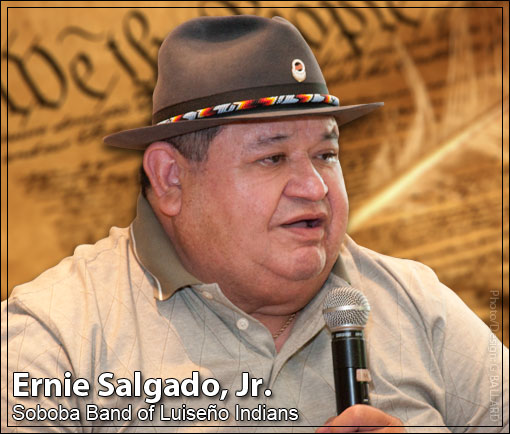 Former Soboba Chairman Ernie C. Salgado, Jr., M.B.A., successful businessman and publisher, Tribal activist and historian, Southern California community leader in American Indian Education for more than 40 years.
ELECT ERNIE SALGADO JR.
Soboba Tribal Chairman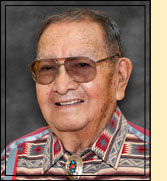 With the passing of my Dad (Ernest Salgado, Sr.) on January 23, 2012, I officially became an Elder of the Tribe. I was blessed to be able to have worked with my Dad for the past 37 years.  He served as Vice President of Ahmium Education, Inc. since it was established in 1975. He strongly supported education as a means to protect our Tribal rights.
I was born and raised on the Soboba Rez. We were poor financially, but rich in family and community.  I lived with my mom & dad along with my brothers, Bobby "R.J." and Richard "Dumbo" and sisters, Lorraine "Raina" and Frances. Our baby sister, Rose Mary, came along when I was 15.
Our house wasn't much, but it was home! We only had two rooms, no indoor plumbing and the wall studs were exposed, open beam ceiling, too. When weather permitted my brothers and I would move outdoors and stake out our space under our homemade ramada or the big umbrella tree next to our house. I preferred the tree.

"I really believe it is time for me to help lead the Tribe in these very difficult financial times to insure we have a long-term business strategy in place to maintain a secure income for years to come!"
I was raised with the greatest respect for our Tribal traditions, values and customs. My home schooling was based on the political views of the Mission Indian Federation. The basic principles were "Home Rule" (Sovereignty), "Tribal Rights" and "Individual Responsibility."
FAMILY BACKGROUND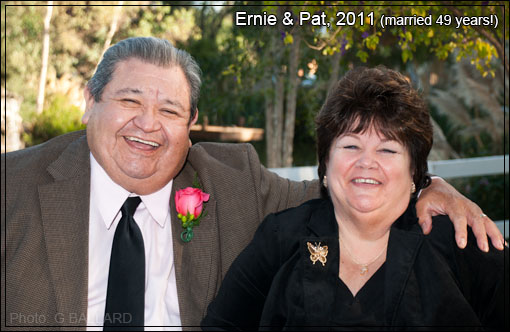 God has blessed me with a very understanding wife, Pat, going on 50 years, two daughters, Andrea and Becky, five granddaughters, Ashley, Alyssa, Amanda, Corryn and Cynthia, two great-granddaughters, Lorraine "Lo" and Isabella "Bella" and one great-grandson, Agustin "Little Man," who will be signing a contract with the San Diego Chargers to play Quarterback in 2032!

My extended family includes a lot of uncles, aunts and 1st, 2nd and 3rd cousins.  On the Rez they are all cousins.

My Grandmother Lucy Silvas-Bentiste was the sixth child of the ten children of Jose (Con) Silvas and Juana Apapas-Silvas. The children of Jose and Juana Silvas are listed below: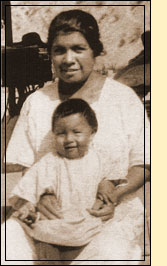 Clotilda Silvas
Susie Silvas (Estrada)
Martina Silvas (Soza)
Albert Silvas
Jose Antonio Silvas
Lucy Silvas (Bentiste)
Nora Silvas (Garcia)
Celara Silvas
Francisco Silvas
Ernesto Silvas

My Grandmother Lucy Silvas-Bentiste pictured with my Dad in 1921.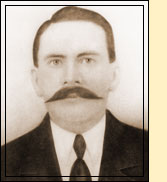 Jose "Con" Silvas is my great grandfather.
TRIBAL WATER RIGHTS
The Tribe's water rights have always been a top priority in my life as long as I can remember because growing up on the Rez without water was a way of life that I was not willing to accept.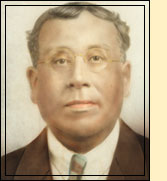 Adam Castillo was the Soboba Tribal Spokesman when the water suits were filed. He also served as the President of the Mission Indian Federation from 1910 until his death in 1953.

As hard it may be for one to believe, in the mid 60's, literally half our Tribal members voted to "Cede" (give up) the Tribe's water rights to the Eastern Municipal Water District (EMWD) in exchange for a water system on the Rez as a settlement for them taking our water in the first place. EMWD would then allow us to buy our own water back from them. I led the fight to stop this from happening and we were successful in protecting our water rights.

Last year the Soboba Tribe won our 63-year court battle against EMWD. Although we didn't get everything the Tribe wanted, the settlement was far better than a EMWD domestic water system and buying back our own water.

Again, in the late 70's, the Tribe had funds in its trust fund to build a water system on the Rez, but the Bureau of Indian Affairs (BIA) refused to give us our money. The BIA told us we lacked the qualifications to develop our own water system. Congresswoman Shirley Pettis (R) sponsored legislation to force the BIA to give us our money. Congress passed the Bill and we built a new water system in Soboba.

In the early 80's I worked with my Uncle Benny Helms Sr. to established the first Soboba High Stakes Bingo Gaming business.

In the early 90's we settled our water suit against the BIA for their negligence in protecting our water rights.

While in Washington D.C. to sign the final agreement, I refused to sign the agreement until the distribution of the money included the children.

This caused another conflict with the BIA, and again we were successful.  The funds were divided equally between all the tribal members, including the children. The children's money was put in individual trust funds for each of them until they turned 18.

Please vote for Ernie this election:
DOWNLOAD ELECTION FLYER PDF
(please print and post in your Tribal areas)

You Can Make it Happen With:
Proven Leadership
Professional Management
Bigger Per Capita Checks
Easter and Christmas Bonuses
Make Your Vote Count!

Paid for by the Committee to elect Ernie Salgado Jr. Tribal Chairman Soboba Indian Rez:
Andrea Marquez, Leandro "Tado" Silvas, Charles Resvaloso, Teresa "Silvas" Seaton, Robert Salgado Sr., Millie Arres, Richard "Dumbo" Salgado, Frances Diaz, and Becky Flores


Ernie C. Salgado Jr., Executive Director, Ahmium Education, Inc.
Tribal: Luiseño
Reservation: Soboba Indian Reservation
EDITOR: www.theindianreporter.com
CEO/Founder/Editor in Chief: www.calie.org
Professional website: www.apapas.com
CONTACT ERNIE
RESUME-BIOGRAPHY
PUBLISHED ARTICLES
Professional presentation: G BALLARD
CALIE.ORG is the world leader in American Indian Pride & Education: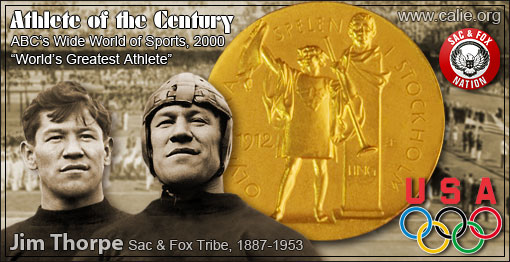 JIM THORPE (Sac & Fox Tribe) 1987-1953,
"Athlete of the Century" | "Greatest Athlete in the World"....

JOHN CHIEF MEYERS (Cahuilla, Riverside, CA), 1880-1971, MLB teams the "Ironman" played for: New York Giants, Boston Braves, Brooklyn Robins. Career batting average .291, played in four World Series (1911, 1912, 1913, 1916)....


American Indian Boarding School Experience
CALIE is compiling a historical Web portal for research...