STD guide to Sexually Transmitted Diseases
There is no shortage of free information available on the Internet in Southern California about Sexually Transmitted Diseases (SDT), Sexually Transmitted Infections (SDI) — if you have questions or need help PLEASE check out this STD Web portal for health and wellness of California American Indians of Southern California.
STD WEBSITES Portal:


COUNTY OF SAN DIEGO HIV, STD and Hepatitis Branch. With three San Diego County government testing/counseling facilities, the County's STD clinics are walk-in clinics — appointments are not necessary. There is a $15 fee for STD clinic services (full testing for HIV-AIDS, Syphilis, Chlamydia, HPV/genital warts, Herpes, Hepatitis screening and vaccinations), fee may be waived for clients unable to pay.
www.cdc.gov in-depth FACT SHEETS
www.stdcheckup.org
www.ashastd.org
www.sfcityclinic.org
INFORMATION FOR STUDENTS & YOUNG PEOPLE:
www.advocatesforyouth.org/
www.iwannaknow.org/
http://kidshealth.org/teen/
ANONYMOUSLY tell your hookups, ex's, boyfriends, girlfriends and partners they may have been exposed to a STD: www.inspot.org
HERPES information:
www.cdc.gov/std/herpes/stdfact-herpes.htm
www.ashastd.org/herpes/herpes_overview.cfm
Genital herpes is affecting some 45 million Americans. It is estimated that 1 in 4 adults over the age of 12 have genital herpes. Herpes sores make it easier to transmit and acquire HIV infection sexually.
HPV/genital warts information:
www.cdc.gov/STD/HPV/STDFact-HPV.htm
HPV vaccine for young women:
www.cdc.gov/std/Hpv/STDFact-HPV-vaccine.htm
The human papilloma virus is associated with up to 90 percent of all cervical malignancies and may play a role in cancers of the vagina, anus, vulva and penis.
SYPHILIS information:
www.cdc.gov/std/Syphilis/STDFact-Syphilis.htm
www.stdcheckup.org/everyone/std_syphilis.html (warning graphic photos of symptoms of syphilis)
Genital sores caused by syphilis make it easier to transmit and acquire HIV infection sexually.
HIV/AIDS information:
www.cdc.gov/hiv
www.thebody.com
CALIFORNIA HIV HOTLINE: 800-367-AIDS www.aidshotline.org
Anyone can get infected with HIV-AIDS, not just homosexuals, they are just in a higher-risk category.
SAFER SEX information:
www.thebody.com/content/prev/art6098.html
www.advocatesforyouth.org/youth/health/safersex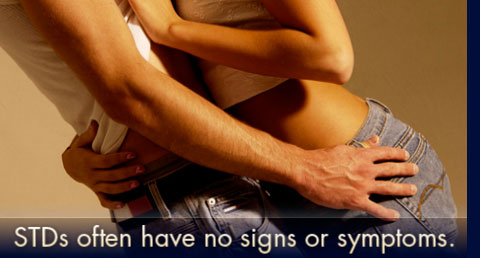 SOME FACTS about STDs
Knowledge is the power to protect yourself:
• Sexually transmitted diseases are among the most common infectious diseases among young people in the United States. The CDC estimates there are some 19 million new STD cases each year. Nearly half of these new cases are in the 15-24 age group alone.
• Women are 6-7 times more likely to be infected with Herpes than men.
• Approximately 80% of women will be exposed to HPV in their lifetime.
• Many women have STDs without ever knowing it — some 70% of women with chlamydia and up to 50% of females with gonorrhea never get symptoms.
• Chlamydia and gonorrhea infections can cause infertility if left untreated.
• Some 30 to 40% of women with untreated chlamydia get pelvic inflammatory diseases which sometimes cause fertility issues years later.
• A person who has never shown or noticed any symptoms of having a STD can be a carrier, and s/he is able to transmit his or her STD to others.
• Young people are more vulnerable to chlamydia and HPV than older people — these are the two most common STDs in America.
• Gonorrhea can spread to the blood or joints and cause life threatening health complications.
• Syphilis, if spread to the spinal cord, can cause muscular incoordination and partial paralysis. Ultimately affecting the brain, syphilis can also lead to insanity in some untreated cases.
• Having a STD can increase risks of contracting HIV.
• Twenty percent of all Americans over age 12 test positive for genital herpes virus in their blood....


ADDITIONAL RESOURCES:
HOW TO USE A CONDOM AND TALK TO YOUR PARTNERS ABOUT USING CONDOMS:
www.ashastd.org/condom/condom_introduction.cfm
www.advocatesforyouth.org/youth...safersex/condom.htm
www.advocatesforyouth.org/youth/...communication.htm
www.avert.org/usecond.htm
THE FEMALE CONDOM:
www.plannedparenthood.org/...female-condom-4223.htm
CONTRACEPTIVES Birth Control:
www.plannedparenthood.org...birth-control-4211.htm
EMERGENCY CONTRACEPTION:
www.planbonestep.com/
Or Call: 1-888-NOT-2-LATE
GAY/LESBIAN/BISEXUAL/TRANSGENDER PEOPLE:
SAN DIEGO Gay, Lesbian, Bisexual and Transgender Community Center: www.thecentersd.org/
http://lgbthealth.webolutionary.com/
www.shoutouthealth.com/
HOW TO DEAL WITH ALCOHOL & DRUG DEPENDENCIES:
Find a Treatment Program:
http://findtreatment.samhsa.gov/
http://drugs.laws.com/
Methamphetamine HOTLINE: 1-877-662-4427
DOMESTIC VIOLENCE HELPLINES:
Relationship Violence: www.ccssd.org/
Battered women's service hotline (San Diego): 619-234-3164
24hr helpline for sexual assault and domestic violence: 888-385-4657
Gay Men's Domestic Violence Project: 800-832-1901
GENERAL STD/HIV INFORMATION HOTLINES:
CDC National STD & AIDS Hotlines
800-342-2437 or 800-227-8922 (English 24/7)
800-344-7432 (Spanish, 8am-2am seven days a week)
800-243-7889 TTY Services (10am-10pm, Monday-Friday)
CRISIS HOTLINES:
Crisis counseling hotline: 1-800-479-3339
California youth crisis line:
1-800-843-5200
If you or your family or friends are in crisis and you don't know what to do or where to turn, call these numbers immediately for help.
Compiled from pamphlets by the County of San Diego Health and Human Services Agency, 2010.