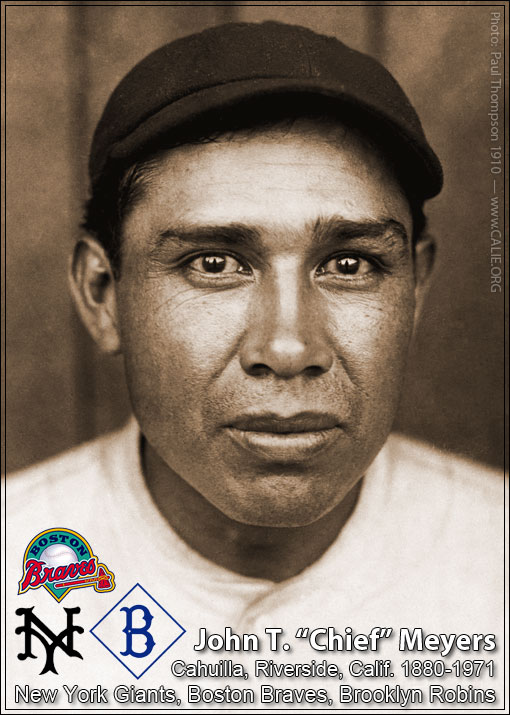 Chief Meyers, 30, pictured in 1910 as he begins his MLB career with the New York Giants. Native American Indian portrait photo by Paul Thompson.
JOHN "CHIEF" MEYERS
John Tortes Meyers (1880-1971).
Born July 29, 1880.
Tribal: Cahuilla mother, Santa Rosa Reservation.
Raised in Riverside, CA, played semi-pro ball in Hemet area.
Education: Riverside High School; Dartmouth College (quit in 1909 to sign on with the New York Giants as catcher).
Nicknames: "Chief" and "Ironman."
Major League Baseball catcher (1909-1917): Played for New York Giants, Boston Braves, and Brooklyn Robins.
Earned the title "IRONMAN" for his supernatural behind-the-plate prowess while playing MLB for the New York Giants. Given the name "CHIEF" for his American Indian heritage.
Played in four World Series; three with the New York Giants (1911, 1912, 1913), and one with the Brooklyn Robins (1916).
STATISTICS: Batting Average Career: .291

1911: .332
1912: .358
1913: .312
In 1933, Mr. Meyers was appointed chief of the Mission Indian Agency of Southern California, and he worked in that position until he retired. He died in 1971 at 91 years.
In 1972, he was inducted posthumously into to the American Indian Athletic Hall of Fame, Haskell Indian Nations University, Lawrence, Kansas.
ULTRA FAMOUS SPORTS LEGENDS
Charismatic and a naturally-gifted athlete, John Meyers was a media sensation in his time and used his American Indian ethnicity, raw talent and personality to win over fans and the respect of his contemporaries...he enjoyed a great deal of celebritism throughout his lifetime.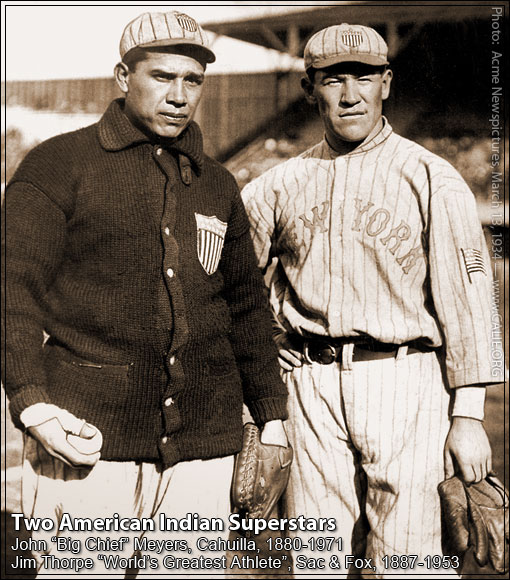 Two superstar American Indian sports heros pictured (circa 1910s?), Chief Myers (Cahuilla) and his long-time friend, Jim Thorpe (Sac & Fox). Photo: Acme Newspictures stamp on backside of print 1934, but that may be the year the printed/published the news picture.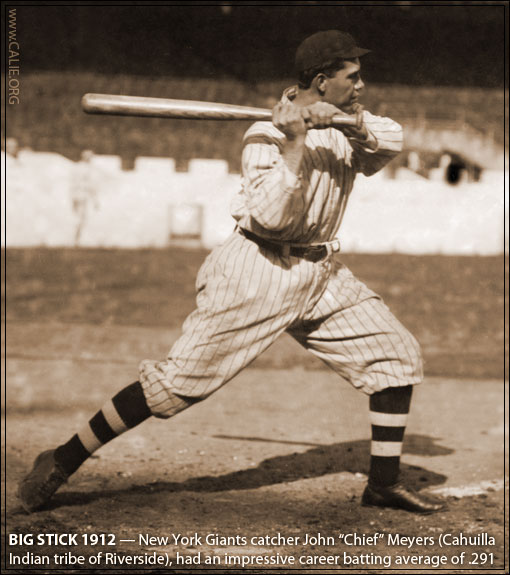 BIG STICK — New York Giants catcher John T. "Chief" Meyers, a Cahuilla Indian from Riverside, California, exhibits the game-winning athletic form at bat that earned him a place in professional sports history with a MLB career batting average of .291 in the early 20th century. Pictured above batting at home plate in a Giants uniform at the Polo Grounds in New York.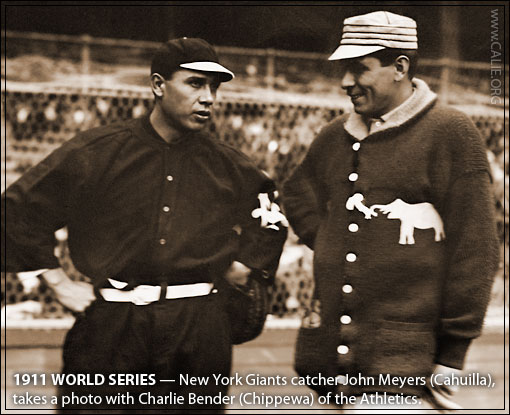 WORLD SERIES 1911: Big Chief Meyers (a Cahuilla Indian) pictured talking to Charlie "Chief" Bender (Chippewa tribe) of the opposing team, the Philadelphia Athletics. The Athletics won the World Series in 1911, beating the Giants four games to two.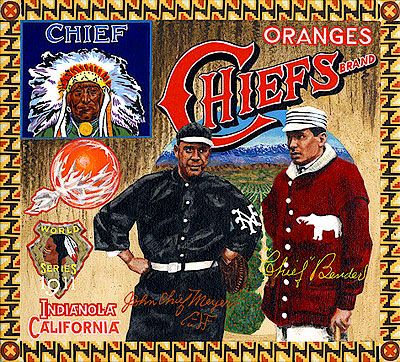 CHIEFS — It seems every Native American male in the mainstream white man's community was nicknamed "Chief" in those days, including Chief Meyers and Chief Bender, both of whom appeared in this 1911 World Series advertisement promoting Chiefs brand Indianola California oranges.


RACIAL DISCRIMINATION — A DIFFERENT AMERICA IN THE EARLY 1900s
At the turn of the 20th century in John Meyers' sports heyday (1900-1920), the United States was still very much racially segregated and its laws flagrantly discriminated against non-white people in America.
In fact, the United States Bill of Rights itself originally included protection for white men ONLY — it excluded most other races and ALL women.
Native American Indians could not become US citizens until the Indian Citizenship Act of 1924 was signed into law by President Calvin Coolidge.
Voting rights for American Indians in the US came much later than citizenship — it wasn't until about 1960 that Native Americans could vote in every state.
Even white women couldn't vote in national elections until after the 19th Amendment to the United States Constitution was passed in 1920.
The first "Negro" MLB player, Jackie Robinson, didn't play in Major League Baseball until 1947 because racism in professional American sports prevented Blacks from entering the league....
CHIEF MEYERS PHOTO GALLERY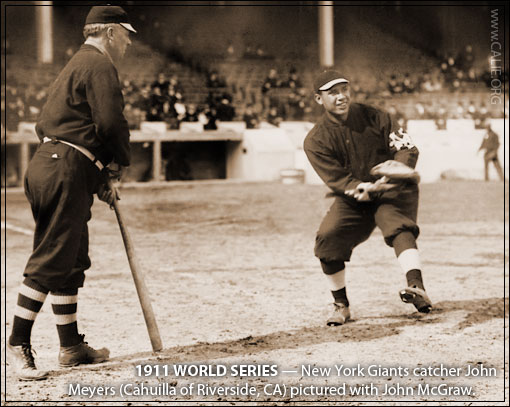 1911 WORLD SERIES: New York Giants catcher John Meyers pictured with Giants teammate John McGraw (holding bat).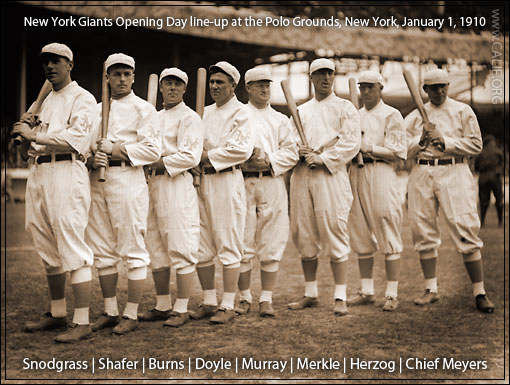 Chief Meyers pictured with New York Giants January 1, 1910, in Opening Day line-up holding baseball bats at the Polo Grounds in New York. (r-l) Snodgrass, Shafer, Burns, Doyle, Murray, Merkle, Herzog, Meyers.
ON-LINE RESEARCH & STUDY RESOURCES:
Statistics: baseball-reference.com | databasebaseball.com
WIKIPEDIA HOME PAGE | RIVERSIDE SPORT HALL OF FAME | AMERICAN INDIAN ATHLETIC HALL OF FAME | BASEBALL BIOGRAPHY PROJECT |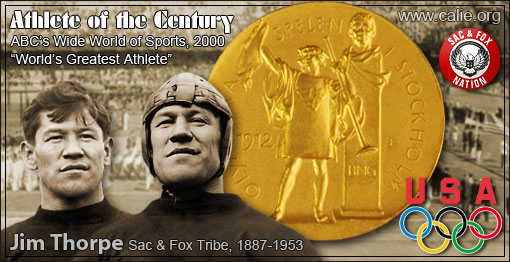 JIM THORPE (Sac & Fox Tribe) 1987-1953,
"Athlete of the Century" | "Greatest Athlete in the World"....
WHO PRODUCED THIS BLOG?


Ernie C. Salgado Jr.
Tribal: Luiseño
Reservation: Soboba Indian Reservation
EDITOR: The Indian Reporter www.theindianreporter.com
Founder/CEO CALIE: www.californiaindianeducation.org
Web Site: www.apapas.com
CONTACT
RESUME/BIOGRAPHY
PUBLISHED ARTICLES
RESEARCH, DIGITAL RESTORATIONS & PRESENTATION by Gary G. Ballard