ABOUT CALIE
MISSION STATEMENT
Publishing Corner:
ROY COOK NEWS BLOG
THE INDIAN REPORTER
TRIBAL BLOGGERS
Indian Community:
TRIBAL COMMUNITY
Science & Wonder
ASTRONOMY PORTAL
KID'S CLUBHOUSE
Indian Heros:
VETERAN COMMUNITY
MEDALS OF HONOR
CODE TALKERS
FAMOUS CHIEFS
HISTORIC BATTLES
POEMS ESSAYS
SPORTS-ATHLETES
MISSION FEDERATION
FAMOUS INDIANS
California Indian Art:
MISSION BASKETS
RED CLAY POTTERY
ETHNOGRAPHIC ART
CAVE ART
MUSIC
CALIE Library:
FEDERAL Resources
HEALTH & MEDICAL
INDIAN BOOK LIST
HISTORICAL Documents
Academic Financial Aid:
SCHOLARSHIPS
GRANTS & FUNDING
Tribal Governments:
TRIBAL COURTS
SOVEREIGNTY
SOCIAL SERVICES
TRIBAL DIRECTORY
Indian Gaming:
INDIAN CASINO FORUM
SITE MENU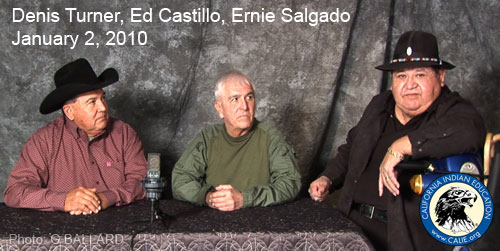 INTERVIEW ONE, January 2, 2010: Ernie Salgado Jr, Soboba reservation, Luiseño, began filming at the Southern California Tribal Chairmen's Association SCTCA Rez Valley Studios with Denis Turner and Ed Castillo.
"The Struggle, Adaptation and Survival of the Aboriginal People in California"
A Native American produced documentary
PRODUCER: Ahmium Education, Inc.
DIRECTOR & EDITOR: Ernie Salgado Jr
PRODUCTION ENGINEER: Paul Miranda
IN ASSOCIATION WITH: SCTCA Tribal Digital Village
STARRING: The California Indian Peoples and their oral histories
Ernie writes: welcomes visitor...I have contacted you today to...vision statement...based on preserving oral histories in a state-of-the-art digital medium...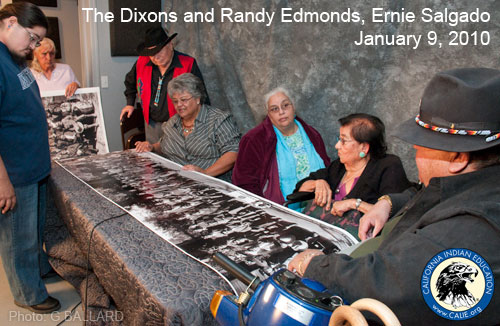 INTERVIEW TWO, January 9, 2010: Randy Edmonds and the Dixon women participated in the second round — above they are pictured looking at Ernie's 12-foot-long historical restoration of a 1920 Mission Indian Federation convention group photo.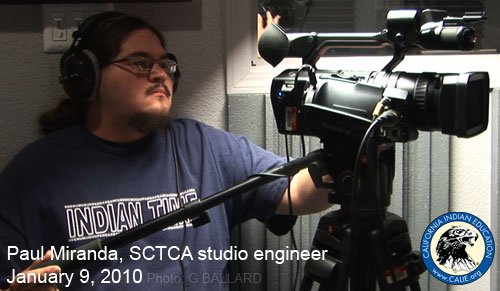 Paul Miranda, SCTCA studio engineer, pictured on one of the SCTCA high-definition-video HDV cameras during production.
HISTORICAL PHOTOS, Videos
We are asking for access to your historical photos, artifacts, audio, film recordings to use in our documentary — we have professional people to scan your photos here or at your home or office.
We will digitally restore, research, caption and archive....