Publishing Corner:
ROY COOK NEWS BLOG
THE INDIAN REPORTER
TRIBAL BLOGGERS
Indian Community:
TRIBAL COMMUNITY
PROFILES
OBITUARIES
Science & Wonder
ASTRONOMY PORTAL
KID'S CLUBHOUSE
Indian Heros:
VETERAN COMMUNITY
MEDALS OF HONOR
CODE TALKERS
FAMOUS CHIEFS
HISTORIC BATTLES
POEMS ESSAYS
SPORTS-ATHLETES
MISSION FEDERATION
FAMOUS INDIANS
California Indian Art:
MISSION BASKETS
RED CLAY POTTERY
ETHNOGRAPHIC ART
CAVE ART
MUSIC
CALIE Library:
FEDERAL Resources
HEALTH & MEDICAL
INDIAN BOOK LIST
HISTORICAL Documents
Academic Financial Aid:
SCHOLARSHIPS
GRANTS & FUNDING
Tribal Governments:
TRIBAL COURTS
SOVEREIGNTY
SOCIAL SERVICES
TRIBAL DIRECTORY
Indian Gaming:
INDIAN CASINO FORUM

FAMOUS NATIVE AMERICAN ATHLETES


Joseph Burton (Soboba band) shatters Oregon State University Beavers' college basketball records with over 1,000 points scored, 700 rebounds, and 300 assists.
CALIE honors and remembers the greatest Native American Indian athletes of recorded history to provide important historical references for Native American students, teachers and the sports community for on-line research and positive role models to inspire young Native American Indians.
To date, our list of famous American Indian athletes include profiles, photographs, biographies and statistics of urban and enrolled tribal members of the Kumeyya-Iipay, Cahuilla, Luiseño, Blackfeet, Sac and Fox, Cherokee, Oglala Lakota Sioux, Modoc Klamath, Hopi, Nomlaski Wintun, Wintu, Potawatomi, Navajo, and Penobscot Indian nations of North America.
CALIE editors welcome your help in developing famous athletes section — please let us know the athletes we are missing, and any additional pictures and information you may have.
FEATURED AMERICAN INDIAN ATHLETES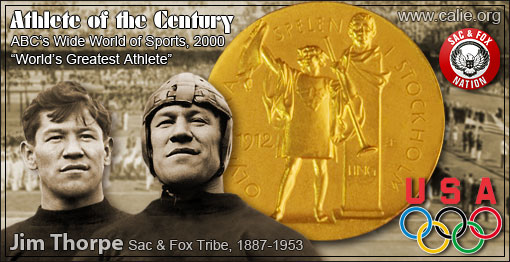 JIM THORPE (Sac & Fox) 1987-1953,
"The Greatest Athlete of All Time"...

CHIEF MEYERS (Cahuilla, Riverside, CA), 1880-1971, MLB teams played for: New York Giants, Boston Braves, Brooklyn Robins. Career batting average .291, played in four World Series (1911, 1912, 1913, 1916)....

JOE "THE BOSS" HIPP (Blackfeet) World Boxing Federation (WBF) World Heavyweight Champion (1999) forms the All Nations Foundation and sets out on a mission to tutor and mentor tribal youth...
+++++
WHO PRODUCED THIS Tribal Resource?


Ernie C. Salgado Jr.
Tribal: Luiseño
Reservation: Soboba Indian Reservation
EDITOR: The Indian Reporter www.theindianreporter.com
Founder/CEO CALIE: www.californiaindianeducation.org
Web Site: www.apapas.com
CONTACT
RESUME/BIOGRAPHY
PUBLISHED ARTICLES
RESEARCH & PRESENTATION by Gary G. Ballard
Please CONTACT the webmaster to contribute articles or links for publication.