Publishing Corner:
ROY COOK NEWS BLOG
THE INDIAN REPORTER
TRIBAL BLOGGERS
Indian Community:
TRIBAL COMMUNITY
PROFILES
OBITUARIES
Science & Wonder
ASTRONOMY PORTAL
KID'S CLUBHOUSE
Indian Heros:
VETERAN COMMUNITY
MEDALS OF HONOR
CODE TALKERS
FAMOUS CHIEFS
HISTORIC BATTLES
POEMS ESSAYS
SPORTS-ATHLETES
MISSION FEDERATION
FAMOUS INDIANS
California Indian Art:
MISSION BASKETS
RED CLAY POTTERY
ETHNOGRAPHIC ART
CAVE ART
MUSIC
CALIE Library:
FEDERAL Resources
HEALTH & MEDICAL
INDIAN BOOK LIST
HISTORICAL Documents
STD Information
Academic Financial Aid:
SCHOLARSHIPS
GRANTS & FUNDING
Tribal Governments:
TRIBAL COURTS
SOVEREIGNTY
SOCIAL SERVICES
TRIBAL DIRECTORY
Indian Gaming:
INDIAN CASINO FORUM
Southern California Indian Casinos
The California Indian Education Indian Casino Guide and Locator Map is currently under development by Ernie C. Salgado Jr (CALIE Founder), please CONTACT ERNIE for more information.
Until we have our Locator Map sponsored, please click on the map below for a one-stop complete casino guide, including an informative casino FAQ and community Web portal and research guide with jobs and employment tips: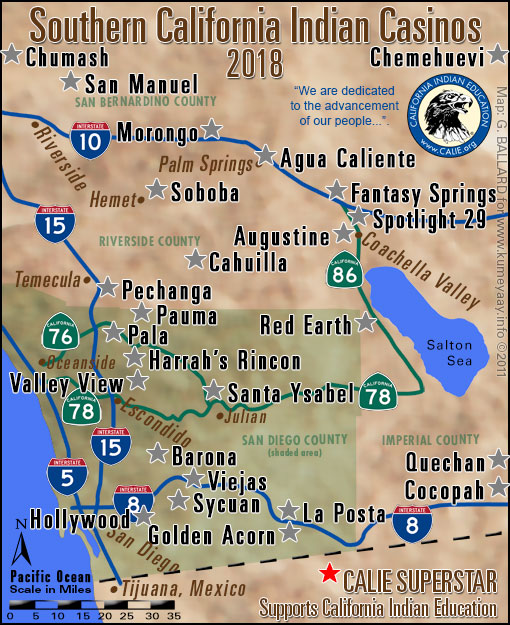 www.calicasinos.org | www.calicasinos.com | www.californiaindiancasino.org
The birth of Indian Gaming began in the late 1970s when many Native Americans were living in poverty. The Cabazon and Seminole tribes decided to open some gambling halls in hopes the money generated from casino games would improve their wealth. Eventually the states found out about these halls and shut them down. The tribes challenged the states by taking their case to the Supreme Court of the United States who ruled in favor of Indian Gaming, as the gaming operations operated on sovereign Indian reservations and were thereby outside of state jurisdiction. Victory in this case allowed tribes to open various profitable casinos throughout their lands and expanded to California and Connecticut. Some of the largest casinos in the U.S. today are operated by Indian tribes.
COMMUNITY SUPERSTARS!
Note: CALIE currently has no direct casino sponsors — sponsorship gets your Casino a red "Superstar" and direct hyperlink on our map, and a direct hyperlink in our Casino Directory below. The top AD banner may also be purchased....
CALIE urges you to join our community SUPERSTAR sponsors — those Tribal Councils whose generous financial support is building a better future for our children through their support of California Indian Education.
AGUA CALIENTE CASINO RESORT SPA
Palm Springs area, 92270
AUGUSTINE CASINO
Coachella, CA 92236
BARONA RESORT & CASINO
Lakeside, CA 92040
BARSTOW (LOS COYOTES) CASINO-RESORT*
Barstow, CA 92311
CAHUILLA CASINO
Anza, CA 92539
CHUMASH CASINO RESORT
Santa Ynez, CA 93460
COCOPAH RESORT CASINO & CONFERENCE CENTER
Somerton, AZ 85350
FANTASY SPRINGS RESORT CASINO
Indio, CA 92203
GOLDEN ACORN CASINO & TRAVEL CENTER
Campo, CA 91906
HARRAH'S RINCON CASINO AND RESORT
Valley Center, CA 92082
HAVASU LANDING RESORT CASINO
Havasu Lake, CA 92363
JAMUL CASINO*
Jamul, CA 91935
LA JOLLA CASINO*
Pauma Valley, CA 92061
LA POSTA CASINO**
Boulevard, CA 91905
MANZANITA CASINO*
Boulevard, CA 91905
MORONGO CASINO RESORT SPA
Cabazon, CA 92230
PALA CASINO SPA AND RESORT
Pala, CA 92059
CASINO PAUMA
Pauma Valley, CA 92061
PECHANGA RESORT CASINO
Temecula, CA 92592
QUECHAN CASINO RESORT
Winterhaven, CA 92283
RED EARTH CASINO
Salton Sea Beach, CA, 92274
SAN MANUEL CASINO
Highland, CA 92346
SANTA YSABEL RESORT AND CASINO
Santa Ysabel, CA 92070
SOBOBA CASINO
San Jacinto, CA 92583
SPOTLIGHT 29 CASINO
Coachella, CA 92236
SYCUAN CASINO AND RESORT
El Cajon, CA 92019
VALLEY VIEW CASINO & HOTEL
Valley Center, CA 92082
VIEJAS CASINO
Alpine, CA 91901
*CASINO IN DEVELOPMENT STAGE
**CASINO CLOSED DOWN
Please CONTACT ERNIE SALGADO for more information, including placing banner ads.


CLICK to go to the full casino guide.
Includes informative casino FAQ and a community Web portal & study guide multimedia format.
Also visit CASINOS.MOBI website formatted for popular mobile devices and smart phones like Apple's iPhone, iPad, tablets, Droid, smartphone and Blackberry devices.