THE UNIVERSITY OF TULSA
College of Law
Special to The American Indian Reporter, August 2018
by Ernie C. Salgado, Soboba Tribal Elder

Who Chooses the MJIL?
About half of the men and women who choose the MJIL program at TU Law are members of US Indian tribes.
The Master of Jurisprudence in Indian Law (MJIL) degree program from The University of Tulsa College of Law attracts students typically from five walks of life:
Tribal leaders and tribal administrators. The men and women in leadership and management roles at tribes, large and small, have a practical perspective on how meaningful it can be to gain a deep level of expertise on Federal Indian law.
Emerging professionals seeking an exciting, in-demand career. Many MJIL students have just recently completed their undergraduate studies and are looking to develop their knowledge, skills and connections. For students who majored or minored in disciplines like American Indian Studies, the MJIL program allows them to add practical legal knowledge to their historical and sociological perspectives, thereby opening many avenues for successful careers.
Practicing attorneys whose careers necessitate their investment in an Indian law degree. Attorneys choose the MJIL program because their interests have expanded since they first went into practice. The MJIL is an academic master's degree program that helps these legal practitioners to become expert practitioners of Indian Law.
Mid-career professionals who want to shift gears and get into management or leadership positions.
A significant number of MJIL students are professionals who are currently working for tribal, state and federal agencies, and who serve in management and supervisory roles. They want to develop the skills and know-how necessary to promote themselves into upper management and leadership positions. By gaining deep knowledge about Indian law through the MJIL program, they are able to achieve those career goals.
The information and insights offered in the MJIL program are unique and valuable.
The program has an unparalleled focus on the protection of Indian sovereignty.
Instructors and professors from colleges and universities across the country are choosing to expand their knowledge through the MJIL program.

THE MJIL PREPARES YOU FOR SUCCESS
The Master of Jurisprudence in Indian Law (MJIL) at The University of Tulsa College of Law is a cutting edge, 100-percent online degree program that moves your career forward and helps you work effectively in Indian Country.
The courses in the MJIL program are developed and taught by TU professors as well as other recognized experts.
MJIL candidates will successfully complete seven required courses, elective courses, and a capstone master project totaling 30 credit hours. The program typically takes approximately two years to complete for full-time students.
Part-time enrollment is also available.


Graphic: law.utulsa.edu
AREAS OF KNOWLEDGE INCLUDE:
Legal principles that guide Indian policy
Workings of tribal government
Indian family law
Indian natural resource law and land titles
Indian civil and international rights
Jurisdiction in Indian Country
Energy and environmental law in Indian Country
Water law and water rights
Advanced legal writing and research
A COST-EFFECTIVE INVESTMENT IN YOU!
Earn a Master's degree from TU Law, a US News & World Report top 100 law school at a Division 1, fully accredited United States University. An MJIL degree is a smart educational (and financial) decision that has real value for your future.
The total cost of an MJIL degree is less than half of many other much-less-focused Master's degree programs; and, unlike other schools, we do not charge a premium for online courses.
ONLINE CURRICULUM:
Our online courses and innovative thesis and research program make career acceleration a part of your coursework:
Civil Jurisdiction in Indian Country; Criminal Jurisdiction in Indian Country; Economic Development in Indian Country; Family Law in Indian Country
Federal Contracting and Compacting
Indian Civil Rights
Indian Property Rights
Indigenous Rights
Principles of Federal Indian Law
Rise of International Indigenous Rights in the U.S. Social Services Law in Indian Country
Tribal Gaming Law Tribal Government
Water Rights and Water Law
In the nearly 250 years that have passed since the signing of the first treaties between the United States government and American Indian tribes, the legal complexities in managing the various relationships between and among tribes, state and federal governments has only increased.
Today, the tribal leaders of 567 federally recognized tribes manage the interests of 2 million tribal members across more than 56 million acres of land.
It is of utmost importance that tribal members particularly those who serve in management or leadership positions understand the nuances of Indian law and how it impacts their communities, their businesses, and their sovereignty.
To address the distinct needs of those in tribal leadership and management, as well as professionals at state and federal agencies, practicing attorneys, and scholars with interest in Indian law, The University of Tulsa College of Law provides a unique online graduate program offering unparalleled academic experiences and career results: the Master of Jurisprudence in Indian Law (MJIL).
Whether you already work in or with tribal government leadership or are seeking to launch a career through which you can contribute to a tribal community, choosing the MJIL program could change everything for you.
The MJIL program is available in part-time and full-time formats to students across the country and can be completed in 18-24 months.
For professionals and paraprofessionals looking to work more effectively in Indian Country, there is no preparation quite as powerful as the MJIL degree.
TESTIMONIALS: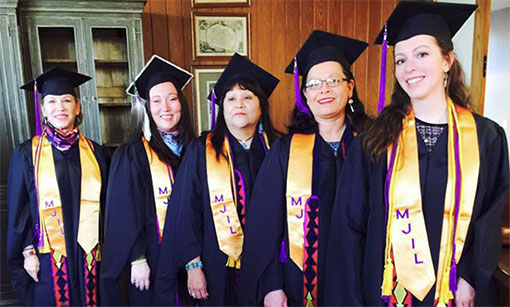 Photo: americanindianreporter.com
"The program has helped me in my work by teaching me how to understand different statutes. It has helped us in our meetings to be able to look at a property law and determine if it applies under certain scenarios."
Donald Newberry (MJIL '15)
Tulsa County Court Clerk
"I am a recent graduate of the Master of Jurisprudence in Indian Law pro-gram at TU Law. I have to say it has been valuable. If you are considering the MJ program, I would certainly advise you to apply!"
Jayare Francisco (MJIL '13), Navajo Nation Assistant to the President, Navajo N
"MJIL courses are incredible and my professors are highly accomplished scholars. I enrolled because not all attorneys fully appreciate the importance of the scholarly perspective and vice versa. My goal is to be a litigator who is well versed in all areas of federal Indian law and tribal law."
Jana B. Simmons (MJIL '16)
Partner, Foley & Mansfield, Detroit Michigan
"The TU Law MJIL program is a unique, cutting edge academic pro-gram that provides solid up-to- date knowledge in Indian law, Indian economic development, environmental issues, and related academic information with real-world applicability."
Eugene Herrod (MJIL '15), Muscogee (Creek) Nation Instructor, ITT Technical Institute, Torrance, California

WE WANT YOUR STORY IDEAS FOR OUR AMERICAN INDIAN TRIBAL NEWSPAPER!
CONTACT OUR PUBLISHER DIRECTLY


Ernie C. Salgado Jr.
Tribal: Luiseño
Reservation: Soboba Indian Reservation
PUBLISHER: THE AMERICAN INDIAN REPORTER
EDITOR: The Indian Reporter www.theindianreporter.com
Founder/CEO CALIE: www.californiaindianeducation.org
Web Site: www.apapas.com
CONTACT
RESUME/BIOGRAPHY