Publishing Corner:
TRIBAL BLOGGERS:
ROY COOK NEWS BLOG
THE INDIAN REPORTER
JOURNAL FROM SDC
KAREN VIGNEAULT

Indian Community:
TRIBAL COMMUNITY
PROFILES
OBITUARIES
Science & Wonder
ASTRONOMY PORTAL
KID'S CLUBHOUSE
Indian Heros:
VETERAN COMMUNITY
MEDALS OF HONOR
CODE TALKERS
FAMOUS CHIEFS
HISTORIC BATTLES
POEMS ESSAYS
SPORTS-ATHLETES
MISSION FEDERATION
FAMOUS INDIANS
California Indian Art:
MISSION BASKETS
RED CLAY POTTERY
ETHNOGRAPHIC ART
CAVE ART
MUSIC
CALIE Library:
FEDERAL Resources
HEALTH & MEDICAL
INDIAN BOOK LIST
HISTORICAL Documents
Academic Financial Aid:
SCHOLARSHIPS
GRANTS & FUNDING
Tribal Governments:
TRIBAL COURTS
SOVEREIGNTY
SOCIAL SERVICES
TRIBAL DIRECTORY
Indian Gaming:
INDIAN CASINO FORUM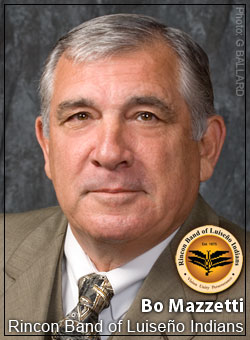 Chairman Bo Mazzetti, Rincon Band of Luiseño Indians
CHAIRMAN BO MAZZETTI
Bo Mazzetti is a key member of the Executive team for the Reservation Transportation Authority (RTA), which is a tribal consortium of federally recognized Indian tribes in Southern California. Mr. Mazzetti played a major role in the establishment of the RTA, when he, along with several tribal governments saw the desperate need to improve reservation roads and transportation in a cost-effective manner to better serve Tribal communities.
Bo Mazzetti has been a Board member on the California Department of Transportation's Native American Advisory Committee since 1999. Bo Mazzetti was previously employed by the Bureau of Indian Affairs Southern California Agency in Riverside.
RINCON TRIBAL COUNCIL
He is a member of the Rincon San Luiseno Band of Mission Indians and has previously served on the Rincon Tribal Council. Mazzetti is/has been one of the two Rincon delegates to the San Luis Rey Water Authority Board, a consortium of the La Jolla, Pala, Pauma, San Pasqual and Rincon Bands, formed to initiate a successful litigation to protect the five tribes' water rights. He has served as a delegate to the California Nations Indian Gaming Association.
Mazzetti is a former Board member to the Rincon Economic Development Board. He was the Indian Community Affairs and Citizen Assistance Officer for San Diego County. Mazzetti is also a businessman. He owned and operated Mazzetti and Company, a reservation–based general building, engineering and well drilling company since 1979. For a brief period, he constructed motion picture sets for Columbia and Paramount Pictures in Hollywood.
Bo Mazzetti attended LaVerne College on a football scholarship as a graduate of Orange Glen High School in Escondido, California. Mazzetti graduated from California Polytechnic University with a Bachelor of Science degree in behavioral science. Mazzetti is a military veteran; he served in the United States Navy, including two tours in Vietnam.
BIOGRAPHY SOURCE: www.dot.ca.gov
BO MAZZETTI ARTICLES:


BO MAZZETTI blames the governor not the DOI Sept. 2010
The situation we find ourselves in with the California compacts is not the doing of the Rincon Band or DOI. The person to blame is the governor of the State of California....


BO MAZZETTI Rincon v. Schwarzenegger Feb. 2010
The United States District Court has ruled that the governor's negotiation tactics with California's gaming tribes are illegal and constitute bad faith....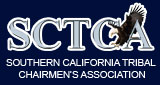 Please see SOUTHERN CALIFORNIA TRIBAL CHAIRMEN'S ASSOCIATION website for more information about the 19 member tribes of Southern California and their mission to protect American Indian Tribal Sovereignty and important social issues related to the health, well being, culture, education and fair economic growth of indigenous Americans across the southwest U.S.A. and North American tribal lands.