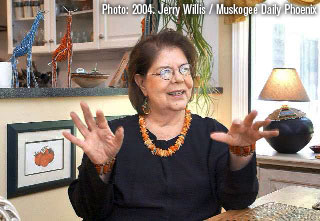 WILMA MANKILLER
Obituary, 1945-2010
by ROCHELLE HINES and MURRAY EVANS, Associated Press Writers–Apr 6, 2010
Former Cherokee Nation Chief Wilma Mankiller, one of the nation's most visible American Indian leaders and one of the few women to lead a major tribe, died Tuesday in Oklahoma after suffering from cancer and other health problems. She was 64.
Mankiller, whose first taste of federal policy toward Indians came when her family ended up in a housing project after a government relocation project, took Indian issues to the White House and met with three presidents. She earned a reputation for facing conflict head-on.


Wilma Mankiller attended Cecelia Firethunder's historic Presidential Inauguration on the Pine Ridge Reservation, December 11, 2004 and is pictured above forming a circle of American Indian women in support of Firethunder.
As the first female chief of the Cherokees, from 1985 to 1995, Mankiller led the tribe in tripling its enrollment, doubling employment and building new health centers and children's programs.
"We feel overwhelmed and lost when we realize she has left us, but we should reflect on what legacy she leaves us," current Cherokee Chief Chad Smith said. "We are better people and a stronger tribal nation because her example of Cherokee leadership, statesmanship, humility, grace, determination and decisiveness."
Mankiller met snide remarks about her surname — a Cherokee military title — with humor, often delivering a straight-faced, "Mankiller is actually a well-earned nickname."
WATCH THE CHEROKEE WORD FOR WATER TRAILER:
The Cherokee Word for Water is a feature-length motion picture that tells the story of the work that led Wilma Mankiller to become the first modern female Chief of the Cherokee Nation.
"It's a woman's story, it's how a woman goes about unifying a community toward a greater purpose that serves everyone regardless if they are male or female old or young, Cherokee or non-Cherokee, you know, it's about getting back to being human beings," Kimberly Norris-Guerrero (Cherokee) said.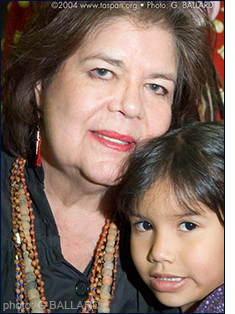 Continual struggles with her health appeared not to deter her. A 1979 car accident nearly claimed her life and resulted in 17 operations. She developed the muscular disorder myasthenia gravis and had a kidney transplant in 1990.
Mankiller used some hospital stays to work on her autobiography with Michael Wallis, which came out in 1993. In "Mankiller: A Chief and Her People," she said she wanted to be remembered not just for being the tribe's first female chief but for emphasizing that Cherokee values can help solve contemporary problems.
"Friends describe me as someone who likes to dance along the edge of the roof," she wrote. "I try to encourage young women to be willing to take risks, to stand up for the things they believe in, and to step up and accept the challenge of serving in leadership roles."
Mankiller had also battled lymphoma, breast cancer and several other health problems. Last month, her husband, Charlie Soap, said that she had stage 4 metastatic pancreatic cancer.
After that, Mankiller said she was "mentally and spiritually prepared for this journey."
"I learned a long time ago that I can't control the challenges the creator sends my way, but I can control the way I think about them and deal with them," she said in a statement released by the tribe last month.
"On balance, I have been blessed with an extraordinarily rich and wonderful life, filled with incredible experiences."
"We have lost an inspirational leader and a great American, someone who was truly a legend in her own time," Gov. Brad Henry said. "As a leader and a person, Chief Wilma Mankiller continually defied the odds and overcame seemingly insurmountable obstacles to better her tribe, her state and her nation."
Born at W.W. Hastings Indian Hospital in Tahlequah, Okla., Mankiller moved with her family to San Francisco in the 1950s when their farm failed. The pledge of opportunity turned out to be poverty in a housing project. She married and had two daughters, Felicia and Gina.
In 1969, she got what she called "an enormous wake-up call" and took her first step into Indian activism by participating in the 19-month occupation of Alcatraz Island.
Seventy-nine Native Americans took over the site of the former federal prison to protest a policy that terminated the federal government's recognition of tribal sovereignty and the exclusion of Indians from state laws. The policy was based on the belief that Native Americans would be better off if they assimilated as individuals into mainstream American society.
Mankiller moved back to her family's land in Oklahoma after getting divorced in 1975. A decade later, she succeeded former Chief Ross Swimmer, who had tapped her as his running mate because of her business savvy. During her re-election campaign, she pledged to improve the tribe's economic interests.
As chief of the Tahlequah-based tribe, Mankiller was less of an activist and more of a pragmatist. She was criticized for focusing almost exclusively on social programs instead of pushing for smoke shops and high-stakes gaming.
Mankiller decided not to seek re-election in 1995 and accepted a teaching position at Dartmouth College in Hanover, N.H., where she held an honorary degree. Among her other honors was a Presidential Medal of Freedom -- the nation's highest civilian award -- received in 1998.
A memorial service has been scheduled for Saturday at the Cherokee Nation Cultural Grounds in Tahlequah.
-submitted by Ernie Salgado, editor
To submit memorials, please CONTACT WEBMASTER.