FAMOUS NATIVE AMERICAN ATHLETES
CALIE honors and remembers the greatest Native American Indian athletes of recorded history to provide important historical references for Native American students, teachers and the sports community for on-line research and positive role models to inspire young Native American Indians.
To date, our list of famous American Indian tribal athletes include profiles, photographs, biographies and statistics of urban and enrolled tribal members of the Kumeyya-Iipay, Cahuilla, Luiseño, Blackfeet, Sac and Fox, Cherokee, Oglala Lakota Sioux, Modoc Klamath, Hopi, Nomlaski Wintun, Wintu, Potawatomi, Navajo, and Penobscot Indian nations of North America.
CALIE editors welcome your help in developing our Famous Athletes section — please let us know the athletes we are missing, and any additional pictures and information you may have.
FEATURED SOCAL HIGH SCHOOL ATHLETE: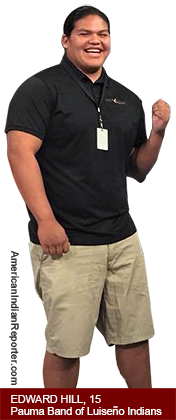 Pauma's Edward Hill, CIF Football
by Ernie Salgado
At six foot three and 285 pounds, 15-year-old Edward Hill a Junior at Valley Center High School in Escondido....
FEATURED AMERICAN INDIAN GAMES:

Jim Thorpe All Indian Games
'THE NATIVE AMERICAN OLYMPICS'
July 10-19, 2022
San Diego and Riverside counties
REGISTER NOW!
To add your K-12 sports standout to our CALIE Native Americian Indian Sports STANDOUTS, please contact ERNIE SALGADO.
SPORTS LEGENDS | SUPERSTARS

Jim Thorpe
Sac & Fox
1887-1953

Billy Mills
Oglala Lakota (Sioux)
1938-

Joe Hipp
Blackfeet
1962-

John "Chief" Meyers
Cahuilla
1880-1971

Lewis Tewanima
Hopi
1888-1969

Ellison "Tarzan" Brown
Narragansett
1914-1975

Clarence "Taffy" Abel
Chippewa
1901-1964
PROFESSIONAL NATIVE AMERICAN INDIAN ATHLETES

Sonny Sixkiller
Cherokee
1951-

Virgil Zwicker
Kumeyaay-Ipai
1982-

Joseph Burton
Lusieño
1990-

Kyle Lohse
Nomlaski-Wintun
1978-

Mica Diaz
Luiseño
c. 1992

Rod Curl
Wintu
1943-

Jackson Bussell
Modoc Klamath
1978-2007

Phil Welmas
Cahuilla
1891-1968

Peter Calac
Rincon
1892-1960

Tyler Bray
Potawatomi
1991-
AMATURE | COLLEGIATE | OLYMPICS

Mary Killman
Potawatomi
c. 1991-

Alvina Begay
Navajo
c. 1981-

Andrew Sockalexis
Penobscot
1892-1919

Terae Briggs
Crow
1997-

Malia Kipp
Blackfeet Nation
c. 19##

SCHOOL K-12 Standouts
Contact Us to add your sports superstar...


Avellaka Arviso
Lusieno
c. 2000-

Silent Rain Espinoza
Kumeyaay
c. 2000-

Keyera Flores
c. 2008-

Edward Hill
Luiseno
c. 2003-

Justin Jose
Cahuilla
c. 2005-

Madison Triplett
KAW Nation
2006-
AMERICAN INDIAN SPORTS REPORTERS

Keith Vasquez
Kumeyaay-Ipai
c. 1982
VIDEOS SPORTS MOVIES:
Watch Joseph Burton (Soboba band) video who shattered Oregon State University Beavers' college basketball records with over 1,000 points scored, 700 rebounds, and 300 assists.
NEWS ARTICLES about

"This game has been in our blood for a thousand years...".
WATCH official Crooked Arrows theatrical movie trailer—visit: crookedarrows.com website.
Kent Eanes/Peck Entertainment
Tyler Hill, in "Crooked Arrows."
A reluctant new coach faces the challenge of leading a team of unhappy youths to a championship. On the way, setbacks are encountered and eventually overcome, and everyone, from the coach to the star to the last guy on the bench, learns something. Wouldn't it be great if "Crooked Arrows," a new movie about a Native American lacrosse team that takes on the prep school snobs, upended sports movie convention?
Not going to happen. Joe Logan (Brandon Routh), the son of the chief of the fictional Sunaquat tribe and onetime lacrosse star, manages the casino on the tribe's land; at his boss's insistence, Joe wins the tribal council's approval for an expansion, over the objections of his father, Ben (Gil Birmingham).
First, though, the council says Joe must go on a spiritual quest, which Ben decides means coaching the Sunaquat's disorganized high school squad. "Restore pride to our people and their game," Ben tells Joe. It's called "the medicine game" for a reason, he adds. "Let it heal you."
Initially, the team keeps losing. But when Joe introduces Crooked Arrow (Dennis Ambriz), his lacrosse guru and general wise man, the team starts to immerse itself in lacrosse's meaning to the tribe's culture. Soon on a winning path, it is headed for the big game against the Coventry School, where Joe once played.
Directed by Steve Rash, "Crooked Arrows" gets points for its glimpses of Native American culture and history — the film's backers include the Onondaga Nation.
Submitted by Roy Cook
Do you have children who are interested in participating in organized Southern California tribal sports programs?
Go to: InterTribal Sports for more info.
FEATURED AMERICAN INDIAN ATHLETES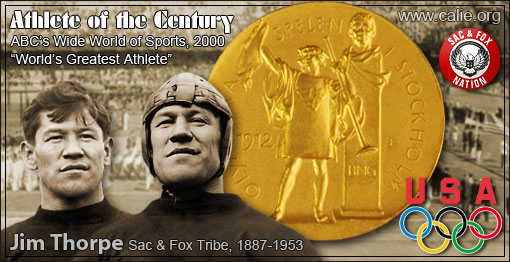 JIM THORPE (Sac & Fox) 1987-1953,
"The Greatest Athlete of All Time"...

CHIEF MEYERS (Cahuilla, Riverside, CA), 1880-1971, MLB teams played for: New York Giants, Boston Braves, Brooklyn Robins. Career batting average .291, played in four World Series (1911, 1912, 1913, 1916)....

JOE "THE BOSS" HIPP (Blackfeet) World Boxing Federation (WBF) World Heavyweight Champion (1999) forms the All Nations Foundation and sets out on a mission to tutor and mentor tribal youth...
+++++
WHO PRODUCED THIS TRIBAL RESOURCE?


Ernie C. Salgado Jr.
Tribal: Luiseño
Reservation: Soboba Indian Reservation
EDITOR: The Indian Reporter www.theindianreporter.com
Founder/CEO CALIE: www.californiaindianeducation.org
Web Site: www.apapas.com
CONTACT
RESUME/BIOGRAPHY
PUBLISHED ARTICLES
RESEARCH & PRESENTATION by Gary G. Ballard
Please CONTACT the webmaster to contribute articles or links for publication.