Avellaka Arviso Wins Hemet High School 2017 MVP Sports Award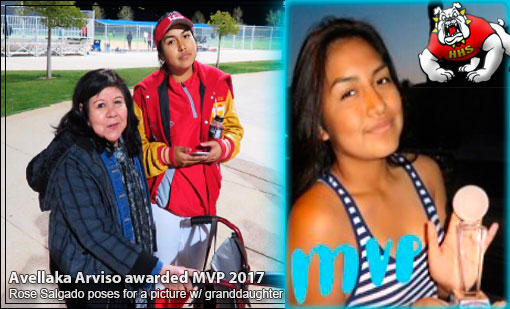 Avellaka with Grandmother Rose Salgado, and posing with her Hemet Bulldogs 2017 Most Valuable Player sports trophy.
Avellaka Arviso: A Family Tradition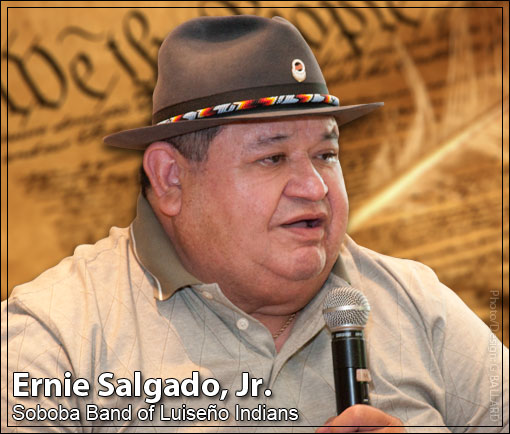 Story by Ernie C. Salgado, Jr. (Soboba tribe)
Photos by Desiree Salgado (Soboba tribe)
Special to the Soboba Indian Reporter
Avellaka Arviso, Hemet High School Girls Softball team 2017 Most Valuable Player (MVP), All Mountain League First Team, All League First Team Tournament team and led the Hemet girls' softball team to the 2017 Mountain league championship and to the CIF playoffs.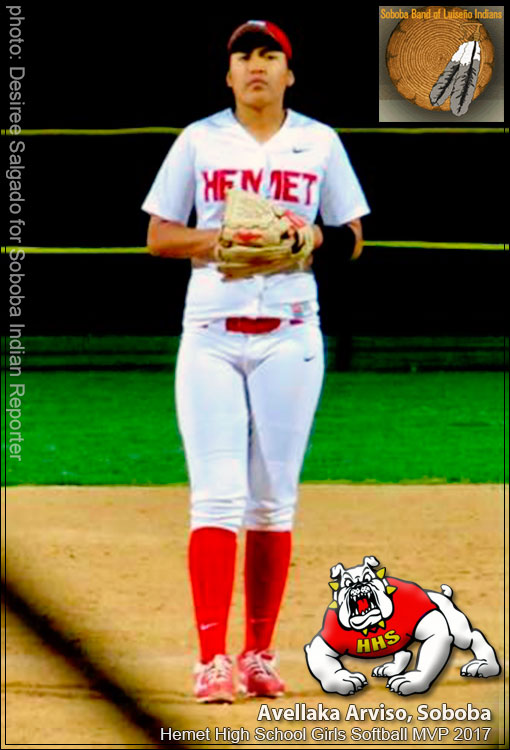 Not only is Avellaka the best girl softball pitcher in the league she is one of the best hitters with the ability to literally hit the ball out of the park.
In fact, the young Native American Indian softball player hit back-to-back home runs in Hemet's CIF win over Colton.
Her coach praised her for not only her athletic abilities but for her leadership on and off the field. He told the audience at the awards ceremony that her "Never quit attitude" was one of her strongest asset.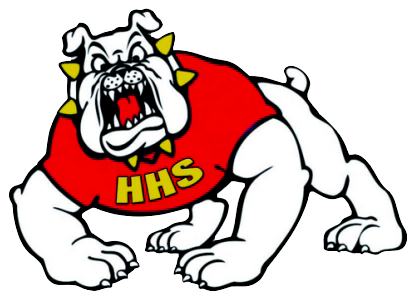 Her coach added, "...when things look bleak during a game and everyone was down she would say 'Give me the ball.' Her determination and super positive attitude are assets that will serve her well in life."
SOBOBA FAMILY AND COMMUNITY SUPPORT
Avellaka is a Soboba Tribal member and her family members are always out in force supporting her.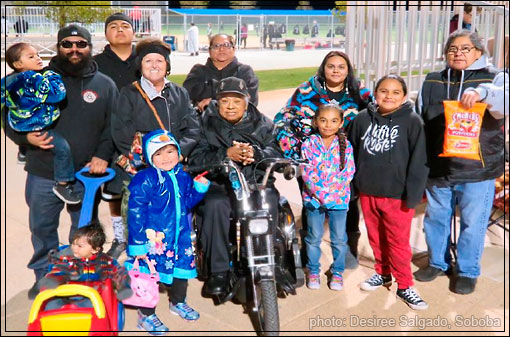 Avellaka's Great Grandfather Alfred "Chief" Arviso (seated on scooter), Grandmother "Frenchy", LuAnn "Mojado" Arviso, and Avellaka's brother, sister and cousins all attended her game and MVP awards ceremony.
As an outstanding soft-ball pitcher, Avellaka follows a Soboba family tradition. Her Cousins, Freda Miranda and Geneva Mojado former San Jacinto softball pitching stars preceded her by a decade or more in gaining recognition as outstanding softball pitchers in Riverside County.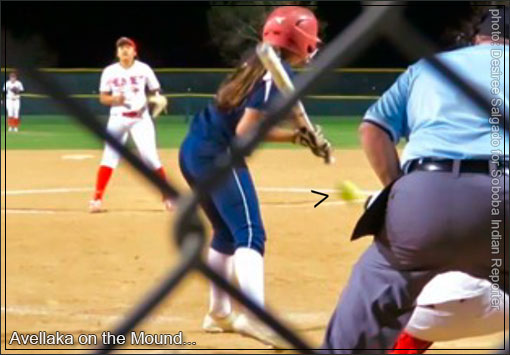 However, not to diminish the achievements of her cousins, it is only fair to understand that the competition in girls' softball has proliferated tenfold over the past few decades.
Avellaka is the daughter of Alfred and Desiree "Salgado" Arviso III, granddaughter of Rose Salgado, Alfred "Charlie" and Frances "Frenchy Basquez" Arviso II.
Her Great grandparents are Ernest (Soboba) and Fidelia Salgado Sr., Tony (Pechanga) and Mary "Vita Mojado" (Soboba) Basquez and Alfred "Chief" Arviso I (Rincon).
Avellaka was graduated from Hemet high school on May 31, 2017.
She is the oldest of two brothers and one sister.
+++++++
If you enjoyed this Soboba tribal article, you may also enjoy Ernie Salgado's blogs on JOE BURTON, a standout high school, college and now professional basketball player.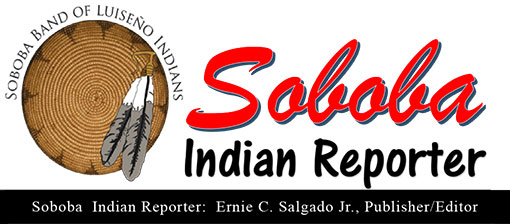 WE WELCOME YOUR NEWS & STORY IDEAS FOR PUBLICATION:
MAILING & CONTACT INFORMATION:
ERNIE SALGADO, EDITOR
P.O. BOX 366, SAN JACINTO, CA 92581
CONTACT ERNIE SALGADO by email
Tribal: Luiseño
Reservation: Soboba Indian Reservation
FOUNDER/CEO: www.calie.org
EDITOR: The Indian Reporter www.theindianreporter.com
Web Site: www.apapas.com
+++++++
MORE ERNIE SALGADO SPORTS BLOGS: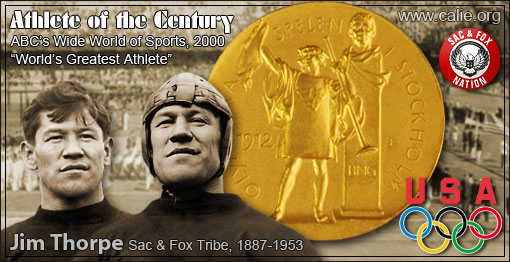 JIM THORPE (Sac & Fox) 1987-1953,
"The Greatest Athlete of All Time"...

CHIEF MEYERS (Cahuilla, Riverside, CA), 1880-1971, MLB teams played for: New York Giants, Boston Braves, Brooklyn Robins. Career batting average .291, played in four World Series (1911, 1912, 1913, 1916)....

JOE "THE BOSS" HIPP (Blackfeet) World Boxing Federation (WBF) World Heavyweight Champion (1999) forms the All Nations Foundation and sets out on a mission to tutor and mentor tribal youth...
+++++++
PRODUCED by: ERNIE SALGADO JR (Soboba)
Page design by: G. BALLARD