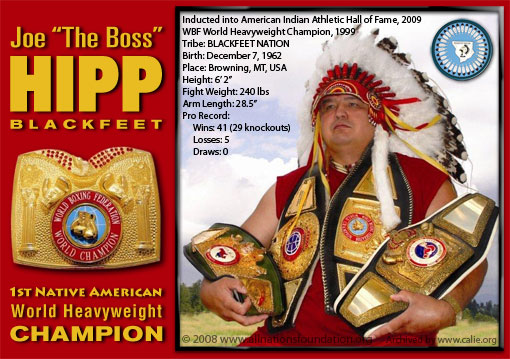 DOWNLOAD FULL RESOLUTION IMAGE.
JOE "THE BOSS" HIPP
FIRST AMERICAN INDIAN WORLD HEAVYWEIGHT CHAMPION JOE "THE BOSS" HIPP (Blackfeet) pictured above during his heyday (2008) holding four of his championship title belts.

The gold jewelry pictured to the left is a close-up of his 1999 WBF Championship World Heavyweight title ring studded with ruby stones and hints of diamond.

Mr. Hipp's traditional Eagle Feathered Head Dress was passed down to him from his grandfather.

The headdress is a spectacular representation of authentic Blackfeet tribal regalia and is adorned with the finest custom tribal beadwork of the Great Plains Indian Nations, and real American eagle feathers and white plumage.

In Joe Hipp's Native American culture, a headdress such as this magnificent cultural relic represents the spirit of the eagle that flies so freely, praying the Great Spirit will watch over us all.

QUICK CAREER STATISTICS:

Inducted into American Indian Athletic Hall of Fame, 2009
WBF World Heavyweight Champion, 1999
Western US Heavyweight Championship, 1996
North American Boxing Federation (NABF) Title, 1994
WBF Intercontinental Heavyweight Championship, 1991

Tribe: BLACKFEET NATION
Birth: December 7, 1962
Place: Browning, MT, USA
Height: 6' 2"
Fight Weight: 240 lbs
Arm Length: 28.5"
Reach: 74 1/4"

PROFESSIONAL FIGHT RECORD:

Wins: 41 (29 by knockouts)
Losses: 5
Draws: 0

Professional boxing record www.boxrec.com

WATCH JOE HIP VIDEOS & PICTURES

COMMUNITY:

Founded the ALL NATIONS FOUNDATION (ANF), 2005
ANF is a 501(c) (3) non-profit charitable organization

SOCIAL MEDIA | FANS | FRIENDS | RESEARCH | NEWS:

The Toughest Indian in the World's Biggest Challenge
by Dr. Kelvin Frank, Ph.D. (Cree Saskatchewan Canada), Eastern Washington University (faculty member), Vice President/Co-Founder of All Nations Foundation
(special to CALIE)

any people in Indian Country may not know that in the professional boxing world there is someone we should be proud of, namely Blackfeet Warrior Joe "The Boss" Hipp.
At the age of 36, Joe "The Boss" Hipp won the World Boxing Federation (WBF) Heavyweight Championship in 1999 making him the first Native American Heavyweight Champion of the World.
Besides Joe's accomplishment of the WBF Heavyweight Championship, he won the North American Boxing Federation (NABF) title (1994), the WBF Intercontinental Heavyweight Championship title (1991), and the Western US Heavyweight Championship title (1996).
That's four championship professional boxing titles!
Joe also fought Bruce Seldon in 1995 for the World Boxing Association (WBA) Championship but lost, fight being stopped in the ninth round of a scheduled 10 round bout, because of a cut above Joe's eye.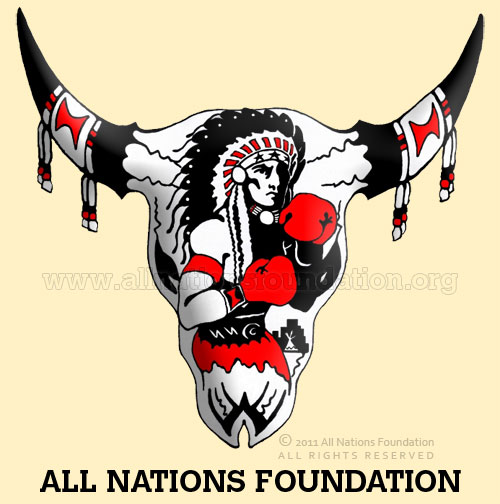 ALL NATIONS FOUNDATION
Since retiring from the sport in 2007 Joe has formed a non-profit organization — All Nations Foundation — dedicating his life in being an advocate, a leader, and role model for what he truly believes in, Native American youth.
Joe has since volunteered countless hours making appearances at youth conferences and summits. He represents himself as an asset for Native American lives, by living his life as a great Native American symbol for all Nations.
Our Mission:
The mission of All Nations Foundation is to encourage Native American Youth to strive for achievement and excellence in sports, academics, health and fitness; preserve the Native American sports heritage and build pride and positive lifestyles in the spirit of Native American culture through mentoring and serving as role models by engaging in a broad range of civic and charity activities that benefit Native American communities with the belief that boxing has no boundaries; we all speak the same language; we all understand perfectly its universal voice and that we all chat with our fists, with our hearts, and with our souls.
Our Goals:
1: To form a Boxing Club where tribal youth would train extensively for the Indigenous Games Nations, Golden Gloves Competition, and many Native American Boxing tournaments. (We currently have access for a 5500 sq. ft. facility).
2: To Provide an After-School Tutoring/Mentoring service to Urban Youth.

Mr. Hipp addressed 750 middle school students during the Native American Awareness Week, Auburn, WA, 2010.

Native American Student Association, Olympic Middle School Auburn, WA, honored Joe "The Boss" Hipp in recognition for conquering the boxing world.


PRWEB.COM Press Release "Former Heavyweight Champion Joe Hipp Launches Nonprofit Youth Boxing Program with Moxy Commerce" November 16, 2010.

JOE HIPP's message:

Our children are our biggest asset. That is why I work tirelessly to let them know that anything they try, anything they begin, they can accomplish.
One of the critical issues that we face today is the issue of leadership. Many people in our communities believe that leadership is simply being the first, biggest or most powerful. Leadership should have a different and more meaningful definition.
Simply put, the definition of a leader should be interpreted as someone who sets direction in an effort and influences people to follow that direction.
How they set that direction and influence people depends on a variety of factors that are considered within our organizations.
Joe Hipp, President & Founder
WBF Heavyweight Champion of the World, 1999
All Nations Foundation is a 501(c) (3) non-profit charitable organization that encourages excellence in sports, academics, health and fitness; preserves our sports heritage and builds pride and positive lifestyles in the spirit of Native American culture.
All Nations Foundation - www.AllNationsFoundation.org - 2248 E. Harrison #2 - Tacoma WA 98404 - (253) 579-5695
HOW TO SUPPORT & BOOK JOE "THE BOSS" HIPP ORGANIZATION:
All Nations Foundation accepts donations and contributions through its website: www.allnationsfoundation.org.
These donations and contributions help All Nations Foundation achieve what it truly believes in, disadvantaged street youth.
If interested in donating money or booking Joe "The Boss" Hipp for any community events visit the All Nations Foundation Website.
Joe "The Boss" Hipp is delighted to do motivational and inspirational work at any community function where he will sign autographs and hand out autographed t-shirts.

"The Boss" pictured with his four professional championship fight belts and signing autograph memorabilia for his fans.
JOE HIPP MULTIMEDIA GALLERY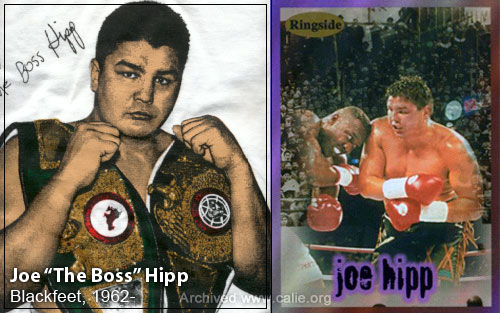 Famous American Indian heavyweight boxer Joe "The Boss" Hipp (Blackfeet tribe) pictured in this rare hand-colored autographed memorabilia, and (right) featured on a 1996 Ringside sports trading card (#13, 1996).

Joe posed for this professional Ringside promotional photo in 2008 wearing boxing gloves and standing beside a red Ringside heavy training bag.
WATCH JOE HIPP BOXING MOVIES YOUTUBE.COM:
Tommy Morrison vs Joe Hipp, June 27, 1992, Reno, Nevada (in English).
Part 1
Part 2
Part 3
Part 4
Here are full quality downloads of the Hipp-Morrison fight:
File name: Morrison_vs_hipp.avi
File description: Morrison_vs_hipp.avi
File size: 623.8 MB
WHO PRODUCED THIS BLOG?


Ernie C. Salgado Jr.
Tribal: Luiseño
Reservation: Soboba Indian Reservation
EDITOR: The Indian Reporter www.theindianreporter.com
Founder/CEO CALIE: www.californiaindianeducation.org
Web Site: www.apapas.com
CONTACT
RESUME/BIOGRAPHY
PUBLISHED ARTICLES
Page created on Feb. 26, 2011, last worked on Feb. 28, 2011.
A professional CALIE presentation by GARY G. BALLARD.