500 MILLION+ HITS!!!
Feb. 2008 - Sept. 2023
101,000-plus Unique Daily Visitor IPs logged a month!
300,000 Pages Viewed a month!
Publishing Corner:
ROY COOK NEWS BLOG
THE INDIAN REPORTER
TRIBAL BLOGGERS
Indian Community:
TRIBAL COMMUNITY
PROFILES
OBITUARIES
Science & Wonder
ASTRONOMY PORTAL
KID'S CLUBHOUSE
Indian Heros:
VETERAN COMMUNITY
WHO'S IN THE MILITARY?
MEDALS OF HONOR
CODE TALKERS
FAMOUS CHIEFS
HISTORIC BATTLES
POEMS ESSAYS
SPORTS-ATHLETES
MISSION FEDERATION
FAMOUS INDIANS
California Indian Art:
MISSION BASKETS
RED CLAY POTTERY
ETHNOGRAPHIC ART
CAVE ART
MUSIC
CALIE Library:
FEDERAL Resources
HEALTH & MEDICAL
INDIAN BOOK LIST
HISTORICAL Documents
Academic Financial Aid:
SCHOLARSHIPS
GRANTS & FUNDING
Tribal Governments:
TRIBAL COURTS
SOVEREIGNTY
SOCIAL SERVICES
TRIBAL DIRECTORY
Indian Gaming:
INDIAN CASINO FORUM
CONTACT California Indian Education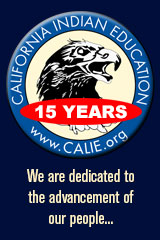 WELCOME to our official California Indian Education website: www.calie.org — the leader in on-line American Indian educational learning, news and community resources.
DONATE-VOLUNTEER-PROMOTE:
If you or your organization are interested in contributing or volunteering in support of our mission — or advertising on our websites — please contact our Editor in Chief, Ernie Salgado (Soboba tribe), through the email address below.
SUBMISSIONS:
CALIE editors encourage freelance independent writers, photographers, teachers and bloggers to get involved in our publications.
We publish EVENT NOTICES | COMMUNITY LETTERS | MEDIA RELEASES | BREAKING NEWS | NEWS FEATURES | EDUCATIONAL & RESEARCH ARTICLES | BIOGRAPHIES and much more, just about everything to do with the American tribal community.
YOUR COMMENTS & SUGGESTIONS:
We truly value your feedback for improving this tribal resource and are trying hard to best serve our community members — please write me your comments using the convenient e-mail form below.
Respectfully,


Ernie C. Salgado Jr.
ASSIGNMENTS | EDITOR | PUBLISHER
CALIE CEO, Founder & Editor in Chief
Luiseño, Soboba Indian Reservation


PLEASE USE THIS TEMPORARY E-MAIL ADDRESS TO CONTACT ME.
You will need to manually type our address into your email app:






Note: The email above is subject to daily changes -- it may not work later.
Our previous fancy Contact Us form was being shamelessly spammed by bots in every subject you can imagine.
This manual-entry process is to turn off their automation so we don't have to sift through 100 spam emails a day to find a few real messages.