400 MILLION+ HITS!!!
Feb. 2008 - June 2023
101,000-plus Unique Daily Visitor IPs logged a month!
300,000 Pages Viewed a month!
Publishing Corner:
TRIBAL BLOGGERS:
ROY COOK NEWS BLOG
THE INDIAN REPORTER
JOURNAL FROM SDC
KAREN VIGNEAULT
BOOK STORE
Indian Community:
TRIBAL COMMUNITY
PROFILES
OBITUARIES
Science & Wonder
ASTRONOMY PORTAL
KID'S CLUBHOUSE
Indian Heros:
VETERAN COMMUNITY
MEDALS OF HONOR
CODE TALKERS
FAMOUS CHIEFS
HISTORIC BATTLES
POEMS ESSAYS
SPORTS-ATHLETES
MISSION FEDERATION
FAMOUS INDIANS
California Indian Art:
MISSION BASKETS
RED CLAY POTTERY
ETHNOGRAPHIC ART
CAVE ART
MUSIC
CALIE Library:
FEDERAL Resources
HEALTH & MEDICAL
INDIAN BOOK LIST
HISTORICAL Documents
STD Information
Academic Financial Aid:
SCHOLARSHIPS
GRANTS & FUNDING
Tribal Governments:
TRIBAL COURTS
SOVEREIGNTY
SOCIAL SERVICES
TRIBAL DIRECTORY
Indian Gaming:
INDIAN CASINO FORUM
HOW CAN I SUPPORT NATIVE AMERICAN EDUCATION?
A great place to start supporting American Indian Education in Southern California would be CONTACTING ERNIE SALGADO JR for more information.
Mr. Salgado (Soboba tribal elder) has served the California Indian educational and Tribal TANF communities for more than 50 years and can help bring your ideas and dreams, your vision, into reality -- how to reach a select Tribal audience.
SUPPORT TRIBAL EDUCATION
from Ernie Salgado, CALIE CEO, Editor in Chief

Thank you for your interest in helping us serve the Native American Indian educational community.
Whether your interest is placing a prominent banner AD to promote your organization or business, making a monetary donation or partnering up with us — or you just want to say hello — I would like to hear from you.


PLEASE CONTACT ME DIRECTLY
ERNIE C. SALGADO JR
CALIE CEO
Tribal: Luiseño
Reservation: Soboba Indian Reservation
WWW.AMERICANINDIANREPORTER.COM
www.theindianreporter.com (Soboba Indian Reporter)
Professional website: www.apapas.com
RESUME-BIOGRAPHY
ADVERTISING | DONATIONS | LINKING | VOLUNTEERING | PARTNERING | BLOGGING
"Sharing our culture with the world"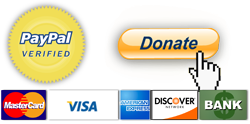 CALIFORNIA INDIAN EDUCATION, INC (CALIE.org) has established a convenient Verified PayPal account to receive payments and financial donations under our non-profit 501(c)(3) community based Tribal organization.
Please click on the above Donate graphic or blue text for more information about making your fully tax-deductible donations, and insights about how your money will be used or directed to directly benefit American Indian tribal children and their families.
DO YOU HAVE GREAT IDEAS OR CONCERNS THAT MAY HELP AMERICAN INDIAN STUDENTS AND FAMILIES?
Please CONTACT ERNIE SALGADO directly for more payment and donation options and information about sponsoring California Indian Education events, projects and programs.
Mr. Salgado's websites and publications are designed to serve the community with an emphasis on important Tribal news, nurturing Native American students and promoting traditional family values and health within the Tribal communities.
CALIE Statistics:
californiaindianeducation.org
The CALIE website was established by Ernie Salgado in February of 2008.
STATISTICS (calie.org website only as of Jan. 2022):
HITS: 290,000,000 plus (about 3 million Hits a month)
PAGES VIEWED: about 300,000 per month
UNIQUE DAILY VISITORS: 7 million plus (logging about 101,000 per month)
OUR TOP 10 MOST POPULAR PAGES:
Our large California Indian Tribal Network of websites is receiving more than 5 million hits a month.
Our visitors' IP addresses — verified through whois.arin.net — include many computers registered to schools, colleges, universities, libraries, museums and tribal organizations around the world in many countries.
BUY ADVERTISING BANNERS & GRAPHIC LINKS
How can I contribute to Tribal education?
SHOWCASE your businesses and events to the largest inter-tribal community of Native American leaders, investors, managers, consultants, vendors, journalists, customers and tourists -- locally and globally.
Let the community know your business, organization or family proudly supports California Indian Education.
Please CONTACT ERNIE SALGADO today for more information.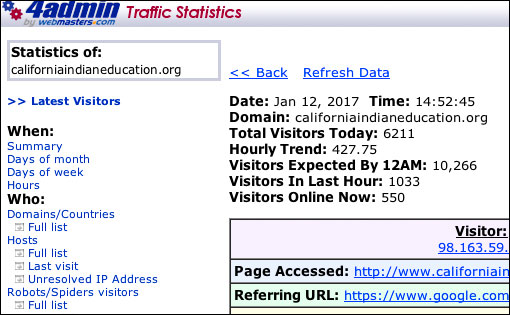 This is fairly typical for CALIE live statistics...
CALIE.ORG top-page banner ADs are our premium space. Our right-column is also available for graphic ads.
Our rates vary greatly depending on page/placement/length of contract. Some of our pages receive over 10,000 Page Views a month so those are our most preferred spots.
You may even store your AD graphics on your server and we simply call it up on our page — this allows you to change your AD as often as you like (and it also gives you a page counter).
BUY KEY-WORD LINKS
We don't do link exchanges per se, but if your website, goods or services are beneficial to the American inter-tribal Indian community, we do consider all offers for text-based advertising and promotions on case-by-case bases. CONTACT ERNIE SALGADO for more information.
CALIE.ORG key-word text links start at $35 per month and go up depending on page/placement/length of contract. Some of our other sites may be cheaper depending on monthly Page Views.
PARTNERING UP — TEAMWORK, FUND RAISING, BRAINSTORMING. BREAKING NEWS!

SUBSCRIBE to The American Indian Reporter (AIR) tribal newspaper.
Printed full-color community newspaper USPS mailed to you monthly (12 issues) from $25 per year...FREE electronic downloads.
We are developing opportunities within our educational format for partnering with independent producers, retailers, organizations and tribal artists — a good example of this opportunity is our on-line TRIBAL TRADING POST.
We are going to need help with all aspects of running an online store, including sellers and artists to feature. CONTACT ERNIE SALGADO for more information.
VOLUNTEER & FREELANCE WORK
Many current and future areas of our California Indian Network need developing and editing, such as our FAMOUS CHIEFS section — if you have expertise to help us edit or can submit your own commentaries or projects for publication — please CONTACT US.
TRIBAL BLOGGERS PROGRAM
CALIE supports blog writers, students works and independent producers by offering creative and technical support to publish their work through our TRIBAL BLOGGERS PROGRAM.

This program is an excellent way to get your name and your work out there working for you and the community.

A great example of one of our active participants is seen at WWW.SHAYNEDEL.COM.

Shayne del Cohen has written highly-informative tribal journals for the past 30 years, but she had no website to publish them. We suggested she buy her domain name, and we then hosted it for her as an "Add-on Domain."

This provided Shayne with a website, @shaynedel.com e-mail addresses, branding options, and search search engine indexing of her material... all she needs to do is send us her work for posting and we do the rest.
CALIE.ORG is the world leader in Native American Indian Community & Education resources online: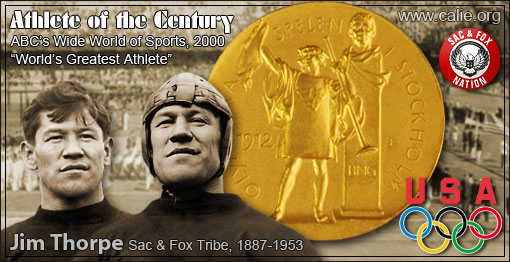 JIM THORPE (Sac & Fox Tribe) 1987-1953,
"Athlete of the Century" | "Greatest Athlete in the World"....


AMERICAN TRIBAL SOVEREIGNTY: The Constitution of the United States, U.S. Supreme Court, federal and state laws, as well as historical treaties all support federally-recognized Indian tribes' present-day legal rights to self-governance and certain limited forms of tribal sovereignty....


JOHN CHIEF MEYERS (Cahuilla, Riverside, CA), 1880-1971, MLB teams the "Ironman" played for: New York Giants, Boston Braves, Brooklyn Robins. Career batting average .291, played in four World Series (1911, 1912, 1913, 1916)....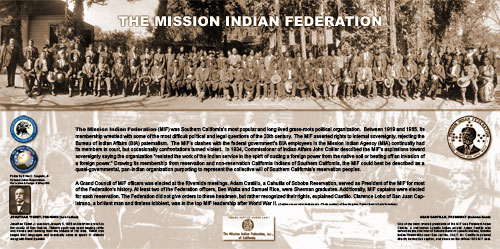 MISSION INDIAN FEDERATION: The MIF was Southern California's most popular and long-lived grass-roots political organization. Between 1919 and 1965, its members asserted tribal rights to internal sovereignty, and rejected the Bureau of Indian Affairs (BIA) paternalism....


American Indian Boarding School Experience
CALIE is compiling a historical Web portal for research....