Publishing Corner:
TRIBAL BLOGGERS:
ROY COOK NEWS BLOG
THE INDIAN REPORTER
JOURNAL FROM SDC
KAREN VIGNEAULT

Indian Community:
TRIBAL COMMUNITY
PROFILES
OBITUARIES
Science & Wonder
ASTRONOMY PORTAL
KID'S CLUBHOUSE
Indian Heros:
VETERAN COMMUNITY
MEDALS OF HONOR
CODE TALKERS
FAMOUS CHIEFS
HISTORIC BATTLES
POEMS ESSAYS
SPORTS-ATHLETES
MISSION FEDERATION
FAMOUS INDIANS
California Indian Art:
MISSION BASKETS
RED CLAY POTTERY
ETHNOGRAPHIC ART
CAVE ART
MUSIC
CALIE Library:
FEDERAL Resources
HEALTH & MEDICAL
INDIAN BOOK LIST
HISTORICAL Documents
Academic Financial Aid:
SCHOLARSHIPS
GRANTS & FUNDING
Tribal Governments:
TRIBAL COURTS
SOVEREIGNTY
SOCIAL SERVICES
TRIBAL DIRECTORY
Indian Gaming:
INDIAN CASINO FORUM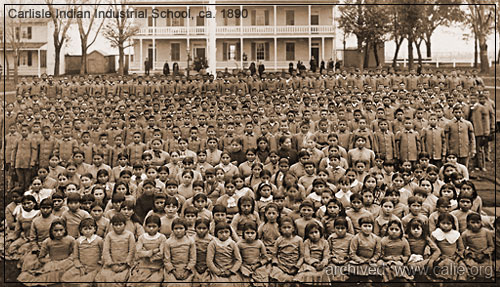 Download higher-resolution photo — Carlisle Indian Industrial School, ca. 1890, Carlisle, Pennsylvania.
INDIAN BOARDING SCHOOLS
HISTORICAL STUDY RESEARCH GUIDE
Click to jump down page
Español | 中文 | 日本 | Française | Deutsch | 한국어 | Россию | پارس
July 2022

BREAKING INDIGENOUS NEWS: Pope Francis issues an historic apology for 'devastating' school abuses in Canada...
May 2022
DOWNLOAD THE 106-PAGE PDF REPORT (29 MB).
Federal Indian Boarding School Initiative Investigative Report Published by federal government
May 2022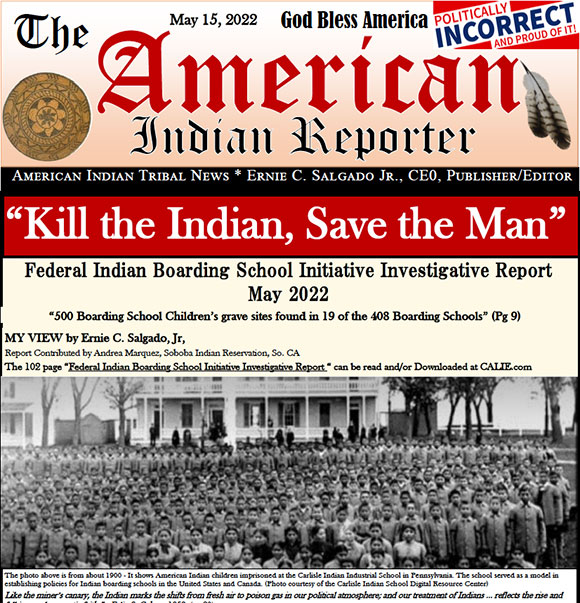 "Kill the Indian, Save the Man"
500 Boarding School Children's grave sites found in 19 of the 408 Boarding Schools


MY VIEW by Ernie C. Salgado Jr.
Report Contributed by Andrea Marquez, Soboba Indian Reservation
On June 22, 2021, the Secretary of the Interior, Deb Haaland, announced the Federal Indian Boarding School Initiative, directing the Department of the Interior by Secretarial Memorandum, to undertake an investigation of the loss of human life and lasting consequences of the Federal Indian boarding school system.
For nearly two centuries, the Federal Government was responsible for operating or overseeing Indian boarding schools across the United States and its territories.
Today, the Department is therefore uniquely positioned to assist in the effort to recover the histories of these institutions.
The Federal Indian Boarding School Initiative Report, was released in May 2022 under the leadership of the Department of the Interior, investigated the conditions that led to the creation of and the conditions inside Native American boarding schools.
This report shows for the first time that between 1819 and 1969, the United States operated or supported 408 boarding schools across 37 states (or then-territories), including 21 schools in Alaska and 7 schools in Hawaii.
The report also states that about half of the boarding schools were managed by various church organizations....
Historical Perspective
Forward by Dr. Jon Allan Reyhner, Northern Arizona University (special to CALIE)

ith the founding of the Carlisle Indian Industrial School in 1879 the U.S. Government launched an effort at what is now called cultural genocide where Indian children were taken away from their families and put into boarding schools for three or more years.
As the long time U.S. Indian Service teacher and agent Albert H. Kneale noted in his autobiography Indian Agent (Caxton, 1950), the U.S. Government "went on the assumption that any Indian custom was, per se, objectionable, whereas the customs of whites were the ways of civilization."
Students were often punished for speaking their native languages and a concerted effort was made during most of the early history of these schools to eradicate their students' "Indianness." However, as recent research shows, the U.S. Government was only partially successful.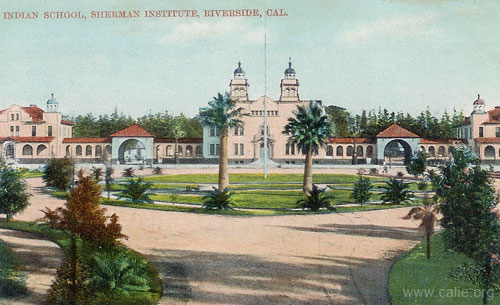 Antique hand-colored postcard, ca. 1905, Sherman Institute, Riverside, Calif.
Two new books focus on Sherman Institute in Riverside, California, which opened in 1902 as an Indian boarding school and is still operating today as Sherman Indian High School, a modern off-reservation boarding high school for Native American Indian students
In the edited book Boarding School Blues: Revisiting American Indian Educational Experiences (University of Nebraska Press, 2006) the editors Clifford E. Trafzer, Jean A. Keller, and Lorene Sisquoc write in their introduction, "The American Indian boarding school experience is layered with deep meaning that cannot be understood simply by framing the schools, administrators, and teachers as good or evil."
In the concluding chapter Patricia Dixon (Pauma band) and Clifford Trafzer note how boarding schools produced Indian leaders in the past and today provide a sanctuary for some Indian youth from difficult home and community conditions.
Dixon recalls how the tales of Sherman Institute told to her by her great-aunt made the school sound "exciting." The school's sports teams, band, and other extracurricular activities often attracted students.
Polingaysi Qoyawayma in her autobiography No Turning Back: A Hopi Indian Woman's Struggle to Live in Two Worlds (University of New Mexico Press, 1964) describes her experiences as a student at Sherman Institute "in the land of oranges" and how she went on to become a teacher on her reservation.
Several of the larger boarding schools had "Normal Departments" for advanced students that prepared them to become teachers.
Hopi historian Matthew Sakiestewa Gilbert's Education Beyond the Mesas: Hopi Students at Sherman Institute, 1902-1929 (University of Nebraska Press, 2010) describes how Hopi students at Sherman Institute were able to resist assimilation and take advantage of the educational opportunities the school offered.
David Adams concludes his book Education for Extinction: American Indians and the Boarding School Experience 1875-1928 (University of Kansas Press, 1995) with, "the white man…concluded that the only way to save Indians was to destroy them, that the last great Indian war should be waged against children. They were coming for the children."
It is important to remember that while many battles were won, this last great war was lost. Indian tribes are resurgent today. As, Ellis notes in chapter two of Boarding School Blues, "But a funny thing happened on the way to assimilation via the ABCs. As a generation of scholarship has revealed, schools became places where the construction of identity was deeply contested, where time and time again Indian people proved both more receptive to learning and more resilient in culturally contextualizing that learning than policy makers ever imagined."
Professor Jon Reyhner, coauthored "American Indian Education: A History"

Download higher-resolution photo (credit: John N. Choate).
"KILL THE INDIAN, & SAVE THE MAN"
- Famous American quote (circa 1880) by U.S. Army Capt. Richard Henry Pratt, Founder and long-time Superintendent of the Carlisle Indian Industrial School on the United States government cultural assimilation of the surviving American indigenous population. (Study Resource)

t was common for American Indian schools to take professional before and after portraits of their students for whatever reason.
The left portrait is how Tom Torlino (Navajo) looked when he arrived at the Carlisle Indian School in 1882, and the right photo was taken of him some three years later.
WHY ARE THE SKIN TONES SO DIFFERENT IN TOM TORLINO'S FAMOUS INDIAN PORTRAITS?
The dramatic difference in very dark to much lighter skin tones was probably achieved in the earlier portrait by placing a green filter over the lens during the exposure — this would have darkened his natural skin tone as seen in the earlier photo.
By the same camera technique, filming through a red or yellow filter would lighten skin tones as in the later portrait.
Any photographer of the day would have known these black & white camera techniques and a savvy artist would have used them to accentuate the point he was hired to make.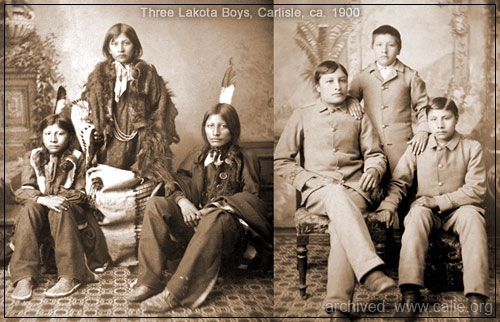 Download higher-resolution photo.
Three young Lakota Indian boys pictured (left) wearing their tribal clothing upon their arrival at Carlisle, and (right) a short time later wearing their school military-style uniforms, ca. 1900. Photos courtesy the Smithsonian National Anthropological Archives.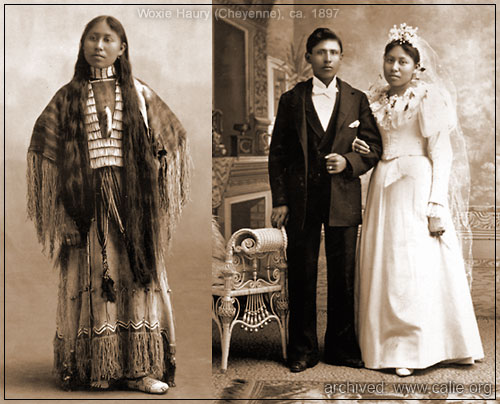 Download higher-resolution photo.
In another famous before and after series, Woxie Haury (Cheyenne), is pictured in her finest cultural attire (left), and her western style wedding dress (right). Collection: Estelle Reel
THESE BEFORE & AFTER PHOTOGRAPHS SET UP AN IMPORTANT MOMENT IN AMERICAN HISTORY: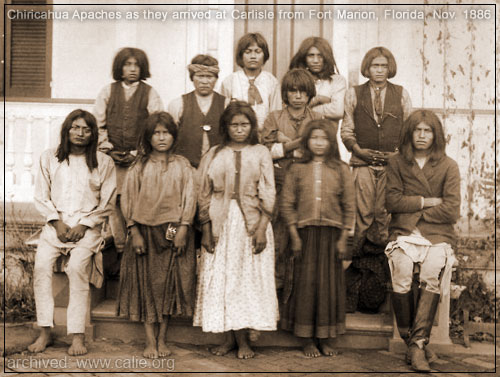 Chiricahua Apache children (above) posed for a group photograph as they arrived at the Carlisle school from Fort Marion in November, 1886. And (below) four months later in March, 1887, wearing their military-type school uniforms.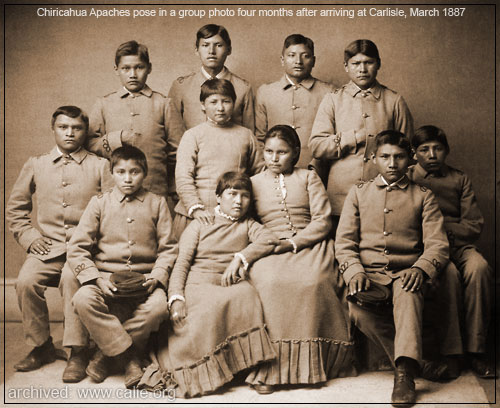 Download higher-resolution photo.
Photos by John N. Choate courtesy of National Museum of the American Indian, Washington D.C. (Study Resource)
Note the historical significance of WHEN the above group photos of the Apache children were taken, and under what circumstances they appeared at the Carlisle school....

GERONIMO pictured above center with some of his warriors, women and children in this extremely rare photograph (probably by C.S. Fly, mid 1886)...please do visit the CHIRICAHUA-APACHE.COM website for more historical information like this quote from their cultural research:
"After Pratt took the Apache children, 447 Chiricahuas remained at Fort Marion. 82 prisoners were men, 65 of whom had been scouts in 1885 and 1886...".
The notorious Apache warriors, pictured above during the heat of their resistance efforts, were to formally surrender to General Nelson A. Miles in Skeleton Canyon on September 4, 1886.
Geronimo's efforts in successfully fighting government forces are noted by historians as being the last significant guerrilla warfare actions by Indians against the United States.
TOP RESEARCH LINKS:
Barbara Landis "It is our purpose to respectfully honor those students and their descendants who lived the experiment,  celebrate with those who prospered from it, and grieve with those whose lives were diminished by it. This is a history that belongs to all Americans. The identities of all Americans are shaped by the Carlisle experiment...". Through the support of the Viola White Water Foundation
LABRIOLA CENTER Bibliography of Indian Boarding Schools: Approximately 1875-1940
WIKIPEDIA
PBS.ORG
HANKSVILLE.ORG
PHOTO GALLERY ILLINOIS.EDU
TWOFROG.COM
Beyond The Mesas.COM
AMERICAN INDIAN INDIGENOUS EDUCATION This web site is designed to provide information, including links to related web sites, on the history and current thinking about American Indian and Indigenous education. It includes information on how Indigenous students were taught English and on bilingual/bicultural education. In addition, there is material on teaching reading, math/science, curriculum development, and American Indian dropouts. Links are also provided to information on community-controlled schools, gifted and talented education, learning styles, and Indian children's books. This web site is maintained by Jon Reyhner.
BEST BOOKS LIST:
"American Indian Education: A History" by Jon Allan Reyhner and Jeanne M. Oyawin Eder (Sioux), University of Oklahoma Press, 2006. ISBN#:0-8061-3783-5. 384 pages.
"Boarding School Blues: Revisiting American Indian Educational Experiences" Edited by Clifford E. Trafzer, Jean A. Keller, and Lorene Sisquoc, University of Nebraska Press, 2006.
"Education Beyond the Mesas: Hopi Students at Sherman Institute 1902-1929" by Matthew Sakiestewa Gilbert (Hopi), University of Nebraska Press, 2010.
"No Turning Back: A Hopi Indian Woman's Struggle to Live in Two Worlds" by Polingaysi Qoyawayma, Vada F. Carlson, Elizabeth Q. White, University of New Mexico Press, 1964.
"Away from Home: American Indian Boarding School Experiences" edited by Margaret L. Archuleta, Brenda J. Child, K. Tsianina Lomawaima, Heard Museum, 2000.
"Boarding School Seasons: American Indian Families, 1900-1940" by Brenda J. Child (Red Lake Ojibwe), University of Nebraska Press, 1998.
"American Indian Children at School, 1850-1930" by Michael C. Coleman, University Press of Mississippi, 1993.
"Education for Extinction: American Indians and the Boarding School Experience 1875-1928" by David Wallace Adams, University Press of Kansas, 1995.
"Indian Agent" by Albert H. Kneale, Caxton Printers, 1950
"Kill the Indian, Save the Man: The Genocidal Impact of American Indian Residential Schools" by Ward Churchill, City Lights Publishers, 2004.
DOWNLOAD "History of Indian Boarding Schools" PDF E-Book Compiled and published by www.Lakhota.Com
CURRICULUM & ACTIVITIES
Just about every type of western vocational training, social and college activities were available at the schools, including agriculture, art, music, science, sports, Christian religion, and western female skills like sewing, cooking, ironing and cleaning.
The practicing or discussion of traditional American Indian culture, language, religion, arts and crafts were strictly forbidden at most of the early government Indian schools.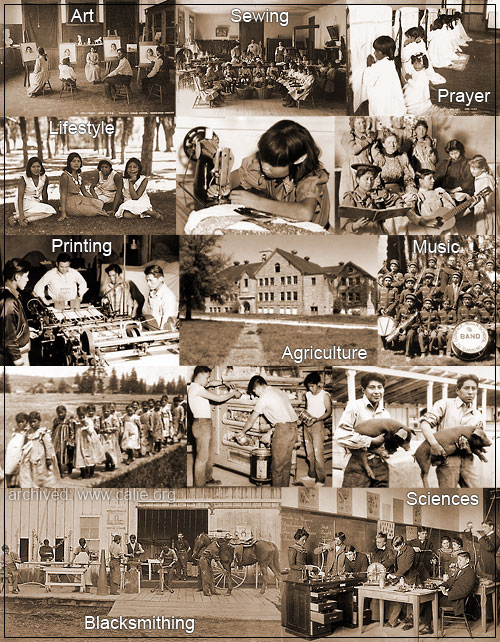 Our CALIE Indian school collection (above) includes a variety of historical rare vintage antique photographs we assembled during our photo research, including art, sewing, cultural assimilation, lifestyle, printing, agriculture, farming, science and blacksmithing pictures of American Indigenous students participating in the U.S. government educational programs for Native Americans from about the mid 1800s through the mid 1990s.
BOARDING SCHOOL PICTURE GALLERY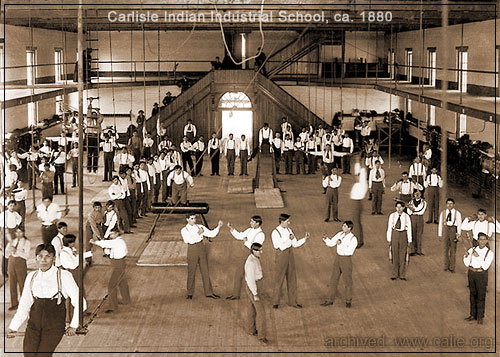 Download higher-resolution photo.
Carlisle Indian Industrial School, young male Indian students pose for a historical photograph in the Carlisle gymnasium, ca. 1880.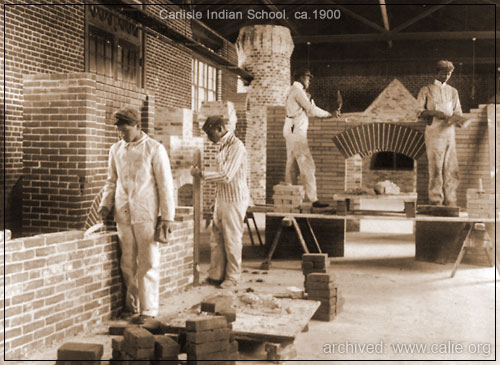 Some Carlisle Indian students were taught the bricklaying trade.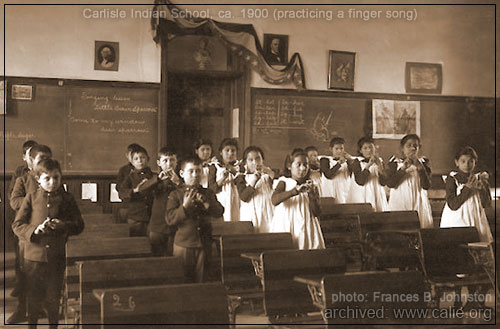 Carlisle Indian School, ca. 1900, young American Indian children practicing a western finger song, photo by Frances Benjamin Johnston.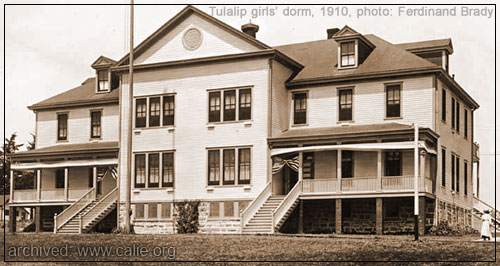 Girls' home, 1910, Tulalip Indian Reservation, Washington. Photo: Ferdinand Brady.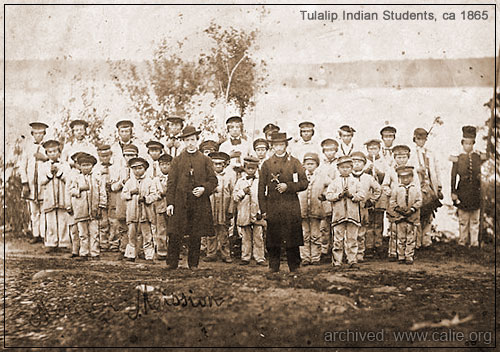 In one of the oldest known Indian school photographs, Tulalip students pose for a picture wearing their early school uniforms with two priests, ca. 1865.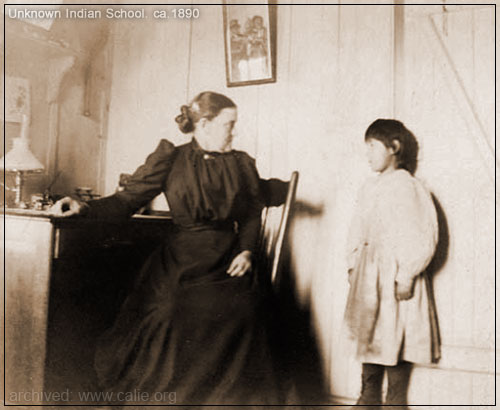 A very young American Indian girl answers to what appears an immigrant schoolmarm in this undated turn of the century historical Indian school photograph, ca. 1890 (or earlier).
If the 3.5-degree clockwise tilt in the above photo was intentional, then the 19th century photographer was every bit as clever as today's best 21st century film directors to slightly mis-frame a scene and unbalance the weight of the moment onto the young girl.
Most people probably will not consciously notice the tilt, but subliminally, nearly every viewer will "feel" it.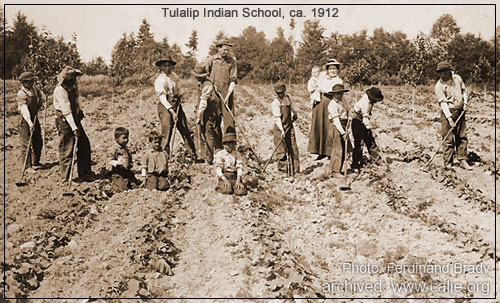 American Indian students were taught modern American farming-agricultural methods, Tulalip Indian School, ca. 1912. Photo: Ferdinand Brady. Campus farms and fruit trees also served to feed the staff and students as vital sources of food stocks to help sustain the organization and community.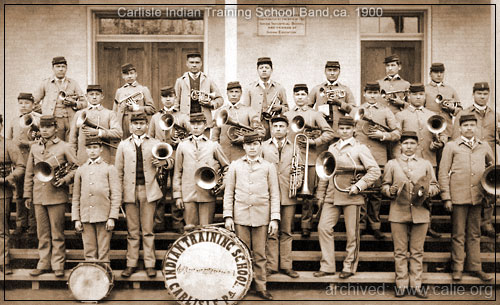 Download higher-resolution photo.
Carlisle Indian School Band members photographed with western musical instruments and wearing school uniforms ca. 1900. Photo courtesy www.armywarcollege.edu/.
SPORTS, ATHLETICS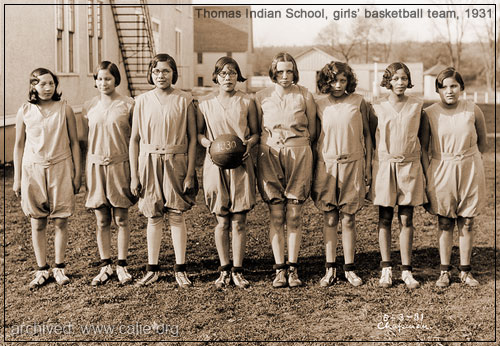 Thomas Indian School girls basketball team, 1931.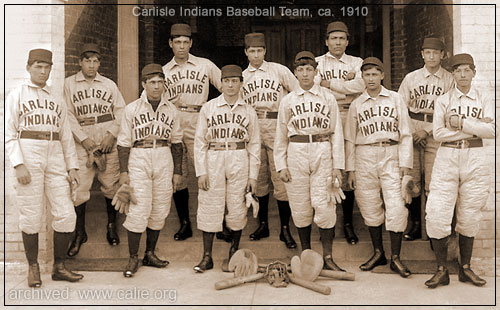 Carlisle Indians baseball team pictured ca. 1910.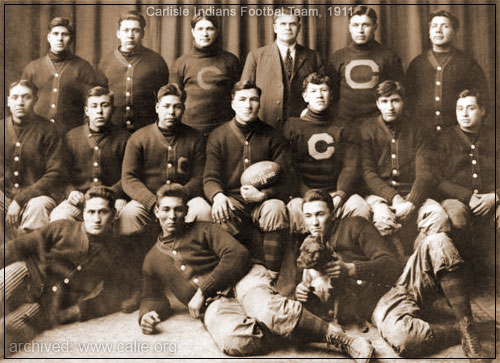 Carlisle Indians football team pictured in 1911. Note: Jim Thorpe is pictured center row, third from right (with "C" on his chest).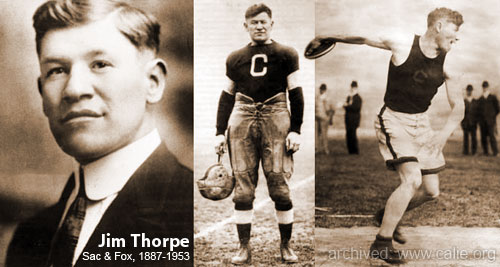 JIM THORPE (Sac & Fox) is pictured wearing his Carlisle Indians college uniform (center). Known around the world for being "The Greatest Athlete of All Time," Mr. Thorpe went on to dominate professional sports, including track and field, football, baseball. He also won two gold medals in the Olympic Games of 1912.
INDIAN SCHOOL ART POSTERS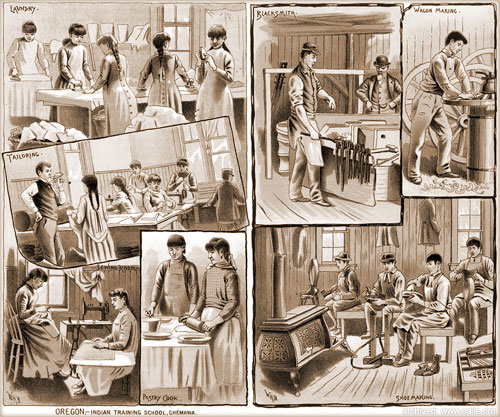 Download higher-resolution photo.
Chemawa Indian School art posters depict turn of the 20th century Indian students involved in laundry, tailoring, sewing, cooking, blacksmithing, wagon making, and shoe making activities.
WHO PRODUCED THIS BLOG?


Ernie C. Salgado Jr.
Tribal: Luiseño
Reservation: Soboba Indian Reservation
EDITOR: The Indian Reporter www.theindianreporter.com
Founder/CEO CALIE: www.californiaindianeducation.org
Web Site: www.apapas.com
CONTACT
RESUME/BIOGRAPHY
PUBLISHED ARTICLES
PROFESSIONAL PRESENTATION by Gary G. Ballard