Publishing Corner:
ROY COOK NEWS BLOG
THE INDIAN REPORTER
TRIBAL BLOGGERS
Indian Community:
TRIBAL COMMUNITY
SOARING EAGLES
PROFILES
OBITUARIES
TANF GUIDE
KID'S GUIDES
Science & Wonder
ASTRONOMY PORTAL
KID'S CLUBHOUSE
Indian Heros:
VETERAN COMMUNITY
MEDALS OF HONOR
CODE TALKERS
FAMOUS CHIEFS
HISTORIC BATTLES
POEMS ESSAYS
SPORTS-ATHLETES
MISSION FEDERATION
FAMOUS INDIANS
California Indian Art:
MISSION BASKETS
RED CLAY POTTERY
ETHNOGRAPHIC ART
CAVE ART
MUSIC
CALIE Library:
FEDERAL Resources
HEALTH & MEDICAL
INDIAN BOOK LIST
HISTORICAL Documents
Academic Financial Aid:
SCHOLARSHIPS
GRANTS & FUNDING
Tribal Governments:
TRIBAL COURTS
SOVEREIGNTY
SOCIAL SERVICES
TRIBAL DIRECTORY
Indian Gaming:
INDIAN CASINO FORUM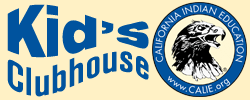 WELCOME TO CALIE KID'S CLUBHOUSE, your kids-safe web portal to the best educational websites for children by way of the most trusted names in childrens' education for Native American storytelling, fire safety, health, culture, NASA, PBS, USFA, FEMA, Indian Health Service, Hubble, Mars, universes and galaxies of outer space, free Flash® online computer games for children — a virtual webring kids world compiled especially for young CALIE visitors, their parents and teachers.

SAFETY FIRST


US DEPARTMENT OF HOMELAND SECURITY, US FIRE ADMINISTRATION FOR KIDS — learn about fire safety, fun & games, resources for parents and teachers.

MEET your local San Diego firefighters.
Sycuan-BIA Golden Eagles Hotshots visited a local San Diego elementary school and gave young students the VIP treatment.


KIDS.GOV Back to School provides a safe place to learn and play through a wide variety of teacher- child- and parent-related articles about art, exercise and healthy eating, government, health and safety, history, jobs, math, money, music, on-line safety, reading and writing, science, social studies, nature, videos, and even free child-safe games to play online....


USA.GOV provides a broad spectrum of child and family back-to-school information, including articles about bullying, nutrition, health, insurance, safety, vaccination, financial assistance, homework help...


NASA Space Place for games, crafts, activities...
Fun Flash® GAMES
NASA Kid's Club provides great child-safe website for young children to learn about NASA's space mission and outer space.
PBS KIDS provides a fun website for children with games, videos, music and coloring exercises to play and information to learn, including special PBS Teachers and PBS Parents sections.
Indian STORYTELLING
The Public Boadcast System (PBS) Circle of Stories uses documentary film, photography, artwork and music to honor and explore Native American storytelling (tip: when you get to the PBS stories, click on the big "Launch Stories" logo to play professional audio recordings of the Native American storytellers).


VA.GOV FOR KIDS


First People is a child friendly site about Native Americans and members of the First Nations. 1400+ legends, 400+ agreements and treaties, 10,000+ pictures, free clipart, Pueblo pottery, American Indian jewelry, Native American Flutes and more.
Space SCIENCE
NASA Mars Program Fun Zone child-safe government website for young children to learn about NASA's Mars missions — games, mission preparation.
NASA MARS ROVER mission information, facts and scientific pictures on the planet Mars of rocks, landscape, sky, minerals, water.
NASA HUBBLESITE outer space images.
Native American CHILDREN'S COMMUNITY PICTURES

SCAIR TANF families Christmas party with Santa Claus at Viejas Indian Reservation, 2008 photos.
Please e-mail your favorite children's links to the WEBMASTER.
CALIE Kid's Clubhouse researched and compiled by CALIE webmaster.