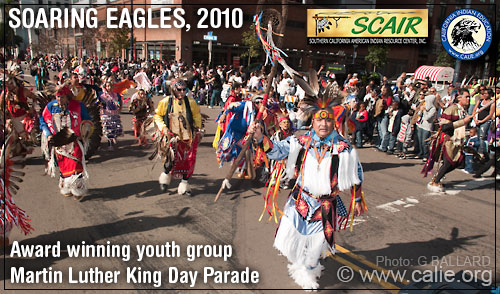 Soaring Eagles cultural mentor Frank Gastelum (Yaqui) raises a ceremonial Indian staff in the historical Gaslamp Quarter area near Petco Park and leads the Soaring Eagles Native American Indian dancers on to win the San Diego "Youth Award" trophy for their cultural dance exhibition.

The Soaring Eagles of San Diego County, Southern California, USA

WELCOME to the official Home Page of the award-winning Soaring Eagles Native American Indian cultural dance group of San Diego County.

PROGRAM INFO | CLASS SCHEDULE | MISSION STATEMENT | DIRECTIONS | BOOKING | FAQS | SPONSORS | NEWS | MEET STAFF & VOLUNTEERS | PHOTO GALLERIES | CONTACT | AWARDS


SPONSOR, DONATE OR VOLUNTEER
[Tip: Use your browser's Back button to return to this menu after clicking on these links.]

SOARING EAGLES SCRAPBOOK: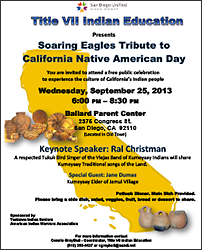 INTER-TRIBAL COMMUNITY SAN DIEGO:
Soaring Eagles Tribute to California Native American Day
Featuring Jane Dumas (Jamul Kumeyaay elder) & Ral Christman (Viejas).
WHEN: September 25, 2013
WHERE: Ballard Parent Center
DOWNLOAD PDF POSTER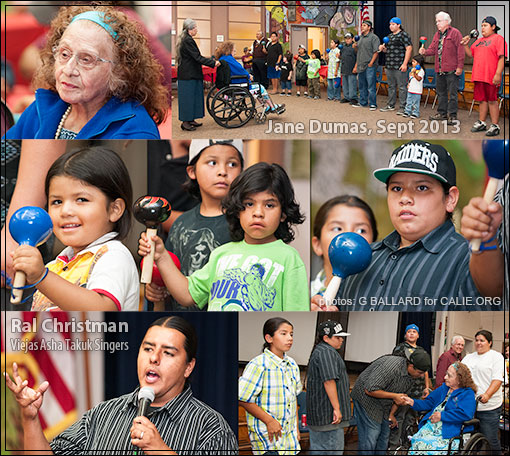 JANE DUMAS & RAL CHRISTMAN attend Soaring Eagles community tribute to California Native American Day, presented by Title VII Indian Education... HIGH RESOLUTION PICTURES.

Soaring Eagles honor Ron and Virginia Christman during the First Annual Old Town Soaring Eagles Powwow in San Diego.
CLICK to see our BEAUTIFUL PROFESSIONAL POW-WOW PICTURES from this colorful San Diego tribal event portfolio.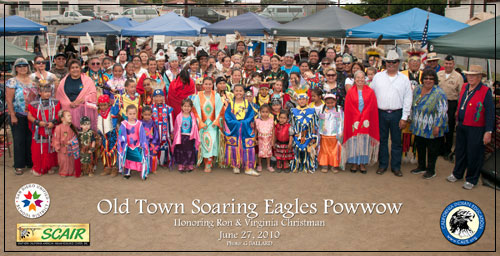 The Soaring Eagles Dance Group poses for a group picture with their special honorees: Ron and Virginia Christman (Viejas and Santa Ysabel reservations). DOWNLOAD HIGH-RESOLUTION POSTER.
BUILDING TRADITIONAL FAMILY VALUES
Soaring Eagles programs for American Indian families are designed to heal and strengthen traditional American tribal family values and instill a sense of belonging to the American inter-tribal urban community through cultural awareness and friendship — drugs and alcohol are strictly prohibited at all Soaring Eagles events events.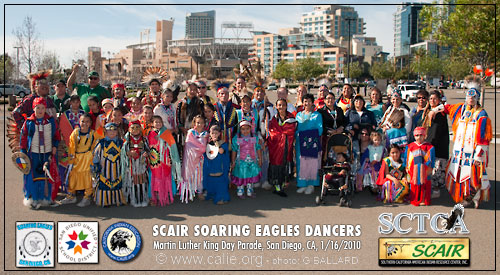 CLICK TO DOWNLOAD 10-inch high-resolution Soaring Eagles poster, 40 or so participants pose for a professional picture after a San Diego parade in the Petco Park area of downtown San Diego just after dancing the full parade route.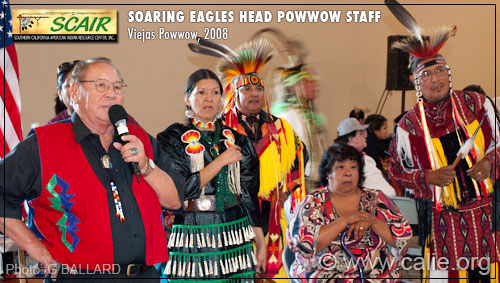 VIEJAS INDIAN RESERVATION — (l-r) Master of Ceremonies Randy Edmonds (Kiowa-Caddo), Mentor Tina Morales (Chippawa-Cree), Mentor Frank Gastelum (Yaqui), Project Coordinator Vickie Gambala (Cherokee), Lead Instructor Chuck Cadotte (Lakota).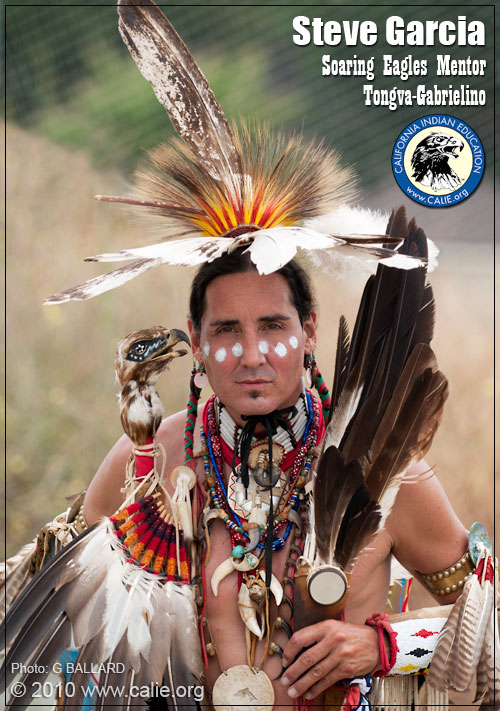 Steve Garcia (Gabrielino-Tongva Tribe) is a staunch supporter of Native American Indian culture and his family are regulars with the Golden Eagles program. Steve and other traditional American Indians offer support as cultural instructors and mentors to the young Soaring Eagles Indian students.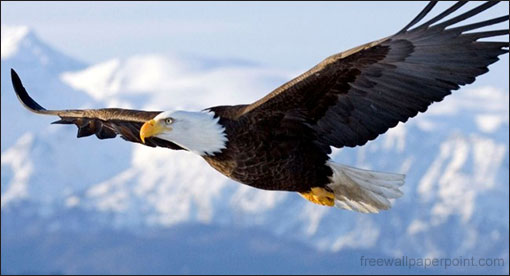 ABOUT THE SOARING EAGLES DANCE & REGALIA MAKING PROGRAM:
The Soaring Eagles Indian Education Program was established in 2008 to provide a unique cultural learning environment for young American Indian students — grades K-12 — to learn about about common pow-wow dancing styles, cultural protocols, including how to design and make tribal regalias to help them participate in local San Diego County gatherings and powwows.
The cultural learning process begins in the classroom environment with close supervision and active family support — even the most eager children are challenged as our young mentors get the American Indian students warmed up and practicing the traditional dance steps of their ancestors.


Many young Native American children, grades K-12, attend the classes to learn about their Native American cultural dance protocol.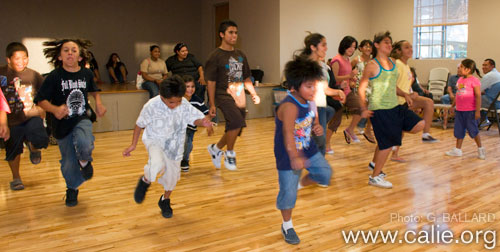 Pow-wow dance students and mentors get real workouts during the dancing classes.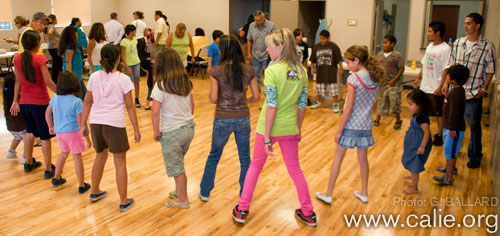 Classes typically open with a ceremonial drum song and pow-wow style round dancing.

Students practice a walk-around greeting where participants walk a line and shake hands with other participants.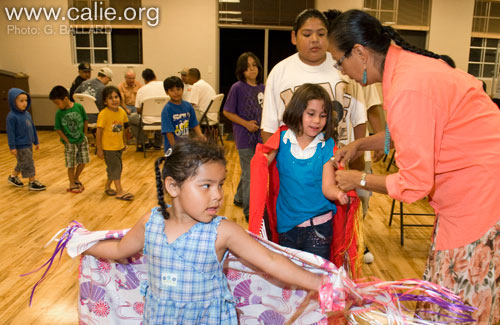 Vera Tucker, Kumeyaay Indian woman from Viejas Indian Reservation, teaches a young Indian student how to grip her fancy shawl.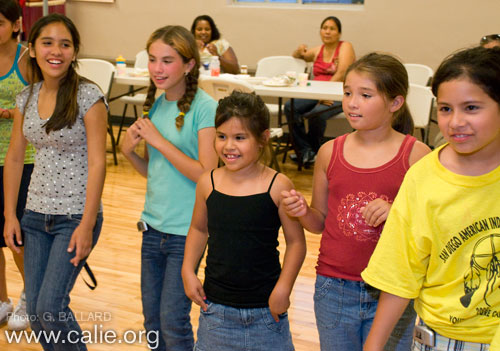 Young pow-wow girls enjoy their cultural dancing experiences and socializing during the classes.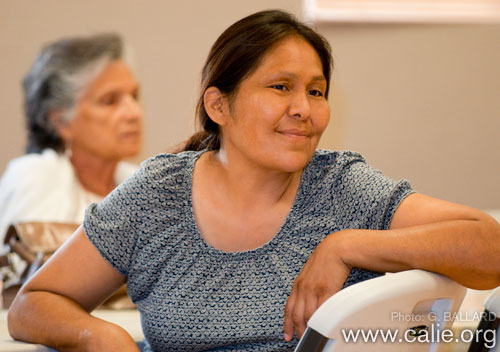 NATIVE PRIDE IN SAN DIEGO — A young San Diego County urban Indian mother smiles as she watches her daughters participate in a Soaring Eagles dance class tribal community event.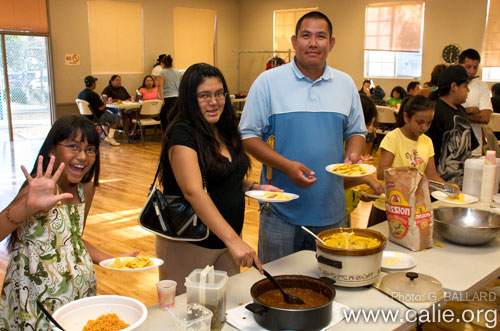 POT LUCK — Project coordinators create a warm family community atmosphere during the classes and family members are encouraged to participate in the program.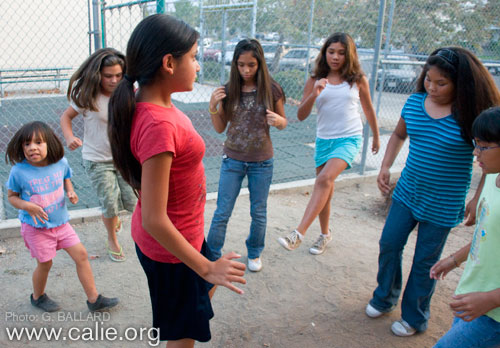 The experienced young female dance mentor (in red) brought her students outside to enjoy the open air and sunset during a summer class in San Diego.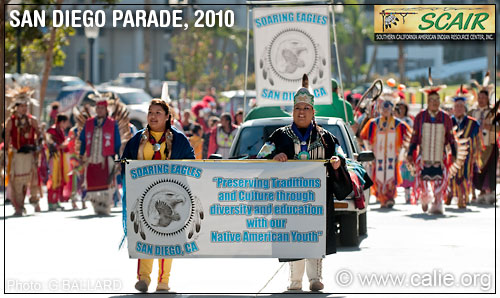 Young Indigenous girls dressed in authentic tribal regalia lead the Soaring Eagles Native American dance group in large downtown San Diego parade.
SOARING EAGLES' MISSION STATEMENT:


"Preserving Traditions and Culture through diversity and education with our Native American Youth"
The Soaring Eagles quickly came into their their own under SCAIR program funding, and today, the young Indian dancers put on beautiful exhibitions of cultural dance for tribal and non-tribal audiences in Southern California.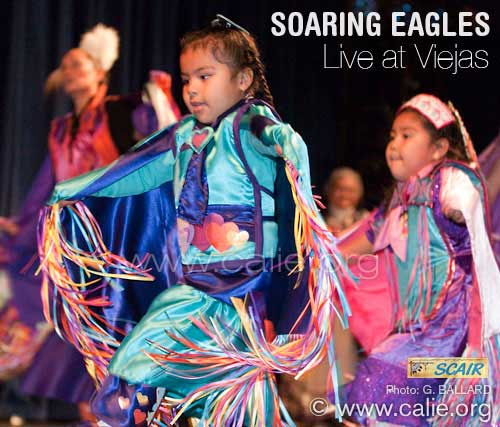 Funding provides material resources for students and parents to design and hand make their individual pow-wow regalia — most of the children's pow-wow regalia were designed and handmade during the Soaring Eagles' weekly community classes.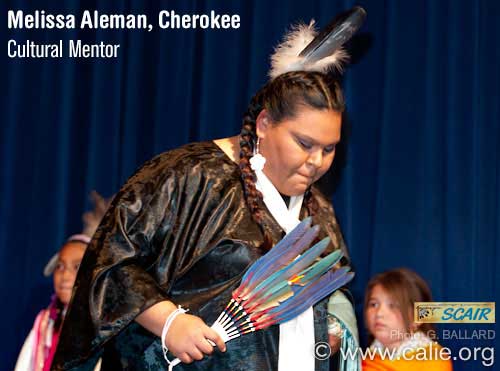 Melissa Aleman (Cherokee) is a traditional young Native American mentor pictured dancing with Soaring Eagles students at Viejas holding a colorful parrot feather fan and wearing an eagle feather in her hair.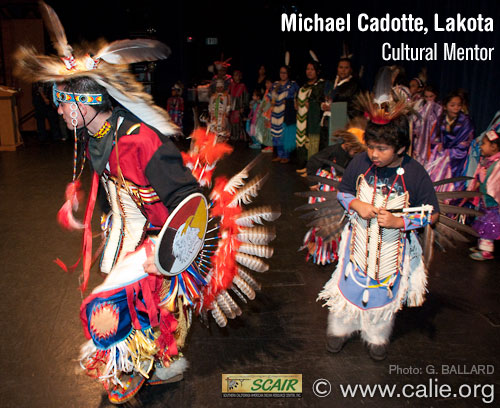 Michael Cadotte (Lakota) leads the young Soaring Eagles dancers around the Viejas stage during a live cultural show at Viejas.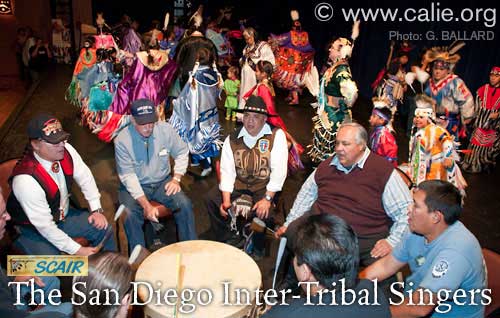 The San Diego Inter-Tribal Singers and Indian drum group and the Green River Singers regularly perform with the Soaring Eagles — pictured around the Indian drum are Ben Nance, Kim Flying Eagle, Ernie Walton, Frank Gastelum, Roy Cook, Richard DeCrane, Leland Red Eagle, Terry Hinsley. For information about how to hire the Native American drum group, please contact Roy Cook.
HOW TO BOOK THE SOARING EAGLES:
The Soaring Eagles dancers may be booked for cultural performances in Southern California and San Diego County. Your donation may be tax deductible so please CONTACT PROGRAM COORDINATORS for more information about how to book the young Indian dancers for your event.
CULTURAL EXCHANGE PROGRAMS BETWEEN NATIONS: CONTACT PROGRAM COORDINATORS for information about developing cultural exchange programs between the U.S.A. and countries like China, Japan, Korea, Mexico, Canada, Israel, United Kingdom...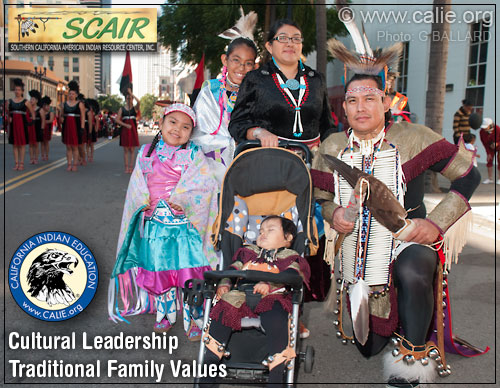 The SOARING EAGLES program promotes strong traditional family values within the urban and reservation tribal communities of San Diego County and Tribal TANF communities.
SPONSOR — DONATE — VOLUNTEER
Our Soaring Eagles Indian Education Program requires ongoing sources of funding and good, family-oriented Native American families, mentors and teachers to grow and maintain our extended San Diego tribal community — please contact PROGRAM COORDINATORS for more information about how to contribute to our urban- and reservation-based community programs.
MEET STAFF & VOLUNTEERS including:
PROGRAM COORDINATOR: Vickie Gambala (Cherokee)
SENIOR ADVISOR: Randy Edmonds (Kiowa-Caddo)
STAFF INSTRUCTORS: Chuck Cadotte (Lakota)
EXECUTIVE ASSISTANT: Richard Orvedal (Chippewa)
DRUMS: San Diego Inter-Tribal Singers, Green River Singers
MENTORS: Frank Gastelum (Yaqui), Melissa Aleman (Cherokee), Carla Tourville (Yokut), Steven Garcia (Tongva-Gabrielino), Vera Tucker (Kumeyaay), Jennifer Gastelum, Tina Morales (Chippawa-Cree)...
HISTORIAN: Roy Cook (Opata-Oodham, Mazopiye Wishasha)
WEBMASTER: Gary Ballard
CULTURAL SUPPORTERS include:



Southern California American Indian Resource Center, Inc.


Southern California Tribal Chairmen's Association SCTCA is a consortium of 19 federally-recognized Indian tribes in Southern California. SCTCA is a San Diego tribal TANF provider.
Soaring Eagles "Hall of Fame" News: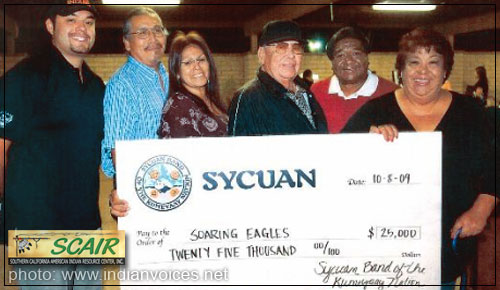 SYCUAN TRIBAL GOVERNMENT presented the Soaring Eagles with a Kumeyaay Sycuan check for $25,000 — pictured (l-r) are Cody Martinez (Sycuan Treasurer), Chuck Cadotte (Soaring Eagles), Carla Tourville (Soaring Eagles), Randy Edmonds (SCAIR), Danny Tucker (Sycuan Chairman), and Vicki Gambala (Soaring Eagles) — THANK YOU, SYCUAN!
Youth Award


San Diego judges awarded the Soaring Eagles the third place trophy for their grand performance in the San Diego Martin Luther King Day Parade, January, 2010.

Congratulations, Eagle Dancers!
photo: Chuck Cadotte
FREQUENTLY ASKED QUESTIONS (FAQ) ABOUT SOARING EAGLES:
FAQ contributed by Roy Cook, CALIE historian


Q: How do I book the Soaring Eagles to perform at my events?
A: Please CONTACT program leaders to book the Soaring Eagles dancers. Your donation may be tax deductible and will help us maintain this important tribal program for our community.
Q: I love the program, but don't have time to participate, HOW DO I MAKE A DONATION?
A: Simply CONTACT program leaders for more information. Your donation to our program may be tax deductible.
Q: When and where are the regular Soaring Eagles classes-workshops located?
A: The classes generally meet once a week at the Ballard Parent Center in Old Town San Diego (MAP/DIRECTIONS).
Q: When was the Soaring Eagles program established?
A: Vickie Gambala established the Soaring Eagles program in the summer of 2007 as an extension of the Indian Education Culture Night at Oak Park School.
Q: My children are not Native American, can they participate in the Soaring Eagles program?
A: Yes. All San Diego County students K-12 are welcome to attend and participate in the Soaring Eagles cultural program.


Children develop strong friendships that last a lifetime and strengthen our tribal communities.
Q: How do I enroll my child in the Soaring Eagles?
A: Please CONTACT program leaders for more information.
Q: How many children participate in the program?
A: There are currently around 100 children and 150 family members who participate in the Soaring Eagles classes and public cultural exhibitions.
Q: How does my child obtain his or her pow-wow outfit, are they expensive?
A: Students along with their parents and mentors design and make their own tribal regalia during the program. Soaring Eagles will generally assist needy families with the material costs of this regalia-making process.
Q: Are parents and family members allowed to visit and sit-in classes?
A: Caretakers, parents, grandparents, brothers and sisters are all encouraged to attend our classes and events and participate in our relaxed American Indian community social environment.


Soaring Eagles is a community where people care about each other.

Q: I am Native American, can I volunteer to help with classes?
A: Yes, Soaring Eagles needs cultural mentors and volunteers. However — as with any school project — applicants are subject to background checks and verification of personal references during the process.

Q: What age is too young or too old for students and mentors?
A: Generally, our program is designed for kindergarten through 12th grade students, but everyone is welcome to participate.

Q: I do not have reliable transportation, does Soaring Eagles help with transportation to classes and events?
A: Car pooling and group networking are the only options at this time, but please CONTACT program leaders for more information.
SOARING EAGLES PHOTO GALLERIES:


SOARING EAGLES perform live at the San Diego Martin Luther King Parade — Soaring Eagles win San Diego Youth Award!


SCAIR-SCTCA Academic Awards at Viejas, featuring the Soaring Eagles Dancers live entertainment.


SOARING EAGLES perform live pow-wow dancing on Viejas Indian Reservation.


PROFESSIONAL POW-WOW PHOTOGRAPHY.

PROFESSIONAL EAGLE DANCE Posters (click on posters).

OLD SOARING EAGLES PRESS RELEASE

The Soaring Eagles typically schedules weekly dance/regalia classes including a pot-luck dinner — please contact the Soaring Eagles for updated information — ALL CLASS SCHEDULES & EVENTS ARE SUBJECT TO CHANGE WITHOUT NOTICE.

The Soaring Eagles classroom-workshops are currently being held at:

BALLARD PARENT CENTER, Old Town, MAP
2375 Congress St.
San Diego, CA 92110
Center telephone: (619) 293-4431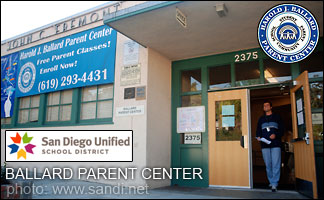 CONTACT SOARING EAGLES:
ADMIN PHONE CONTACTS:
Vickie Gambala:

Richard Orvedal:

Program Coordinator:
Vickie Gambala (Cherokee) www.californiaindianeducation.org/soaring_eagles/

Program leaders are currently restructuring the Soaring Eagles' Facebook and Twitter community pages.

CONTACT SOARING EAGLES WEBMASTER
(for Web site typos, to add or edit information).
+++++++
+++++++
POW-WOW REGALIA Article:
See the California Indian Education Pow-wow History and Information article for more info about how to make powwow costumes and professional photographic portfolios and movies about Native American powwows in Southern California, San Diego County Indian Country.
See SOARING EAGLES PRESS RELEASE for additional information, including new class schedule, registration and art poster DOWNLOAD.