Publishing Corner:
ROY COOK NEWS BLOG
THE INDIAN REPORTER
TRIBAL BLOGGERS
Indian Community:
TRIBAL COMMUNITY
PROFILES
OBITUARIES
Science & Wonder
ASTRONOMY PORTAL
KID'S CLUBHOUSE
Indian Heros:
VETERAN COMMUNITY
MEDALS OF HONOR
CODE TALKERS
FAMOUS CHIEFS
HISTORIC BATTLES
POEMS ESSAYS
SPORTS-ATHLETES
MISSION FEDERATION
FAMOUS INDIANS
California Indian Art:
MISSION BASKETS
RED CLAY POTTERY
ETHNOGRAPHIC ART
CAVE ART
MUSIC
CALIE Library:
FEDERAL Resources
HEALTH & MEDICAL
INDIAN BOOK LIST
HISTORICAL Documents
STD Information
Academic Financial Aid:
SCHOLARSHIPS
GRANTS & FUNDING
Tribal Governments:
TRIBAL COURTS
SOVEREIGNTY
SOCIAL SERVICES
TRIBAL DIRECTORY
Indian Gaming:
INDIAN CASINO FORUM
Randy Edmonds Kiowa-Caddo
PROFESSIONAL BIOGRAPHY OF RANDY EDMONDS
Mr. Edmonds is a well-known American Indian traditional speaker about Native American History, Culture and Traditions.
As a respected Southern California Tribal Elder, he is a popular community Spiritual Leader, a Master of Ceremonies, and a near tireless Community Organizer and Activist in the United States.
Randy Edmonds is famous in Los Angeles, Riverside and San Diego County for giving traditional cultural blessings and speaking about Native American Indian culture and the importance of building close family unity within the urban and reservation Native American Indian Indian communities.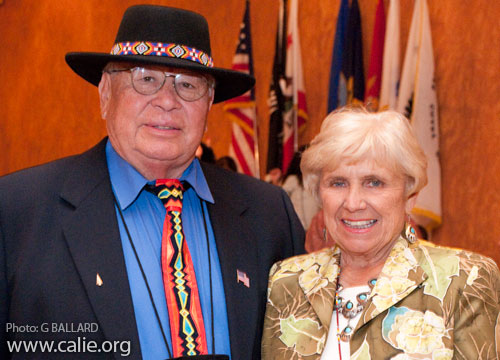 Randy Edmonds (Kiowa-Caddo) posed for a candid portrait with his beautiful wife, Bonnie (Ojibwa), in 2009.
SPIRITED LIFETIME AWARD:
San Diego Indian Community Honoring, Sept. 2010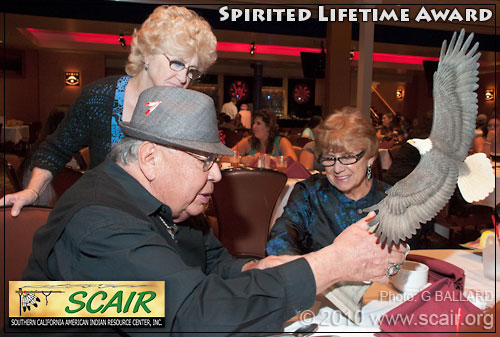 A SCAIR board member looks on as Mr. Edmonds reads the SCAIR inscription on his and Bonnie's award:

Randy and Bonnie Edmonds
Spirited Lifetime Award
Together You Warrior the Native American Spirit
Creating Bridges of Sameness that Unite Us
Your Weapon is Education Teaching, Inspiring,
Protecting the Ancestral Native American Culture
As Teachers and Role Models You Walk The
Path of Two Worlds Protecting Tradition
We Respectfully and Lovingly Honor You and
Your Gracious Commitment to Our People.
Southern California American Indian Resource Center, Inc.
September 20, 2010
Soaring Eagles at Randy Edmonds: Local Legends Honoring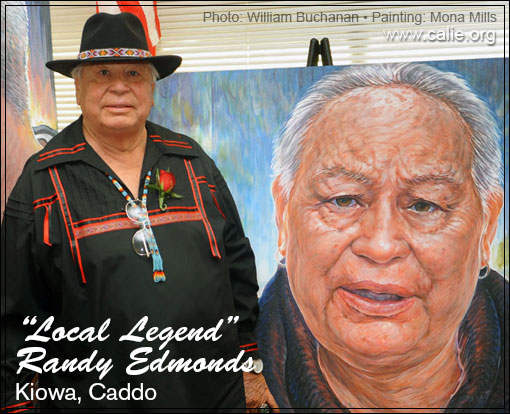 by Roy Cook, Opata-Oodham, Mazopiye Wishasha
SCAIR Senior Advisor, Randy Edmonds is one of the honored local legends at the San Diego County Library and HHSA Aging & Independence Services new art exhibit - San Diego Legends: Living Well.
This annual recognition is comprised of painted portraits, photographs, and impact statements about six local elders who lead by example. This all took place May 31 at 6 p.m. at the Rancho San Diego Branch.
The exhibit included artist Mona Mills and the San Diego Legends plus refreshments and performances by the San Diego Native American Soaring Eagles Dancers and Ballet Folklorico Aquetzalli of Lemon Grove.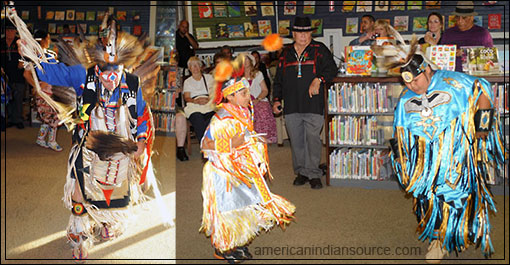 Our Native American San Diego Youth Soaring Eagle Dancers in full regalia and with traditional songs by the Green River singers represented each category of pow wow dance with spectacular response. Their attendance was in support of our honored elder and famous Emcee, Randy Edmonds.
Enjoy these images from William Buchanan, American Indian Warriors President. He and Joaquin Sandoval, in Honor Guard regalia, added their support to this worthy event. All attending had a great, Aho time tonight!... MORE PHOTOS.
RELOCATION SURVIVOR
Randy Edmonds is known for relating his personal experiences with the BIA Relocation program in Los Angeles and later in San Diego. The Indian elder champions the ageless tribal values and modern need for practicing tribal cultures to the young people living in the 21 century urban community villages of Southern California.
PBS Indian Country Diaries (excerpt):
Assimilation, Relocation, Genocide


Randy Edmonds — now a powwow announcer in LA and featured in "A Seat at the Drum" — grew up in Anadarko, Oklahoma, and is Caddo and Kiowa. He remembers how a BIA agent recruited him (into the BIA Relocation program):
"I was kind of hanging around the corners and, you know, drinking with the boys. And my aunt, my Kiowa aunt, she said she wasn't too pleased with that.
"And her husband was the BIA Relocation Project Officer, so he put out an APB on me. And when I got there he scolded me, of course, and he said, you know, 'You're better than this. You shouldn't be hanging around with all those winos you know. You need to go somewhere and change your lifestyle.' He said, 'I have these seven cities that you have a choice to go to...'".
Randy and his wife chose Los Angeles and boarded the train with their infant daughter and a basket of fried chicken. When they arrived, Randy had to catch a cab to the BIA office...read entire PBS Relocation article.
POW-WOW CIRCUIT
Our good friend Randy Edmonds (Kiowa-Caddo) addressed the Soaring Eagles Dance Class group, the Indian community and young students and explained about what his lifetime in the Pow Wow circle means to him.
"The pow wow is one way to find those important values and identity as Indian people," Randy Edmonds said.
Mr. Edmonds also serves the greater Southern California American Indian Community as the senior advisor for the Southern California American Indian Resource Center (SCAIR), Alpine Calif.
Randy Edmonds is frequently invited to be the emcee, head dancer or head gourd dancer at famous California powwows.
Randy is now retired living in Point Loma with is wife, Bonnie Edmonds, but he is still very active in the pow-wow circle.
Master of Ceremonies Randy Edmonds pictured June 2010 during the First Annual Old Town Soaring Eagles Powwow in San Diego.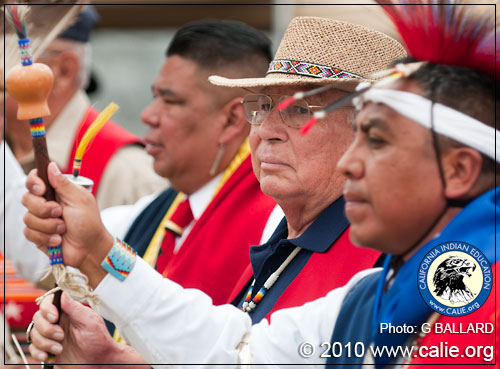 Randy Edmonds, SCAIR Senior Advisor, pictured 2010 playing a can rattle with his fellow gourd dancers.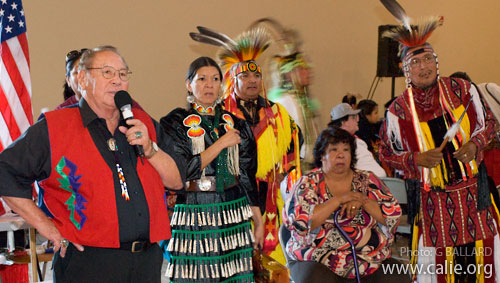 Viejas Pow-wow Master of Ceremonies Randy Edmonds (Kiowa-Caddo) addressed the pow-wow participants and Viejas guests on behalf of the Soaring Eagles Indian students and their families. To Randy's left are Soaring Eagles staff and volunteers Tina Morales (Chippawa-Cree), a pow-wow Jingle Dancer, Soaring Eagles Project Coordinator Vickie Gambala, Cherokee (seated), and Soaring Eagles lead instructor Chuck Cadotte (Lakota). Yaqui grass dancer Frank Gastelum, The San Diego Inter-Tribal Singers of San Diego, is pictured just behind Tina observing the pow-wow ceremony.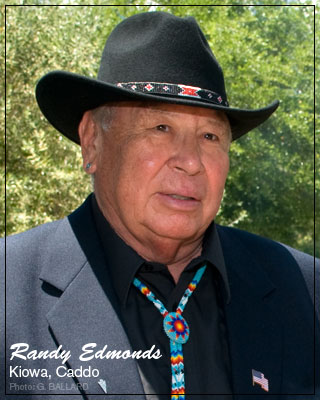 Attending many of the other SCAIR events are SCAIR senior advisor Randy Edmonds and his wife Bonnie. They have been at the Spring Bling, Traditional Indian Wedding, Seaworld Splash and the Soaring Eagles Dance Program in San Diego County.
At one of the Soaring Eagles classes, Randy said, "The dancers family gets together and dresses the dancer, then the dancer is brought into the pow-wow circle and introduced, often with a give away of gifts and hand-made items in respect and recognition of the honor shown to the family."
CALIE Journalist Roy Cook contributed to this professional biography.