FIRST ANNUAL OLD TOWN SOARING EAGLES POWWOW 2010
FOR IMMEDIATE RELEASE
JUNE 26-27, SOARING EAGLES youth group held their first annual powwow in Old Town San Diego — the event was a beautiful and colorful cultural display, a total success for these young San Diego County American Indian students, their mentors and program leaders to the delight of the Southern California Indian community and San Diego visitors.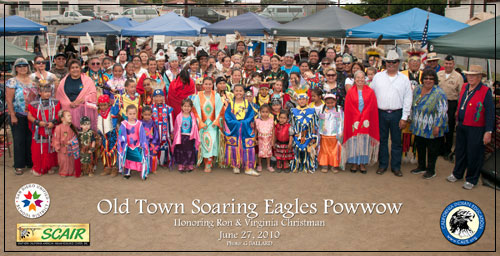 The Soaring Eagles Dance Group poses for a group picture with their special honorees: Ron and Virginia Christman (Viejas and Santa Ysabel reservations). DOWNLOAD HIGH-RESOLUTION POSTER.
Master of Ceremonies Randy Edmonds (Kiowa-Caddo).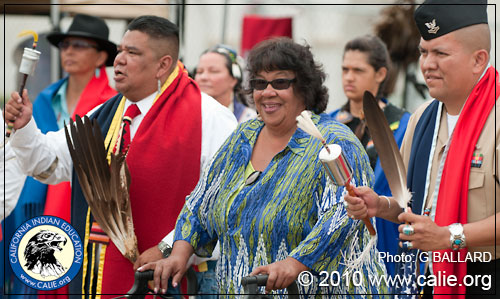 Soaring Eagles program leader Vickie Gambala (Cherokee) pictured standing with the gourd dancers and enjoying the experience.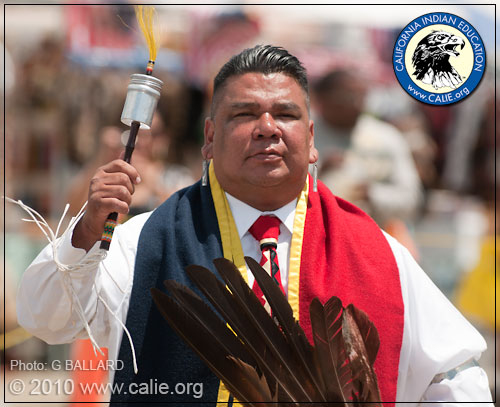 Head Gourd Dancer Dave Patterson (Kickapoo).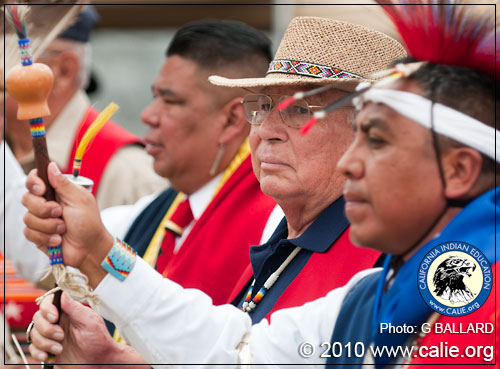 Randy Edmonds, SCAIR Senior Advisor, pictured playing a can rattle with his fellow gourd dancers.
Soaring Eagle Old Town Pow wow 2010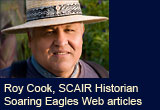 This Soaring Eagle Pow wow is a memorable event. This is two of the summers longest days. Even the full pumpkin moon is special in the summer sky. San Diego Unified School District, Indian Education Title VII program liaison Vickie Gambala and the Soaring Eagle pow wow committee organized this June 26-27, 2010 Soaring Eagle Pow wow program. The Southern California American Indian Resource Center, SCAIR, has been a constant support from the beginning of the program.
The event is memorable, beyond the activities, in this regard. Those tribal members that have been a part of the pow wow tradition for most of their lives could recall and see that the respect and protocol of the arena is given constant consideration.
The Soaring Eagle children, who were introduced to the circle in a ceremonial way, by Randy Edmonds, now have a life memory to recall and are an integral part of the inter-tribal memory and the tribal oral tradition. One of the constant strengths of these Pow wow celebrations of life is the ability to introduce and preserve our tribal ways.
The Pow wow can bring many tribal groups together in an original American Indian context to traditionally enjoy the Creator's gift of life.
There are many Native American tribal people living in San Diego. Many are from all over the United States of America, Canada and Mexico.
The inter-tribal quality of the pow wow provides a cooperative environment of mutual enjoyment. Visitors to the event enjoyed the circle of vendors from the greater Southwest Indian country. Many American Indian based organizations provided special information on services and opportunities.
Also on view are artistic creations of traditional design and exotic interpretations: sculpture, painting, apparel, personal adornment and jewelry. Also, there are the always-popular food booths to feed the inner person. Tasty delights like, fried bread, Indian tacos or pop over, soups and stews to warm the heart and bring nostalgic smiles to faces far from home.
Many at this Pow wow celebration acquired many special gifts and lasting memories of the Soaring Eagle pow wow.
In the arena the Emcee, SCAIR Senior Advisor Randy Edmonds kept the visitors informed. Arena director Robert Gastelum respectfully kept everything running smoothly in the dance circle.
Dave Patterson, Head Gourd dancer brought the Oklahoma Kickapoo Warriors gourd dance dignity to the opening of the event. The emcee added the Kiowa Gourd dance perspective. Randy acknowledged the quality of the songs led by Tim Redbird, Kiowa, of the Red Warrior singers.
Richard Decrane is the head staff carrier and the Saturday color guard was composed of Marines from MCRD from across the freeway. Sunday, AIWA members brought in the colors. US Navy retired, Wilbur Solomon, Omaha provided the blessing
Head man dancer and Soaring Eagles: SCAIR American Indian dance instructor Chuck Cadotte dressed in traditional Northern Plains regalia and encouraged the full circle of Soaring Eagles youth and parents in the dance arena.
Rounding out our head staff and leading out all the events were: Tina Morales, head woman, head young girl, Queenabella Fisher, head young boy Ricky Garcia. There were wonderful songs to lift ones heart in the joy of the dance: Intertribals, Buffalo dances, trot songs, round dance and dance category exhibitions for all to enjoy seeing the progress of the Soaring Eagle dancers.
Of special note is the quality of the songs from the drums and performers this weekend. Host Northern drum, Green River, Host southern drum Red Warriors, Invited guest drum, Red Hand sang for the dancers. Mac Lopez, Shoshone flute musician floated beautiful notes into the arena and touched many emotions.
Tracy Lee Nelson brought down the house. His hot Native Blues reached out and spontaneously brought the good time, dust-kicking joy of dancing into the arena. It was very good to hear, see and enjoy.
One of the many special Pow wow highlights this weekend is the Ron and Virginia Christman Honoring. This is a reflection of the esteem the Soaring Eagle have for the mentoring and support this respected couple has brought to the Title VII Indian Education for the past forty years. All the Soaring Eagles joined in the row of dancers when the Kumeyaay special Tukuk Bird songs were sung.
Of further note, their youngest son, Ral Christman, sang these songs. Ral spoke to the significance of this occasion from the early years he had as a little fellow learning these songs and what this pow wow means to the children here today. Our tribal ways will continue to endure. This is a memorable occasion for the Kumeyaay tradition and all Tribal people. It is wonderful to be a small part in the joy, discovery, accomplishment and tradition of this program.
Best of all the children were there, our American Indian future, smiling, trusting. The children were laughing or gathered around elders for comfort and special treats.
These American Indian Soaring Eagle children are our American Indian Nations future, we must always think of them. We must be mindful of their trust and protect them from real or potential dangers.
Thank you; see you on the pow wow trail, Mehan, Aho.
Back to Roy's articles page.
POWWOW GRAND ENTRY: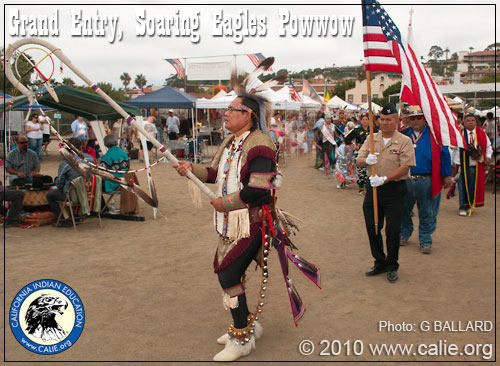 GRAND ENTRY: Staff Carrier Richard DeCrane (Crow-Navajo) led the procession. Red Warrior Singers drum was in the center of the arena.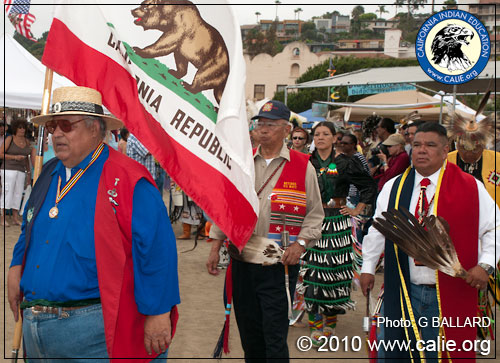 Roy Cook (Opata-Oodham) carried the California state flag during the grand entry.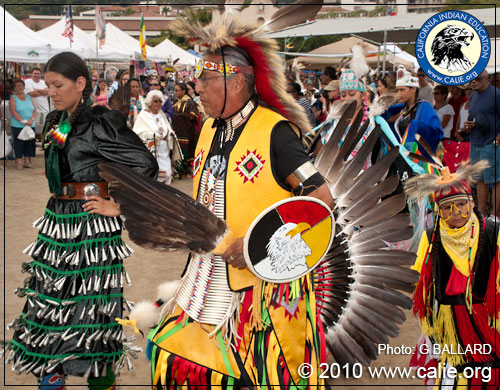 Soaring Eagles Dance Program Lead Instructor Chuck Cadotte (Lakota), Head Man Dancer, wore his new regalia, handmade by his good friend, Carla Tourville (Yokut). Head Woman Dancer Tina Morales (Cree) in jingle regalia pictured during the Grand Entry.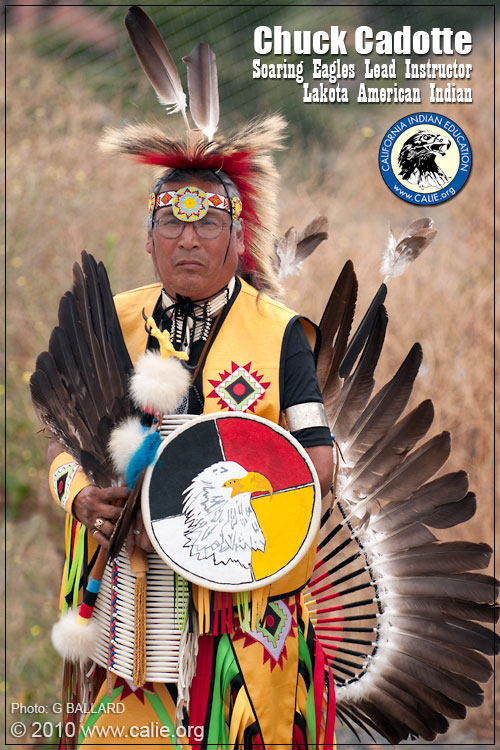 CHUCK CADOTTE (Lakota), Lead Instructor, Soaring Eagles Dance Group, posed for a professional portrait.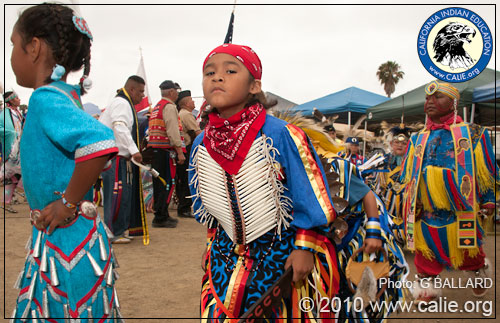 Young Soaring Eagles dancers were out in force and wearing their finest regalia.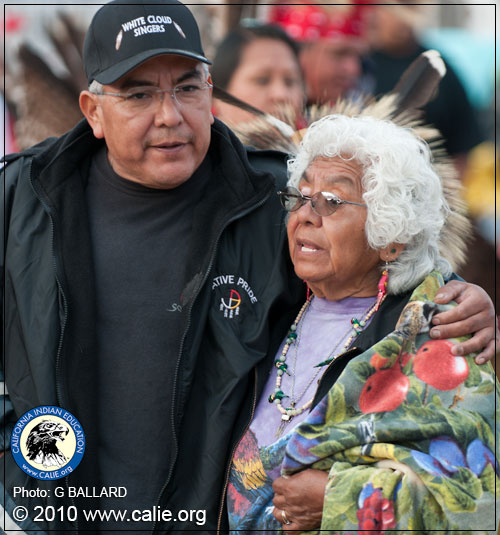 The San Diego Native American community came out and supported their Soaring Eagles dancers, Adrian Garcia pictured with his mother, Annie Whitecloud.
Professional pow-wow portraits of American Indians.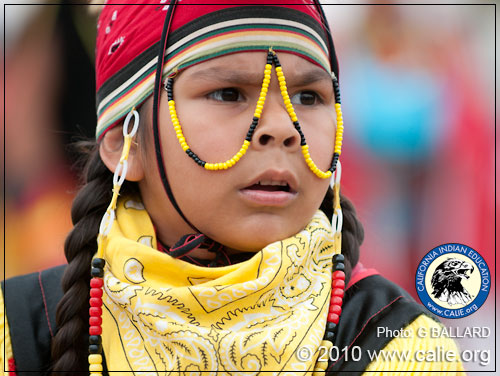 Soaring Eagles young Native American Indian Head Boy Dancer Ricky Garcia.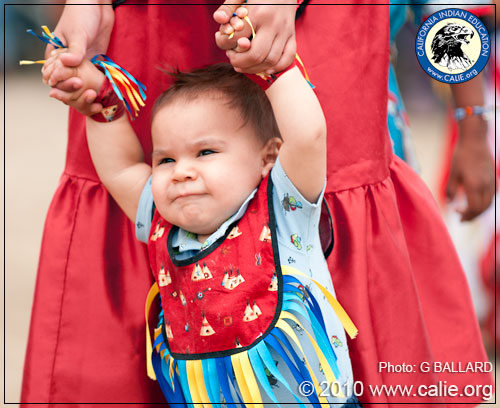 The community included the oldest and the very youngest pow-wow dancers on the circuit.
CHRISTMAN HONORING
Virginia (Kumeyaay) and Ron Christman (Iipay) were honored by the Soaring Eagles youth group and they were presented with blankets.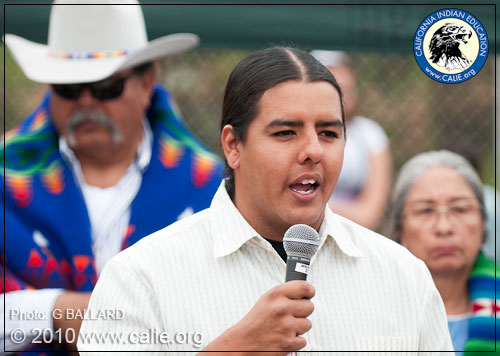 Their son, Ral Christman (Viejas band), addressed the crowd in support of his parents' longstanding community support.
"Ral spoke to the significance of this occasion from the early years he had as a little fellow learning these songs and what this pow wow means to the children here today," CALIE journalist Roy Cook said.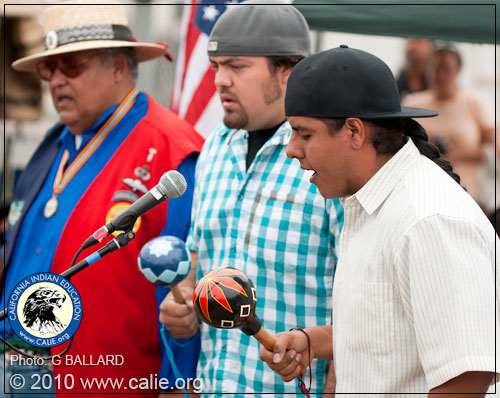 Ral then sang several Kumeyaay bird songs in honor of his parents.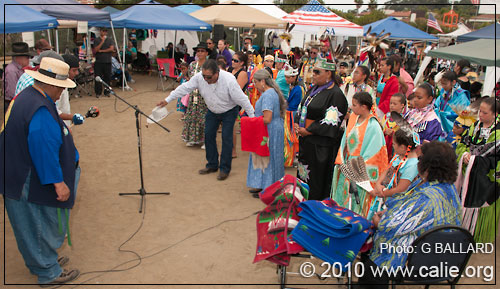 Ron Christman is pictured dancing Kumeyaay style during his son's honoring song in this landscape overall which made for a memorable display of local San Diego Kumeyaay culture exhibition in Old Town San Diego.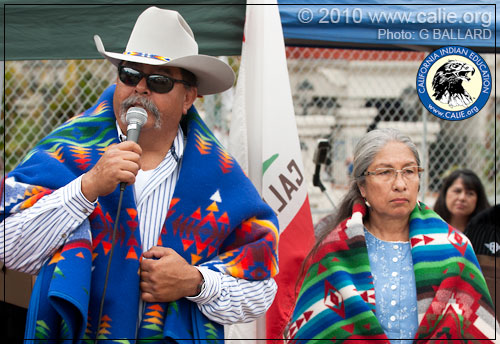 Ron Christman addressed the crowd and thanked everyone graciously for the honor and respect they showed to him and his family.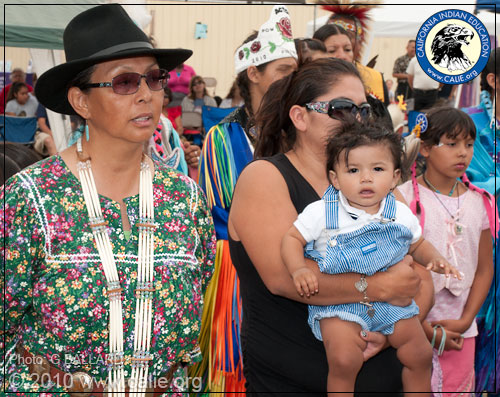 Viejas tribal members and family supported the Christmans. Pictured l-r is Vera Tucker (Kumeyaay), and Ral's wife holding one of their children (Mr. and Mrs. Christman's grandson).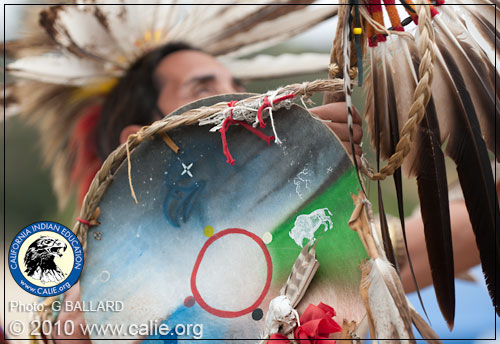 Steven Garcia (Tongva-Gabrielino) is pictured during a dance looking skyward.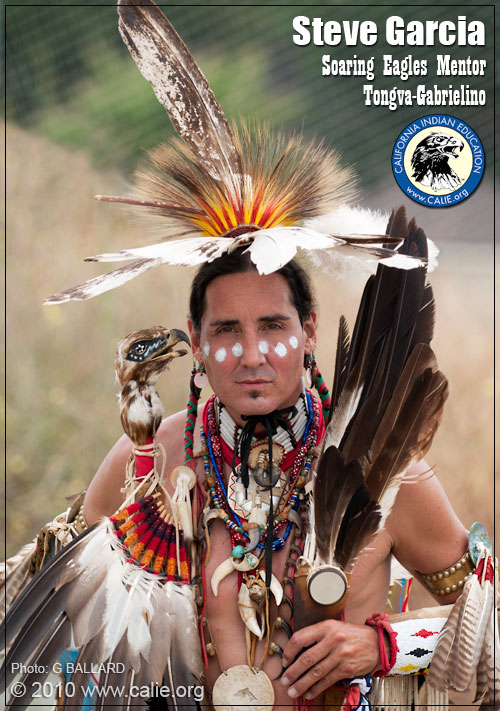 Steve Garcia (Tongva-Gabrielino) is a staunch supporter of Native American culture and he and his family are regulars with the Golden Eagles program and he offers support as a cultural instructor and mentor to the young Indian students.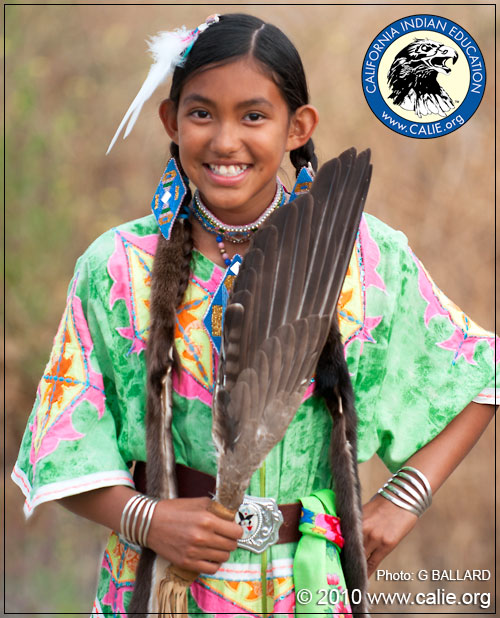 Violet is one of the popular young Soaring Eagles dancers.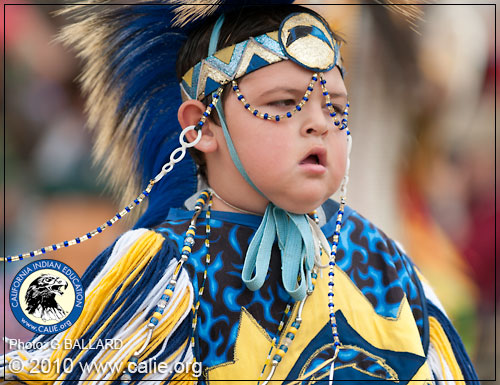 Soaring Eagles boy dancer.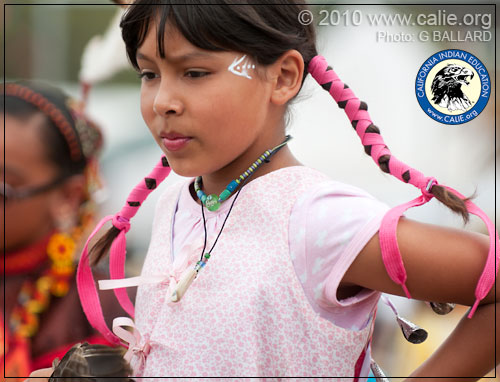 Young female Soaring Eagles dancer.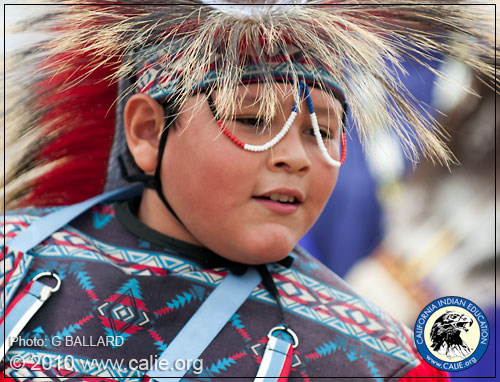 Soaring Eagles young boy dancer.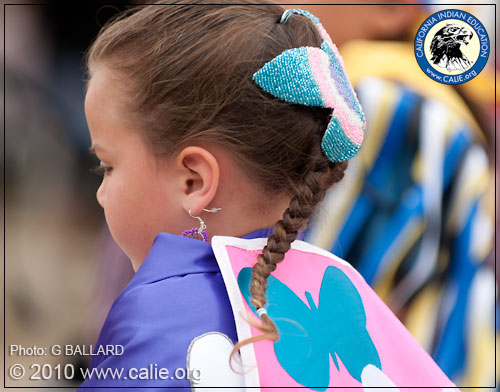 Pretty young girl in her beautiful pow-wow regalia — the Soaring Eagles students and their families design and make their individual costumes during the program.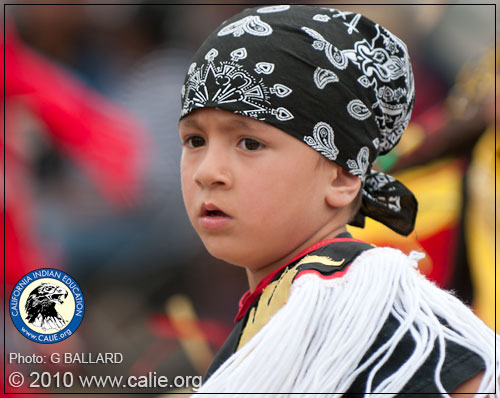 The Soaring Eagles bring a blast of Native American culture to the Old Town San Diego State Historic Park area for visitors from around the world to experience and enjoy.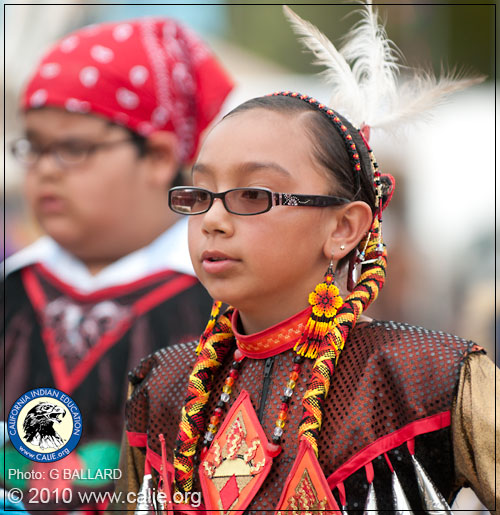 A young girl dancer displays her unique Soaring Eagles cultural regalia during the Old Town powwow in San Diego.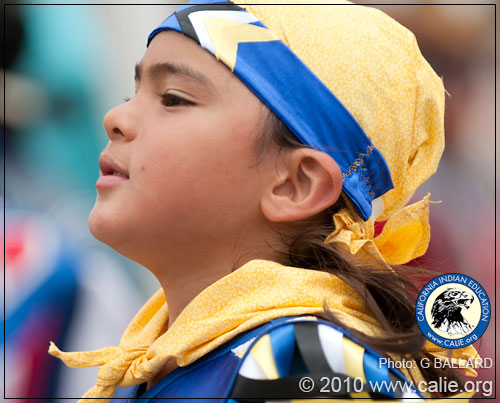 Native American Pride comes in many tribal-inspired colors, including blue and yellow San Diego colors.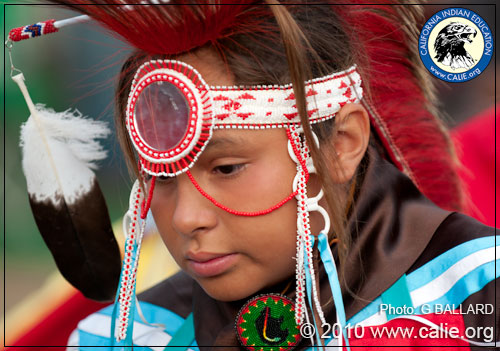 Southern California pow wows, like the Soaring Eagles Dance Program, include Native Americans from tribes across the United States.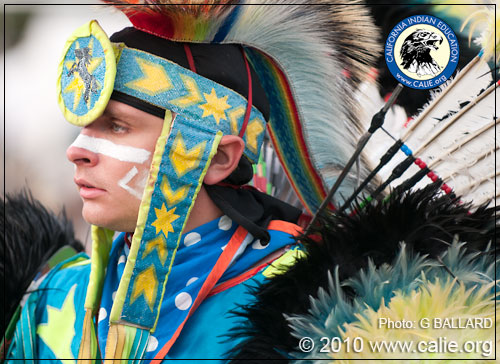 The Old Town Powwow is destined to become a successful long-running annual event in the San Diego County powwow circuit.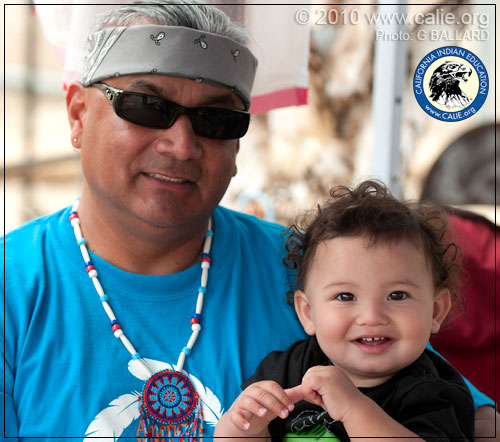 Soaring Eagles' cultural instructor-mentor Frank Gastelum (Yaqui), took a snapshot with his grandson (no doubt the cutest baby around).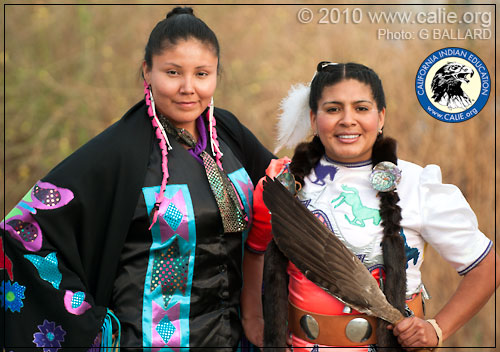 Photo opp...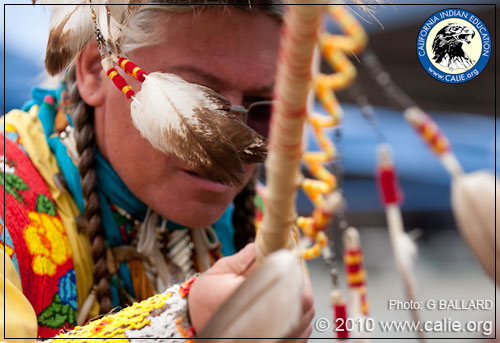 Professional cultural dancer Kim Flying Eagle (Diné) is a Soaring Eagles cultural instructor and mentor.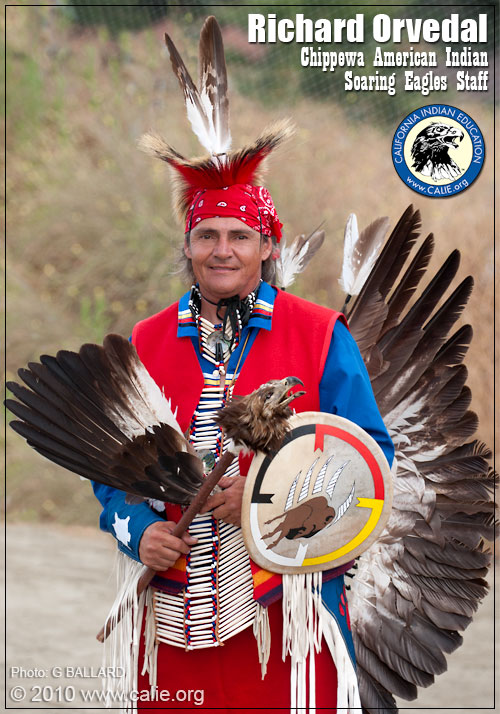 Richard Orvedal is a Soaring Eagles staff member.
Professional photography and web design by San Diego photojournalist GARY G. BALLARD.


+++++++
POW-WOW REGALIA
See Roy Cook's CALIE Pow-wow History and Information article for more info and professional photographs portfolios and movies about Native American powwows in Southern California, San Diego County.
See SOARING EAGLES WEB SITE for current information, including current class and event schedules, contact information, FAQ, registration and eagles art posters DOWNLOAD.
+++++++
+++++++

For more beautiful San Diego pow-wow and traditional California Indian gathering and Kumeyaay fiesta pictures be sure to visit the free on-line www.kumeyaay.info professional photography pow-wow gallery.

POWWOW IN BALBOA PARK AMERICAN INDIAN CULTURAL FESTIVAL Pictures, May 2008 — Successful Native American students honored and presented with eagle feathers. Ron Christman, Ipai, Santa Ysabel Band of Diegueño Indians, lead a Dumas family honoring celebration for Brian Dumas (grandson of Jane Dumas, Kumeyaay, Jamul band.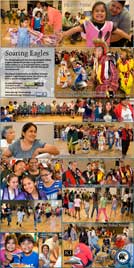 CLICK to see our 24x48" California tribal powwows poster.