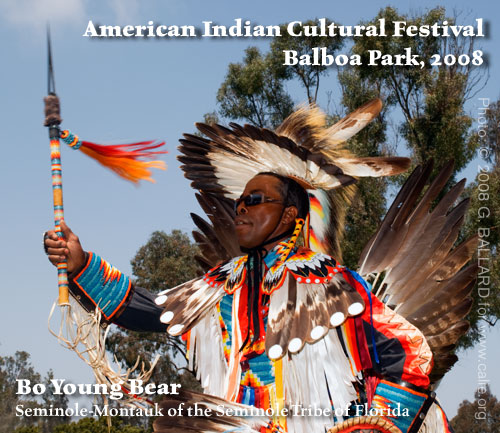 Bo Young Bear, Seminole-Montauk, Seminole Tribe of Florida, danced during the Grand Entry wearing spectacular Native American eagle feather regalia and custom beadwork art.
AMERICAN INDIAN CULTURAL FESTIVAL
BALBOA PARK, SAN DIEGO CA -- Native American Indians from across North America participated in the American Indian Cultural Festival in Balboa Park, San Diego, California, May 10, 2008. The fiesta is a free family event and is open to the public and Native American community.
Please see CALIE writer Roy Cook's Indian news article for information about the San Diego Indigenous culture celebration, including pictures of The Three Aukas — Jon Mesa Cuero, Ben Nance and Roy Cook — who open the annual Culture Day Pow wow on Mothers Day weekend with California Indian Wildcat songs, some of the traditional songs of the local Tipai Indians.
SAN DIEGO POW-WOW PICTURES: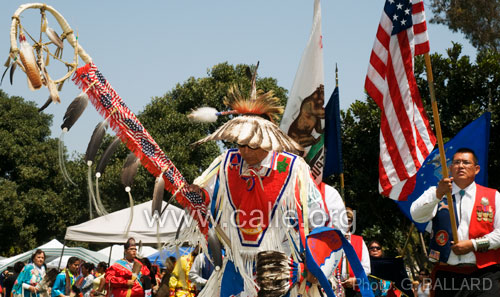 The Balboa Indian cultural fiesta head staff carrier lead the opening grand entry procession into the powwow arena.
The pictured authentic tribal staff carried by the staff carrier includes hawk and eagle feathers, Indian beads, a dream catcher and cloth stars-and- stripes, red-white-blue American flag motif.
Used extensively in Native American cultural ceremonies, Indigenous nations hold their ceremonial staffs sacred with similar importance and reverence that patriotic Americans respect and honor their American national flag.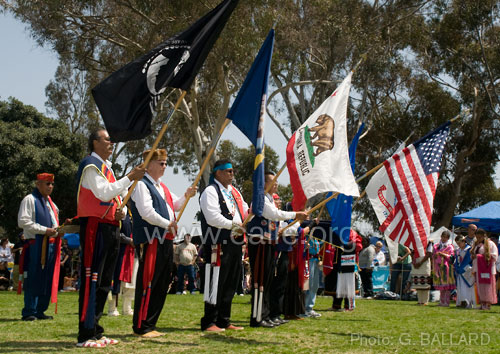 Native American Indian gourd dancers, military veterans, carried the colors, including the American flag, the CA state flag, POW flag, US Army flag, US Marine Corps flag, and official US Navy flag into the pow-wow arena during a grand entry parade.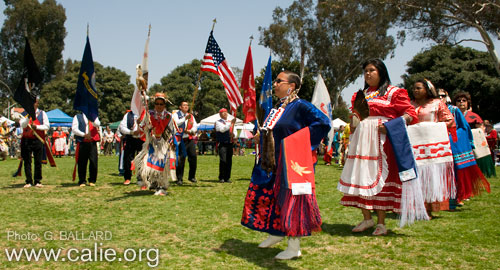 Pow-wow dancers parade counter clockwise around the arena; Native American color guard stops near the center of the arena and wait for all participants to enter and encircle the powwow arena.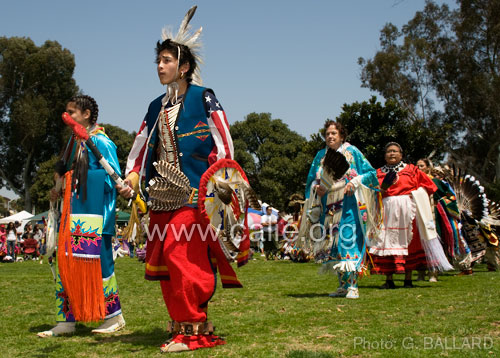 Native Indians participating in the Native American cultural event were young and old and wore regailia from many tribal nations.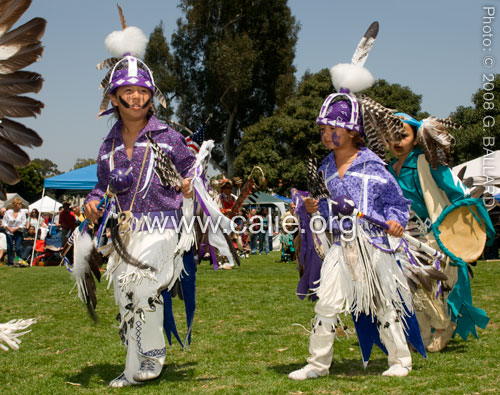 Young Native American boys in pow-wow regalia performed cultrual dancing.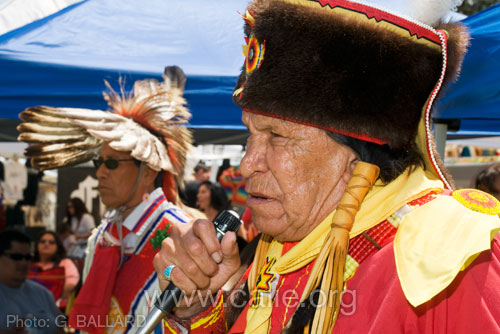 Saginaw Grant, Sac-n-Fox, Iowa and Otoe-Missouria Nations, spoke the opening prayer. Saginaw M. Grant is a famous, well-known Indian dancer, actor, mentor, lecturer, writer, activist who has appeared in numerous Hollywood movies as a professional actor.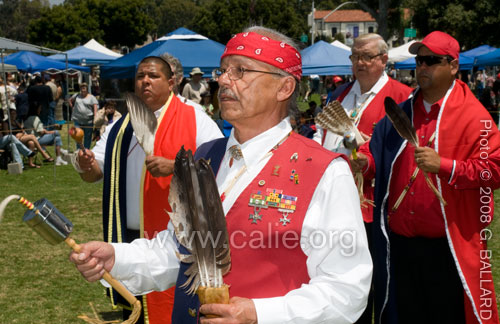 NATIVE AMERICAN MILITARY VETERANS, traditional gourd dancers, performed — Ronnie Murphy, AIWA American Indian Warrior Association event coordinator, is pictured (link contains information about how to contact and hire the AIWA cultural group for events.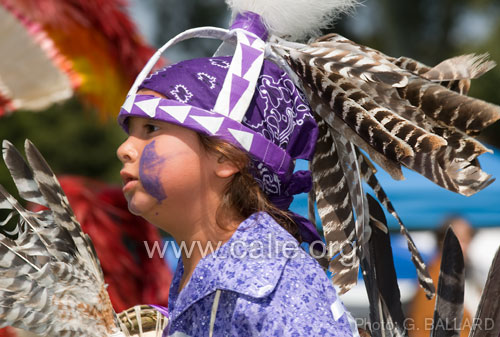 Many Indian children danced during the event wearing hand-made pow-wow regalia. Pictured above, the young Indian boy is sporting redtail hawk feathers in his headdress and Native American feather fan, wearing purple and white ribbon shirt.
KUMEYAAY HONORING CEREMONY: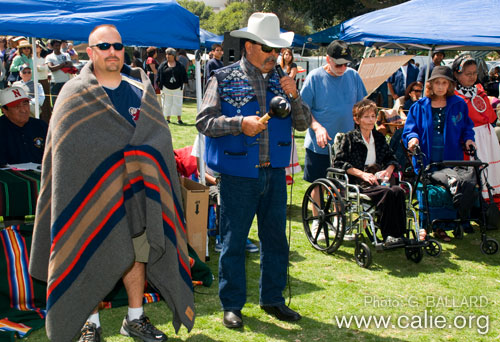 Ron Christman, Ipai, Santa Ysabel Band of Diegueño Indians, lead a Dumas family honoring celebration for Brian Dumas (wrapped-drapped in wool Indian honoring blanket). Brian is Kumeyaay Indian of Jamul Indian Village reservation in San Diego.
Brian's great, great, great grandfather is Jose Manuel Haatam, the tribal chief of the last Indigenous Kumeyaay Indian band that actually lived in the pre-contact Kumeyaay Indigenous tribal village area we know today as Balboa Park in San Diego.
Pictured to the left is Brian's mother, Daleane "Dee" Dumas-Adams (seated), his father, David Adams (in blue shirt standing), and his grandmother, Jane Dumas (in blue sweater standing).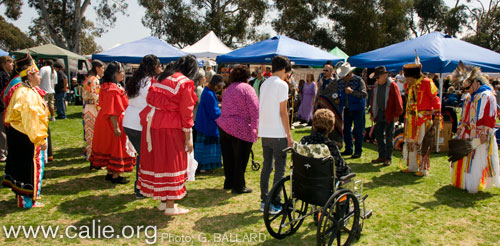 After speaking, Ron Christman lead a group of bird singers and bird dancers in several cultural California Indian bird songs as he played his painted gourd rattle to honor Brian in the traditional California Indian way.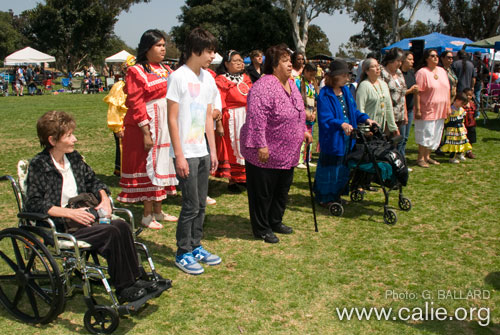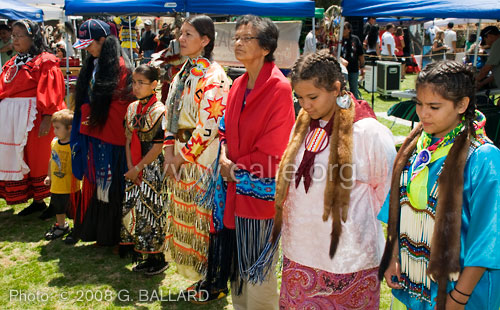 Tina Morales in yellow jingle dancer regalia is pictured with her mother (in red shawl) participating in the cultural celebration. Pictured to the right are two pretty young Indian girls with braided hair and dressed in their female pow-wow regalia with animal fur collars and custom beaded tribal designs.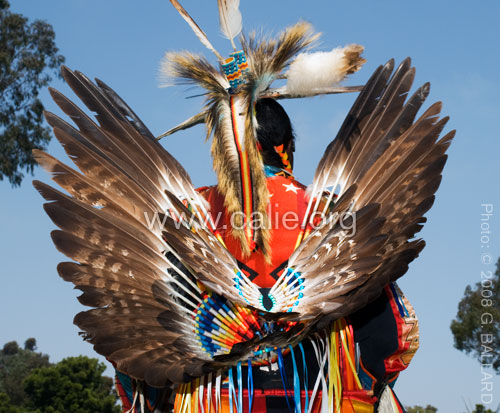 Many Native American Indian dancers wore brightly colored regalia decorated with eagle feathers, ribbons, bead art, animal furs, eagle plumes, and cloth motifs of tribal designs and flags.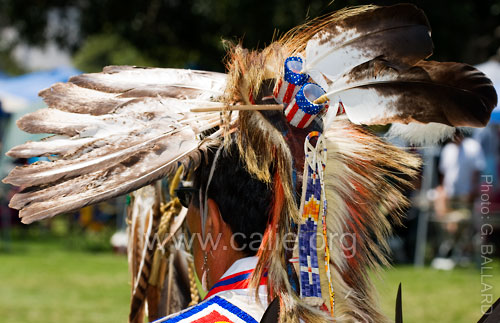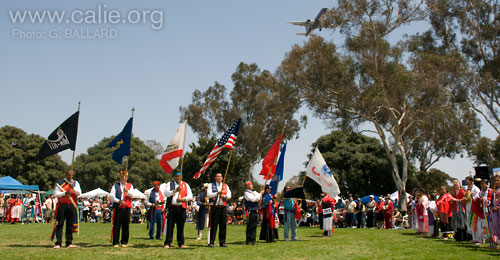 Commercial jets airplanes flight path fly overhead of the Balboa Park pow-wow grounds at Presidents Way and Park Boulevard cross streets, Balboa Park, San Diego.
INDIAN ACADEMIC AWARDS: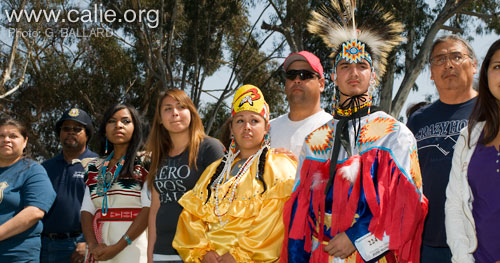 Many Native American students were honored for completing various educational programs in Southern California. Third from left in white Indian dress, is Sheilah Dasher, Diné.
The tribal nations represented in the student group include Kumeyaay, Diegueño, Luiseño, Diné, Navajo..., including local San Diego County Indian reservations...(need some help with caption info).

The successful Indian students walked around and circled the arena in traditional pow-wow honoring style. Student acomplishments ranged from earning Ph.D. degrees to completing adult and child educational programs.
Here is a partial beginning list of participating students (courtesy of Roy Cook):
Briana Miller (Crawford High School), Michel Cadotte (high school), Robert Molloy, Adrian Morales, Shyla Barker, Leah Durbin, Sheila Naajiibah Dasher (Southwestern College), Chuck Toyer, Maria Hunter (high school), Carl Mullins, Karen Vigneault (MA), O. Pierre Romero (PhD).
Please CONTACT WEBMASTER if you want to add your name, school name or additional information or remove your name/info about CALIE's educational news blog, or even add a link to your school, website or personal myspace youtube blogs. CALIE may even build and publish a student or cultural blog for you on this web site (subject to review and CALIE User Agreement) — all you would need to do is supply us with your pictures, text, music, links.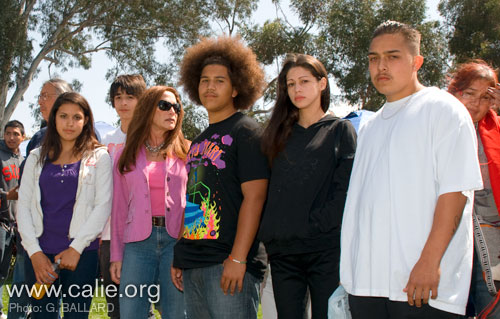 Native Indian students listened to words said on their behalf about the hard work they put in towards their educational goals.
EAGLE FEATHERS: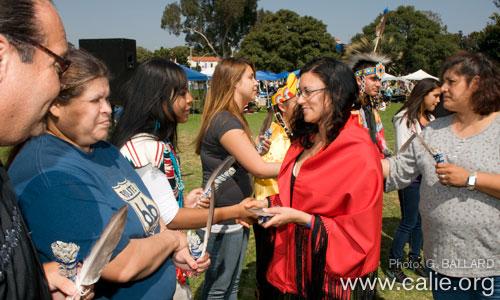 Each successful Native American student was awarded an Indian eagle feather and ceremonial sage wand — in North American tribal cultures, eagle feathers are considered sacred objects.
RECEIVING AN EAGLE FEATHER is a very important event in Native American culture, and the tribal presentations underscore the importance the local San Diego County Native American community leaders place on education.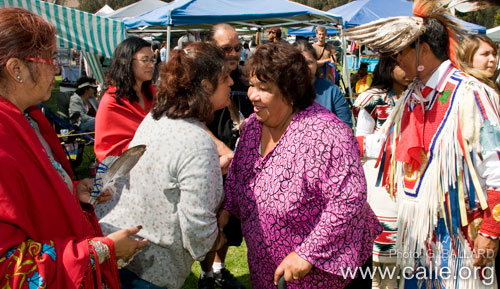 Vickie Gambala, Native American Indian education district liaison for the San Diego Unified School District (in purple blouse), looked very proud of the students and personally congratulated each successful Indian student. Vickie Gambala is the educational project coordinator for the local Southern California American Indian Resource Center SCAIR.
+++++++
+++++++
VERY SPECIAL THANK YOU to the tribal sponsors for supporting Indigenous culture in San Diego and Native American educational opportunities for California Indians, especially the VIEJAS BAND OF KUMEYAAY INDIANS the INDIAN HUMAN RESOURCE CENTER and the SAN DIEGO INDIAN CENTER for their generous financial support and active participation.
+++++++
+++++++

For more beautiful San Diego pow-wow and traditional California Indian gathering and Kumeyaay fiesta pictures be sure to visit the free on-line www.kumeyaay.info professional photography pow-wow gallery.

VIEJAS POWWOW PICTURES — Young California Indian students "Soaring Eagles" perform live on the Viejas Indian Reservation.
Professional photography and web design by GARY G. BALLARD.