VIEJAS POWWOW BLOG
October 8, 2008

See SOARING EAGLES WEB SITE for current information, including current class and event schedules, contact information, FAQ, registration and eagles art posters DOWNLOAD.


The Soaring Eagles Dancers performed live at Viejas Indian casino, 2/18/2009.
Also see ROY COOK's SUMMER CLASSES blog.
Also see ROY COOK's FALL CLASSES blog.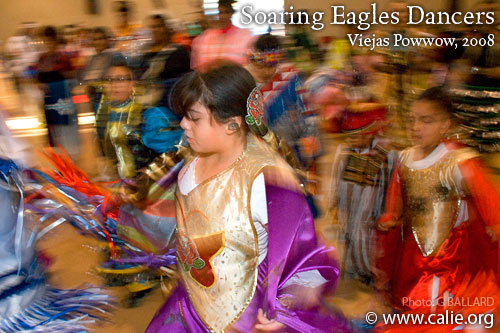 With the indoor lighting at the Viejas Recreation Center, professional photographers never know what they capture until after they open the files in Photoshop. The low light requires high ISO (I shot at 1600), a slow shutterspeed (I averaged around 1/30th second), and a fast camera lens (I shot wide open). Even with a monopod and my camera experience, most of my shots were unusable, but when the slight camera pan lines up with the movement the shots can get pretty interesting...
Soaring Eagles dancers perform
San Diego Native American students near end of fall series and put on a spectacular live performance at Viejas.


by Roy Cook, Opata-Oodham, Mazopiye Wishasha: Writer, Singer, Speaker
Soaring Eagles is sponsored by: Southern California American Indian Resource Center, Inc. SCAIR. Coordinated by Vickie Gambala of the San Diego Unified School District, Title VII Indian Education Program and assisted by the Indian Human Resource Center IHRC. Also, Viejas Pow wow committee invited IHRC and co-organized this Veterans pow wow on the Viejas Band of Kumeyaay land.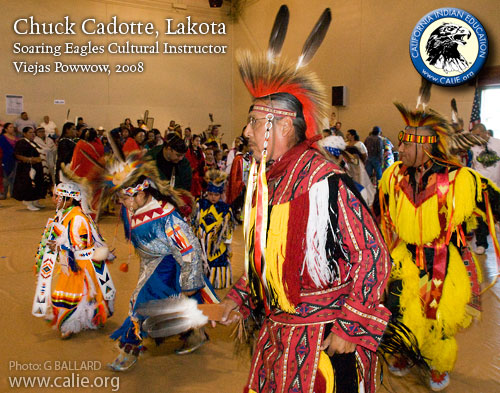 Soaring Eagles instructor Chuck Cadotte, Lakota Nation, lead his group of pow-wow dance students around the Viejas arena during a special Soaring Eagles section of the pow wow. Frank Gastelum, Yaqui grass dancer (right) is pictured dancing with the young Soaring Eagle dancers.
The Soaring Eagle students are brought into the pow wow circle at the Veterans pow wow at the Viejas Band of Kumeyaay Indians Recreation Center on November 8 & 9, 2008. SCAIR Senior Advisor, Randy Edmonds spoke for the Indian children, parents and principal instructors.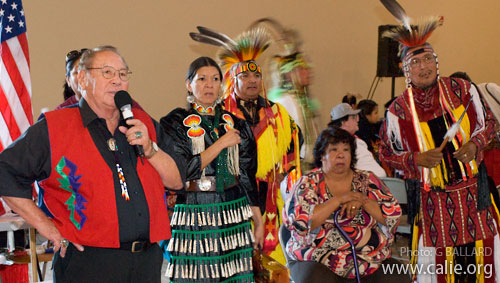 Viejas Pow-wow Master of Ceremonies Randy Edmonds (Kiowa-Caddo) addressed the pow-wow participants and Viejas guests on behalf of the Soaring Eagles Indian students and their families. To Randy's left are Soaring Eagles staff and volunteers Tina Morales (Chippawa-Cree), a pow-wow Jingle Dancer, Soaring Eagles Project Coordinator Vickie Gambala, Cherokee (seated), and Soaring Eagles lead instructor Chuck Cadotte (Lakota). Yaqui grass dancer Frank Gastelum, The San Diego Inter-Tribal Singers of San Diego, is pictured just behind Tina observing the pow-wow ceremony.
The Soaring Eagles powwow dance classes brought together American Indians dancers from different tribes to share their Intertribal powwow dances...Please see more of Roy's great story on www.americanindiansource.com.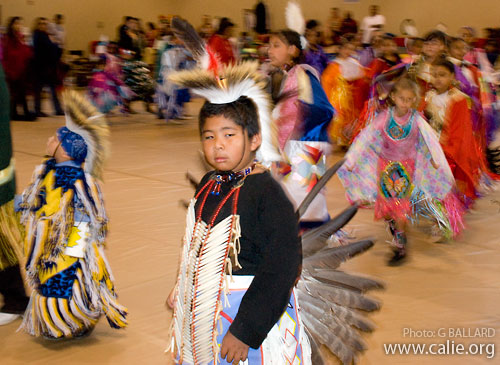 A Soaring Eagles young traditional dancer is pictured looking at the camera.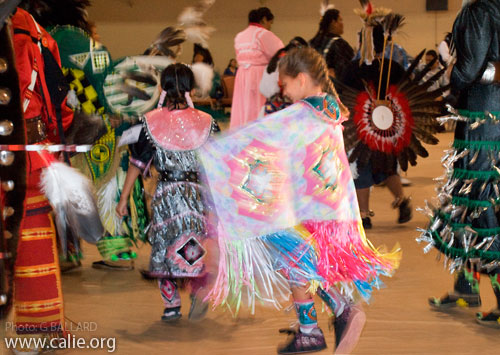 The young California Indian students had a blast showing off their beautiful pow-wow regalias and practiced dance steps for family, friends and onlookers.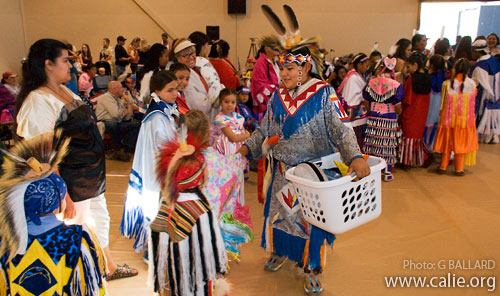 The San Diego Soaring Eagles cultural program teaches the young Indian students popular social protocol and offer many opportunities for the young girls and boys to socialize and make new friends at the supervised family events. Above picture, a young Indian boy in pow-wow regalia was honored by the Soaring Eagles with a basket of useful items, and it is customary for him thank each Soaring Eagles member as he makes his way back to his family seating area.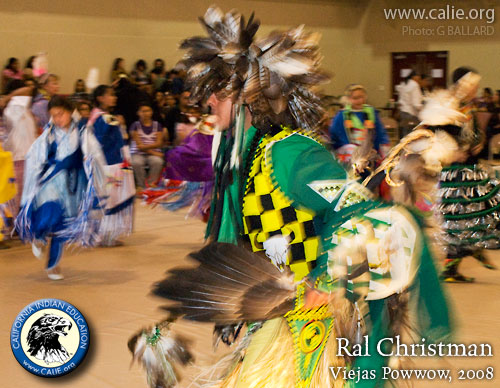 The young Native students enjoyed the California Indian community support of professional dancers like Ral Christman, a well-known Viejas tribal dancer. Ral's awesome regalia is decorated colorful tribal designs, real eagle feathers, hawk feathers, including an Indian staff with an eagle head and eagle claw, feathered headdress, feather fan, feather bustle, painted animal skin shield, beaded buckskin moccasins.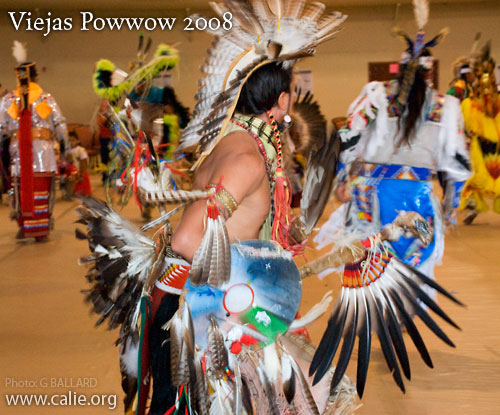 Professional Native American Indian dancers who are well known on the powwow circuit danced with the Soaring Eagles students. The professional dancer are competing for thousands of dollars in Viejas prize money and are very popular San Diego attraction for both Indian and non-Indian spectators. The Native American adult male dancer is holding an Indian shield painted with unique tribal designs sky water grass and colors, and a tribal ceremonial staff decorated with a real eagle head, animal fur, Indian beadwork.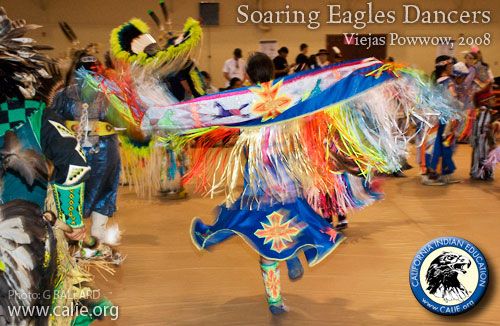 Female fancy shawl dancers provide spectacular displays of athletic leaps and sweeping graceful dance moves that bring their colorful regalias to life and steal the show.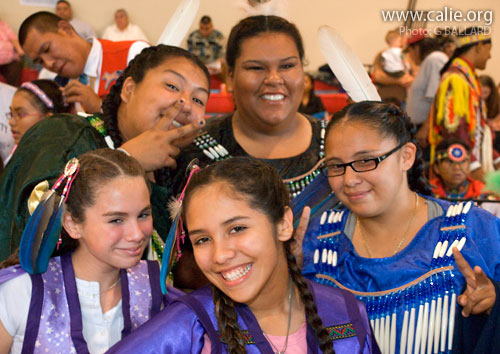 The powwows are a great place for young Indian tribal girls to socialize and make friendships that will last a lifetime.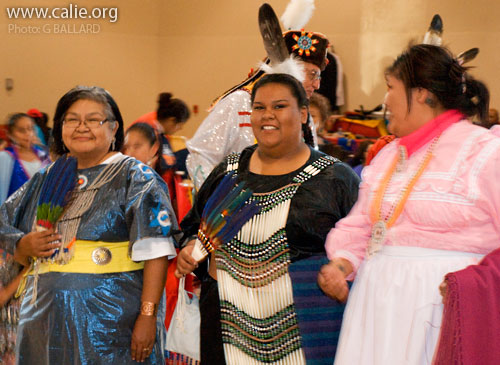 Native American dancer Elieen George, Choctaw (left), Melissa Aleman, Cherokee (center) smile for the camera as they encircle the Viejas powwow arena during the cultural event.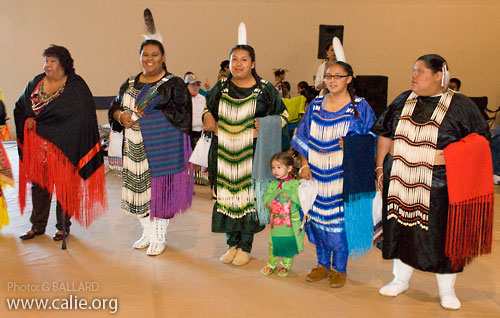 Soaring Eagles Project Coordinator Vickie Gambala (left in red/black shawl), her granddaughter Melissa Aleman and students and parents danced in support of the young Indian students.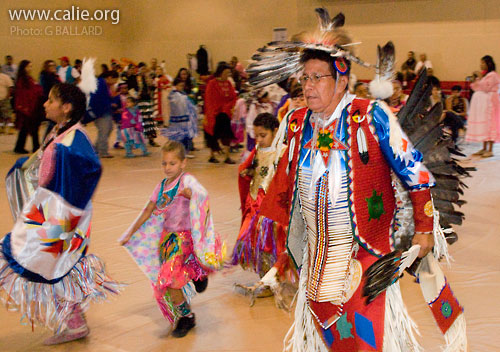 Professional pow-wow dancers supported and danced alongside the young Soaring Eagles dancers.
Soaring Eagles Dance Classes are free: Normal Heights Community Center, 4649 Hawley Blvd. San Diego CA. They are coordinated by San Diego City School Indian Education Program (858) 627-7362 & Indian Human Resource Center (619) 281-5964.
Sponsored by:
Southern California Indian Resource Center, Inc. SCAIR
Coordinated by:
San Diego City Schools Indian Education Program, and
Indian Human Resource Center
Info: (619) 281-5964, (858) 627-7362
Project Coordinator:
Vickie Gambala
RANDY EDMONDS Kiowa-Caddo
Master of Ceremonies
SCAIR Senior Advisor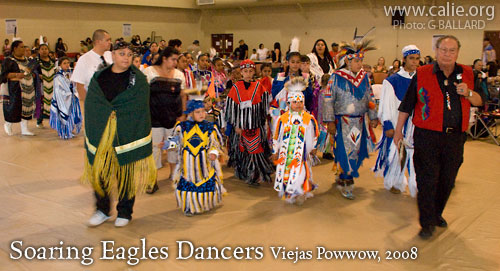 Viejas Pow-wow Master of Ceremonies Randy Edmonds (Kiowa-Caddo) lead the Soaring Eagles students around the Viejas powwow arena and stopped north, east, south, west to explain the significance of the four directions to the students and Viejas guests.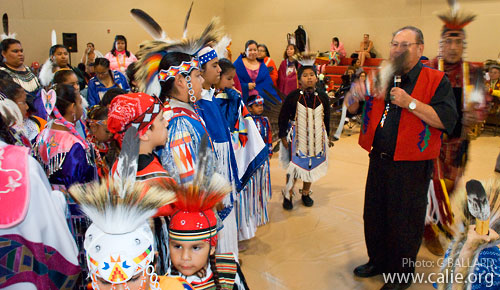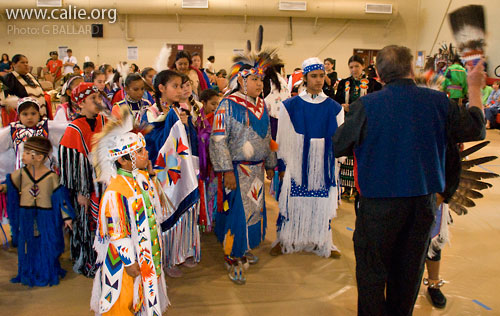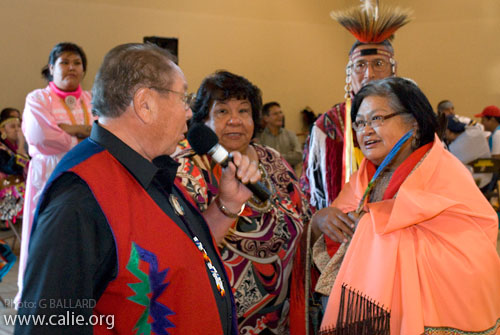 SCAIR senior consultant Randy Edmonds honored Choctaw Indian Elieen George (peach shawl) for her selfless contributions to the Soaring Eagle dance and regalia-making programs.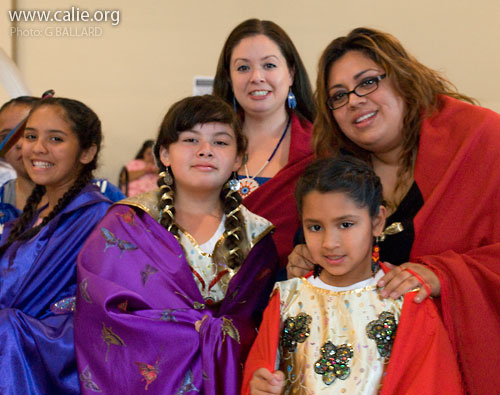 The young pow-wow girls seem to really enjoy the Native American cultural dancing experiences during the classes. The cultural curriculum is designed around Native North American indigenous cultural customs and pow-wow protocol, and encourages close family involvement.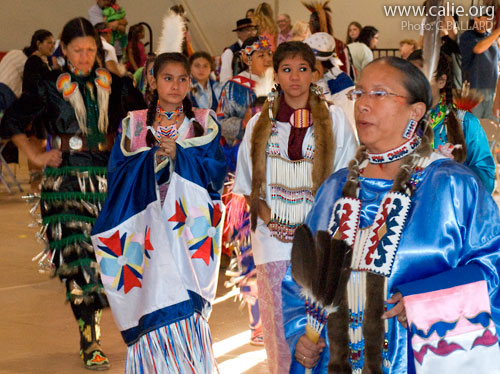 Female dancers in unique tribal regalia make their way around the Viejas arena.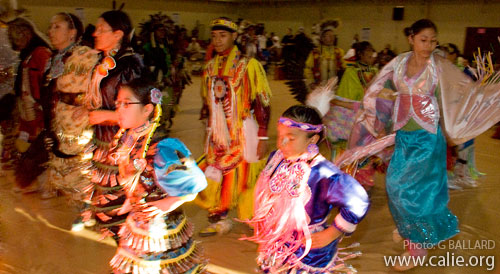 A beam of direct sunlight came through an open door, reflected off some red regalia and back onto the pictured dancers — the pow-wow shoot was a real challenge in the Viejas gym because of low lighting, open doors and windows, and weird flavor of florescent lighting.
+++++++
POW-WOW REGALIA
See Roy Cook's CALIE Pow-wow History and Information article for more info and professional photographs portfolios and movies about Native American powwows in Southern California, San Diego County.
Also see ROY COOK's SUMMER CLASSES blog.
Also see ROY COOK's FALL CLASSES blog.
Back to Roy Cook's Articles page.
+++++++
+++++++

For more beautiful San Diego pow-wow and traditional California Indian gathering and Kumeyaay fiesta pictures be sure to visit the free on-line www.kumeyaay.info professional photography pow-wow gallery.

POWWOW IN BALBOA PARK AMERICAN INDIAN CULTURAL FESTIVAL Pictures, May 2008 — Successful Native American students honored and presented with eagle feathers. Ron Christman, Ipai, Santa Ysabel Band of Diegueño Indians, lead a Dumas family honoring celebration for Brian Dumas (grandson of Jane Dumas, Kumeyaay, Jamul band.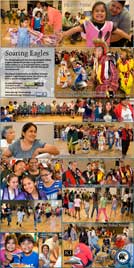 CLICK to see our 24x48" California tribal powwows poster.
Professional photography and web design by San Diego photojournalist GARY G. BALLARD.