The Soaring Eagles Dancers headlined the SCTCA-SCAIR TANF "Recognition & Awards Ceremony 2009" live on the Viejas Indian Reservation stage performance, February 18, 2009.
SOARING EAGLES:
The SCAIR Soaring Eagles Dancers performed live at Viejas for the Recognition & Awards Ceremony 2009, sponsored and funded by Southern California Tribal Chairmen's Association SCTCA, and coordinated by Southern California American Indian Resource Center, Inc. SCAIR.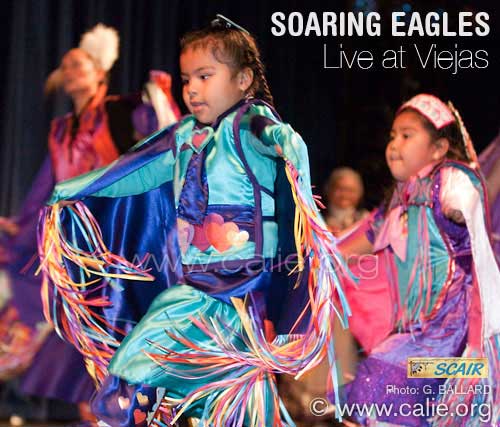 Young girl pow-wow fancy-shawl dancers in colorful tribal costumes performed their practiced cultural dance steps to the delight of a special Viejas audience.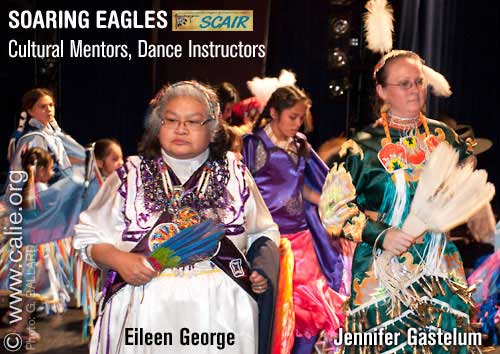 Cultural dance instructors and mentors Eileen George, Choctaw, and Jennifer Gastelum lead their Soaring Eagles Dancers onto the Viejas stage.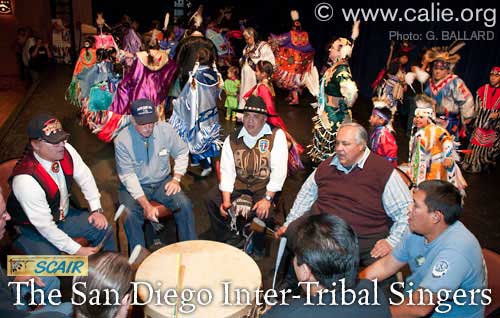 The San Diego Inter-Tribal Singers and Indian drum group performed on stage with the Soaring Eagles — pictured around the drum are Ben Nance, Kim Flying Eagle, Ernie Walton, Frank Gastelum, Roy Cook, Richard Decrane, Leland Red Eagle, Terry Hinsley. For information about how to hire the Native American drum group, please contact Roy Cook.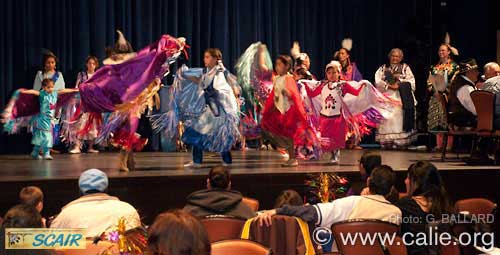 The young Native American dancers put on a spectacular show for Viejas guests and family members. The young Indian students are not only learning how to powwow dance at the SCAIR program, many of students also helped design and create their custom powwow outfits.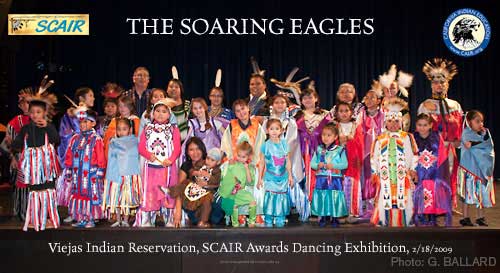 DOWNLOAD The Soaring Eagles Dancers high-resolution photo.
The Soaring Eagles dancers lined up for a group photo on the Viejas Dreamcatcher theater stage.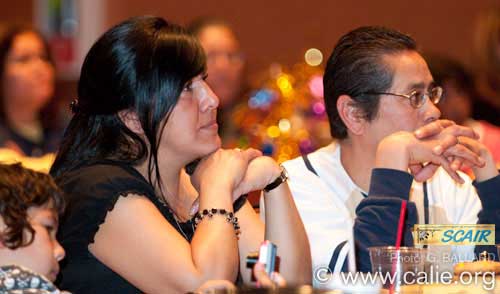 The mostly tribal audience enjoyed the cultural performance who performed in honor of the successful SCAIR education students.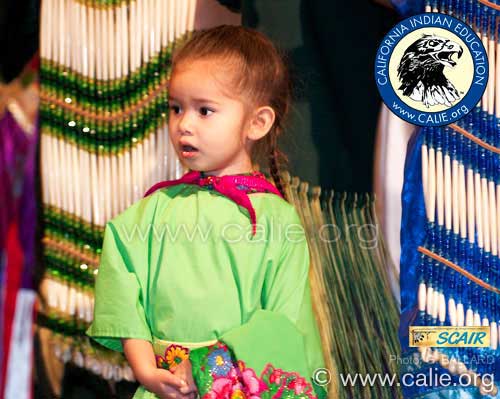 A young Indian girl dancer stands on stage with her dance group and looks out towards the audience.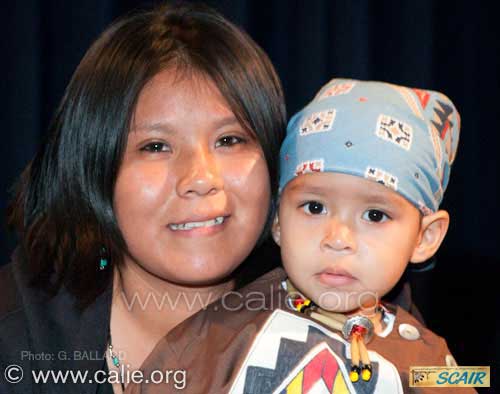 A young urban American Indian mother poses for a professional picture with her young son, a tribal dancer.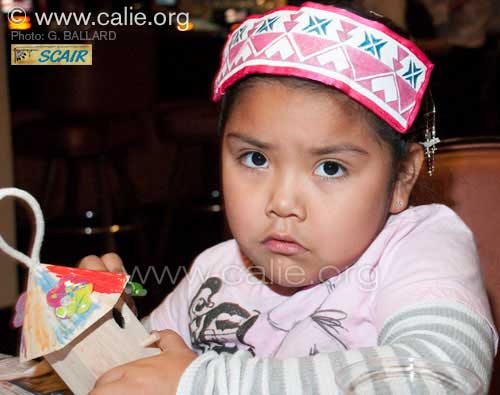 The early birds got to spend some time at the SCAIR arts and crafts tables. Today's project was building and decorating bird houses....
The Viejas Casino provided its beautiful Dream Catcher theater and professional customer service staff for the tribal event.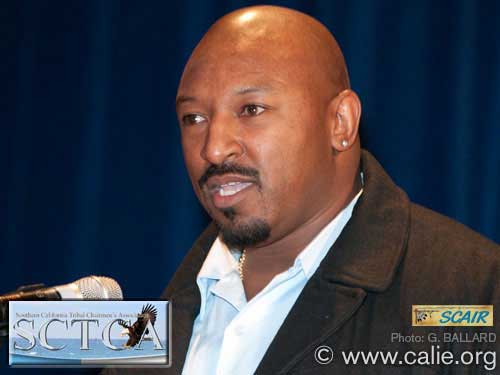 The Southern California Tribal Chairmen's Association SCTCA San Diego TANF Site Manager Lynne Ray Smith represented SCTCA Executive Director Dennis Turner for the Awards and Recognition Ceremony, and addressed the audience and award winners.
INDIAN EDUCATION AWARDS:
INDIAN EDUCATION AWARDS:
San Diego Tribal TANF Recognition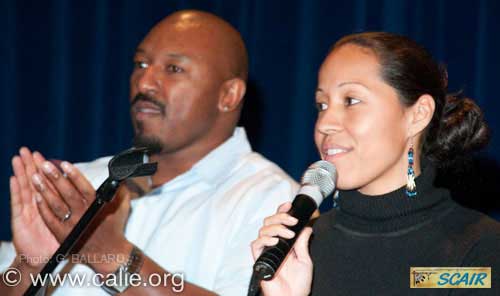 Sophia Taula, a SCTCA eligibility specialist, took the microphone and called the families onto the Viejas stage to present them with their educational achievement awards.
San Diego urban Indian families pose for professional pictures holding their SCAIR Achievement awards.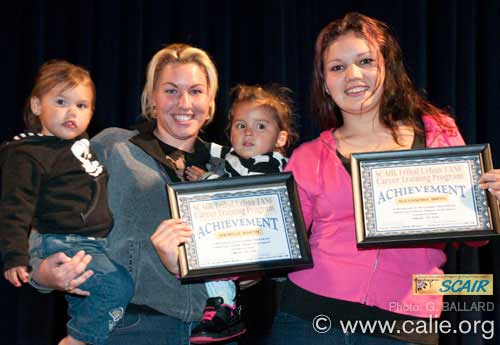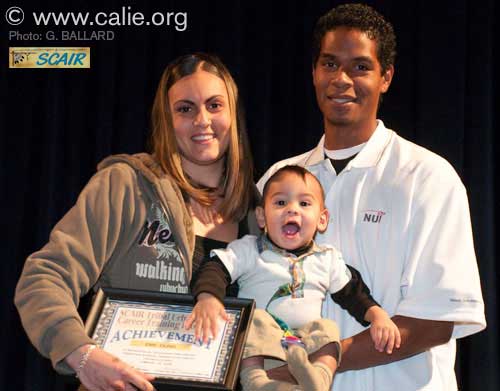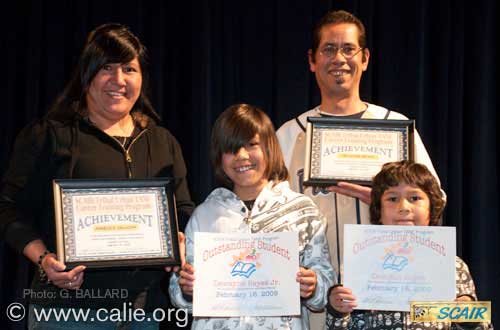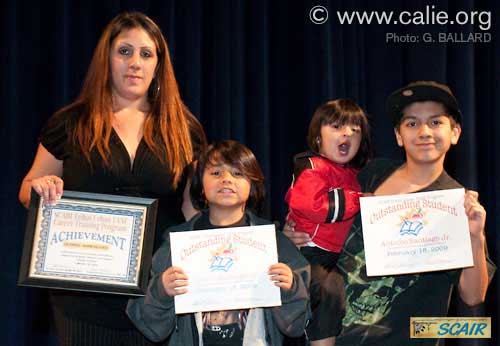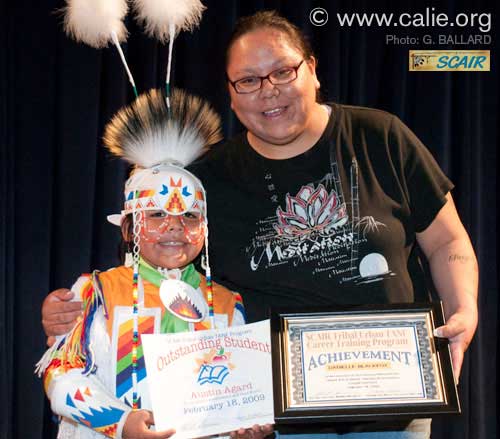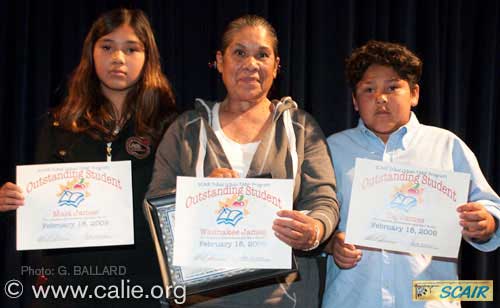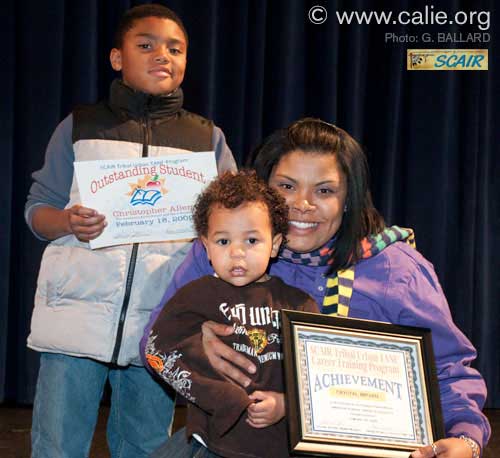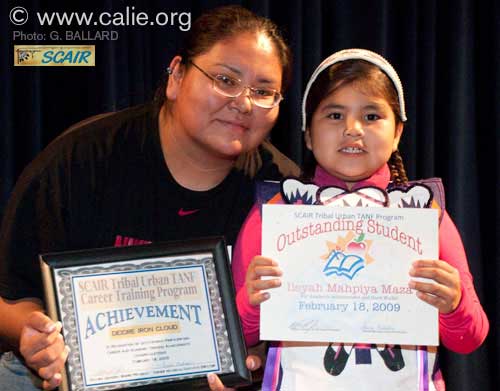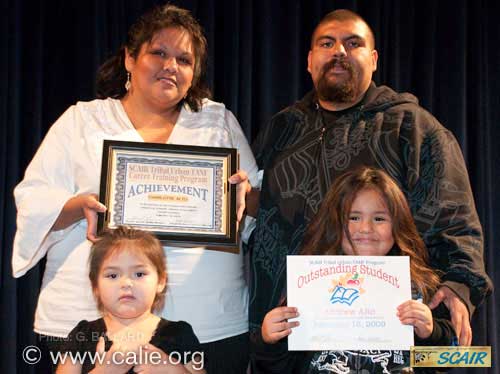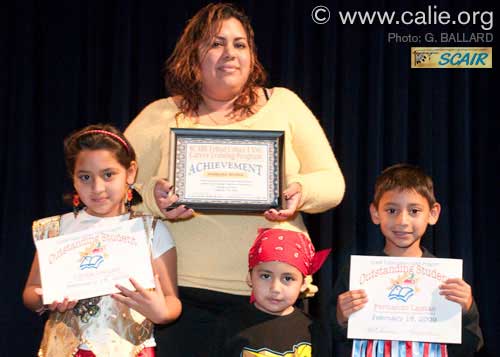 As you can see from the happy Indian faces, TANF SCAIR students worked hard and their families are very proud of their academic accomplishments.
MORE LIVE VIEJAS ENTERTAINMENT: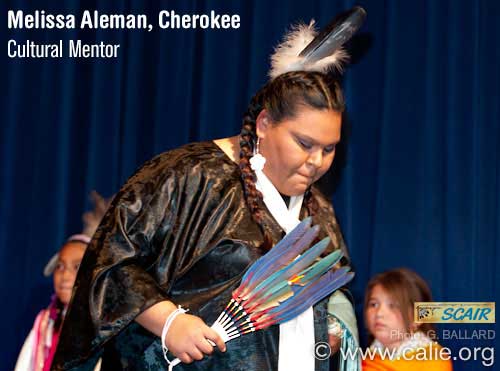 Melissa Aleman, an experienced American Indian Cherokee dancer, dances with the Soaring Eagles at Viejas holding a colorful parrot feather fan and light green sage-colored shawl.
Also of interest is Melissa's hair — it is braided Indian style and decorated with an eagle feather and plume.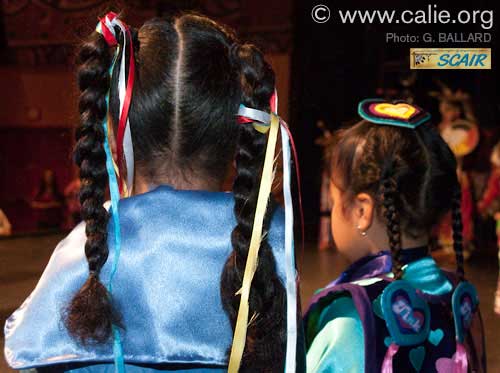 Young Indian girls in their pow-wow regalia pictured from the back showing long Indian-style pigtails.
In addition to Native American dance protocol, regalia making, the young Indian students also learn about how to create traditional hair styles for realistic cultural presentation of their traditional ways.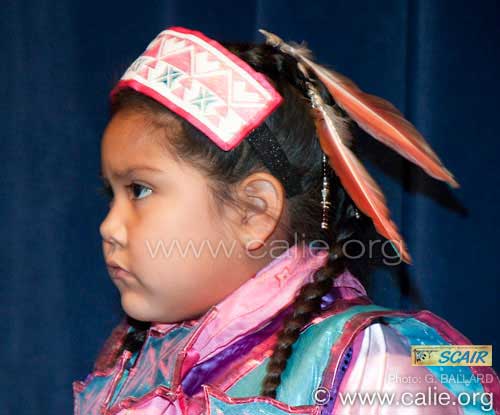 A young Soaring Eagles Indian dancer is pictured with braided hair, feathers in her hair, and wearing authentic Indian costume.
The Soaring Eagles Dancers put on a beautiful show at Viejas.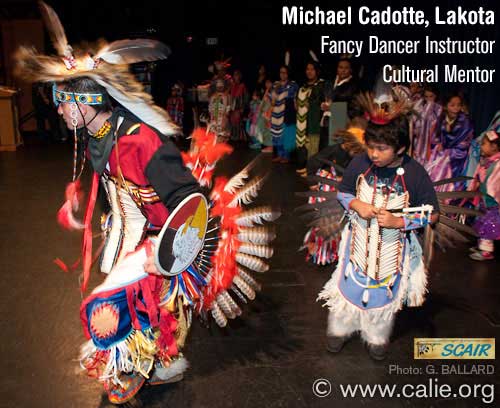 Michael Cadotte, Lakota, serves the Soaring Eagles as an experienced Fancy Dancer instructor and cultural mentor.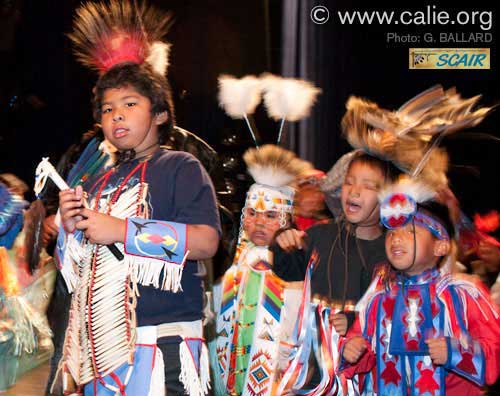 Young boy dancers.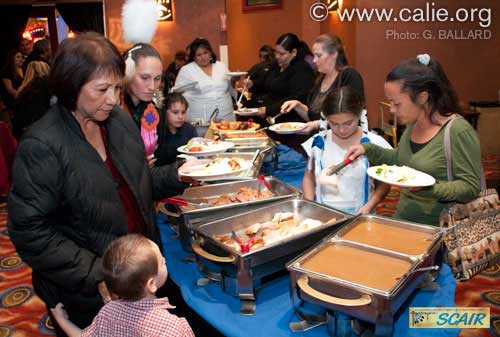 Professional Viejas catering served up great food.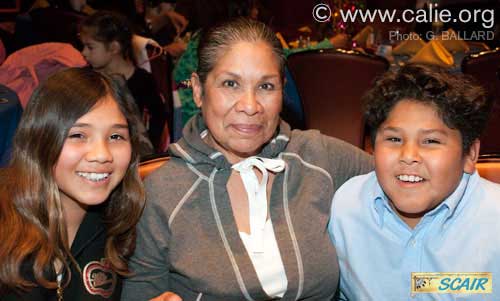 Native American traditional family values are always a high priority at SCAIR family events.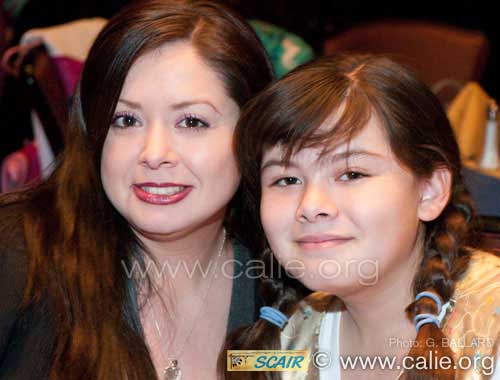 A Soaring Eagles dancer poses for a snapshot with her mother.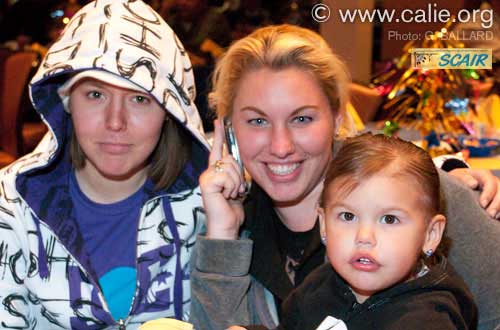 A young mother takes a call while posing for pictures with her children.
A young Indian boy — a Soaring Eagles tribal dancer — posed for a family photograph with his mother.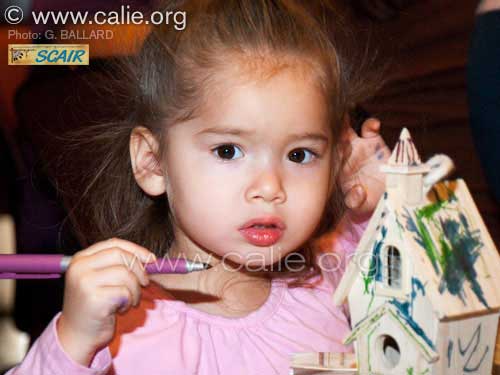 A young female Indian artist paints her birdhouse at the SCAIR arts & crafts table. The young Native California girl is a Soaring Eagles dancer and she was featured The San Diego Union-Tribune article about the Soaring Eagles Dancers program in San Diego County.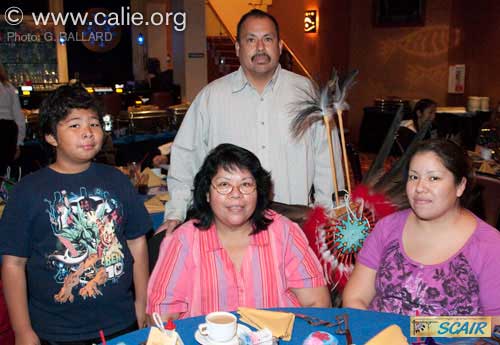 A San Diego County Indian family posed for a picture at Viejas.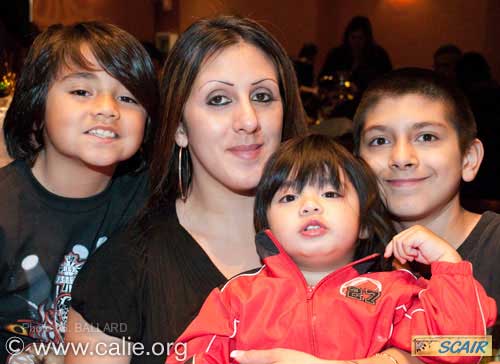 Many tribal families enjoyed the SCTCA-SCAIR Tribal TANF event.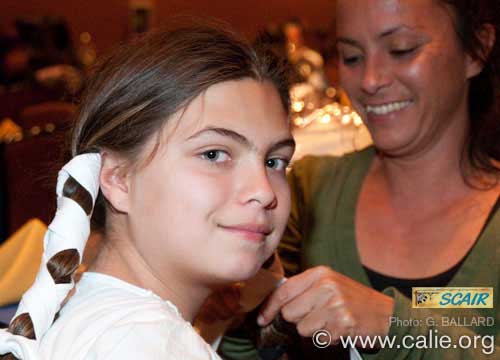 A Soaring Eagles dancer gets her hair braided into pigtails and wrapped Indian style in preparation for her cultural dancing exhibition.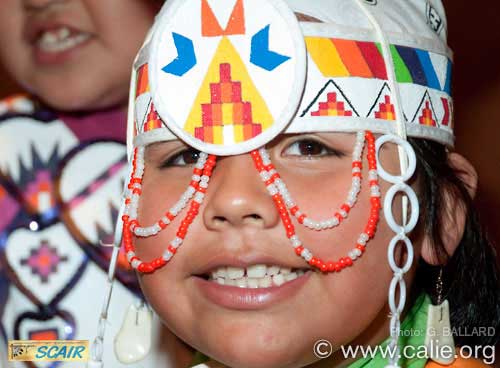 A Soaring Eagles young boy dancer posed for a portrait during the event. The young pow-wow dancer is wearing beaded grass dance headband, beaded eye drops, and roach pins with orange, yellow, red, green, blue color theme with square triangular chevron arrowhead tribal motifs designs patterns, bone earrings.
Family unity and instilling a sense of community are important parts of every TANF program and SCAIR event.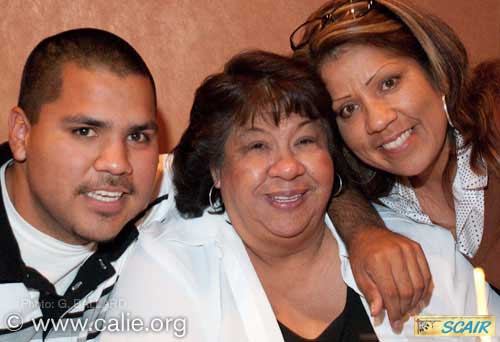 The Soaring Eagles Dancers coordinator Vickie Gambala takes a picture.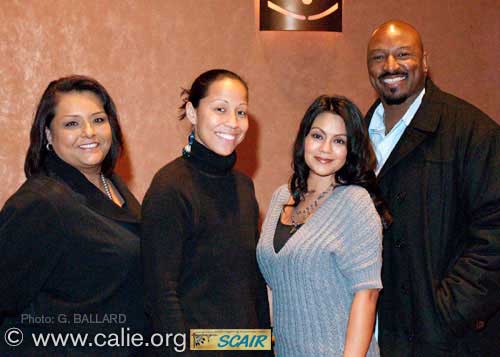 The Southern California Tribal Chaimen's Association Tribal TANF staff posed for a snapshot.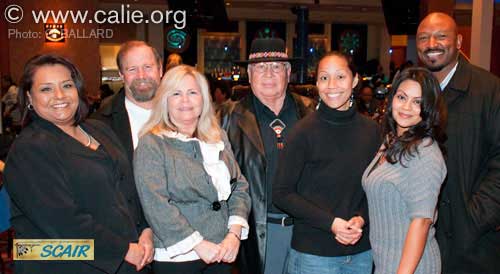 SCAIR and SCTCA executive staff posed for a picture.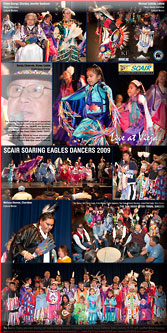 DOWNLOAD HIGH RESOLUTION EAGLE DANCERS POSTER.
+++++++
SOARING EAGLES Proudly Sponsored by:
Southern California Indian Resource Center, Inc. SCAIR
San Diego Indian Center
Coordinated by:
San Diego City Schools Indian Education Program
Indian Human Resource Center
Project Coordinator: Vickie Gambala
VOLUNTEERS NEEDED: If you would like to volunteer or help support the Golden Eagles Indian students, please contact Vickie Gambala off the SOARING EAGLES WEB SITE for current information, including current class and event schedules, contact information, FAQ, registration and eagles art posters DOWNLOADS.
+++++++
POW-WOW REGALIA
See Roy Cook's CALIE Pow-wow History and Information article for more info and professional photographs portfolios and movies about Native American powwows in Southern California, San Diego County.
PROFESSIONAL CALIFORNIA INDIAN COMMUNITY BLOG BY GARY G. BALLARD.