Publishing Corner:
ROY COOK NEWS BLOG
THE INDIAN REPORTER
TRIBAL BLOGGERS
Indian Community:
TRIBAL COMMUNITY
PROFILES
SOARING EAGLES
OBITUARIES
Science & Wonder
ASTRONOMY PORTAL
KID'S CLUBHOUSE
Indian Heros:
VETERAN COMMUNITY
MEDALS OF HONOR
CODE TALKERS
FAMOUS CHIEFS
HISTORIC BATTLES
POEMS ESSAYS
SPORTS-ATHLETES
MISSION FEDERATION
FAMOUS INDIANS
California Indian Art:
MISSION BASKETS
RED CLAY POTTERY
ETHNOGRAPHIC ART
CAVE ART
MUSIC
CALIE Library:
FEDERAL Resources
HEALTH & MEDICAL
INDIAN BOOK LIST
HISTORICAL Documents
Academic Financial Aid:
SCHOLARSHIPS
GRANTS & FUNDING
Tribal Governments:
TRIBAL COURTS
SOVEREIGNTY
SOCIAL SERVICES
TRIBAL DIRECTORY
Indian Gaming:
INDIAN CASINO FORUM
Here is e-mail information about how to contact Roy Cook.


CONTACT ROY COOK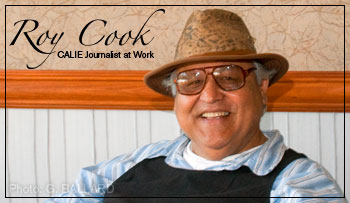 ROY COOK is a seasoned Native American California Indian writer, singer and speaker with a long professional history in greater San Diego County Indian country.
To contact Roy Cook by email, please use the convenient form at the bottom of this page.
Roy Cook is of the Opata-Oodham, Mazopiye Wishasha Indian tribes of North America, southwest USA border region of Mexico and San Diego County.
ROY COOK has extensive news and feature articles published on his INDIAN NEWS ARTICLES BLOG.
READ Roy Cook's Professional Biography,
Opata-Oodham, Mazopiye Wishasha: Writer, Singer, Speaker
mazopiye wichasha
To contact Roy Cook, please use the following form: