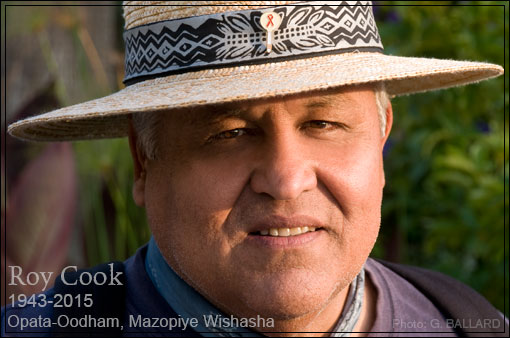 Roy Cook Portrait by G BALLARD.
DOWNLOAD BIGGER PHOTOGRAPH
ROY COOK Opata Osage

READ Native American news articles by Roy Cook
Opata-Oodham, Mazopiye Wishasha: Writer, Singer, Speaker
CONTACT ROY COOK for information about how to hire Roy Cook Native American journalist, traditional California Indian bird singers & dancers groups, cultural consultant, emcee.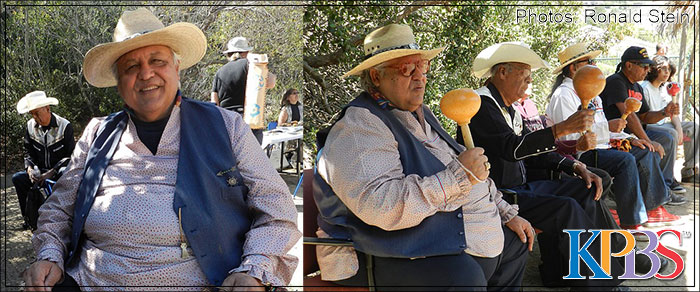 Educator Roy Cook selected as 2014 American Indian Heritage Month Local Hero READ KPBS ARTICLE — PDF ARCHIVE.
ROY COOK PROFESSIONAL BIOGRAPHY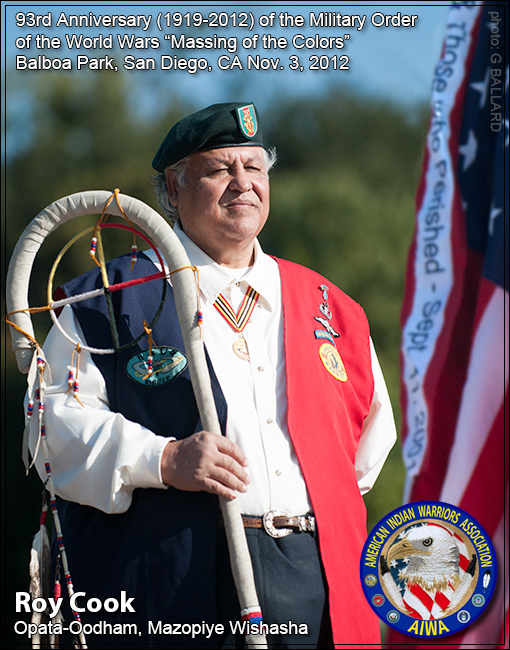 Roy Cook is the elected president of the San Diego American Indian Warriors Association AIWA and the official SDAIWA historian.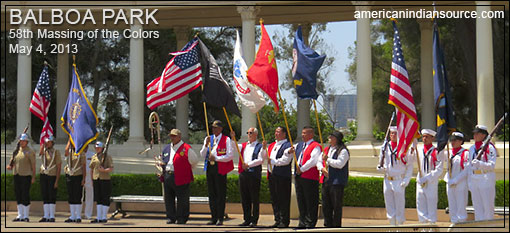 Most American Indian Warriors Association (AIWA) members were at the the Military Order of the World Wars 58th Massing of the Colors at Balboa Park Organ Pavilion in San Diego, may 4, 2013.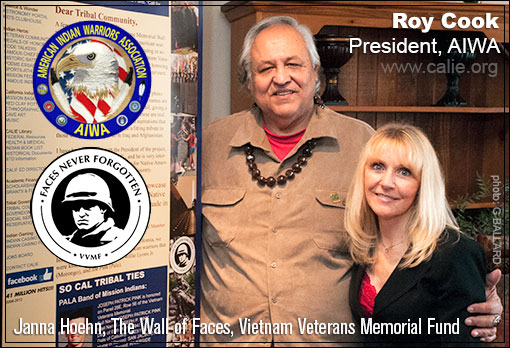 BARONA INDIAN RESERVATION 1/23/2013 — Roy posed for a photograph with Janna Hoehn (The Vietnam Veterans Memorial Fund) after a private meeting to discuss developing Tribal involvement in the "Faces Never Forgotten" project in Washington D.C.

A former U.S. Special Forces Army soldier, Mr. Cook also serves as Tribal historian for the Southern California American Indian Resource Center (SCAIR) in the County of San Diego.
Roy Cook has completed extensive service in the US military, including tours with the US Army Airborne, paratrooper, psychological warfare specialist, Green Beret Special Forces, and Mr. Cook is a Vietnam era veteran, including service with the 12th Special Forces Group.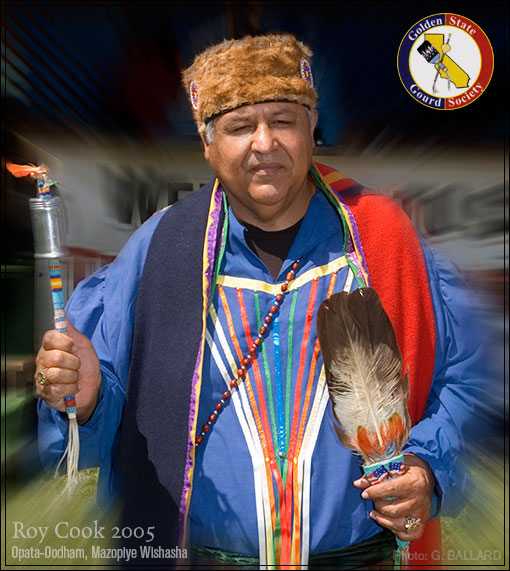 Roy Cook, Opata-Oodham, was the HEAD GOURD DANCER for the 2005 Sycuan Powwow (pictured above). Roy Cook founded and publishes the popular Native American website americanindiansource.com and is a highly-active professional California Native American Indian contributor in the Southern California, national North American Indian and military-veteran communities.
As of 2012, Roy Cook is a 34-year member of the Golden State Gourd Dance Society and a 21-year associate member of the Western Oklahoma Comanche Gourd Clan.
RESUME-BIOGRAPHY OF ROY COOK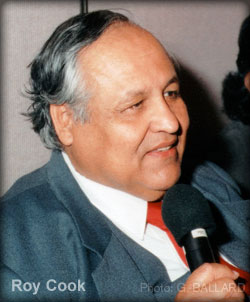 Tribal writer, Native singer, California Indian artist, ROY COOK's earliest memories are of people on Santa Ysabel Reservation, San Diego County. Born in Tucson, Arizona of Opata-Oodham (Pima) and Oklahoma Tribal heritage. Following Traditional, Military and G.I. Bill education in: English, Fine Art, Graphic Communication and the Graduate School of Human Behavior he lives in San Diego County, California and has worked at local University and colleges.
Roy Cook is honored to have been invited to teach California Indian History and Fine Art History on the San Diego Tribal Reservations in North San Diego county, Pala Band and East San Diego county, Viejas Band of Kumeyaay.
SELF-PUBLISHER, FREELANCE WRITER, DESIGNER:
Published stories include more than 300 stories for print and Web covering Native American community topics: Indian Education, culture, art, music, language, health, history, American Indian Veterans, California Tribal customs and traditions, biographical tribute and Honoring of Elders. 1998-present. www.americanindiansource.com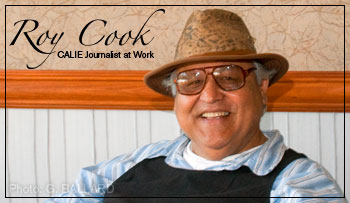 Mr. Roy Cook, CALIE journalist at work....
CREDITS:
• California Indian Education CALIE website, journalist.
• Southern California American Indian Resource Center, Inc., SCAIR hisorian.
• La Prensa, Hispa• Indian Voices, Interstate Tribal Newspaper, Nevada and Southern California.
• San Diego County Herald, Weekly newspaper in the Eastern mountain region.
• La Prensa, Hispanic weekly serving urban and rural San Diego communities.
PROFESSIONAL NATIVE AMERICAN BIRD SINGERS:

Roy Cook is a member of The Three Aukas professional birdsinging group — Jon Mesa Cuero, Ben Nance, Roy Cook — may be hired to perform cultural songs for Native American events. Please contact Roy for booking information and rates.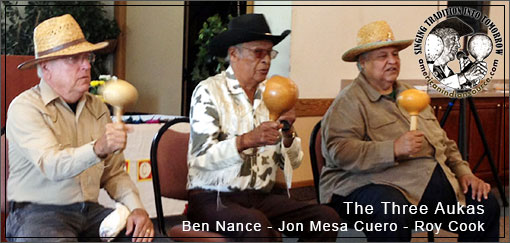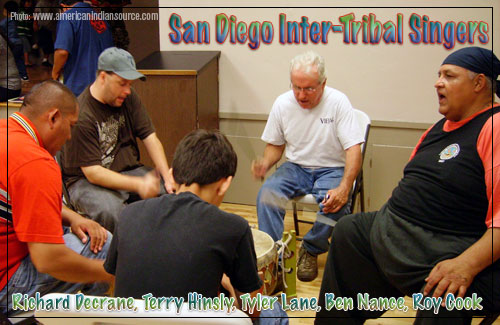 Roy Cook also keeps the Indian drum for his professional drum group, The San Diego Inter-tribal Singers — Richard Decrane, Terry Hinsly, Tyler Lane, Ben Nance, Roy Cook. Please contact Roy for professional rates and how to book the California Indian cultural singers in Southern California.
CURATOR:
American Indian Cultural Center Museum, San Diego Balboa Park, Indian Human Resource Center, Inc. 1999-2001.
NATIVE AMERICAN ENTREPRENEUR:
Owner of American Indian Store, retail and on-line business listed with the B.I.A. Indian Arts and Crafts board as American Indian owned business representing authentic handmade Indians art and jewelry. Regional calendar for pow wow and Indian doings. 1975-95 www.americanindiansource.com
DIRECTOR:
Viejas Tribal Indian Education Center. Administrative duties included responsibility of overall activities at Viejas Indian Education Center. Work closely with: Tribal council, Tribal Advisory board, Elders. Maintain all fiscal, employee and evaluation records. Successfully prepared all necessary Grants, budgets and reports. School year 1983 to 1984.
DIRECTOR TALENT SEARCH:
Under the San Diego Indian Center umbrella successfully administer all general and special services of the Talent Search program and staff. This project is a Federal TRIO program funded by the Department of Health, Education and Welfare for the purpose of identifying underrepresented groups, particularly low income minorities, with potential for advanced education. August 1973 to 1974.
PROGRAM OFFICER:
San Diego Human Relations Commission, County of San Diego. Community Housing Development duties: Fair housing and community development efforts in the public and private sectors. April 1972 to August 1973.
EDUCATION:
Mesa Community College, San Diego, California
Adjunct Humanities Professor; Fine Art Dept Honors classes, American Indian Art History (Art 120), 1992 to 2005.
Grossmont Community College, El Cajon, California 92020, Humanities department, Chairman, Multicultural Studies Department: Black Studies, Chicano Studies, Asian Studies and American Indian Studies. Responsibilities included: recruitment, staffing, budget, curriculum and full-time teaching load in ethnic studies emphasis:
U. S. History and American Institutions MCS 130 & MCS 131,
Survey of American Indian Art MCS 134,
American Indian Lifestyles MCS 131,
History and Culture of the California Indian MCS 133.
Further, with invitation of the Viejas Indian Reservation Education committee initiated, developed curriculum and taught evening and summer programs on the Viejas Kumeyaay Reservation.
Full time/adjunct faculty 1975-1997.
San Diego State University, San Diego, California 92115, Humanities department Adjunct Professor, American Indian Studies:
American Indian Lifestyles,
American Indian in Contemporary Society,
American Indian Roots of Tradition, American Indian Art History, 1975-1985.
Palomar College, San Marcos, California, Humanities department Adjunct instructor:
Native American in Contemporary Society, Summer program on the Pala reservation, 1972.
Roy Cook's professional biography may be found on his California Indian news WEBSITE.


ROY COOK Sycuan pow-wow photos courtesy of Sycuan Tribal Government Sycuan Indian Reservation California Indian gourd dancing pictures.