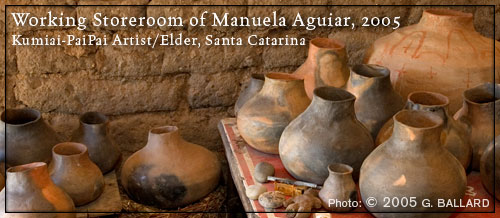 CALIFORNIA INDIAN POTTERY ART Pictures ollas courtesy of www.kumeyaay.info
INDIAN CLAY POTTERY
CALIFORNIA INDIAN STYLE CLAY POTTERY pictured in 2005 in the Santa Catarina storeroom of Kumiai-PaiPai ethnographic artist Manuela Aguiar against an adobe wall — this pottery the real deal.
Right after the picture was taken, the photographer's Baja guide loaded it all up on a truck and hauled it away for sale in the United States (and Manuela started making more pots a few days later).
THE INDIGENOUS PEOPLES OF CALIFORNIA have been gathering the special red dirt, working it into red clay, shaping the red clay into ollas and other objects, and PIT FIRING their clay artifacts this way for thousands of years, but like so much of the world Indigenous culture, it is nearly a lost art.
At the turn of the 21st century, there are only a handful of traditional ethnographic artists still producing coiled red clay pottery using this ancient process, and their art usually ends up in private collections, casino and tourist gift shops, in schools and museums.
POTTERY BURN PIT — PIT FIRING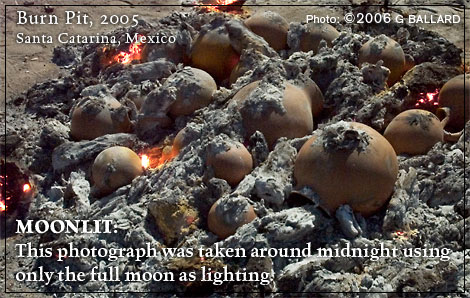 This photograph of a traditional Native American Indian burn pit documents how today's ethnographic Indian artists are still using the ancient ways to pit fire their clay pottery art.
The burn pit was photographed in a PaiPai indigenous tribal village — Santa Catarina, Baja California, Mexico. This is a very remote high desert tribal community that had no electricity or running water in 2005.
WHAT MAKES THIS BURN PIT PICTURE INTERESTING:
• The photograph was taken with a digital camera around midnight using ONLY the full moon as lighting.
• The camera shutter was left open for 120 seconds - two full minutes - for the sensor (film) to gather enough light to expose photographic detail.
WHAT MAKES THE PICTURE CREATIVELY INTERESTING:
• The pit fire surely would look the same if it was taken a thousand years ago....
The traditional pottery artists carefully time their pit firing with the weather because they know the firing process requires proper balance of heat and humidity, and a windless night so their pots will heat up and cool down evenly without too much cracking or breakage.
DRIED YUCCA STALKS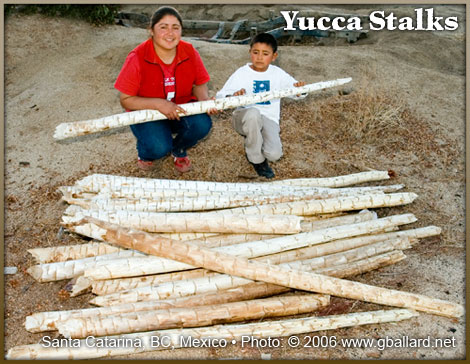 DRIED YUCCA STALKS like these pictured in 2006 are the preferred fuel to heat the burn pits because they burn very evenly.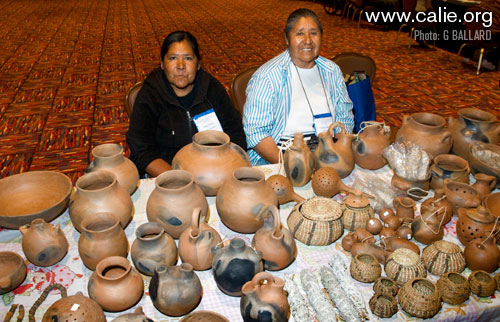 BARONA YUMAN LANGUAGE SUMMIT 2008 — Traditional ethnographic artists Tirsa Flores and Tersa Castro, PaiPai Indians from Santa Catarina, Baja California, Mexico, had a table setup to sell their authentic California Indian clay pottery, aboriginal bark skirts, yucca fiber sandals, ceremonial sage wands.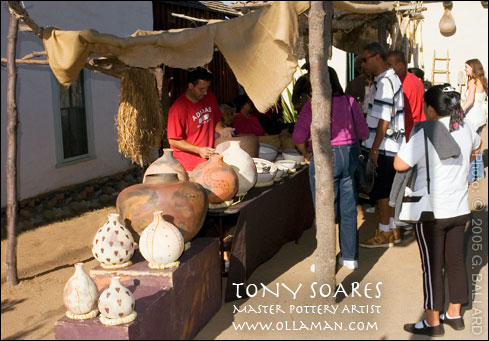 MASTER POTTERY ARTIST and famous pottery teacher in the California Indian education community is Tony Soares pictured here under a ramada giving public demonstrations and providing info about how to make Indian pottery.
To learn more about traditional clay pottery making in California, and see professional portfolios of high-resolution pottery art photos, please visit the KUMEYAAY.INFO ONLINE OLLA MUSEUMS:

Page under creation, started by webmaster on 1/25/09, last worked on 1/26/09...
Please CONTACT the webmaster to submit articles or links for publication.