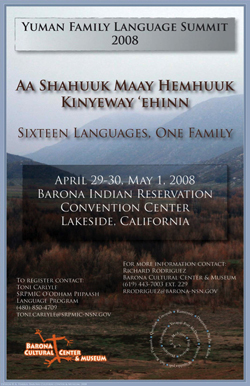 6TH ANNUAL YUMAN FAMILY LANGUAGE SUMMIT
Native Americans from across the West united on the Barona Indian Reservation for the 6th Annual Yuman Family Language Summit — tribes focused on keeping their California Native American Yuman languages and aboriginal Indian culture alive.
FOR IMMEDIATE EDUCATION NEWS RELEASE
BARONA INDIAN RESERVATION, LAKESIDE, CA – Native American Tribes from across the Western United States gathered at the Barona Convention Center for the 6th Annual Yuman Family Language Summit from April 29 through May 1, 2008.
YUMAN LANGUAGE PICTURES: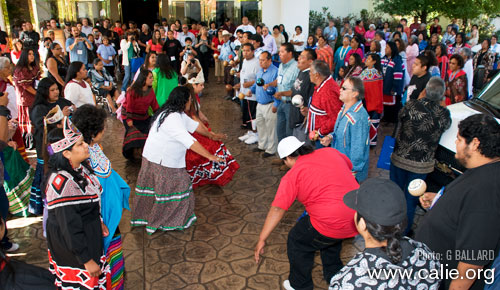 Day One, April 29 — Yuman bird singers and bird dancers celebrate during the opening ceremony, blessing by Albert "Boxie" Phoenix, Barona elder.
Yuman tribes participating in the language event include: Kiliwa, Pai Pai, Diegueño, Kumeyaay, Kumiai, Cucapa, Cocopah, Quechan, Maricopa, Prescott, Wiipuhka'pah, Mohaves, Fort Mojave, Hualapai, Havasupai Indians.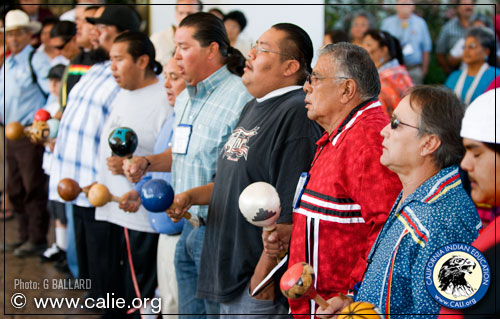 Kumeyaay and Yuman bird singers sang Native American cultural songs. Leroy Elliott, Kumeyaay Manzanta (in red ribbon shirt), Larry Banegas, Barona (in blue ribbon shirt), John Christman, Viejas, Louis Guassac, Mesa Grande, and Demetrio Pulido, La Huerta, are pictured singing and playing traditional gourd rattles in the above photograph.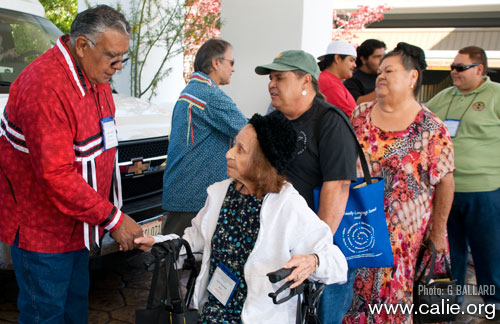 Kumeyaay elders Leroy Elliott Kumeyaay Manzanta reservation and Jane Dumas, Kumeyaay Jamul, shake hands during the walk-around greeting after the birdsinging and birddancing were performed. Richard Bugbee, Luiseño, is pictured pushing Jane along in a wheelchair.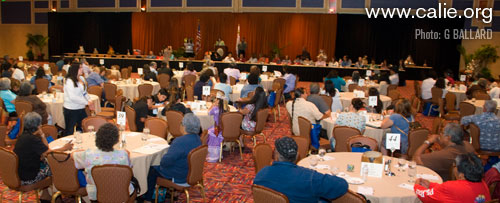 Barona conference room with head table.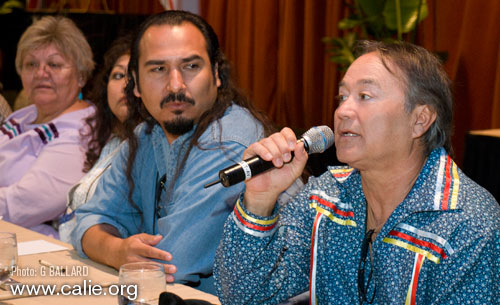 Larry Banegas, Kumeyaay Barona, said some words from the head table. Kelly Washington, cultural resource director of the Salt River Pima-Maricopa Indian Community, is pictured to Larry's right.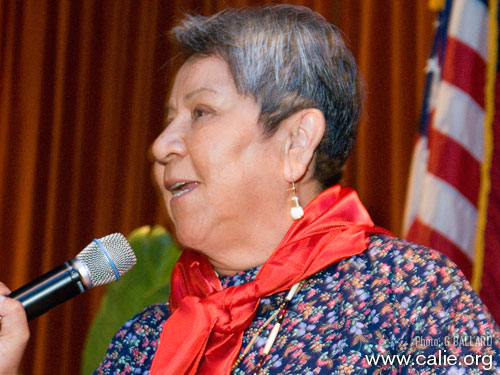 Shirley Murphy, Lakota, Pine Ridge Indian Reservation, opens the Language Panel. Shirley Murphy is a Native American linguist and she was wearing traditional Lakota regalia. Shirley Murphy, a professional educator, has been married to fire Chief Hank Murphy, Sycuan Kumeyaay, for more than 36 years, and they have lived on the Sycuan Indian Reservation for more than three decades.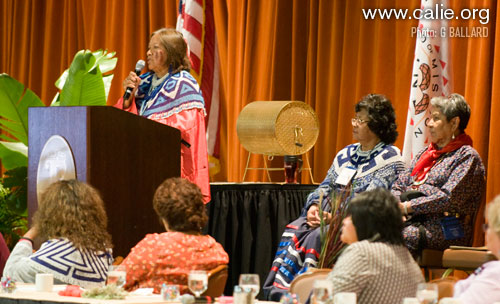 Christine Emerson, a member of the Language Panel, addresses the audience.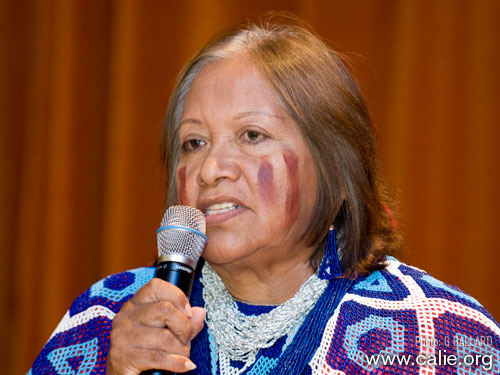 Christine Emerson wore a traditional Native American beaded collar, and face paint.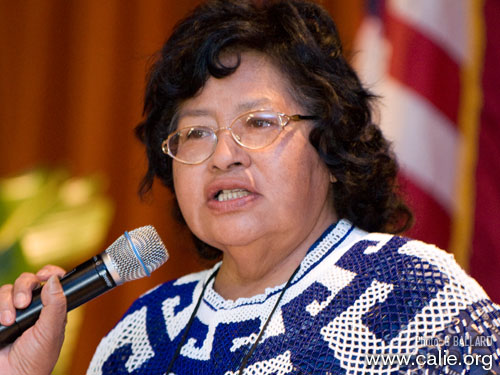 Lucille Watahomigie, Hualapai educator and language activist, also spoke about her experiences as a key member of the Language Panel.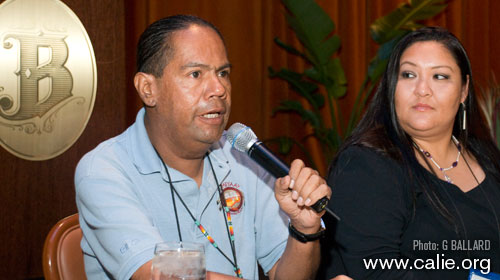 Stan Rodriguez, Kumeyaay Santa Ysabel, said some words from the head table. Stan is seated beside wife, Marta, Kumiai, San Jose de la Zorra.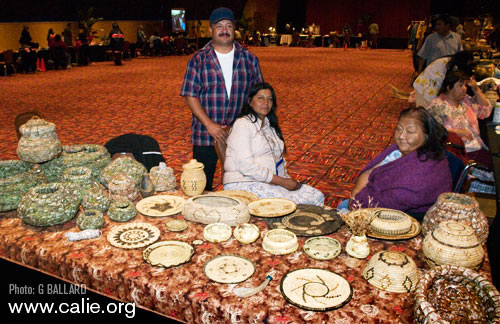 Gregorio Guadalupe Montes Castañeda family had a Kumiai cultural booth and displayed Kumeyaay willow baskets, and juncus baskets. Famous Kumeyaay basket weaver Gloria Castañeda is pictured to right in purple sweater.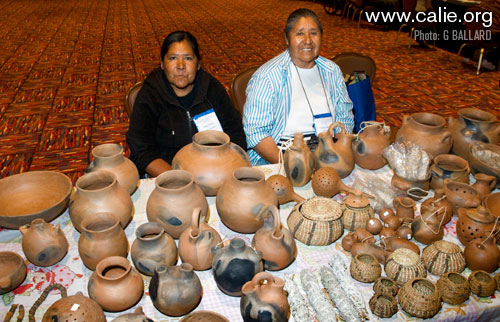 Tirsa Flores and Tersa Castro, PaiPai Indians from Santa Catarina, Baja California, Mexico, had a table setup to sell yuman clay pottery, aboriginal bark skirts, yucca fiber sandals, ceremonial sage wands.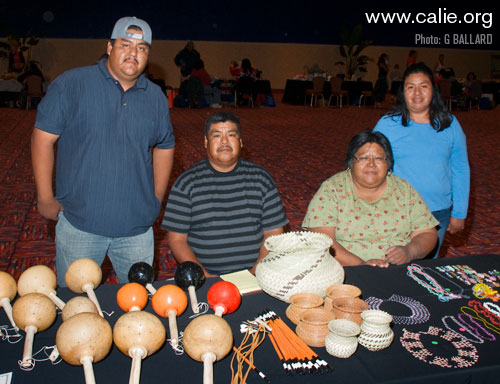 Alonso Pesado, Cucapa bird singer with family of traditional Cocopah indigenous artists, is pictured at his ethnographic art booth at the 6th Annual Yuman Family Language Summit. Isabel Pesado and Guadlupe Pesado are also pictured. The Pesado family had displayed traditional Yuman gourd rattles, peon game sets, pine needle baskets, palm baskets, beaded collars, and other Cocopah Indian beaded art.
The Barona Band of Mission Indians is proud to host of this year's Yuman languages and cultural event.  The 2008 Yuman language summit was named "Sixteen Languages, One Family" and will celebrate the culture and traditions of the Yuman Nation, which encompass Tribes spanning from Southern California to the Grand Canyon to northern Baja California, Mexico.
In a collaborative effort among the Tribes to preserve and revitalize the Yuman languages and cultures, attendees will have the opportunity to attend a variety of presentations including language workshops, traditional art seminars, as well as classes discussing native plants and the relationship of language and song.
The three-day summit will also feature traditional foods, games, storytelling traditions and a dinner recognizing the elders who have been instrumental in preserving the language/culture.
The event is $40 pre-paid and $80 at the door.
DOWNLOAD Registration PDF.
For more registration information, contact Toni Carlyle at the SRPMIC O'Odham Piipaash Language Program at (480) 850-4709 or visit www.barona-nsn.gov.
To be a workshop presenter or event traditional arts vendor, contact Rich Rodriguez at the Barona Cultural Center & Museum at (619) 443-7003, ext. 2. PDF forms for vendors and presenters may be downloaded at www.barona-nsn.gov.

Links to successful Indian artists, publishers, famous and working actors, business professionals.Posted on March 4th, 2008 by hunwut.