Publishing Corner:
ROY COOK NEWS BLOG
THE INDIAN REPORTER
TRIBAL BLOGGERS
Indian Community:
TRIBAL COMMUNITY
PROFILES
SOARING EAGLES
Science & Wonder
ASTRONOMY PORTAL
KID'S CLUBHOUSE
Indian Heros:
VETERAN COMMUNITY
MEDALS OF HONOR
CODE TALKERS
FAMOUS CHIEFS
HISTORIC BATTLES
POEMS ESSAYS
SPORTS-ATHLETES
MISSION FEDERATION
FAMOUS INDIANS
California Indian Art:
MISSION BASKETS
RED CLAY POTTERY
ETHNOGRAPHIC ART
CAVE ART
MUSIC
CALIE Library:
FEDERAL Resources
HEALTH & MEDICAL
INDIAN BOOK LIST
HISTORICAL Documents
Academic Financial Aid:
SCHOLARSHIPS
GRANTS & FUNDING
Tribal Governments:
TRIBAL COURTS
SOVEREIGNTY
SOCIAL SERVICES
TRIBAL DIRECTORY
Indian Gaming:
INDIAN CASINO FORUM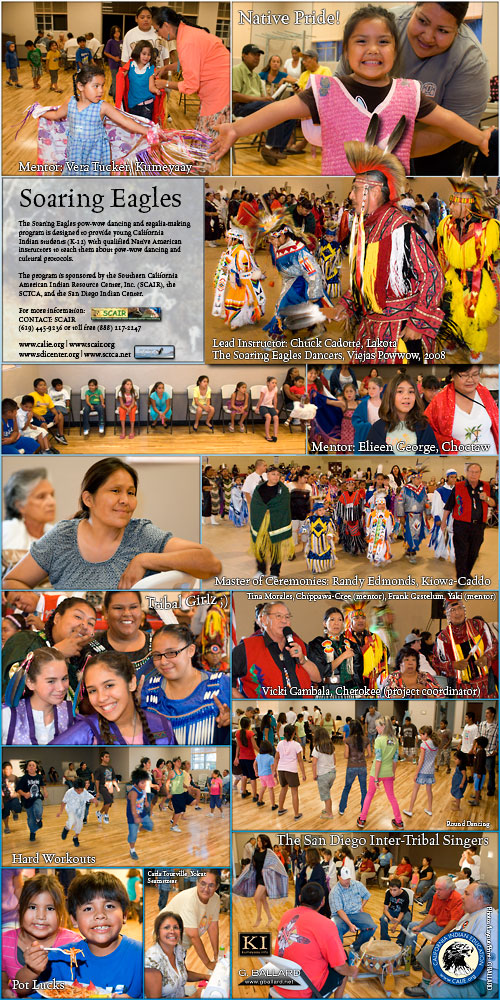 High resolution pow-wow poster art, photos, layout and 24x48-inch giant posters photographed, designed, printed and mounted in San Diego County by G. BALLARD.
SOARING EAGLES POWWOW PROGRAM
The Soaring Eagles pow-wow dancing and regalia-making program is designed to provide young California Indian students (K-12) with qualified Native American instructors to teach them about pow-wow dancing and cultural protocols.
The program is sponsored by the Southern California American Indian Resource Center, Inc. (SCAIR), the SCTCA, and the San Diego Indian Center.
See SOARING EAGLES WEB SITE for current information, including current class and event schedules, contact information, FAQ, registration and eagles art posters DOWNLOAD.
For more high-resolution tribal posters:
Please click on one the above three tribal community posters to view its high-resolution picture on the California Indian Education network.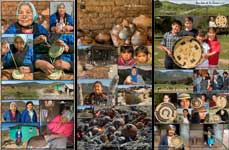 CLICK to see the KUMEYAAY.INFO 24x48" tribal documentary poster gallery.