Learn How To Pow wow Dance and Make Custom Tribal Regalia Workshops Sponsored by the Southern California American Indian Resource Center, Inc., (SCAIR) & San Diego Indian Center.

PRESS RELEASE:
FOR IMMEDIATE RELEASE


Ron & Virginia Christman honored at First Annual Old Town Soaring Eagles Powwow, San Diego...

SCAIR-SOARING EAGLES perform live at the San Diego Martin Luther King Parade — Soaring Eagles win Youth Award trophy!


The Soaring Eagles Dancers performed live at Viejas Indian casino, 2/18/2009.


SOARING EAGLES at VIEJAS POWWOW — Young California Indian students perform live on the Viejas Indian Reservation with top professional pow-wow dancers from across North America.
HIGH RESOLUTION EAGLES: CLICK on "The San Diego Union-Tribune" above thumbnail. CLICK on above thumbnail posters for high-resolution posters.
SCAIR SOARING EAGLES
Pow-wow Dance Classes San Diego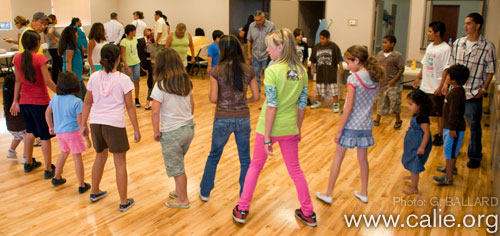 Classes open with a ceremonial drum song and pow-wow style round dancing.
You are invited! (New *Class Schedule):


See SOARING EAGLES WEB SITE for current information, including current class and event schedules, contact information, FAQ, registration and eagles art posters DOWNLOAD.
POSTER: Download 12x18" SCAIR Poster/INFO.pdf
Information About the San Diego Tribal Dance Program, Soaring Eagles:
Please see ROY COOK's SUMMER CLASSES Blog for his class-by-class personal notes and complete photo gallery.
Also see ROY COOK's FALL CLASSES blog.
SEE ROY COOK SOARING EAGLES' LINKS PAGE


by Roy Cook, Opata-Oodham, Mazopiye Wishasha: Writer, Singer, Speaker


Many young Native American children, grades K-12, attend the classes to learn about their Native American cultural dance protocol to actively participate in California Indian traditional gatherings and powwows like the Barona Traditional Gathering on August 14-17, 2008, and the 2008 Sycuan Traditional Gathering.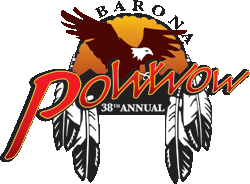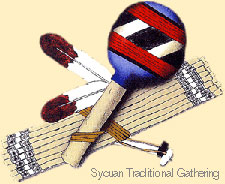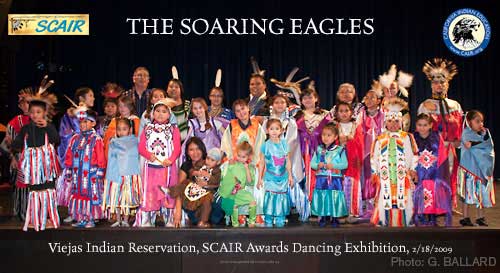 DOWNLOAD The Soaring Eagles Dancers high-resolution poster photo.
The SCAIR Soaring Eagles dance and regalia-making program purchased the material and helped the Indian families make children's authentic tribal regalias during the program,

he Soaring Eagles summer powwow dance classes bring together American Indians dancers from different tribes to share their Intertribal powwow dances. A schedule calendar will be provided with the date, location and time. For up to date information call Indian Education Title VII at 858-627-7362. Refreshment will be provided to all the participants.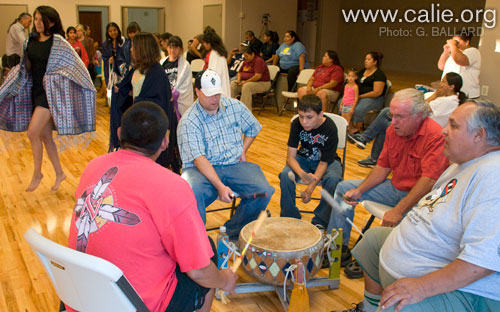 Native American drum group, The San Diego Inter-Tribal Singers of San Diego, provide the pow-wow dance music for the workshops.
Summer time is pow wow season for many tribal people. The inter-tribal pow wow is always a chance to see old friends and make new ones. This summer program is an opportunity to learn to dance, listen to the different songs and styles of pow wow music and appreciate and respect new or different tribal regalia. At the same time it is an opportunity to take pride in ones own culture and participate in tribal celebrations. Many Tribes and organizations in San Diego county host summer pow wows.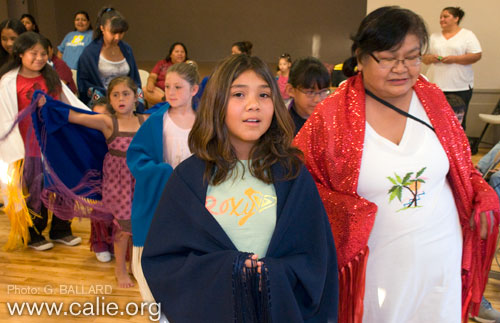 Experienced pow-wow dancers and community leaders provide valuable help as roll models, teachers and mentors for the older students (pictured: Elieen George, Choctaw Indian, program mentor).
VOLUNTEERS NEEDED:
If you would like to volunteer or help support the Golden Eagles Indian students, please contact Vickie Gambala at (619) 281-5964, (858) 627-7362.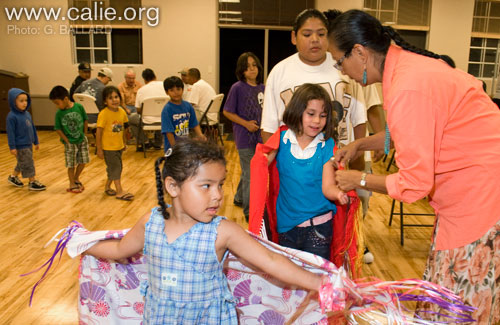 Vera Tucker, Kumeyaay Indian woman from Viejas Indian Reservation, teaches a young Indian student how to grip her fancy shawl.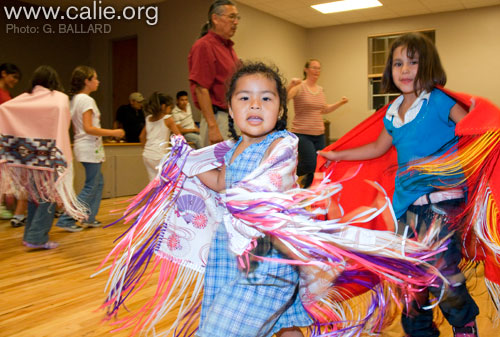 The young Native American school girls learn how to position their bodies, step and swing their arms with the pow-wow music to exhibit fluid artistic motion into their fancy shawls.
Before the classes begin on July 16, the parents and children will be asking to sign a contract of participation to guarantee they will attend all the dance classes and sewing classes and to complete their children regalia. 
We will schedule dance classes and regalia classes during the month of July and August.  A different location will be selected for the fall 2008 school year.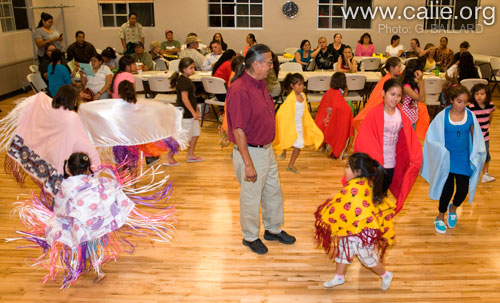 Chuck Cadotte, Lakota Indian Nation, is the Soaring Eagles lead instructor and brings a wealth of traditional teaching experience and leadership to the San Diego cultural program.
Also, the San Diego Indian community is encouraged to bring their powwow regalia they no longer use to share with the students who will be learning how to dance at the powwow dance class. 
Local and family Powwow dancers will also be encouraged in volunteering their time to help Vickie Gambala with the teaching of theses classes. She has enlisted the help of the Indian Human Resource Center for this summer project.
Regalia making classes will be held on Wednesday evening. The parents will be provided with some but not all, material and instructions on how to make their children's powwow regalia.
One of the cultural and educational values most prized in Indian country is the ability to observe and learn from respectful observation. Unfortunately in these days of sound bites and impatience with the natural pace of human scale (tribal context) these values often get trampled upon.
Along with dance instruction and participation one of the major goals is the construction of Southern California Intertribal Pow wow regalia. We would love to be able to construct each and every type of Tribal regalia but for this summer program we are presenting the INTER-TRIBAL REGALIA.
Thank you for your consideration and support.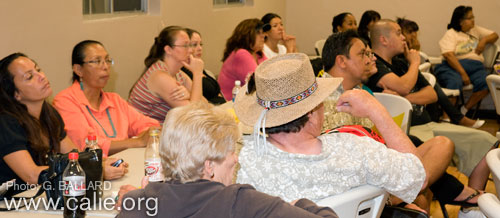 Promoting community participation within CALIE cultural network brings families together and famous Indians out to share in the tribal fun. Pictured in the hat is SCAIR Senior Advisor Randy Edmonds (Kiowa-Caddo) with his wife, Bonnie (Ojibwa).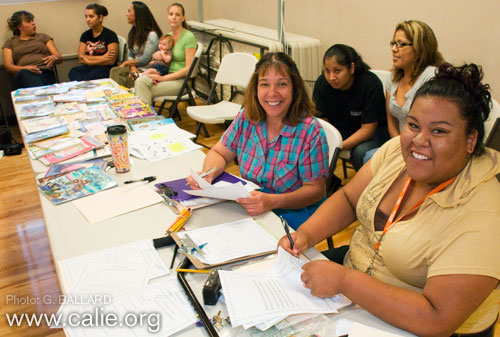 Melissa Aleman, Cherokee (right) helps her mother and grandmother out at the head registration table and organizes the cultural curriculum.
Remember:
First Meeting.
The parents and students will have the opportunity to meet the Summer program faculty; Chuck Cadotte, Instructor, Carla Trouville, Sewing Instructor, Michael Cadotte, Fancy Dancer Instructor, Eileen George, Traditional Dancer Instructor and other volunteers who represent a variety of backgrounds, interest and skill levels of powwow dancers. 
All the student who will be participating in the powwow dance program will be asked to bring with them an index card describing what type of dancing they want to learn.  The instructors' will began working with them on their regalia.  The participants will be placed in their dance category to begin their first dance lesson. The San Diego Intertribal Singers will sing traditional songs appropriate for the summer program.
At all the sessions, we will have Jennie Alvarado working with the other students who are not participating in the powwow dance lessons. Snacks will be provided at each session.
Later in the year we will be having a special community event for the participating students.
+++++++
Please see ROY COOK's SUMMER DANCE CLASSES BLOG and his FALL DANCE CLASSES BLOG on the summer dance classes — here a few pics to preview Roy's professional blogs: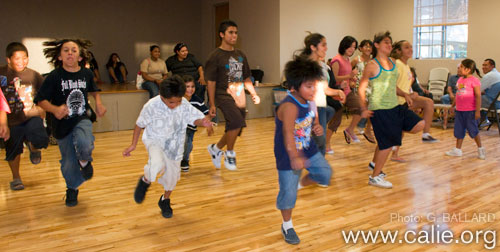 Powwow dance students get real workouts during the dancing classes.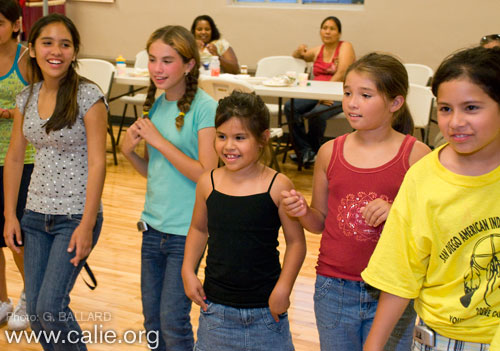 The young pow-wow girls seem to really enjoy their Native American cultural dancing experiences and socializing during the classes.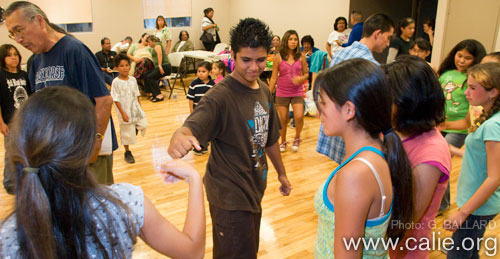 The students practice a walk-around greeting where participants walk a line and handshake with other participants in a common traditional North American Indian style.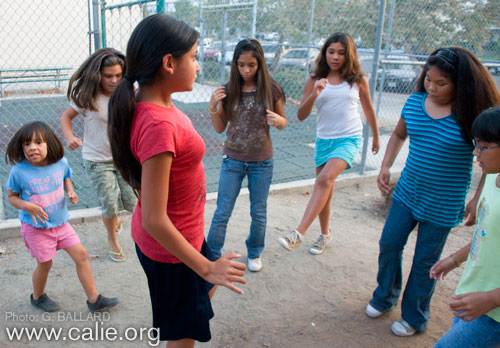 The experienced young female pow-wow dancing instructor (in red) took her students outside for some fun to enjoy the cooler summer temperature and daylight.

The classes include a pot luck buffet and community family-style socializing.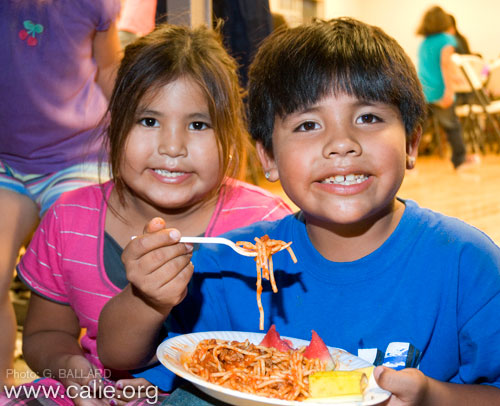 You never know what's going to be on the menu with our community pot luck events, but everyone gets a full belly.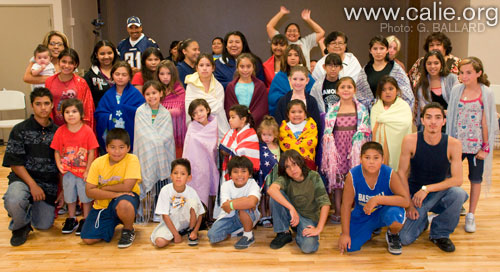 CLICK on group photo for large 10-inch high-resolution print JPEG picture. Some of the young traditional dance students and instructors posed for a group pow-wow photo.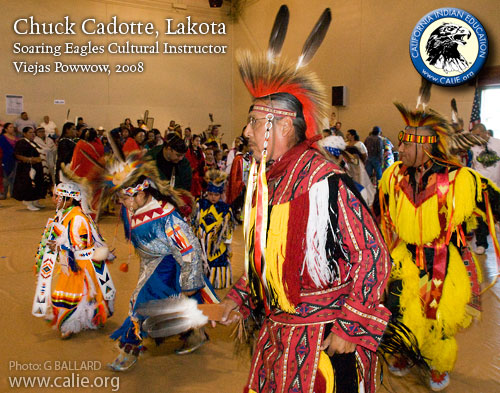 Soaring Eagles instructor Chuck Cadotte, Lakota Nation, lead his group of pow-wow dance students around the Viejas pow-wow arena during a special Soaring Eagles section of the powwow at Viejas Indian Reservation. Frank Gastelum, Yaqui grass dancer (right) is pictured dancing alongside young Soaring Eagles dancers.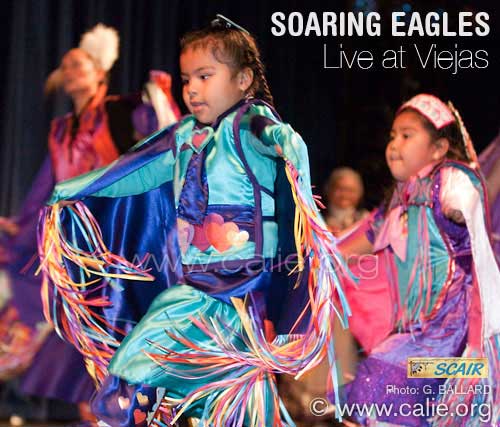 Young girl pow-wow fancy-shawl dancers in colorful tribal costumes performed their practiced cultural dance steps to the delight of a special Viejas audience.
+++++++
SOARING EAGLES Proudly Sponsored by:
Southern California Indian Resource Center, Inc. SCAIR
San Diego Indian Center
Coordinated by:
San Diego City Schools Indian Education Program
Indian Human Resource Center
Project Coordinator: Vickie Gambala
VOLUNTEERS NEEDED: If you would like to volunteer or help support the Golden Eagles Indian students, please contact Vickie Gambala off the SOARING EAGLES WEB SITE for current information, including current class and event schedules, contact information, FAQ, registration and eagles art posters DOWNLOAD.
+++++++
POW-WOW REGALIA
See Roy Cook's CALIE Pow-wow History and Information article for more info and professional photographs portfolios and movies about Native American powwows in Southern California, San Diego County.