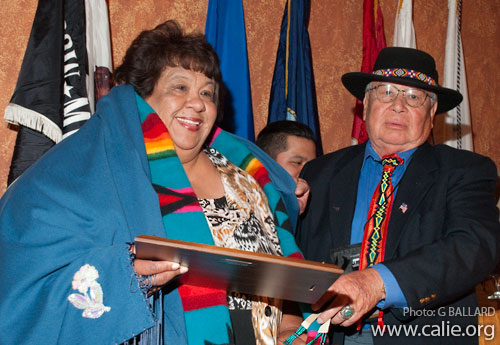 Vickie Gambala (Cherokee) was honored with a blanket, shawl, jewelry and framed Honored Elder Certificate during the CIEDA California Indian Education Center Director's Association California Conference on American Indian Education, Palm Springs, 2009. SCAIR senior advisor Randy Edmonds (Kiowa-Caddo) presented her with the prestigious award.
Contact Vickie Gambala off the SOARING EAGLES' HOME PAGE.
VICKIE GAMBALA
Vickie Gambala, a Cherokee Indian from Oklahoma, has been involved with the urban Native American Indian community for more than 30 years in San Diego County.
In the early 1970s, Vickie Gambala was a parent attending the urban Native Americans family nights and community meetings.
With three young children, she recognized the need to support Native American children in the urban Indian communities and applied for a tutoring position with the San Diego Unified School District. In 1976, Vickie became part of the Indian Education Program in San Diego County.
Vickie Gambala has since been the Director of the Indian Education Title VII program for over 27 years now.
Her programs include tutoring, career guidance and cultural enrichment programs that have benefited thousands of Native American schools in the San Diego County school district.
Vickie helped establish and is currently is involved in running the highly-successful Soaring Eagles Indian Education Program.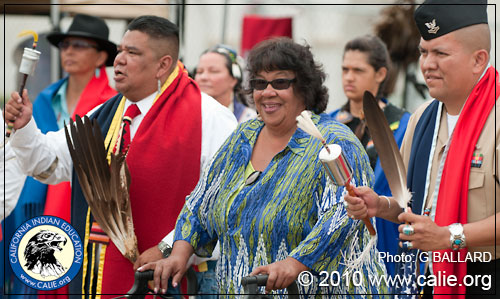 Soaring Eagles program leader Vickie Gambala pictured standing with the gourd dancers and enjoying the beautiful success of her cultural programs during the First Annual Old Town Soaring Eagles Powwow, June 2010.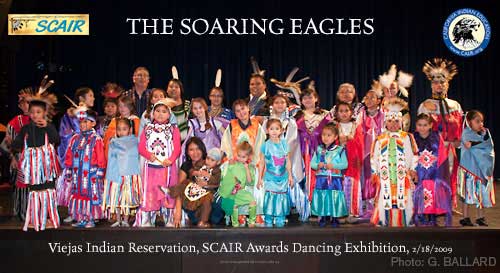 DOWNLOAD The Soaring Eagles Dancers high-resolution poster photo
.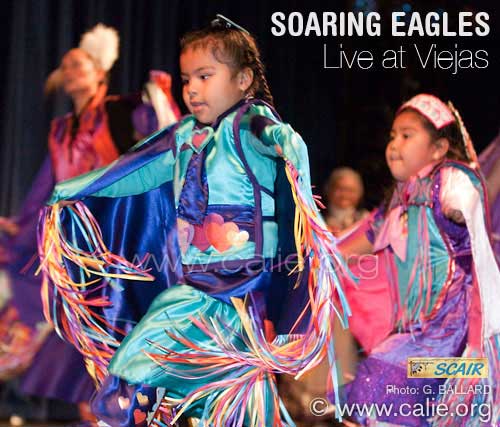 Young girl pow-wow fancy-shawl dancers in colorful tribal costumes performed their practiced cultural dance steps to the delight of a special Viejas audience.
SOARING EAGLES Proudly Sponsored by:
Southern California Indian Resource Center, Inc. SCAIR
Southern California Tribal Chairmen's Association SCTCA
Coordinated by:
San Diego City Schools Indian Education Program
Indian Human Resource Center
Project Coordinator: Vickie Gambala
VOLUNTEERS & SPONSORS NEEDED:
If you would like to volunteer or help support the Golden Eagles Indian students, please CONTACT VICKIE GAMBALA ON THE SOARING EAGLES HOME PAGE for current information, including class schedule, events, pictures, registration.
As the Indian Education Title VII program director, Vickie Gambala and her professional staff are quick to assist urban Indian families in closely-supervised cultural programs that are designed to teach cultural awareness and bridge the generational gap between family members to instill a sense of belonging in the community within the family unit.
Representing programs for more than 50 tribal nations, Vickie helps bring the urban community together to present and preserve their cultural, traditional and spiritual values with activities with family, students and children.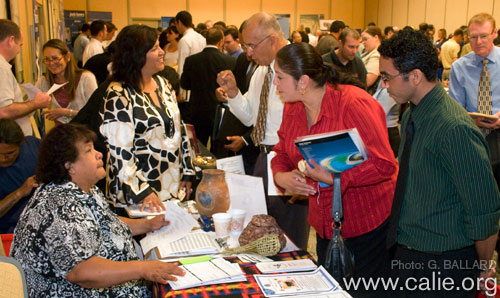 Vickie Gambala (seated in black & white blouse), the Native American Indian education district liaison for the San Diego Unified School District, was kept busy during the job fair and answered many questions about San Diego tribal educational programs.
In addition to her role as Director of the Indian Education program, Vickie is active on many committees and boards — such as the Indian Education Community (liaison), University of Oklahoma health Promotion Program, American Indian Advisory Council, San Diego American Indian Health Center (past board), Women's Gathering in San Diego (founder), San Diego Mayor Advisor committee, Indian Human Resource Center (past board/present advisor), TOWANKA seniors program (advisor), Council of American Indian Organization of San Diego County (committee), Native Nutrition Circle, SCAIR (liaison), and the Soaring Eagles Dance Group (project coordinator).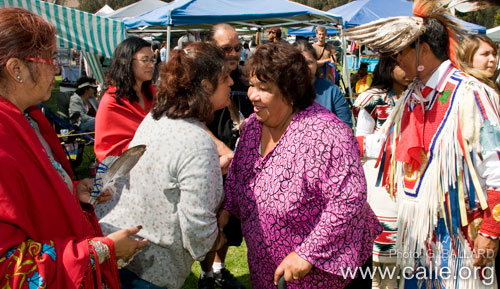 Vickie Gambala, Native American Indian education district liaison for the San Diego Unified School District (in purple blouse), looked very proud of the students and personally congratulated each successful Indian student during a Balboa Park powwow honoring in San Diego. Vickie Gambala is the educational project coordinator for the local Southern California American Indian Resource Center SCAIR.
Vickie has spent three decades championing the importance of getting parents involved in their children's school and the importance of parent participation in their child's success.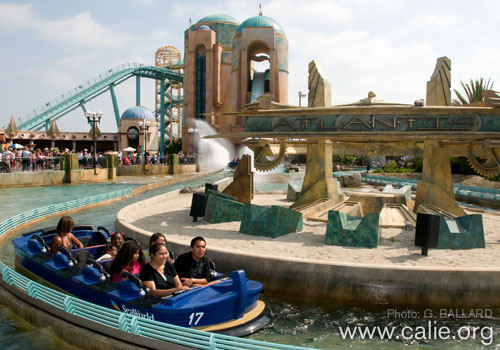 TANF families enjoy the Journey to Atlantis water ride at Seaworld in San Diego, a SCAIR event organized by Vickie Gambala.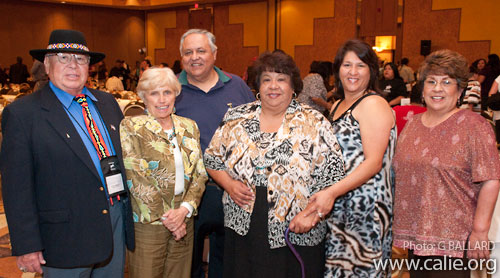 Randy Edmonds (Kiowa-Caddo), Bonnie (Ojibwa), Roy Cook (Opata-Oodham, Mazopiye Wishasha), Vickie Gambala (Cherokee), Antoinette Aleman (Cherokee), Norma Lopez.
By any standard, Vickie Gambala is an asset to the Indian community she serves, and demonstrates dedication and excellent work ethics seen only in San Diego's finest leaders.