CHIEF GERONIMO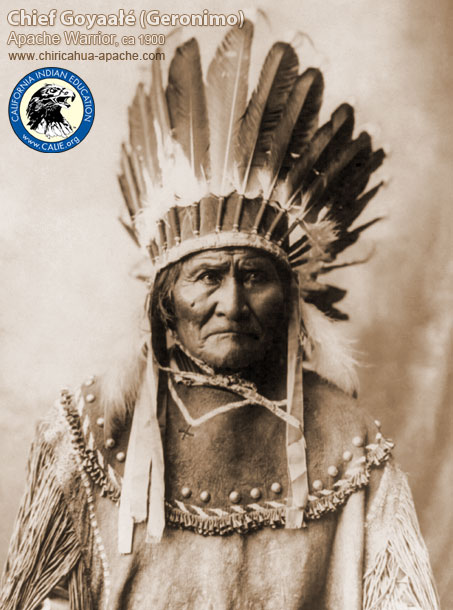 Geronimo famous quote:
"I was no chief and never had been, but because I had been more deeply wronged than others, this honor was conferred upon me, and I resolved to prove worthy of the trust."
"Late one afternoon when returning from town we were met by a few women and children who told us that Mexican troops from some other town had attacked our camp, killed all the warriors of the guard, captured all our ponies, secured our arms, destroyed our supplies, and killed many of our women and children… when all were counted, I found that my aged mother, my young wife, and my three small children were among the slain."
Excerpt from the biography "Geronimo: His own Story".

Chiricahua-Apache.com (was) under development by the Chiricahua Apache Prisoner of War Committee, which consists of direct descendants of Chiricahua Apache prisoners of war. We all are enrolled members of the Mescalero Apache Tribe of New Mexico and our committee is authorized by the Mescalero Apache Tribe's President, Vice President, and Tribal Council — WATCH THEIR VIDEO.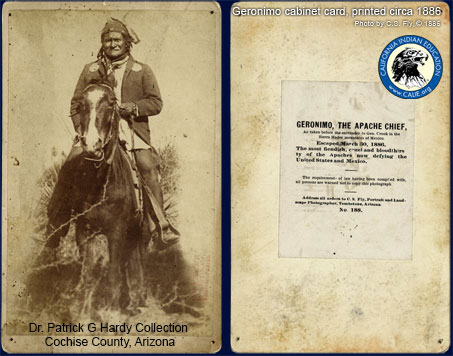 Original 1886 Geronimo Cabinet card.
Credit: Dr. Patrick G Hardy Collection; Cochise County, Arizona
Geronimo meets with General Crook, March 27, 1886.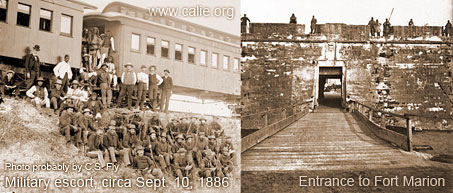 Geronimo POWs with military guards.
HIGH RESOLUTION PHOTOS & Indepth Study Guide
GERONIMO HOMELAND SECURITY POSTER — FIGHTING TERRORISM SINCE 1492
SIERRA MADRE MOUNTAINS, MEXICO — Geronimo pictured with braves, photographed before surrender to General Crook, March 27, 1886 (photo by C.S. Fly).
RIFLES: (l-r) Winchester 1873 carbine, Winchester 1873 carbine, .45-70 Springfield carbine and .45-70 Trapdoor Springfield.
APACHE WARRIORS: (l-r) Yanozha, Chappo (Geronimo's son), Fun (Yanozha's half brother), Geronimo.
GERONIMO POSTERS FOR SALE:
CALIE has high-quality commercially-printed copies of this famous Indian poster available in 8.5x11 and 11x14 print sizes (minimum order 25 prints) — your donation may be tax deductible. CONTACT US for more information about how to buy this Geronimo poster.
Buy bulk wholsale posters and sell retail at your next tribal fund-raising event.
"No guns, no bullets could ever kill me. That was my power... Now my time is over."
-Geronimo
127 YEARS LATER the Apache tribe survives: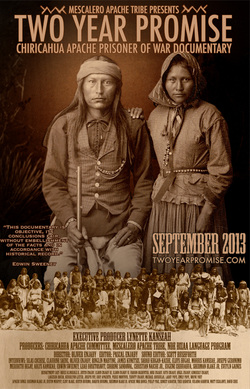 Two Year Promise is the feature presentation at the Rodeo NM Heritage Days on September 6!
Visit the twoyearpromise website for more information about this tribal Chiricahua Apache Prisoner of War documentary.
Executive Producer: Lynette Kanseah
Producers:
Chiricahua Apache Prisoners of War Committee
Mescalero Apache Tribe
Nde' Bizaa Language Program