Participating tribes have options to distribute printed papers by U.S. Mail to their tribal members and offices. We maintain a free DOWNLOAD PDF archive of current and past issues on our website. MORE INFO (join us!)
Mr. Salgado's articles have grown way too numerous to list... below are direct links to some of his writings.


SOBOBA INDIAN REPORTER newspaper PDF download archive:
Here's a complete up-to-date list of Ernie's free monthly newspaper archive of the SOBOBA INDIAN REPORTER.
The linked PDF publications include many dozens of exclusive tribal news and feature articles about current news and historical perspectives by an elder professional American Indian journalist working off the Soboba Indian Reservation in Southern California.
In Rememberance of my family & friends:


PATSY "PAT" SALGADO
1946-2014
Patsy "Pat" Ann Salgado went to heaven on June 22, 2014. Pat was a beloved homemaker, wife, mother, grandmother and great-grandmother... She is survived by her husband of 51 years, Ernie C. Salgado Jr....


ERNEST SALGADO SR
1920-2012
Ernest Salgado Sr. passed into eternal life on Monday, January 23, 2012 at his home on the Soboba Indian Reservation. His wife of 60 years, Fidelia, succeeded him into eternal life. Mr. Salgado was born on October 16, 1920 on the Soboba Indian Reservation. He is survived by two brothers and three sisters... READ OBITUARY | PHOTO ALBUM.


ROBERT "BOBBY" SALGADO, SR.
1942-2016
Luiseño, Soboba Indian Reservation


LUCAS MIRANDA
1939-2013
Torres Martinez Desert Cahuilla Indians.
On Friday, August 9, 2013, I attended the funeral of a lifelong friend, Leroy "Lucas" Miranda. We seem to have always called him "Lucas" since he was tagged with the nickname. How he came about his nickname, and who he was as a friend, is what I want to share with you...
News Features:


BACK TO SCHOOL ON THE RESERVATION
by Ernie Salgado, Soboba Tribe
Remembering the "good old days" on the Soboba Indian Reservation...


ED CASTILLO is a tribal educator and American Indian activist who participated in the historic 19-month American Indian occupation of Alcatraz (1969-1971)...


GATHERING OF NATIVE AMERICANS (GONA)
The Southern California American Indian Resource Center, Inc. (SCAIR) held its annual GONA on June 28, 2017 at Santee Lakes Recreation Preserve. The activity was sponsored in part by the California Department of Education and U.S. Department of Labor...
Indian Reservation Athletics & Tribal Sports Standouts:


SILENT RAIN ESPINOZA (Viejas), Christian High School Girls Softball team posted an outstanding .560 batting average with 62 hits and scored 64 runs, named All American First Team...


AVELLAKA ARIVSO (Soboba), Hemet High School Girls Softball team, wins Bulldogs 2017 Most Valuable Player (MVP) award...


KEYERA "FLORES" CAMERON placed 2nd in the NFL 8-9 Year Old Pass, Punt and Kick Division Championships...


JOE BURTON (Soboba), a 2009 West Valley High School and Oregon State University Beavers basketball player, Joseph was voted 2016 MVP in his professional rookie year with the French ALM Évreux Basketball league team, continues pro sports career...
American Indians Second Class Citizens by Choice:
By Ernie C. Salgado, Jr. (Soboba tribe)
I told myself not to write this article but sometimes I just can't help myself. I guess I'm like the bug in the movie "Bugs Life" when he was told don't look at the lights and as he looked at the light he said "I can't help it."
So since I can't help myself, I am going to expose this can of worms... READ STORY.
Open Letter to the Tribal community on behalf of Native American military veterans — Wall of Faces & Faces Never Forgotten projects, Washington DC:
Dear Tribal Community,
A few years past the Vietnam Veterans Memorial Wall was created to honor the 58,282 brave American warriors that were killed in action or missing during the Vietnam War.
The Vietnam Veterans Memorial Fund is currently expanding the honoring of these heroes by building The Education Center next to "The Wall."
Three local American Indian boys — Joe Pink (Pala), James Mesa (Jamul), and Willie Lyons (Morongo) — are already included in this memorial.
BARONA INDIAN RESERVATION, JANUARY 23, 2013 — Janna Hoehn (Vietnam Veterans Memorial Fund VVMF), representing Jan Scruggs, presented the "Faces Never Forgotten" project to American Indian veterans to develop Tribal involvement in the national project... READ MORE.
SOCIAL MEDIA BLOGS:
Where are the nation's Tribal leaders?:
Government to allow Wind Energy Industry to Kill Eagles
American Bald and Golden Eagles have been an American national icon pride for over 200 years, and they are sacred birds for the Native American people. The feathers of the Eagle are central to many American Indian religious and spiritual customs, especially among American Indians in the United States and First Nations in Canada....
Now the Obama administration will allow some wind energy companies to kill or injure Bald and Golden Eagles for up to 30 years without penalty in an effort to spur the development and investment in green energy while balancing its environmental consequences.... READ EDITORIAL
REMEMBERING WOUNDED KNEE 123 Years later:


December 29, 2013 marks the 123rd anniversary of the Wounded Knee Massacre. Time should not diminish its memory as it was only one of numerous acts of genocide committed against our people.
As we prepare to celebrate Christmas and the New Year let us take a moment to remember the Wounded Knee Massacre that occurred on December 29, 1890... READ MORE.


Yester-Years...
Rez Ball - Thanksgiving Day 1955:
NOVEMBER 28, 2013 -- Rez Ball 2pm, Thanksgiving Day 1955 on the Soboba Indian Reservation at what is today referred to the number one ball field. It seems like it was yesterday but in reality it was a lifetime ago. The baseball field was not like it is today with beautiful manicured grass, state-of-the-art lights, shade trees, covered bleachers, paved parking lots and nice drinking fountains. No, it was a mix of hard sand, dirt and small rocks and dusty. We drank from a community water hose if there was water and if not from a shared water cooler.... READ MORE.
YOUNG ANTONIO WEST (2012-2013)
READ MY INDEPTH BLOG ABOUT ANTONIO WEST and get involved — demand justice for the killing of this innocent baby.
COL. VAN T. BARFOOT:


Col. Van T. Barfoot (ret.) WW II Medal of Honor
Mr. Barfoot (Choctaw) is one of only five American Indians to be awarded the Congressional Medal of Honor in the 20th century. He served heroically in the WW2, Korean and Vietnam wars...then his neighborhood association told the 90-year-old warrior to take down his flag pole...
ROUND TABLE ON CALIFORNIA EDUCATION:
Why is California not hosting a Roundtable on Education?
California has the highest population with Over 450,000 American Indians which is approx 15% of the Nations American Indian population — California also has the highest number of reservations and rancherias with 101 of the nations 505, approx 20% — it seem that the U.S. Department of Education lacks or needs some education as to the demographic of the American Indian population in California.
Ernie C. Salgado Jr., CEO CALIE.ORG
Remarks by President Obama at Bill Signing For The Claims Resolution Act — the Cobell v. Salazar Settlement:
"After 123 years of living with what Congress once called the 'Broken Trust,' people throughout Indian Country will see Wednesday as a monumental day," said Ms. Cobell, a member of Montana's Blackfeet Nation...MORE.
RINCON BAND'S Bo Mazzetti speaks up to the local national press

BO MAZZETTI blames the governor not the DOI
Without protection against bad faith practices by states, tribal negotiations have often been hijacked by governors through political blackmail, stalling, and infinite legal challenges...
SOBOBA'S Joseph Burton meets the Obamas
JOSEPH BURTON to meet President Obama at White House
Oregon State basketball player is second Soboba band member to meet sitting president...
Ernie Salgado honored on his 89th birthday:
SOBOBA Family Honors Ernie Salgado on his 89th birthday
See Ernie's professional photo blog of the party.
SOBOBA TEEN GIRL Traces D-Day Steps of Great Grandfather:
Corryn (Salgado) Flores, a Soboba teenager, wrote an essay when she was a 13 year old exploring the irony of her great-grandfather's service during World War II even though he was not born an American citizen and her subsequent trip to Normandy, France this summer and the site of the D-Day battleground where her great-grandfather, Ernest Salgado, Sr. landed on Omaha Beach, Normandy with the invasion forces on June 6, 1944....
"FIG TREE JOHN" Fact or Myth?:
Yes, for us Indians "Fig Tree John" was a real person. His real name was John Razon and he was a tribal member of the Torres Martinez Band of Cahuilla Indians. He was also the Tribal Spokesman for the Torres Martinez Tribal Council during the 1920's. He was also a member of the Mission Indian Federation...
NATIVE AMERICAN Veteran's Vote:
Maybe the Native American Vote will be the difference in the upcoming senate elections. If this is possible then below is information that will benefit Native Americans. The SSCRA of 1940 prohibited states from taxing the military wages of Native Americans but this law was ignored by states until 2001...
NATIVE AMERICAN KILLERS:
Alcohol is the Single Most Dangerous Drug on the Plant and is legally sold in almost every town, city and state in the country and even on some reservations in the country. Alcohol abuse in the Native American community is epidemic and the leading cause of death of the tribal youth than any other drug. Methamphetamine is the second leading drug of choice among the drug users, which is combined with the legal drug of alcohol in the nation today...READ ARTICLE.
SOBOBA WATER Struggle:
Just when the Soboba Band of Luiseño Indians thought their water battle was over with the signing of the Soboba Band of Luiseño Indians Settlement Act by President George W. Bush on July 31, 2008 the Obama administration has decided that it doesn't have the money to pay the tribe the $11 million dollars the federal government owes the tribe as its part of the settlement with the tribe... READ ARTICLE.
REMEMBERING Capt. Ed Freeman:
Captain Ed Freeman, Medal of Honor Recepient, served second-in-command of A Company, 229th Aviation Battalion in 1965-66. On November 14, 1965, he flew a Huey helicopter in support of LTC Hal Moore and the 1/7th Cavalry fighting against three battalions of NVA at LZ X-Ray in the Ia Drang Valley. Captain Freeman flew 14 missions into the face of enemy fire over the course of the first day to deliver much needed ammo and water, and to evacuate wounded soldiers.
Nutrition and the American Indian:
Sherwood Valley adopts tribal nutrition policy — Innovative effort to address diabetes and obesity
On the social networking site Facebook, friends can jokingly share "commods gifts" that demonstrate the high fat, sugar and salt content of government issued processed foods that have long been staples in many Native households: Canned beef, peaches, milk and beef stew; powdered milk; bags of farina, macaroni and cheese, roast beef and instant potatoes...
Bill Cosby on white people:
We Can't Blame White People any Longer, by Bill Cosby.
They're standing on the corner and they can't speak English. I can't even talk the way these people talk: "Why you ain't, Where you is, Who you be...".
Swine Flue and the Government:
WHILE WE WERE DISTRACTED BY THE SWINE FLU... FR DOC E9-2488 was passed yesterday, behind our backs... You may want to read about it. It wasn't mentioned on the news. By executive order, President Barack Obama has ordered the expenditure of $20.3 million in "immigration assistance" to the Palestinian refugees and "conflict victims" in Gaza....
Calif. Indian Health and Education:
THE BIRTH OF THE CALIFORNIA INDIAN EDUCATION CENTER ACT and the California Indian Health Act, 1973 and 1974
The movie "Milk" has prompted me to write up the story on how Joe Carrillo, Dan Bomberry and I were able to get two state Indian laws passed, the first laws in the nation to use state general tax funds for the benefits of American Indians....
Tribal Elders against drugs:
WARRIORS AGAINST DRUGS
As tribal elders we must provide leadership to our young people as "Warriors Against Drugs." We are a resilient and tenacious people and we have been able to meet every challenge to wipe us from the face of the earth including genocide....
The Great Recession:
TRIBES FACE ECONOMIC GLOOM
Gaming Tribes react to 2008 world financial crisis, "The new game in town is 'Competition' and it will be brutal...".
PUBLIC LAW 280:
PUBLIC LAW 280 FORUM
Soboba Indian Reservation -- Almost 55 years to the day of August 15, 1953, when Public Law 280 was implimented on all California Indian Reservations, the Soboba Tribal Council settles a bitter dispute over jurisdiction on the Soboba Indian Reservation with the Riverside County Sheriff Department....
SOBOBA & California Water Rights:
SOBOBA TRIBE SETTLES 62-YEAR WATER ISSUES
On July 31, 2008 President Bush's signature the Soboba Band of Luiseño Indians Settlement Act into law ending a 62-year-old Soboba Tribal water rights dispute involving the Eastern Municipal Water District and Metropolitan Water District. Tribal Chairman Adam Castillo filed the original lawsuit in 1946. "It's been a long process" Soboba Tribal Chairman, Robert J. Salgado said...on Friday, August 15, 2008....
Soboba's Robert Salgado receives award:
CHAIRMAN ROBERT SALGADO Receives National Award
The National Indian Gaming Association awarded Chairman Salgado the Wendell Chino Humanitarian Award at the group's annual conference in San Diego....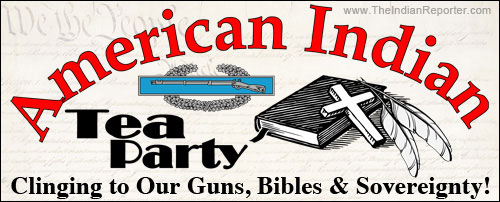 JOIN OUR TEA PARTY get involved — Re-Declare Your Independence!


Ernie C. Salgado Jr.
Tribal blogging program


Tribal: Luiseño
Reservation: Soboba Indian Reservation
FOUNDER/CEO: www.calie.org
EDITOR: The Indian Reporter www.theindianreporter.com
Web Site: www.apapas.com
CONTACT
RESUME/BIOGRAPHY