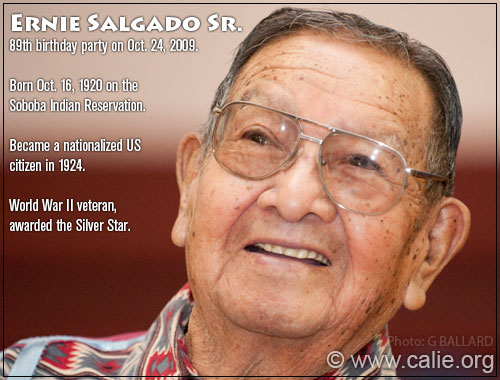 APPEARING GENUINELY TOUCHED WITH THE MEMORIES OF A LONG, BEAUTIFUL LIFE flashing before him on a giant 10-foot TV screen — Ernie Salgado Sr. is pictured above watching the multimedia DVD his granddaughter produced on her computer using the private Salgado family scrapbooks and video archives as source material.
Mr. Ernest Salgado Sr., 91, passed into eternal life on Monday, January 23, 2012 at his home on the Soboba Indian Reservation, please see his CALIE obituary.
CALIFORNIA INDIAN EDUCATION HONORS ERNIE SALGADO SR, Soboba Tribal Elder
Several hundred family members and friends of Ernie Salgado Sr. gathered on the Soboba Indian Reservation on October 24, 2009, for the Soboba elder's 89th birthday party! Mr. Salgado is a Lusieño Native American Indian from the Soboba Reservation, an indigenous North American Indian tribe located in Southern California, United States of America.
Mr. Salgado was born on the Soboba Indian Reservation on October 16, 1920. He became a nationalized US citizen in 1924 just after the Indian Citizen Act of 1924 was passed into law and made it legal for Indigenous Americans to apply for US citizenship. The senior Salgado is a decorated World War II combat veteran and was awarded the Silver Star for his heroic actions on foreign battlefields overseas.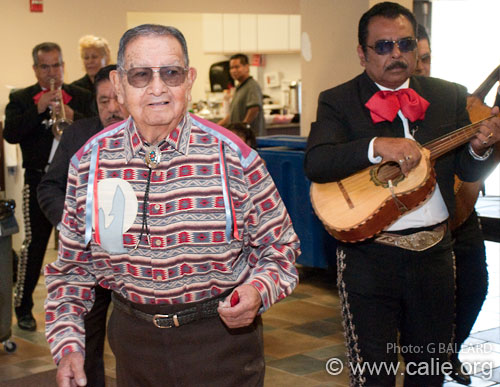 READY TO PARTY — Ernie Senior arrived at his party right on time with his band in tow and looking for fun.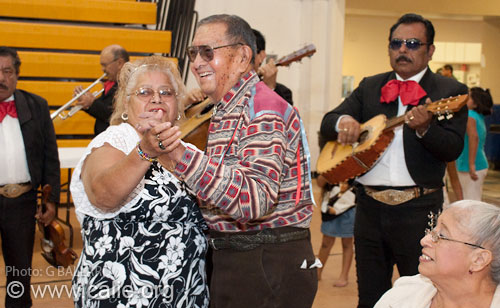 Mr. Salgado wasted no time finding the prettiest girls and asking them to dance.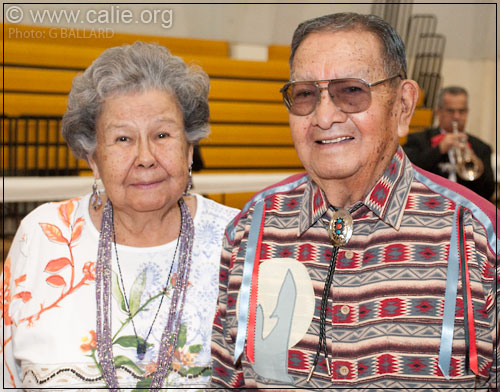 Looking good and dressed for clean family fun in Southern CALIF!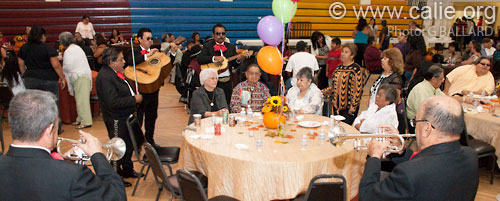 Hundreds of friends and family members filled the Soboba Sports Complex, a professional mariachi banda was present the entire fiesta and is pictured here performing popular Mexican songs around the head table.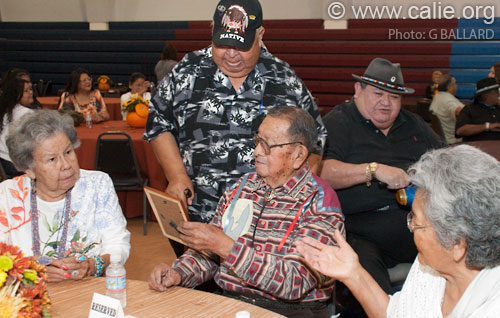 Grandpa Ernie was seated at the head table and many people brought in old pictures to reminisce about California history in the Indigenous tribal lands of Southern California.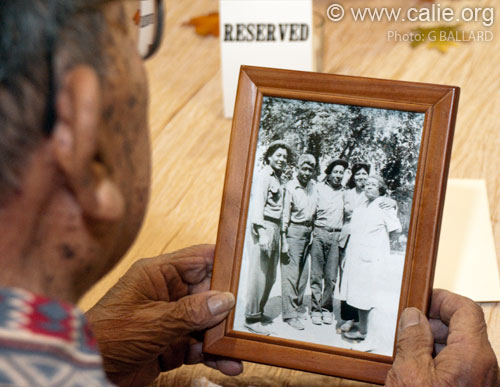 Ernie looks at an old family tribal photo that includes himself in his younger days on the Soboba Indian Reservation.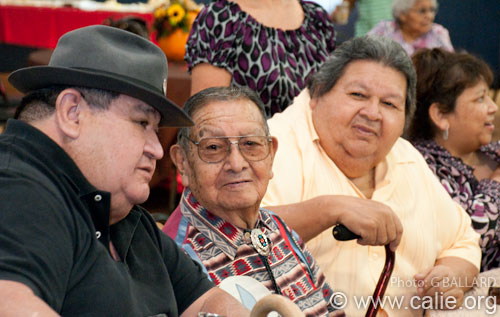 SALGADO MEN — (l-r) Ernie Jr., Ernie Sr., and RJ.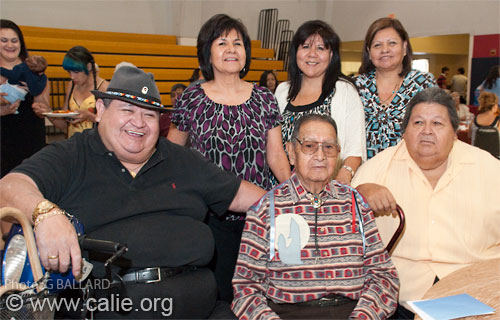 Ernie Senior took a photo with his sons and daughters.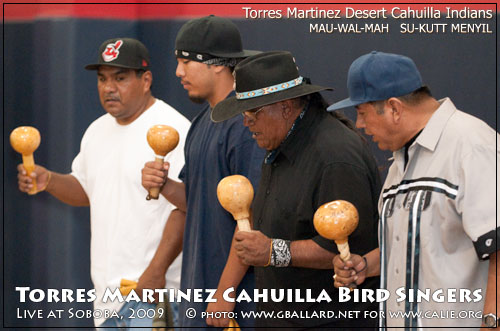 Torres Martinez bird singers gave a traditional blessing, including California Indian style singing with gourd rattles.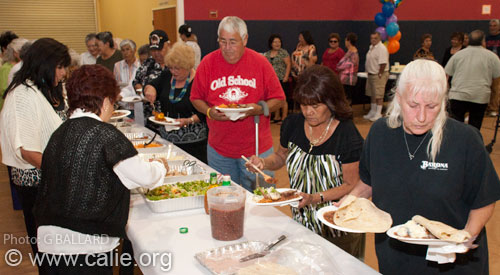 CALIFORNIA INDIAN FEAST — The Salgado family served up delicious Mexican style cuisine for their honored guests.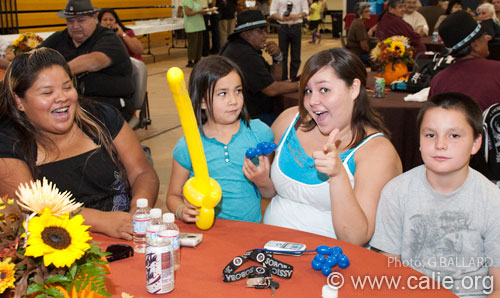 In the traditional way, younger guests waited for elders to get their food and passed the time playing games, getting their face painted by professional clowns, and posing for pictures.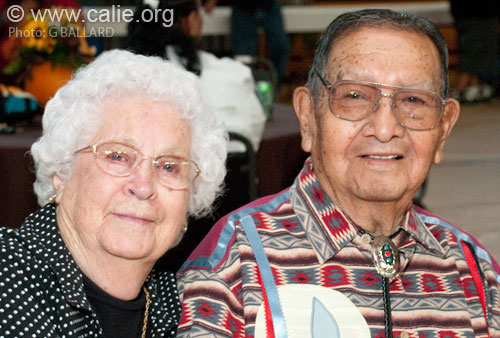 Friends for some 83 years.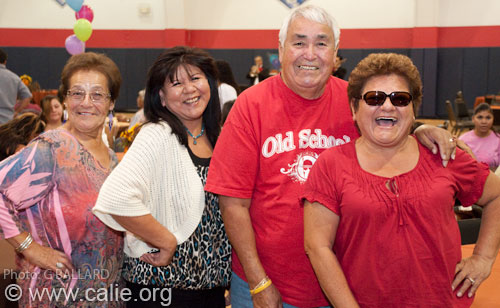 Friends and family (sorry, the Web master could use some help with who's who at Soboba community events, please see the CONTACT US link below).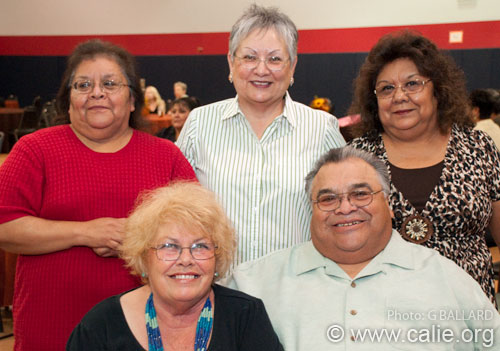 It seemed like everyone was in a good mood to make great pictures.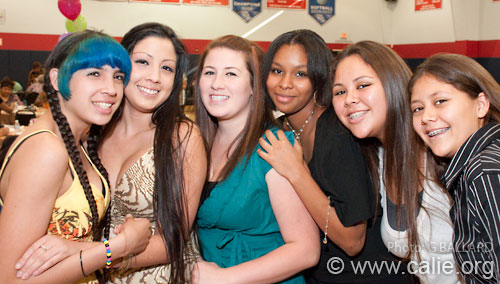 CALIFORNIA GIRLS — The cutest California girls just happen to be at the Soboba party and posed for this professional girl photo (note: these pretty Native girls are some of Ernie Junior's granddaughters and their cousins).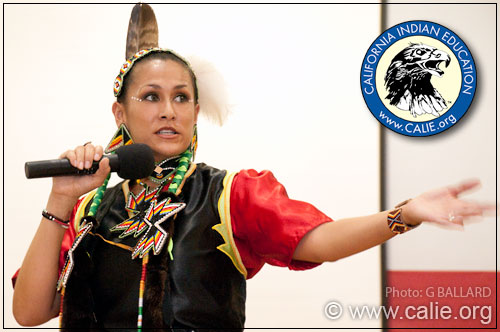 A beautiful Native California girl wearing colorful fancy shawl pow-wow dancer regalia tribal designs, a single eagle feather in her American Indian headdress, and Native American Indian white painted face design eye accents, addressed the head table and guests, and introduced the SoCal Indigenous performers.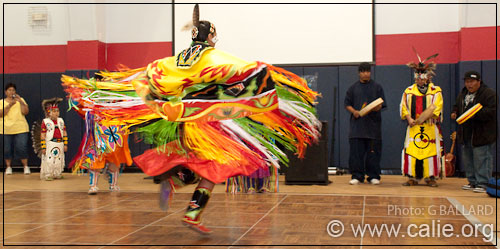 Pow-wow style dancers performed for Mr. Salgado and his honored family members and tribal guests.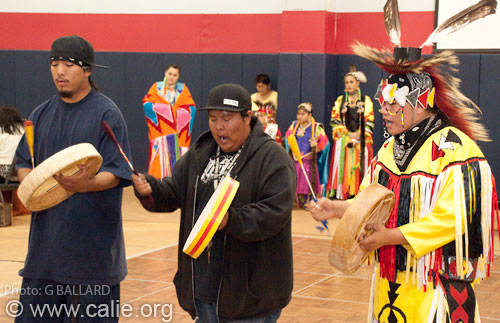 The private mini powwow show with professional-type cultural performers included an honoring song for Mr. Salgado and the head table.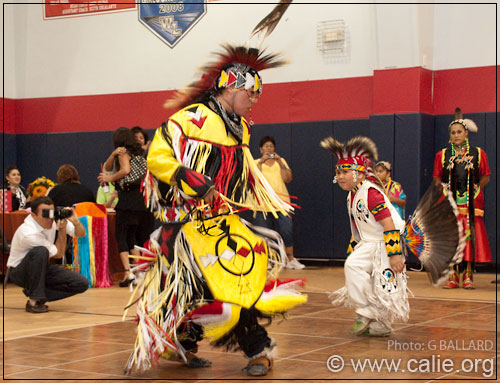 Men's grass dance and boy's fancy dance styles were also performed during the cultural exhibition, the regular Soboba photographer, Mike Hiles, is pictured left side of the pow-wow photo taking photos for the Soboba tribe.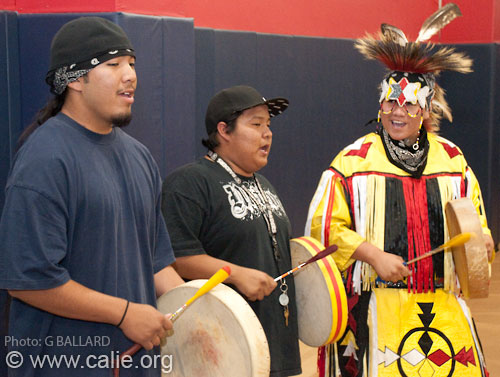 California Indian drum group kept beat and sang for the cultural dancers.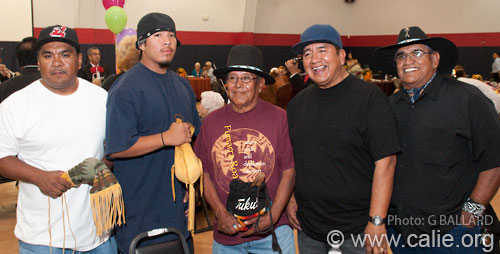 Torres Martinez Cahuilla bird singers posed for a photo after the show.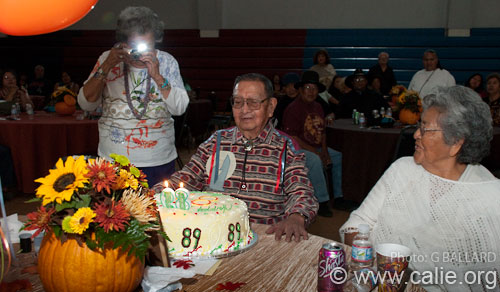 The house lights went down, the cake came in, and Grandpa Ernie took a moment's pause before blowing out the candles (below).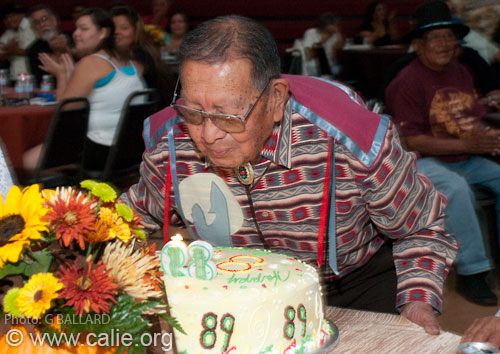 YOUNG PEOPLE PAY ATTENTION HOW AN EXPERT DOES IT — With 88 birthdays under his belt, Ernie Senior shows great technique as he stands up and leans forward after everyone sang him the traditional American birthday song and then he gently blows out his 89th set of birthday candles to everyone's delight and cheers!
SAY CHEESE — Both professional photographers stayed busy taking Soboba party pictures.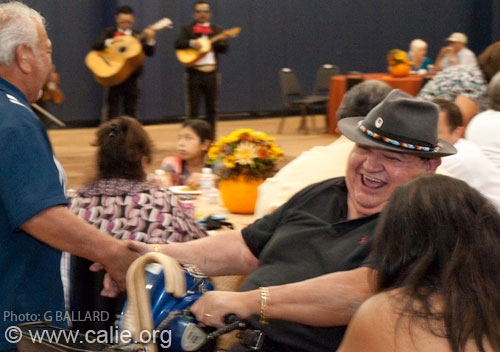 Ernie Salgado Jr. shakes hands with the guys and entertains the girls in one great moment (a real pro in action).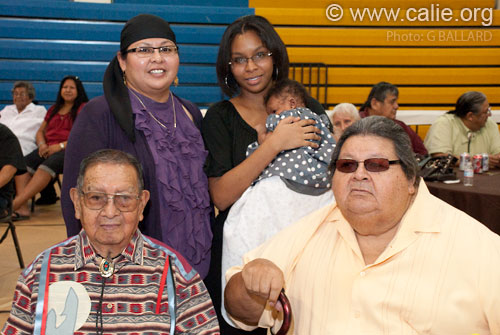 Mr. Salgado Sr. poses with his son, RJ, grand daughters and what has to be his newest great grand baby.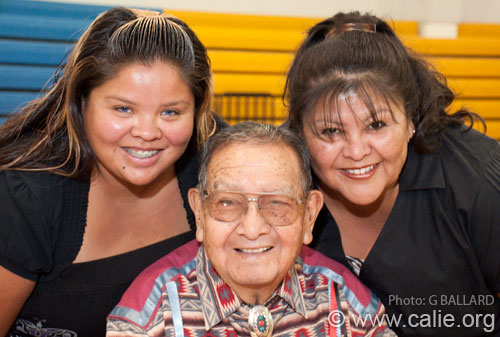 Girls take a snapshot with Grandpa Ernie.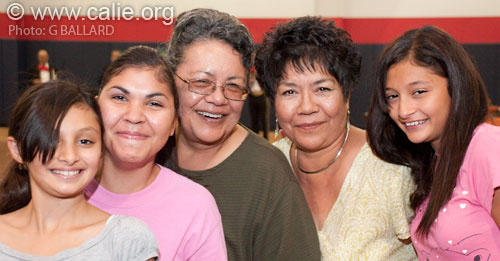 Good looking Soboba girls were everywhere.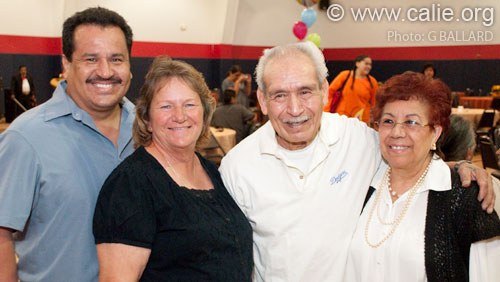 Tribal guests pose for a professional candid photo.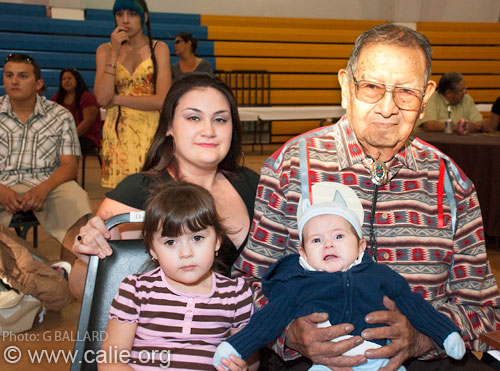 Grandpa Ernie sat with his grand daughter and her two children (his great grand children).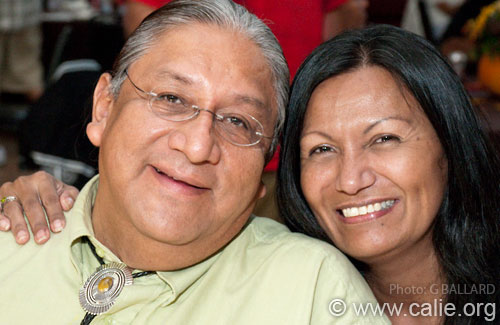 The Soboba community makes for a very large extended family of good looking relatives.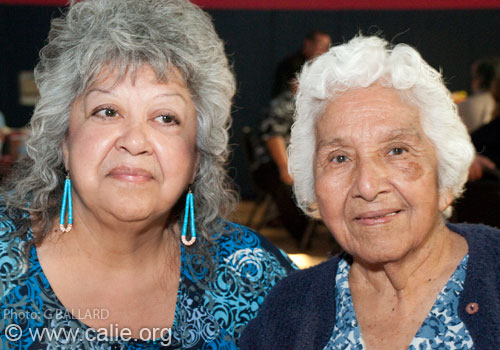 The Soboba women appear to age gracefully and came to the party "camera ready."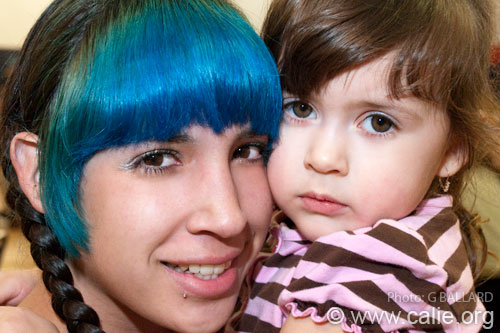 Bright blue hair is always in style for cool teenage Southern California girls — here the young Indian teen poses with her niece (Ernie Junior's granddaughter and too cute great granddaughter).
Ernie Jr. and family poses with Ernie Sr. (four generations of Soboba Salgados).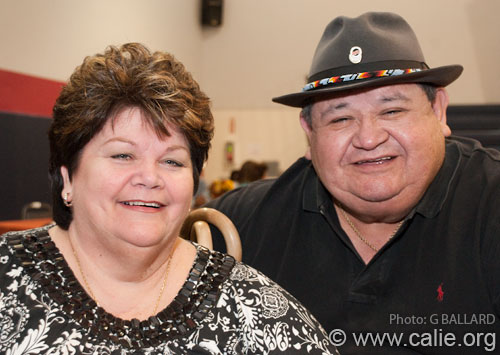 Ernie takes a photo with his beautiful wife, Pat.
RJ takes a photo with his beautiful wife.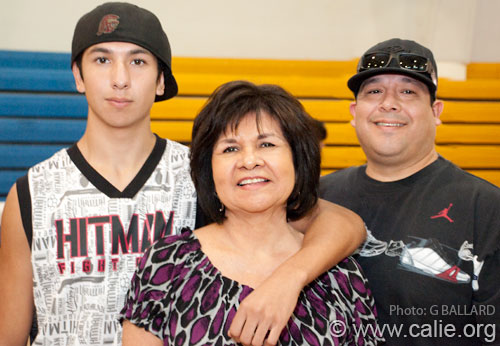 Ernie Jr's sister poses with her son and grandson.
MULTI-MEDIA SLIDE SHOW
A trip down memory lane...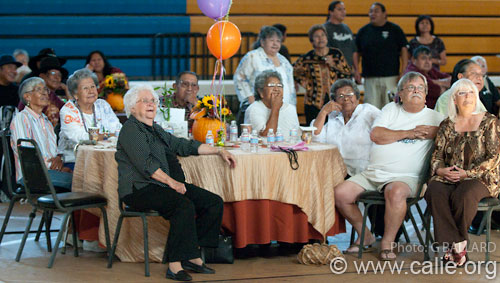 One of Mr. Salgado's granddaughters produced a multi-media DVD movie of still pictures and video film in honor of her grandfather and it was projected on a 10-foot TV screen and amplified through the Soboba audio system — it was very nicely done and held everyone's attention.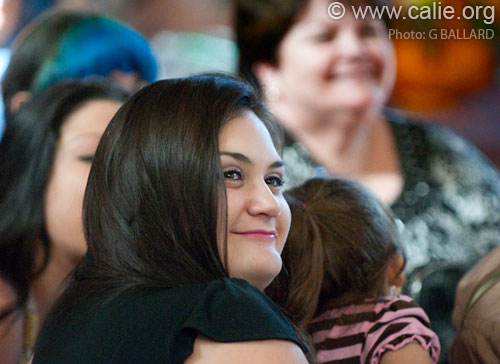 This young smiling California girl enjoys the slide show — she is Ernie Seniors's granddaughter and was caught unaware of the camera with a long telephoto camera lens.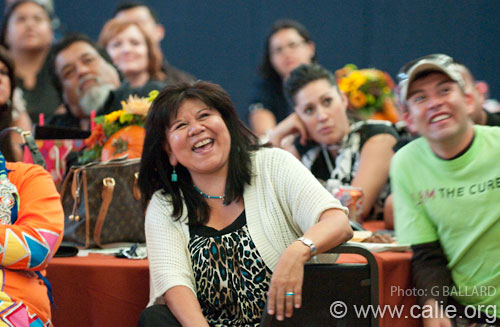 Ernie's daughter enjoys the DVD video presentations.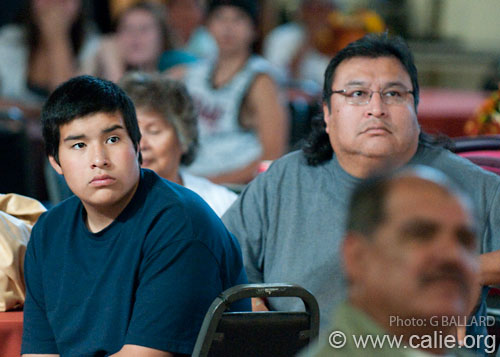 A young Indian man watches the DVD with his family.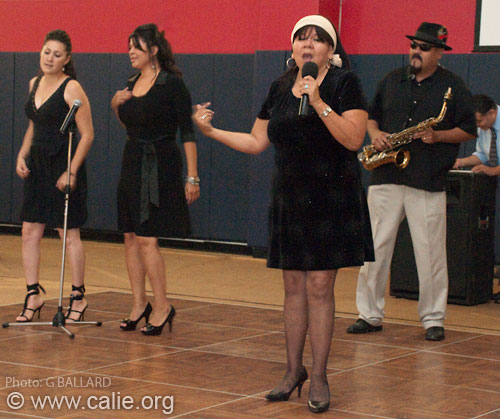 The lights stayed low during the Aretha Franklin set, live at Soboba.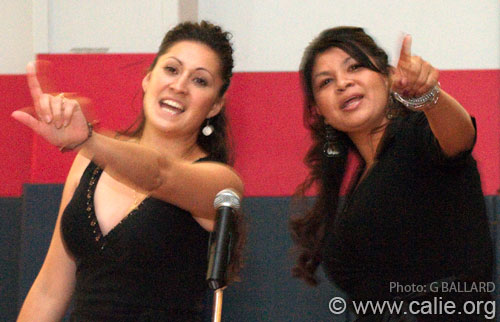 The sexy back up singers were sizzling hot in their slinky black dresses and high heel stiletto pumps!
The house lights came back up and tribal dancers performed a traditional plains Indian-style round dance on the dance floor.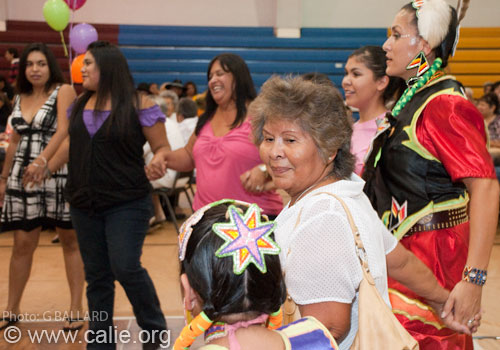 Soboba powwow dancers perform in the Soboba dance arena.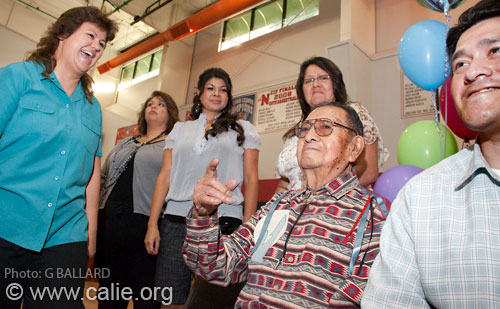 LISTEN UP — Calling all grand kids, Ernie tries to hurry them up!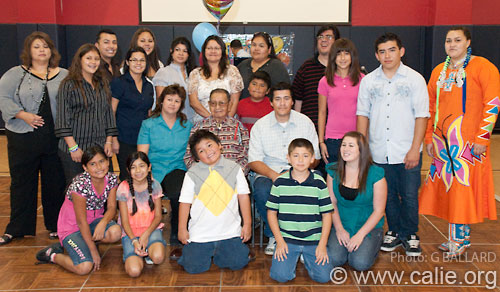 Near the end of the party, this is what a call for "all grand children" produced.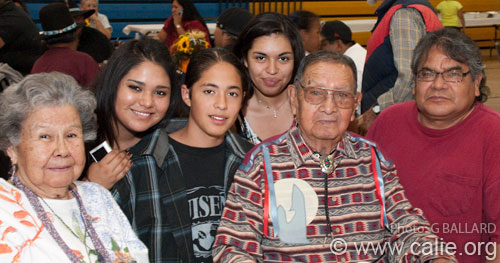 More snapshots with Grandpa Ernie.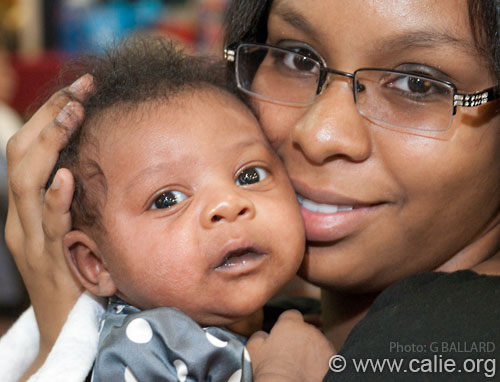 A young mother with her new baby photos.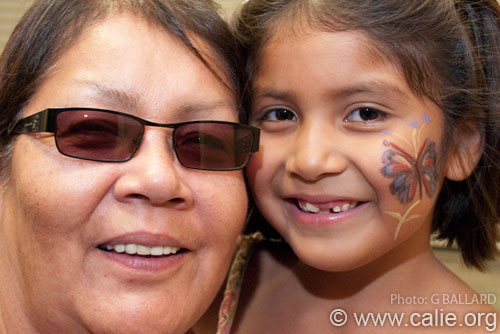 A young girl wearing face paint takes a pic with grandma.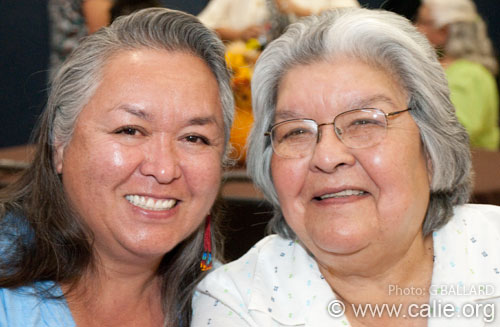 Soboba women pose for a party candid.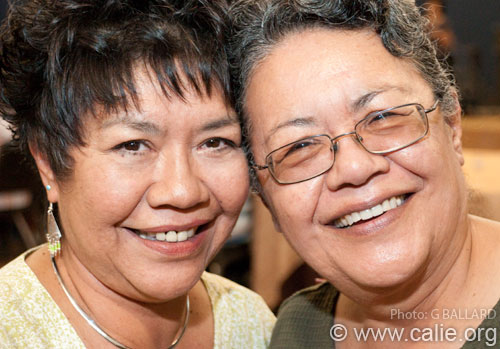 Happy Native faces!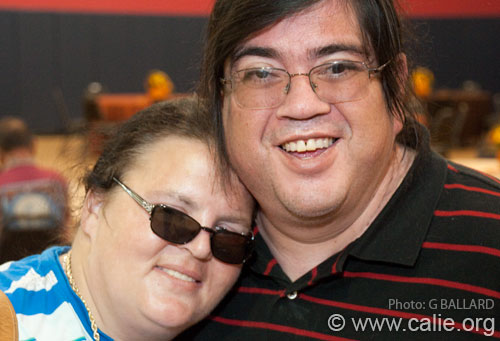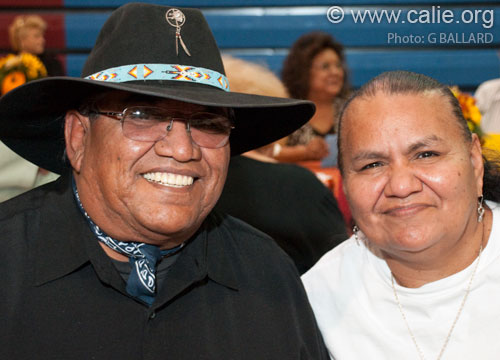 Party goers were all smiles for the camera...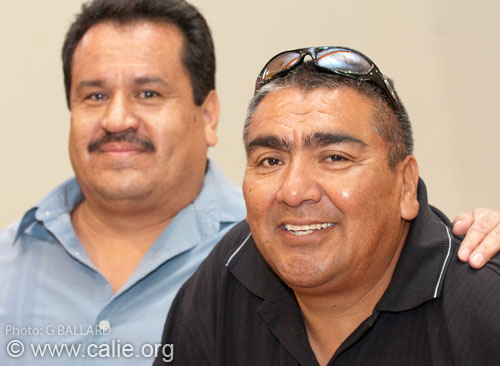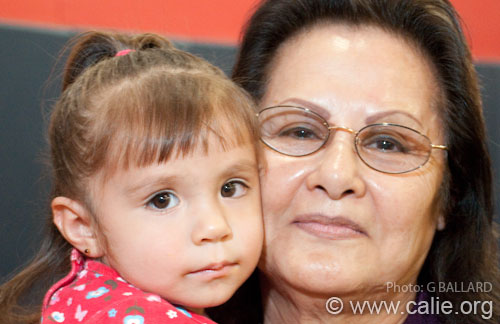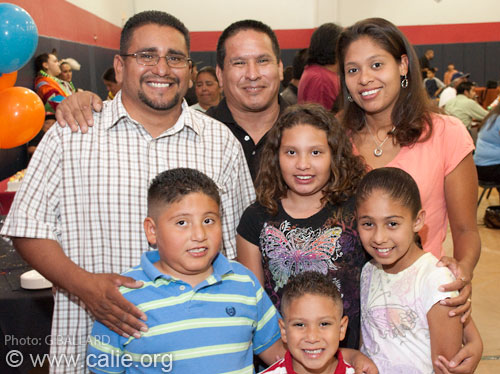 Ernie takes a picture with one of his pretty young granddaughters.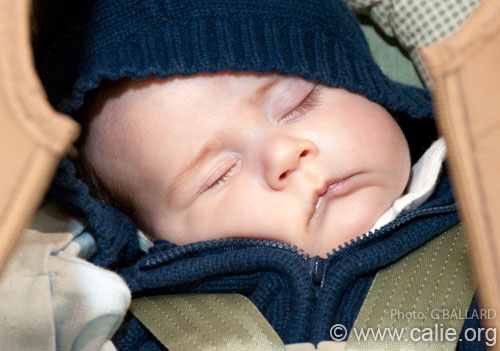 Wake me when we're home...
MORE EXCITING PICTURES:


The SCAIR Soaring Eagles Dancers performed live on Viejas Indian Reservation.


PROFESSIONAL POWWOW PHOTO GALLERIES including tribal designs of top professional pow-wow dancers cultural regalias from across the USA, Canada, northern Baja California Mexico tribes, including the Diegueño Kumeyaay Kumiai, Mohave, Quechan, Cocopah, Juaneño, Cahuilla, Pai Pai, Ipai Tipai, Hualapai, Kiliwa, Havasupai, Maricopa, Yavapai and Luiseño Indians of North America.


FACE PAINT RESEARCH PORTAL for a researcher's look into the history and meanings of Native American face painting for ideas about how to paint Indian faces.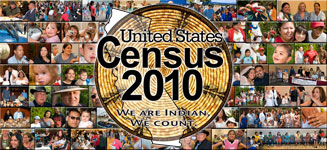 CALIFORNIA INDIAN COMMUNITY AND EDUCATION FAMILY BLOGS.


CIEDA California Indian Education Center Director's Association California Conference on American Indian Education WEBSITE
+++++++
Please CONTACT US if you have information to add or correct, or if you have any photos you want to add (or remove).
+++++++
WHO PRODUCED THIS BLOG?


Ernie C. Salgado Jr.
Tribal: Luiseño
Reservation: Soboba Indian Reservation
EDITOR: The Indian Reporter www.theindianreporter.com
Founder: www.californiaindianeducation.org
Web Site: www.apapas.com
CONTACT
RESUME/BIOGRAPHY
PUBLISHED ARTICLES
PROFESSIONAL WEB BLOG SERVICES AND PHOTOGRAPHY BY CALIE WEBMASTER GARY G. BALLARD PORTFOLIO.