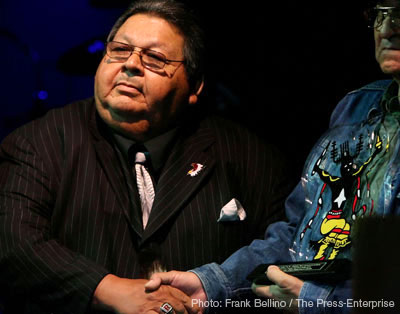 Robert Salgado, Soboba Band of Luiseño Indians chairman, receives national award
By MICHELLE DeARMOND, "The Press-Enterprise"
SAN DIEGO - Robert Salgado, chairman of the Soboba Band of Luiseño Indians, received a national humanitarian award this week for his decades of leadership at the Inland tribe.
Salgado, 65, took the stage late Tuesday wearing a shiny tie and a dark suit with a handkerchief neatly folded in his pocket, gently waving a long feather. The gospel song "Rough Side of the Mountain" played in the background at the San Diego Convention Center, where hundreds gathered to honor him.
"We all come up on the 'Rough Side of the Mountain,' especially you who lived on the reservation because I'm a reservation boy," Salgado said. "I was raised in a two-room house. When the wind blew, we felt it come through the windows."
Salgado still lives on the San Jacinto-area reservation and has served as chairman of this tribe for much of the past few decades. The tribe now runs Soboba Casino.
The National Indian Gaming Association awarded him the Wendell Chino Humanitarian Award at the group's annual conference this week in San Diego. The nonprofit trade association gives the award annually in honor of Chino, a Mescalero Apache Indian who served as chairman of that New Mexico tribe for 43 years.
Salgado said he met Chino in Albuquerque in 1976, when he saw him tell the Bureau of Indian Affairs "where to go and how long to stay." Salgado didn't elaborate on the details of Chino's remarks.
"I was very young at that time and he taught me the tricks of the trade," he said. "Wendell was a man that -- there's not enough words to describe."
Salgado took advantage of his 12 minutes at the microphone to make a few of his own admonitions, too. He lectured Indian men on avoiding the domestic abuse problems that plague many reservations.
"You take care of our Indian women. They're not to be abused. You understand?" he said in a scolding tone. "Our Indian women are very precious. There's too much of that going on."
He also urged the audience to help young people, even when they're struggling.
"So many times, we Indian people look down at somebody and we don't pick them up," he said. "Our youth are out there today and we need to get programs to help our youth. Those are our future leaders, our future teachers."
Organizers also showed a video recording about Salgado, featuring praise from his family members, other tribal leaders and elected lawmakers.
Contact Michelle DeArmond at 951-368-9441
Source:
http://www.pe.com/localnews/rivcounty/stories/PE_News_Local_H_soboba24.428c257.html