Native Scholar,
Activist

Karen Vigneault, MLIS
Iipay Nation of Santa Ysabel
1958-
KAREN VIGNEAULT
Karen Vigneault is an enrolled tribal member of the Iipay Nation of Santa Ysabel.
She attended Grossmont College, AA (1997), San Diego State University, BS (2001), Drexel University, MLIS (2008).
Karen has been a lesbian Native American activist for 32 years, and she has been the leader of the LGBT Native organization since 1991.
Karen was awarded the Soroptimists Women Making A Difference Award 2007.
Karen Vigneault was inducted into the San Diego Women's Hall of Fame in 2008, and she was awarded the DURGA award in 2010.
Karen has been speaking and presenting about her culture for over 16 years — IF YOU ARE LOOKING FOR SOMEONE TO SPEAK ABOUT KUMEYAAY-IIPAY CULTURE at your school or event, please contact Karen directly.
Karen Vigneault is currently the librarian for Kaplan College and she runs a virtual library for her reservation on her tribal blog at: www.santaysabeltriballibrary.blogspot.com
CONTACT EMAIL for Karen Vigneault:
PROFESSIONAL AFFILIATIONS: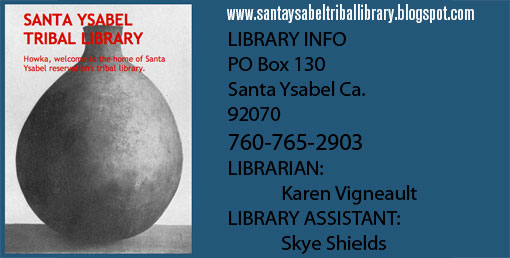 Karen Vigneault - MLIS
Librarian
Santa Ysabel Tribal Library
PO Box 130
Santa Ysabel, Ca. 92070
www.santaysabeltriballibrary.blogspot.com
Karen Vigneault - MLIS
Founder
KUMEYAAY HISTORICAL SOCIETY
Karen Vigneault - MLIS
Leader
NATIONS OF THE 4 DIRECTIONS
(LGBT Native organization)
Maquinna, Nootka Chief, early nineteenth century:
Once I was in Victoria, and I saw a very large house. They told me it was a bank, and that the white men place their money there to be taken care of, and that by and by they got it back, with interest. We are Indians, and we have no such bank; but when we have plenty of money or blankets, we give them away to other chiefs and people, and by and by they return them, with interest, and our hearts feel good. Our way of giving is our bank.
Philippus Theophrastrus Bombast that of Aureolus Paracelsus (1493-1541):
"All that man needs for health and healing has been provided by God in nature, the challenge of science is to find it."
Toi te kupu, toi te mana, toi te whenua:
Maintain the empowerment of your ancestral language, your sovereign cultural identity (rangatiratanga), and most importantly the nurture of your land.
IIPAY RESEARCH PORTAL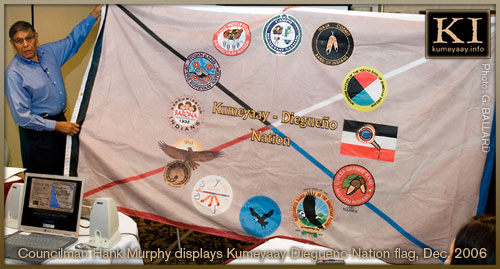 CALIFORNIA INDIAN SOVEREIGNTY — the Iipay Nation of Santa Ysabel is one of thirteen federally-recognized Kumeyaay bands in Southern California that comprise the Kumeyaay Tribe of North America. In addition, there are four recognized Kumiai Indigenous Communities in Northern Baja California, Mexico.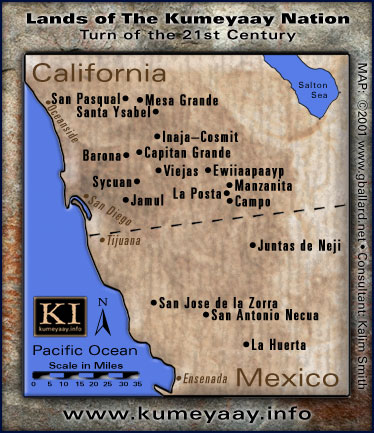 KUMEYAAY GUIDE territory of the Kumeyaay lands at the turn of the 21st century.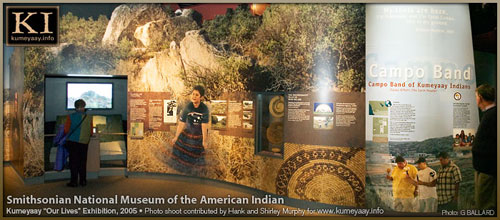 KUMEYAAY AT THE SMITHSONIAN — the Kumeyaay Nation was featured in the Smithsonian National Museum of the American Indian "Our Lives" exhibition in Washington D.C.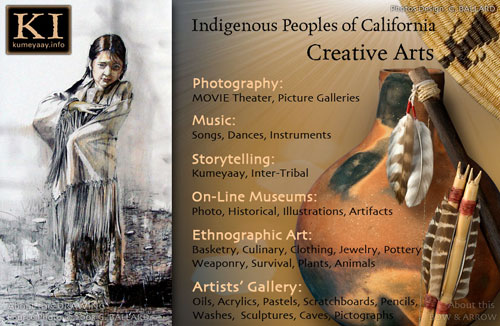 KUMEYAAY CULTURE — learn about the Kumeyaay culture.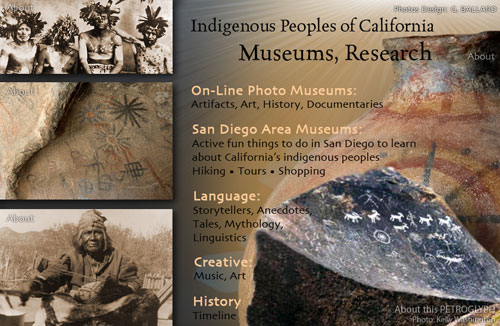 KUMEYAAY RESEARCH — learn how to research the Kumeyaay Tribe of Southern California.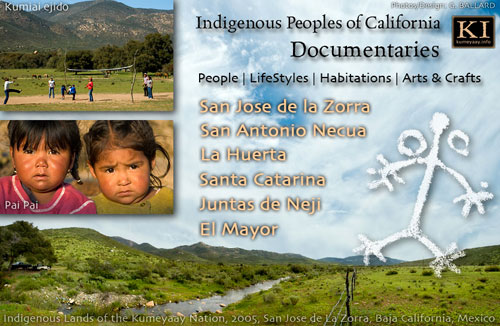 CONTEMPORARY BAJA TRIBAL MULTIMEDIA DOCUMENTARIES — San Jose de la Zorra, San Antonio Necua, La Huerta, Santa Catarina, Juntas de Neji, El Mayor.
PROFESSIONAL WEB DESIGN BY GARY G BALLARD