500 MILLION+ HITS!!!
Feb. 2008 - Sept. 2023
101,000-plus Unique Daily Visitor IPs logged a month!
300,000 Pages Viewed a month!
NATIVE NEWS
Assignments Editor
Publishing Corner:
TRIBAL BLOGGERS:
NativeSportsMedia.com
Shaynedel.com
ROY COOK NEWS BLOG
THE INDIAN REPORTER
BOOK STORE
Indian Community:
TRIBAL COMMUNITY
SOARING EAGLES
LEADER PROFILES
OBITUARIES
TRIBAL TANF GUIDE
KID'S GUIDES
Science & Wonder
ASTRONOMY PORTAL
KID'S CLUBHOUSE
Indian Heros:
VETERAN COMMUNITY
WHO'S IN THE MILITARY?
MEDALS OF HONOR
CODE TALKERS
FAMOUS CHIEFS
HISTORIC BATTLES
POEMS ESSAYS
SPORTS-ATHLETES
MISSION FEDERATION
FAMOUS INDIANS
California Indian Art:
MISSION BASKETS
RED CLAY POTTERY
ETHNOGRAPHIC ART
CAVE ART
MUSIC
CALIE Library:
FEDERAL Resources
HEALTH & MEDICAL
OBAMACARE
INDIAN BOOK LIST
HISTORICAL Documents
STD Information
TRIBAL FAQ
Inspirational Quotes:
TRADITIONAL
WORLD
Academic Financial Aid:
SCHOLARSHIPS
GRANTS & FUNDING
Tribal Governments:
TRIBAL COURTS
SOVEREIGNTY
SOCIAL SERVICES
TRIBAL DIRECTORY
Indian Gaming:
INDIAN CASINO FORUM
CALIFORNIA INDIAN EDUCATION
Celebrating 15 years serving the tribal community: 2008-2023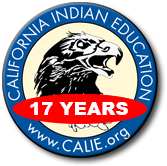 WELCOME to the official California Indian Education CALIE website, the American Indian tribal community leader in on-line Native American educational resources and community services in Southern California Indian Country.
We collaborate with the thirty California Indian Education Centers established by the California Department of Education, and the twenty seven federally-recognized Tribal Governments located in Southern California.
Please contact our Editor in Chief Ernie Salgado, Soboba Indian Reservation, to become involved with your tribal community website!

Español | 中文 | 日本 | Française | Deutsch | 한국어 | Россию | پارس
INDIGENOUS AMERICAN INDIAN TRIBES OF THE UNITES STATES
There are some 574 federally-recognized Indian tribes in the United States (approximately 109 of them are located in California, with some 18 of those in the County of San Diego).
In addition, there are millions of Native American urban Indians living off reservation, many of whom depend on and benefit from tribal educational, news and tribal TANF programs.
NEWS | COMMUNITY VOICES | JOBS | EVENTS | DEATHS | SUPPORT TRIBAL EDUCATION
DAILY PINS:
News, Features, Events, Letters
Bookmark these links - they expire weekly