Publishing Corner:
TRIBAL BLOGGERS:
ROY COOK NEWS BLOG
THE INDIAN REPORTER
JOURNAL FROM SDC
KAREN VIGNEAULT
INSPIRATION
Indian Community:
TRIBAL COMMUNITY
PROFILES
OBITUARIES
Science & Wonder
ASTRONOMY PORTAL
KID'S CLUBHOUSE
Indian Heros:
VETERAN COMMUNITY
MEDALS OF HONOR
CODE TALKERS
FAMOUS CHIEFS
HISTORIC BATTLES
POEMS ESSAYS
SPORTS-ATHLETES
MISSION FEDERATION
FAMOUS INDIANS
California Indian Art:
MISSION BASKETS
RED CLAY POTTERY
ETHNOGRAPHIC ART
CAVE ART
MUSIC
CALIE Library:
FEDERAL Resources
HEALTH & MEDICAL
INDIAN BOOK LIST
HISTORICAL Documents
Academic Financial Aid:
SCHOLARSHIPS
GRANTS & FUNDING
Tribal Governments:
TRIBAL COURTS
SOVEREIGNTY
SOCIAL SERVICES
TRIBAL DIRECTORY
Indian Gaming:
INDIAN CASINO FORUM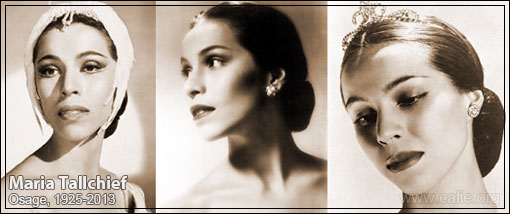 MARIA TALLCHIEF (1925-2013)
"America's First Prima Ballerina"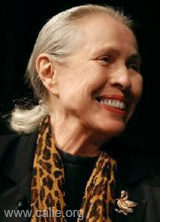 ELIZABETH MARIA TALLCHIEF is famous for being the first American prima ballerina for the New York City Ballet. Born in Fairfax, Oklahoma, 1925, Maria's father was an Oasge Indian tribal chief.
She was originally known to family and friends as Betty Marie, but took on the stage name Maria Tallchief. Her Indian name is Wa-Xthe-Thomba ("Woman of Two Worlds").
Ms. Tallchief died April 11, 2013.
Maria's younger sister, Marjorie Tallchief, is also a world-famous ballerina and the first American Indian to be "première danseuse étoile" of the Paris Opera Ballet. The dancing sisters enjoyed enormous artistic success during their long professional careers, and they founded the Chicago City Ballet in 1980.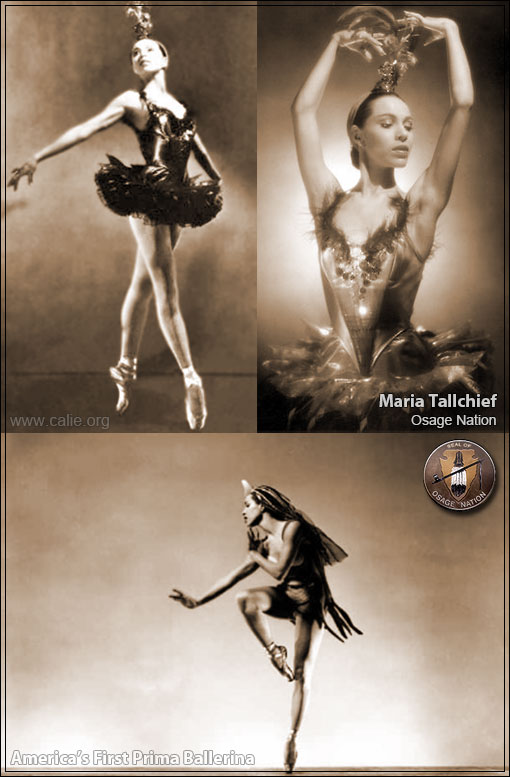 "If anything at all, perfection is finally attained not when there is no longer anything to add, but when there is no longer anything to take away."
- Maria Tallchief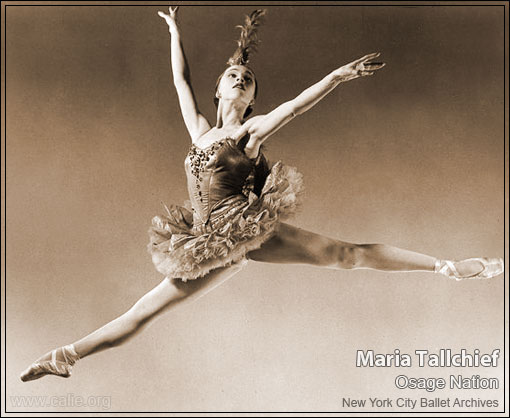 Young Maria Tallchief professional American ballerina star pictured leaping in perfect form, photograph courtesy of New York City Ballet Archives.
PLAY "Pas de Dix" (Balanchine) TV Performance, 1957 — Maria Tallchief and Andre Eglevsky.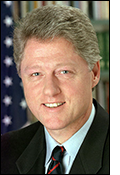 "Maria Tallchief took what had been a European art form and made it America's own — how fitting that a Native American woman would do that.
"George Balanchine once told audiences not to analyze ballet. 'Words cannot describe it,' he said, 'you cannot explain a flower.' So it's impossible to explain the radiance and grace of Maria Tallchief."
- President William J. Clinton said at The White House as he presented the National Medal of the Arts to Maria in 1999.
In 1933 Maria moved to Beverly Hills with her family and studied ballet with Bronislava Nijinska until she was 17, at which time she moved to New York City and joined the Ballet Russe de Monte Carlo where she quickly became a featured soloist.
It was in New York City where she met her first husband, Russian-born choreographer George Balanchine — they were married in 1946 (Maria was 21), and divorced in 1952. They did not have any children together.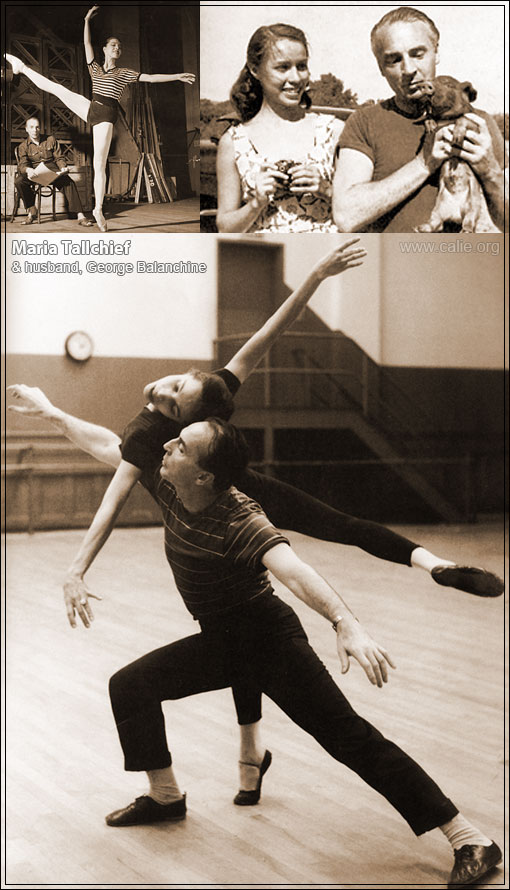 Her first husband, George Balanchine, was one of the 20th century's most famous choreographers. Balanchine was the cofounder and ballet master of New York City Ballet — 39 of Balanchine's 400-plus ballets were choreographed to music by Igor Stravinsky. Balanchine wrote several of his most famous pieces especially for Maria Tallchief, including "The Firebird" (1949), "Orpheus" (1948), "Scotch Symphony" (1952) and "The Nutcracker" (1954).
Maria married her second husband, Henry "Buzz" Paschen in 1956. This marriage lasted until he died in 2003. They had one daughter, Elise Paschen, born in 1959.
MARIA TALLCHIEF PHOTO GALLERY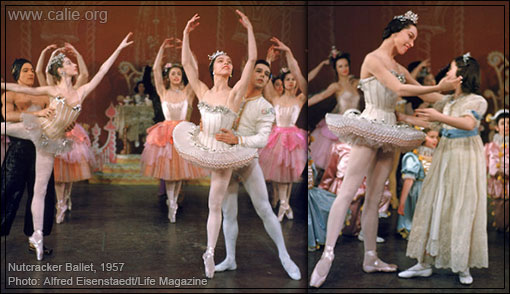 In a live CBS television broadcast of The Nutcracker ballet (1957), Maria Tallchief starred in the role of the Sugar Plum Fairy. Photos: Alfred Eisenstaedt for Life Magazine.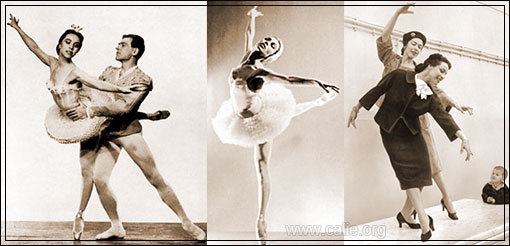 Always in exquisite form, Maria pictured posing with her younger sister, Marjorie Tallchief, and Marjorie's twin young boys.
FIVE AMERICAN INDIAN BALLERINAS "FIVE MOONS": Oklahoma Governor Frank Keating honors American Indian ballerinas Moscelyne Larkin (Shawnee-Peoria), Marjorie Tallchief (Osage), Maria Tallchief (Osage), Rosella Hightower (Choctaw), and Yvonne Chouteau (Shawnee-Cherokee). ndepth.newsok.com
BOOK: "Maria Tallchief America's Prima Ballerina" by Maria Tallchief with Larry Kaplan.
Published: April 15, 1997 (hardcover)
Maria Tallchief
America's Prima Ballerina
By Maria Tallchief with Larry Kaplan
Chapter One
My father, Alexander Joseph Tall Chief, was a full-blooded Osage Indian. Six foot two, he walked with a sturdy gait and loved to hunt. The story goes that he could stroll through the woods, rifle in hand, spot a quail or pheasant out of the corner of his eye, point the gun, and shoot the bird without breaking his stride. With his strong aquiline profile, Daddy resembled the Indian on the buffalo-head nickel. Women found him handsome, and when I was young I idolized him.
My earliest memory of my father is from when I was three. I slept in a second-floor bedroom with my sister, Marjorie, who was an infant. One evening when I fell asleep in the living room, Daddy picked me up. Snuggled in his arms, I remember waking as we climbed the stairs. I can still see his dark eyes, his tender smile, his shiny black hair.
When Daddy was a boy, oil was discovered on Osage land, and overnight the tribe became rich. As a young girl growing up on the Osage reservation in Fairfax, Oklahoma, I felt my father owned the town. He had property everywhere. The local movie theater on Main Street, and the pool hall opposite, belonged to him. Our ten-room, terra-cotta-brick house stood high on a hill overlooking the reservation.
When my father was a young man, he married a young German immigrant and they had three children — two boys, Alexander (whom everyone called Hunky) and Tommy, and a girl, Frances. They were little children when their mother died. Later, when Ruth Porter, my mother, came to Fairfax to visit her sister, who worked as a cook and housekeeper for my Grandma Tall Chief, Daddy was Fairfax's most eligible bachelor. Mother must have arrived tired and dusty from her long journey, but from what I'm told there was an instant attraction between them.
Mother was born in Oxford, Kansas. A determined woman of Scots-Irish blood, she was beautiful, with light brown hair, gray eyes, and delicate features. My tall and lanky father and my tiny mother made an odd couple physically, but they were very much in love. As soon as they married they started a family, and Daddy's children from his first marriage went to live with Grandma Tall Chief, who brought them up in her house at the bottom of the hill.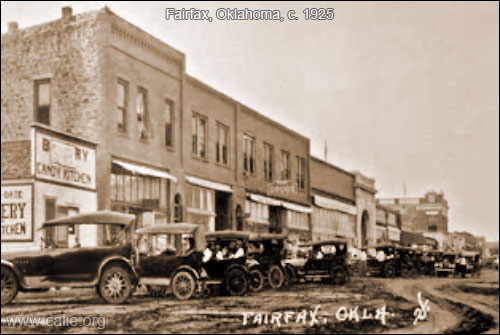 I was born in Fairfax in the tiny local hospital on January 24, 1925. The doctor mishandled the forceps, leaving a large red mark on my forehead. Otherwise, I was healthy and normal. They named me Elizabeth Marie after two grandmothers: Eliza Tall Chief, and my Grandma Porter, who'd been named for Marie Antoinette, and with whom I would spend a great deal of time as a child. They called me Betty Marie. When Mother became pregnant again, she decided she wasn't going to repeat the experience of giving birth in Fairfax. Her next child, my sister Marjorie, born twenty-one months after me, came into the world in Denver.
Summers were hot in Oklahoma, and every July and August my parents drove to Colorado Springs, where Daddy played golf and Mother, Marjorie, and I played in the pool of the Broadmoor Hotel. When I was three, Mother took me for my first ballet lesson in the Broadmoor's basement. What I remember most is that the ballet teacher told me to stand straight and turn each of my feet out to the side, the first position. I couldn't believe it. But I did what I was told.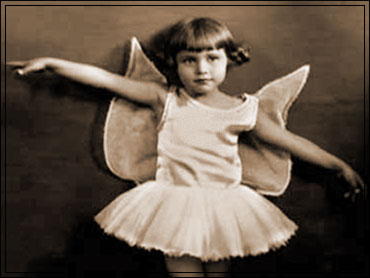 Ballet lessons were a weekly affair for me, and for Marjorie, too, after she was three. Under the spell of Hollywood's Marilyn Miller, Mother thought she was grooming two musical dancing stars. In 1930 Mrs. Sabin, an itinerant ballet teacher from Tulsa, visited Fairfax looking for students. When she heard about the two little girls in the town's most prominent family, she headed for the house on the hill. Before long, Mrs. Sabin had me dancing on pointe and giving recitals.
But I don't look back on her with gratitude. She was a wretched instructor who never taught the basics, and it's a miracle I wasn't permanently harmed. And my frugal mother was no help. She always bought my toe shoes a size too big so she wouldn't have to buy them too often. Then she'd stuff them with cloth pads so they'd fit and I'd be able to perform the double and triple turns on pointe that seemed to thrill everybody. Of course, Mother didn't really understand the finer points of ballet technique, and I simply did what she asked. I showed an aptitude for dancing and wanted to please. It never occurred to me to say, "It hurts to do that."
When I was growing up, my Indian Grandma Tall Chief was a majestic figure to me. A typical Indian woman, she wore her hair in a single braid down her back and always had a tribal blanket draped over her shoulders. She and my father were my link to the Osage people. At the time, the tribe lived royally. I was an adult before I heard some of their history.
In the eighteenth century, the Osage lived in Virginia's Piedmont region, where French and Spanish missionaries converted the Indians to Catholicism. When white people settled the region, the tribe migrated to the valleys near the Ohio and Missouri Rivers. After the West opened up and settlers began arriving, the Osage were forced to move again. They went to Kansas, where they farmed the land and hunted.
In the nineteenth century, the white man was continually chasing the Indians off their land. As a result, the Osage weren't destined to remain in Kansas. But in 1871, when the United States seized their property, the government had a change of heart, if only for a short period. They paid the Indians for what they took, and with the profits the tribe bought a million and a half acres in northwestern Indian Territory, which later became Oklahoma.

The Osage had to adjust to the new environment. The land wasn't arable. People couldn't hunt or farm, and times were difficult, but no one starved. Underground lay one of the biggest mineral reserves in North America, and when oil was discovered, everything changed for the Osage. (I never did find out how they kept from starving until they found the oil.)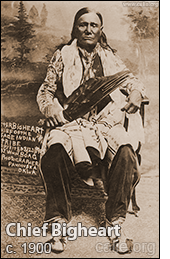 Grandma Tall Chief's father, my great-grandfather Chief Peter Bigheart, played an important role in the Osage saga. In 1886 Grandma traveled with him and his relative Chief James Bigheart to Washington. Both men spoke English and were on the council that worked out the provisions of the Osage Allotment Act. The act, which was approved by Congress in 1906, divided the reservation into tracts. Each of the 2,229 members of the tribe received approximately 658 acres, but the allotment of land applied to surface rights only. All mineral rights, the gas and oil that lay underground, were held in common by the tribe. Each Osage received a "headright," meaning that he or she would receive an equal share of all mineral income, which was tax free. An Osage might sell the surface rights to his land, but never a "headright." That was illegal. The only way an Osage could lose his "headright" was to die.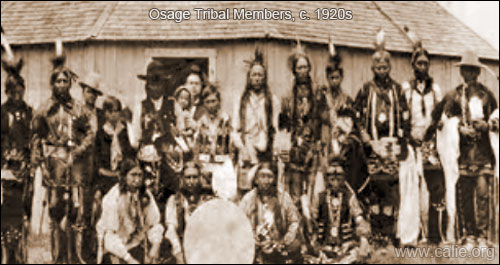 By 1925, even though the Osage had become rich, they, like all Indian tribes, were subject to government edicts, which were designed to destroy tribal customs. Indian ceremonies were banned and tribal languages forbidden. The Osage and many other Indian nations kept their culture alive by holding ceremonies in remote corners of the reservation Marjorie and I were thrilled when, together with Grandma Tall Chief, Daddy drove us to the location....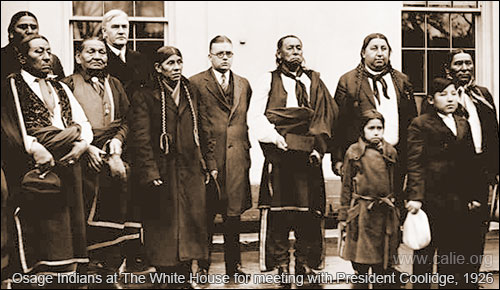 Osage tribal members pictured in Washington D.C., 1926, for an historic meeting with President Calvin Coolidge at The White House.
TALLCHIEF DANCE MEMORABILIA: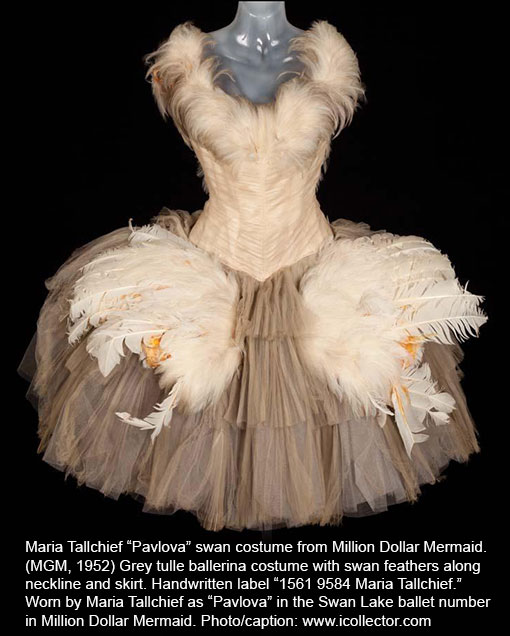 Maria Tallchief's "Pavlova" swan costume from Million Dollar Mermaid (MGM, 1952). Photo: icollector.com
WATCH "Million Dollar Mermaid" Dying Swan sequence, 1952 — Maria Tallchief playing the role of Anna Pavlova, starring Hollywood movie star Esther Williams.
PLAY Balanchine's "Firebird" — historical film, Maria Tallchief interviews.
PLAY "Flower Festival" 1962 — Rudolf Nureyev and Maria Tallchief
"'Firebird" and "Sylvia" — Maria Tallchief at Jacob's Pillow.
PLAY "Allegro Brillante" — Maria Tallchief and Nicholas Magallanes.
PLAY "Pas de Dix" (Balanchine) TV Performance, 1957 — Maria Tallchief and Andre Eglevsky.
PLAY "Les Sylphides" — Maria Tallchief and Royes Fernandez.
The Firebird ballet was staged in 1949 by George Balanchine for the New York City Ballet with Maria Tallchief starring as the titled dancer — this later color video is to show the creative and athletic energy of "The Firebird" artistic dance choreography, interesting for its athleticism and theatrical cinematic interpretation.
TALLCHIEF STUDY RESOURCES:
TRIBAL AFFILIATION: OSAGE NATION
WIKIPEDIA:
BIOGRAPHY | BALLERINA | PRIMA BALLERINA
MARIA TALLCHIEF DAY, March 12, 1998
Chicago Mayor Richard M. Daley proclaimed "Maria Tallchief is recognized throughout the world as one of the first and greatest American-trained ballet dancers of international importance."
RECOMMENDED MARIA TALLCHIEF BOOK LIST:
Sources: amazon.com
Maria Tallchief: America's Prima Ballerina
Maria Tallchief (Author), Larry Kaplan
Hardcover: 368 pages
Publisher: Henry Holt and Co.
First edition (April 15, 1997)
Language: English
ISBN-10: 0805033025
ISBN-13: 978-0805033021
BUY ON AMAZON.COM
Who Is Maria Tallchief?
By Catherine Gourley
Reading level: Ages 8 and up
Paperback: 112 pages
Publisher: Grosset & Dunlap (July 22, 2002)
Language: English
ISBN-10: 0448426757
ISBN-13: 978-0448426754
The Art of Maria Tallchief (1954)
DVD
Format: Black & White

Bird of fire,: The story of Maria Tallchief [Hardcover]
Olga Maynard (Author)
Hardcover: 201 pages
Publisher: Dodd, Mead; First Edition edition (1961)
Language: English
ASIN: B0006AXBAA
Tallchief: America's Prima Ballerina
Maria Tallchief (Author), Rosemary Wells (Author), Gary Kelley (Illustrator)
Reading level: Ages 4 and up
Paperback: 32 pages
Publisher: Puffin; First Edition edition (October 1, 2001)
Language: English
ISBN-10: 0142300187
ISBN-13: 978-0142300183
Maria Tallchief
Tobi Tobias (Author)
Hardcover
Publisher: Ty Crowell Co; 1St Edition edition (June 1970)
Language: English
ISBN-10: 0690518285
ISBN-13: 978-0690518283
Dancing for Mr B - Six Balanchine Ballerinas / Moylan, Tallchief, Ashley, Kistler, Hayden, Kent (2008)
DVD
Actors: Maria Tallchief
Directors: George Balanchine
Format: Classical, Color, NTSC
Studio: KULTUR VIDEO
DVD Release Date: September 30, 2008
Run Time: 82 minutes
ASIN: B001CK7OMO
Million Dollar Mermaid (1952)
Esther Williams (Actor), Victor Mature (Actor), Mervyn LeRoy, Maria Tallchief (as Anna Pavlova)
Directors: Mervyn LeRoy
Writers: Everett Freeman
Producers: Arthur Hornblow Jr.
Format: Color, NTSC
Studio: MGM (Warner)
VHS Release Date: February 24, 1995
Run Time: 115 minutes
ASIN: 6301973186
Firestone Dances: Historic Ballet Performances
DVD
Actors: Rudolf Nureyev, Maria Tallchief, Jacques D'Amboise
Directors: Voice of Firestone
Format: Black & White, Classical, NTSC
Studio: KULTUR VIDEO
DVD Release Date: April 29, 2008
Run Time: 49 minutes
ASIN: B0013N3LIQ
Maria Tallchief: America's Prima Ballerina
Elisabeth P Myers (Author)
Hardcover: 175 pages
Publisher: Grosset & Dunlap (1966)
Language: English
ASIN: B0007GS0E0
American Indian Ballerinas
Lili Cockerille Livingston (Author)
Paperback: 352 pages
Publisher: University of Oklahoma Press (March 15, 1999)
Language: English
ISBN-10: 0806131349
ISBN-13: 978-0806131344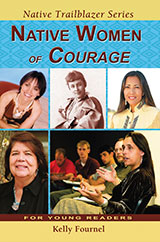 Native Women of Courage (Native Trailblazer Series)
Kelly Fournel (Author)
Paperback: 84 pages
Publisher: Seventh Generation Books (2007)
ISBN-10: 0977918327
ISBN-13: 978-0977918324
Book Description:
Grade Level: 3 and up
Native Women of Courage profiles ten outstanding women leaders in the Native community. All of these successful, trailblazing women are stellar role models who have raised the profile of indigenous culture in North America. From heroines of the past to women making history today, this exciting work of non-fiction reminds readers of the extraordinary contributions of Native American women to our daily lives and to our country's social fabric.
Winona LaDuke (Anishinaabeg) - Author, environmentalist, vice-presidential candidate
Sarah Winnemucca (Paiute) - First Native American woman to write and publish a book
Maria Tallchief (Osage) - Prima ballerina with the New York City Ballet
Mary Kim Titla (Apache) - First Native American television news reporter in Arizona
Sandra Lovelace Nicholas (Maliseet) - Petitioned the United Nations on behalf of First Nations women's rights, and won
Susan Aglukark (Inuit) - Singer/songwriter and winner of 3 Juno music awards
Wilma Pearl Mankiller (Cherokee) - First women Chief of the Cherokee Nation
Susan Rochon-Burnett (Metis) - First women to be granted a Canadian FM broadcasting license
Lorna B. Williams (Lif'wat First Nation) - Educator who developed native curriculum for First Nations schools in Canada
Pauline Johnson-Tekahionwake (Mohawk) - Author and early advocate for Native women's rights.
The Native Trailblazer Series shines a spotlight on the contributions of Native Americans and First Nation Canadians who provide inspirational role models for young readers.
High interest text and easy to read format is ideal for teen and adult literacy programs.
BUY ON AMAZON.COM


Sacagawea, Shoshone, c. 1788-1812, Guide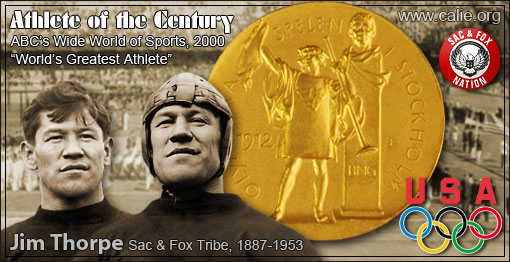 JIM THORPE (Sac & Fox Tribe) 1987-1953,
"Athlete of the Century" | "Greatest Athlete in the World"....


JOHN CHIEF MEYERS (Cahuilla, Riverside, CA), 1880-1971, MLB teams the "Ironman" played for: New York Giants, Boston Braves, Brooklyn Robins. Career batting average .291, played in four World Series (1911, 1912, 1913, 1916)....


American Indian Boarding School Experience
CALIE is compiling a historical Web portal for research into what happened circa 1850-1930...

TRADITIONAL Native American Indian Quotations
Hold on to what is good,
Even if it's a handful of earth.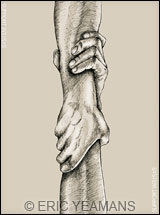 Hold on to what you believe,
Even if it's a tree that stands by itself.
Hold on to what you must do,
Even if it's a long way from here.
Hold on to your life,
Even if it's easier to let go.
Hold on to my hand,
Even if someday I'll be gone away from you.
Pueblo prayer
READ MORE Earth writings...

+++++++
WHO PRODUCED THIS BLOG?


Ernie C. Salgado Jr.
Tribal: Luiseño
Reservation: Soboba Indian Reservation
EDITOR: The Indian Reporter www.theindianreporter.com
Founder/CEO CALIE: www.californiaindianeducation.org
Web Site: www.apapas.com
CONTACT
RESUME/BIOGRAPHY
PUBLISHED ARTICLES