KEITH VASQUEZ, Sports Reporter
San Pasqual Band of Mission Indians
WELCOME to Southern California's premier Native American Indian tribal sports news website: NativeSportsMedia.com

ABOUT KEITH VASQUEZ: American Indian born and raised on the San Pasqual Indian Reservation in Southern California near Valley View Casino Hotel. The 35-year-old social media correspondent is an enrolled Kumeyaay-Ipai tribal member who's also the father of five beautiful children (three boys and two girls).
SOCIAL MEDIA | REZ RADIO | CONTACT KEITH |
HIRE KEITH from the e-mail form below | BIOGRAPHY

My passion is pursuing what I love and giving American Indians a voice nationally through professional Sports Media.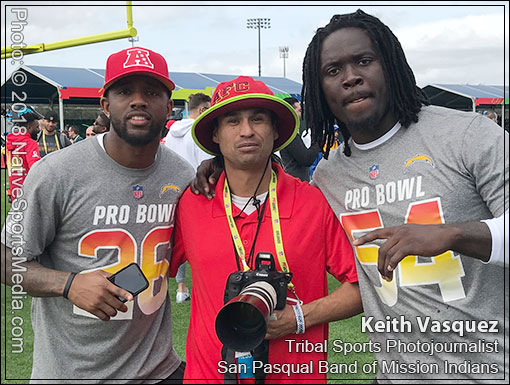 WORKING THE DREAM JOB: Keith Vasquez, American Indian sports reporter, poses for a photograph with LA Chargers Casey Hayward (left) and Melvin Ingram (right) at the NFL 2018 Pro Bowl in Camping World Stadium, Orlando, Florida.
FOR MORE THAN 10 YEARS: Mr. Vasquez has coached and mentored San Pasqual inter-tribal sports teams in reservation-based athletic programs. He is currently partnered with NFL Flag San Diego to recruit young athletes from their Indian reservations and urban housing to compete in organized sports activities, competitive leagues and tournaments.
SOCAL TRIBAL SPORTS NETWORK: Keith has officially covered the Sports Media beat in Indian Country since 2015 and uses social media extensively to promote his journalism articles, sports photography, videography and informative FM radio sports-news broadcasts from the reservation's radio station. His office is located on the San Pasqual Indian Reservation in north County of San Diego.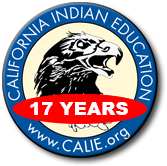 Keith recently joined the California Indian Education website team as Sports Editor to work alongside its publisher, Ernie Salgado (a Soboba tribal elder), as a tribal member photographer, journalist and sporting events promoter.

TRIBAL ATHLETICS YOUTH PROGRAMS: Pictured are are the seven talented Native American Youth Ambassadors recruited by the NFL to participate in the program and bring the great game of football back to their Indian reservations. These are the first ever young American Indians to have this unique opportunity. @onopo1 @intertribalsports @itanativesports @ndnsports @valleyroadrunner @nationsbestfootball @vicesports @sportsrecruits #nfl #nflprobowl #nativemediateam @espnnfl @usnft @usa_football
MISSION: As a working professional Native American sports photojournalist, Keith Vasquez provides American Indians a tribal voice in amateur, school, collegiate, and professional Sports Media, while also providing Indian youth access to organized sports leagues and athletic programs both on and off their SOCAL Indian reservations.
FUTURE GOAL: To obtain official press credentials to cover and report first-person on professional NFL, NBA, MLB, NHL and MMA sporting events to give an indigenous perspective to the news.


Keith Vasquez, Kumeyaay
CALIE SPORTS EDITOR
Kumeyaay Tribal Member
San Pasqual Indian Reservation Athletics
PLEASE CONTACT KEITH VASQUEZ OFF THE EMAIL FORM BELOW.
FOLLOW NATIVE SPORTS MEDIA ON SOCIAL MEDIA:

Instagram @nativemediateam


Twitter @mediatean (sic)


Facebook @nativemediateam


YouTube @nativemediateam.com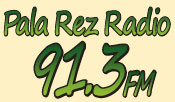 LIVE STREAM at PalaTribe.com
Keith Vasquez will be airing your Local Tribal Sports Updates live on Rez Radio 91.3 on Tuesdays & Fridays at 12 noon.
Just "Click to: Listen Now" on the Pala Rez Radio link to stream Keith's broadcast live or tune into 91.3 on your FM radio.

WE WANT YOUR SPORTS NEWS & STORY IDEAS FOR OUR AMERICAN INDIAN TRIBAL NEWSPAPER!
How to hire / contact Kumeyaay tribal member KEITH VASQUEZ by email, phone number, mailing address:
FEATURED TRIBAL MEMBER PROFILES: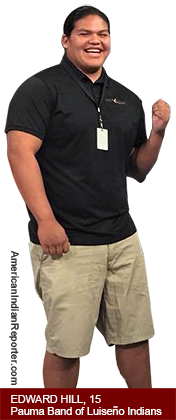 Edward Hill, Pauma, All CIF Football
by Ernie Salgado
At six foot three and 285 pounds, 15-year-old Edward Hill, a junior at Valley Center High School in Escondido....

Virgil "Rezdog" Zwicker
Kumeyaay Tribal Member
San Pasqual Band of Mission Indians
Professional heavyweight mixed martial arts extreme cage fighter. Fighting style: Freestyle-Striker (a variety of Jujutsu, Muay Thai, Kickboxing, Wrestling, Boxing, Grappling techniques). Fighter hero: Mike Tyson.

Joe Burton
Soboba Band of Luiseño Indians
by Ernie Salgado
High School: West Valley, class of 2009
Height: 6' 8"
Weight: 270 lbs
Full Basketball Scholarship: Oregon State University
Joe shattered OSU Beavers' college basketball records with over 1,000 points scored, 700 rebounds, and 300 assists!
Joseph Burton was voted 2016 MVP in his rookie year with the French ALM Évreux Basketball league team. Burton began his professional basketball career in 2013 with Aalborg Vi-kings In the Danish Basketligaen, where he averaged 22 points, 12.5 rebounds and 4 assists....
NATIVESPORTSMEDIA.COM is owned by Kieth Vasquez, and hosted on CALIFORNIA INDIAN EDUCATION website as an add-on domain.
If you would like more information about participating in our Tribal Bloggers Program, please contact ERNIE SALGADO.
FEATURED TRIBAL SPORTING EVENTS:

Jim Thorpe All Indian Games
'THE NATIVE AMERICAN OLYMPICS'
San Diego and Riverside counties
CALIE IS COMMITTED TO PROMOTING OUR SUPER-STAR TRIBAL SPORTS HEROS: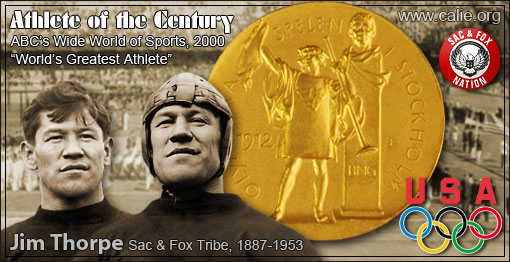 JIM THORPE ALL AMERICAN (Sac & Fox) 1987-1953,
"The Greatest Athlete of All Time"... Named "Athlete of the Century" by ABC's Wide World of Sports in 2000.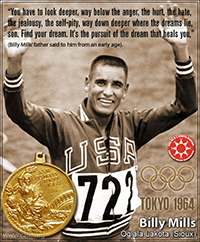 BILLY MILLS
Indian name: Makata Taka Hela (respects the earth)
Tribe: Oglala Lakota (Sioux)
Birth year, place: 1938, Pine Ridge, South Dakota
Reservation: Pine Ridge Indian Reservation, SD
Billy Mills is an iconic super-famous athlete known around the world for becoming the first (and only) American athlete to win an Olympic gold medal for the 10,000 meters footrace....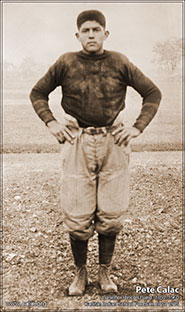 PETE CALAC
Rincon Band of Luiseño Indians
Pedro "Pete" Calac (1892-1960) arrived at the famous Carlisle Indian Industrial School in November of 1908.
Pete was 15 years old at the time, and played football for the Indian school.
Mr. Calac played alongside such American Indian legends as Jim Thorpe. Both stand-out athletes were Carlisle and Canton Bulldogs football players.
Pete Calac's successful professional football career lasted some 10 years....

CHIEF MEYERS (Cahuilla, Riverside, CA), 1880-1971, MLB teams played for: New York Giants, Boston Braves, Brooklyn Robins. Career batting average .291, played in four World Series (1911, 1912, 1913, 1916)....

JOE "THE BOSS" HIPP (Blackfeet) World Boxing Federation (WBF) World Heavyweight Champion (1999), later formed the All Nations Foundation and set out on a mission to tutor and mentor tribal youth...
LEARN ABOUT THE KUMEYAAY TRIBE:


Kumeyaay-Ipai-Tipai-Diegueño TIMELINE & HISTORY essay.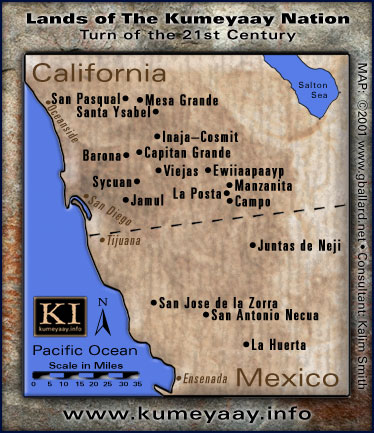 KUMEYAAY GUIDE to the Kumeyaay lands in Southern California and Baja Norte, Mexico.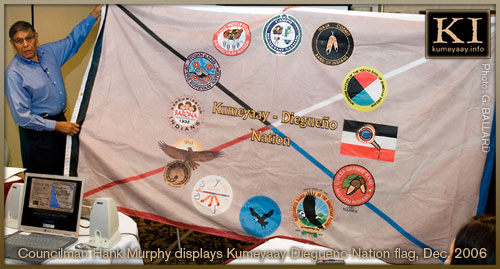 CALIFORNIA INDIAN SOVEREIGNTY — the San Pasqual Band of Diegueño Mission Indians of California is one of twelve federally-recognized Kumeyaay-Diegueño Indian bands in Southern California that comprise the Kumeyaay Tribe of the United States.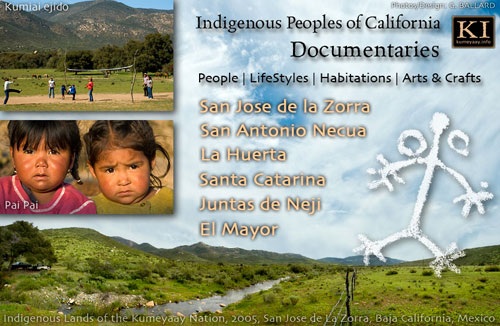 In addition to the Kumeyaay reservations in San Diego County, there are four recognized Indio Kumiai "ejidos" (indigenous communities) in northern Baja California, Mexico.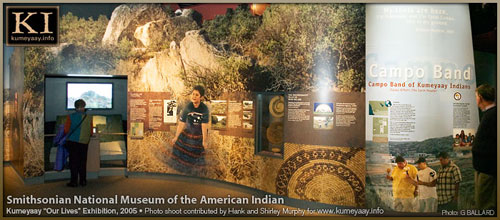 KUMEYAAY AT THE SMITHSONIAN — the Kumeyaay Nation was featured in the Smithsonian National Museum of the American Indian "Our Lives" exhibition in Washington D.C.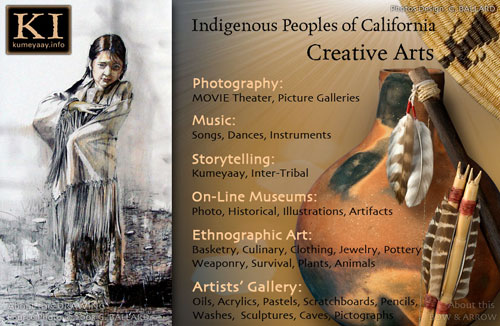 KUMEYAAY CULTURE — learn about the Kumeyaay culture online.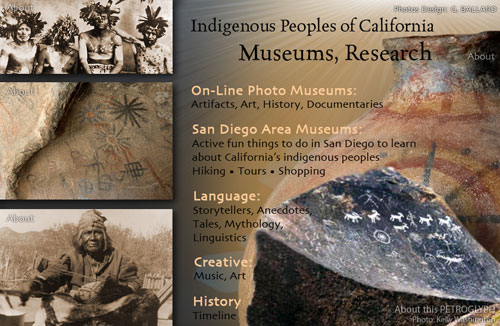 KUMEYAAY RESEARCH — learn information about how to research the Kumeyaay Tribe of Southern California.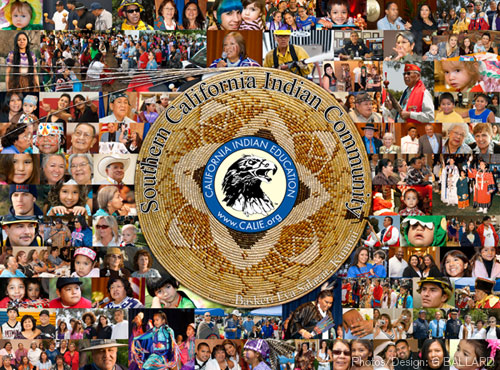 CALIE CREATIVE MEDIA — Collection of professional creative multimedia photojournalism Web blogs promoting NATIVE PRIDE in Family Values and American Indian community social networking.
+++++++
WE WANT YOUR NEWS & STORY IDEAS FOR OUR AMERICAN INDIAN TRIBAL NEWSPAPER!


Ernie C. Salgado Jr.
Tribal: Luiseño
Reservation: Soboba Indian Reservation
PUBLISHER: THE AMERICAN INDIAN REPORTER
EDITOR: The Indian Reporter www.theindianreporter.com
Founder/CEO CALIE: www.californiaindianeducation.org
Web Site: www.apapas.com
CONTACT
RESUME/BIOGRAPHY