Publishing Corner:
TRIBAL BLOGGERS:
ROY COOK NEWS BLOG
THE INDIAN REPORTER
JOURNAL FROM SDC
KAREN VIGNEAULT

Indian Community:
TRIBAL COMMUNITY
PROFILES
OBITUARIES
Science & Wonder
ASTRONOMY PORTAL
KID'S CLUBHOUSE
Indian Heros:
VETERAN COMMUNITY
MEDALS OF HONOR
CODE TALKERS
FAMOUS CHIEFS
HISTORIC BATTLES
POEMS ESSAYS
SPORTS-ATHLETES
MISSION FEDERATION
FAMOUS INDIANS
California Indian Art:
MISSION BASKETS
RED CLAY POTTERY
ETHNOGRAPHIC ART
CAVE ART
MUSIC
CALIE Library:
FEDERAL Resources
HEALTH & MEDICAL
INDIAN BOOK LIST
HISTORICAL Documents
STD Information
Academic Financial Aid:
SCHOLARSHIPS
GRANTS & FUNDING
Tribal Governments:
TRIBAL COURTS
SOVEREIGNTY
SOCIAL SERVICES
TRIBAL DIRECTORY
Indian Gaming:
INDIAN CASINO FORUM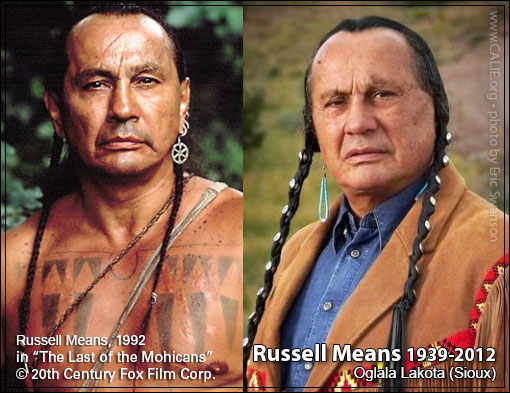 Russell Means photographed as Chingachgook in "The Last of the Mohicans" Hollywood movie (1982), and a natural environmental portrait in traditional Indian-style braided hair and buckskin jacket photograph used in his obituary memorials.
Russell Charles Means
(1939-2012)
Indian name: Wanbli Ohitika (Brave Eagle), also known as Oyate Wacinyapi (worked for the people)
Tribe: Oglala Lakota (Sioux), Republic of Lakotah
Reservation: Pine Ridge Indian Reservation, South Dakota, USA
The L.A. Times has described him as the most famous American Indian since Sitting Bull and Crazy Horse. - russellmeans.com
Russel Means is a famous 20th century American Indian activist who championed Indigenous peoples' rights world wide. He died of a cancer in his home on the Pine Ridge Indian Reservation in 2012 at the age of 72.
"The one thing I've always maintained is that I'm an American Indian. I'm not politically correct." - Russell Means

Russell Means pictured at various ages in his life — young, middle aged and tribal elder. Famous American Indian activist, tribal leader, Hollywood film actor, writer, and musician.
Russell Means: Americans are the New Indian (video):
YOUTUBE.COM: American Indian Russell Means gives an eye-opening, 90-minute interview in which he explains how Native Americans and Americans in general are all imprisoned within one huge reservation....

Russell Means and Dennis Banks, a founder of the original American Indian Movement (AIM), participated in the Wounded Knee occupation in 1973, and the Native American occupation of Alcatraz Island which lasted from November 20, 1969, until June 11, 1971, when it was ended by force by the U.S. government.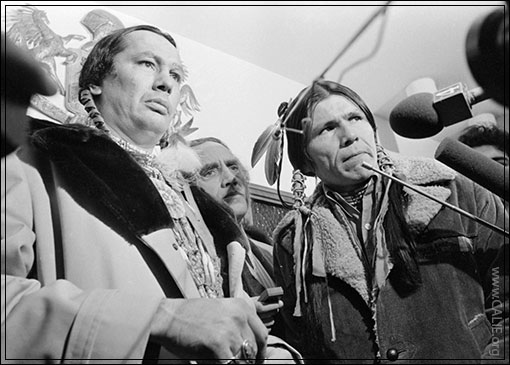 Amerian Indian activist Russell Means pictured at a press conference with Dennis Banks (and William Kunstler in the background) in 1974. Photo: Bancroft Library Fang Family San Francisco Examiner photograph archive.
HISTORY ASSOCIATED WITH RUSSELL MEANS
interesting research articles, books, videos, quotes
Where White Men Fear to Tread: The Autobiography of Russell Means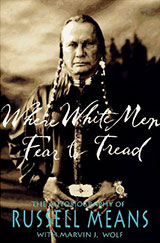 by Russell Means & Marvin Wolf
AMAZON.COM: Russell Means is the most controversial Indian leader of our time. Where White Men Fear to Tread is the well-detailed, first-hand story of his life so far, in which he has done everything possible to dramatize and justify the Native American aim of self-determination, such as storming Mount Rushmore, seizing Plymouth Rock, running for President in 1988, and — most notoriously — leading a 71-day takeover of Wounded Knee, South Dakota, in 1973. This visionary autobiography by one of our most magnetic personalities will fascinate, educate, and inspire... go to AMAZON.COM for more information and to buy books about Russell Means.

The passing of Russell Means was a loss for the world
On October 22, 2012, Indian rights activist Russell Means passed on after a magnificent life of struggle to better the lives of American Indians. Means had a tremendous impact on Native American struggles of the latter part of the 20th century and he will be sorely missed, but his passing was a huge loss not just for Native America, not just for all of America, but for the world. He became the warrior conscience of the U.S. as a nation and exposed the oppression of American Indians to the globe.
Means reawakened Native people to the need for direct action in dealing with the "powers that be." Contrary to popular belief, there had been a long unbroken string of Native activism throughout the 20th century, but the government-leaning mainstream news media had for the most part managed to keep information of Indian resistance hidden behind the "Buckskin Curtain." What distinguished Means and the American Indian Movement (AIM) was that they were able to break through the "Curtain" with justifiably sensational tactics that the media could not ignore.
The 1973 Wounded Knee occupation and other protests had to be covered, and that riveted the moral conscience of America and the entire world. All just-minded citizens, of all races, creeds and colors, morally supported the actions of AIM. Public opinion in the U.S. was on the side of Means and the warriors of AIM. One thing that was said about AIM in those days was that they would never lose a fight by default; when called upon AIM always showed up.
It has been said that American Indians are the "miners' canary" which indicates that justice in this society can be measured by how Native people are treated. Given that criterion this country is still sadly lacking in that category.
As for Means, he started out working in an office as a computer operator. He was trained as an accountant, was a straight A student and was awarded a scholarship to Arizona State University. Indian youth, in particular, should find this inspirational at a time when less than half of Native young people graduate from high school... READ MORE.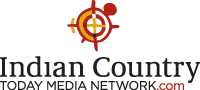 Alcatraz Occupation Four Decades Ago Led to Many Benefits for American Indians
by Dean Chavers, 11/14/11
When 78 Indian college students took over the Alcatraz Island prison in San Francisco Bay on November 19, 1969 to protest the poor treatment of Indians in schools and the hated termination policy, none of us had any idea that our actions would have such a lasting impact on Indian policy in the U.S. But since that time, the federal government has clearly changed... READ MORE.
Wounded Knee Incident

WIKIPEDIA: The Wounded Knee incident began on February 27, 1973, when approximately 200 Oglala Lakota and followers of the American Indian Movement (AIM) seized and occupied the town of Wounded Knee, South Dakota, on the Pine Ridge Indian Reservation.
The protest followed the failure of an effort of the Oglala Civil Rights Organization (OSCRO) to impeach tribal president Richard Wilson, whom they accused of corruption and abuse of opponents. Additionally, protestors attacked the United States government's failure to fulfill treaties with Indian peoples and demanded the reopening of treaty negotiations... READ MORE.
American Indian Activist Russell Means Powerful Speech, 1989 (video)
YOUTUBE.COM: Legendary Russell Means harshly criticizes the Bureau of Indian Affairs and Indian leadership of reservations...
Russell Means: Prove Me Wrong (video)
YOUTUBE.COM: On December 20, 2008, immediately following Barack Obama's election, Russell Means gave this never-before-seen interview in Rapid City, SD. In this film Russell is at his best — intelligent, aggressive, and unwilling to compromise principle....
The Last of the Mohicans Final Battle (Promentory) (HD)
YOUTUBE.COM: This climatic, beautiful and emotionally gripping scene is from Michael Mann's 1992 film "The Last of the Mohicans," starring Daniel Day-Lewis (Hawkeye/Nathaniel Poe), Madeleine Stowe (Cora Munro), Russell Means (Chingachgook)....
Russell Means Quotes:
Young people and Indian people need to know that we existed in the 20th Century. We need to know who our heroes are and to know what we have done and accomplished in this century other than what Olympic athletes Jim Thorpe and Billy Mills have done.
'Indian policy' has now been brought down upon the American people, and the American people are the new Indians of the 21st Century.
Hello my relatives.
What I have to say about myself is that I've been in prison, I've been a thief, I've been a doper, a dope dealer, and I've also gone to college. I'm an accountant and a computer programer, as well as getting my doctorate in philosophy.
I've been everywhere in the strata of white society. I've even hung around with multimillionaires — when there were no billionaires.
I am an Indian, American Indian. I prefer 'American Indian' (because) anyone born in the western hemisphere is a native American.
I'm an Oglala Lakota from Pine Ridge Sioux Indian Reservation which is still designated in the defence department as a Prisoner of War Camp #44.
I tell the truth, and I expose myself as a weak, misguided, misdirected, dysfunctional human being I used to be.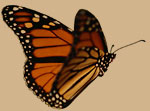 Being is a spiritual proposition. Gaining is a material act. Traditionally, American Indians have always attempted to be the best people they could. Part of that spiritual process was and is to give away wealth, to discard wealth in order not to gain.
No one except Hollywood stars and very rich Texans wore Indian jewelry. And there was a plethora of dozens if not hundreds of athletic teams that in essence were insulting us, from grade schools to college. That's all changed.
It takes a strong effort on the part of each American Indian not to become Europeanized. The strength for this effort can only come from the traditional ways, the traditional values that our elders retain.
Everyone who's born in the Western Hemisphere is a native American. We are all native Americans.
Russell Means Links:
WIKIPEDIA: Republic of the Lakotah
REPUBLICOFLAKOTAH.COM: tribal website
OGLALA LAKOTA NATION tribal website
THE NEW YORK TIMES: Russell Means obituary
BIOGRAPHY.COM: Russell Means biography
RUSSELLMEANS.COM: website
Do explore this website, it is quite amazing...
More Famous Oglala Lakota Sioux Indians:
Frequently Asked Questions: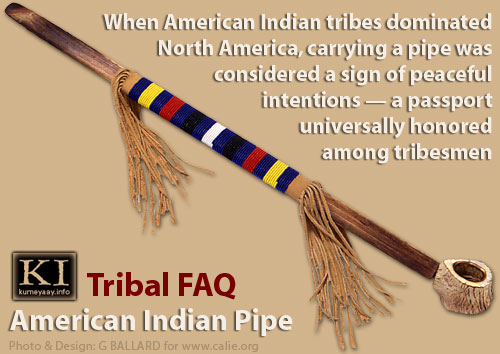 TOP 50 Frequently Asked Questions about American Indian tribes — "American Indian or Native American?" | "Tribe or Band?" | "Who is an American Indian?" | "What is Indian Country?" | "Tribal Sovereignty" | "Indian Preference Jobs"...
MORE CALIE STUDY GUIDES:


The Pine Ridge tribe is a sovereign tribal government.



American Indian Boarding School Experience
CALIE is compiling a historical Web portal for research into what happened circa 1850-1930...
+++++++
WHO PRODUCED THESE TRIBAL EDUCATIONAL RESOURCES?


Ernie C. Salgado Jr.
Tribal: Luiseño
Reservation: Soboba Indian Reservation
EDITOR: The Indian Reporter www.theindianreporter.com
Founder/CEO CALIE: www.californiaindianeducation.org
Web Site: www.apapas.com
CONTACT
RESUME/BIOGRAPHY
PUBLISHED ARTICLES
+++++++
PROFESSIONAL RESEARCH AND WEB DESIGN BY GARY BALLARD, SAN DIEGO