Publishing Corner:
ROY COOK NEWS BLOG
THE INDIAN REPORTER
TRIBAL BLOGGERS
Indian Community:
TRIBAL COMMUNITY
PROFILES
OBITUARIES
Science & Wonder
ASTRONOMY PORTAL
KID'S CLUBHOUSE
Indian Heros:
VETERAN COMMUNITY
MEDALS OF HONOR
CODE TALKERS
FAMOUS CHIEFS
HISTORIC BATTLES
POEMS ESSAYS
SPORTS-ATHLETES
MISSION FEDERATION
FAMOUS INDIANS
California Indian Art:
MISSION BASKETS
RED CLAY POTTERY
ETHNOGRAPHIC ART
CAVE ART
MUSIC
CALIE Library:
FEDERAL Resources
HEALTH & MEDICAL
INDIAN BOOK LIST
HISTORICAL Documents
Academic Financial Aid:
SCHOLARSHIPS
GRANTS & FUNDING
Tribal Governments:
TRIBAL COURTS
SOVEREIGNTY
SOCIAL SERVICES
TRIBAL DIRECTORY
Indian Gaming:
INDIAN CASINO FORUM
BILLY MILLS
Indian name: Makata Taka Hela (respects the earth)
Tribe: Oglala Lakota (Sioux)
Birth year, place: 1938, Pine Ridge, South Dakota
Reservation: Pine Ridge Indian Reservation, SD

BUICK Human Highlight Reel — 2012 professional biography interview, documentary NCAA.COM/BUICK | INDIANYOUTH.ORG.
Billy Mills, an Oglala-Lakota-Sioux American Indian from the Pine Ridge Indian Reservation in South Dakota, USA, is famous for becoming the first (and as of 2012, the only) American athlete to ever win an Olympic gold medal for the 10,000 meters footrace.
Games of the XVIII Olympiad, 1964 Tokyo Olympics — American Olympic athlete 1ST LT Billy Mills (Oglala Lakota Sioux, Pine Ridge Indian Reservation, South Dakota) photographed crossing the finish line in his historic Field & Track event (photo US Marine Corps). Photo right pictures Lt. Mills making his final dash for the lead to win the 10,000 meters at the Summer Olympics in Tokyo, Japan, 1964.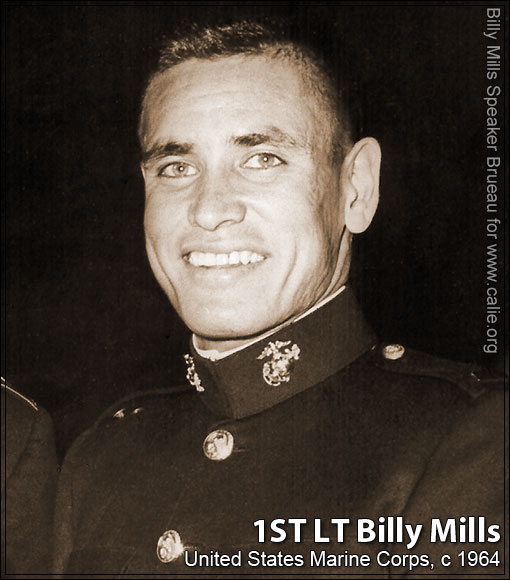 NATIVE AMERICAN INDIAN MILITARY VETERAN — When Billy Mills won his Olympic gold medal in 1964 he was a First Lieutenant in the U.S. Marine Corps (USMC). After serving his country during the Vietnam War, Mr. Mills was Honorably Discharged from the military as a Lieutenant (two silver bars, 0-3). Photo courtesy of Billy Mills Speaker Bureau (special to calie.org).
BILLY MILLS TODAY:

Mr. Mills is currently the national spokesman for RUNNING STRONG FOR AMERICAN INDIAN YOUTH® whose mission is to help American Indian people meet their immediate survival needs – food, water, and shelter – while implementing and supporting programs designed to create opportunities for self-sufficiency and self-esteem. The program began in 1986 as a project of Christian Relief Services Charities.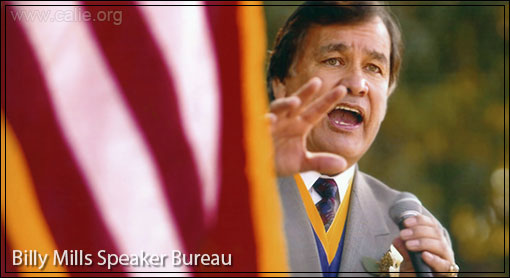 HOW TO BOOK BILLY MILLS to speak at your event, please contact BILLY MILLS WEBSITE for contact information.
BILLY MILLS BIOGRAPHY: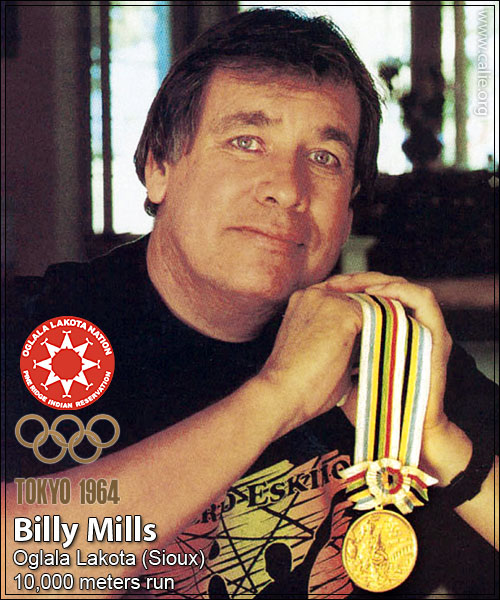 "I've been blessed, sport has blessed me."
WIKIPEDIA (source): William Mervin Mills was born in Pine Ridge, South Dakota, and was raised on the impoverished Pine Ridge Indian Reservation for Oglala Sioux people.
He was orphaned when he was 12 years old and was raised by his grandmother.
Mills took up running while attending the Haskell Institute, which is now known as Haskell Indian Nations University in Lawrence, Kansas.
Both a boxer and a runner in his youth, Mills gave up boxing to focus on running.
He attended the University of Kansas on an athletic scholarship. He was named a NCAA All-America cross-country runner three times and in 1960 he won the individual title in the Big Eight cross-country championship.
The University of Kansas track team won the 1959 and 1960 outdoor national championships while Mills was on the team.
After graduating with a degree in Physical Education, Mills entered the United States Marine Corps. He was a First Lieutenant in the Marine Corps Reserves when he competed in the 1964 Olympics.
BILLY MILLS OLYMPIC VIDEOS:
BUICK Human Highlight Reel — 2012 professional biography interview, documentary NCAA.COM/BUICK | INDIANYOUTH.ORG.
1964 color film video of the historic race WITH CONTEMPORARY NEWS INTERVIEW — what it was like to win an Olympic gold medal (in Billy's own words):
PLAY an official racing perspective in black & white (below), watch the racing video highlights as the official time clock counts down to the historic finish by the inspiring American Indian Billy Mills:
Another personal multimedia interview with Billy Mills about running his historic 10,000-meter footrace and gold medal win at the 1964 Tokyo Olympics — what was going through his mind during the race, what it was like to win and be the best in the world for that one fleeting moment:
FEATURE FILMS: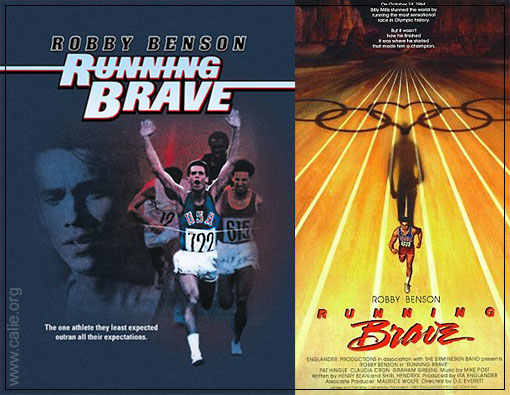 Buy on amazon.com (DVD, VHS).

"RUNNING BRAVE"
The 1983 movie "Running Brave" is based on the true story of Billy Mills, a Native American Indian who was orphaned at 12 years and raised by his grandmother on one of the poorest Indian reservations in the USA. Against all odds, Billy Mills proved he was the best distance runner in the world at the 1964 Tokyo Olympics.

Directors: D.S. Everett, Donald Shebib
Writers: Henry Bean, Shirl Hendryx
Stars: Robby Benson, Pat Hingle and Claudia Cron

WATCH THE "RUNNING BRAVE" MOVIE TRAILER ONLINE:
BILLY MILLS BOOKS Lakota Wisdom: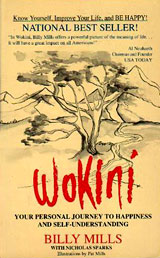 "Wokini: Your Personal Journey to Happiness and Self-Understanding"
Author: Billy Mills
Publisher: Feather Publishing, 1990
ISBN: 0962794309, 9780962794308
BUY on amazon.com
EXCERPTS:
In my youth I respected the world and life, I needed not anything but peace of heart;
And yet I changed despite myself and believed in Iktumi's lies.
He seemed to know all the truth, he promised to make me happy.
He made me ask Wakantanka for wealth, that I might have power;
I was given poverty, that I might find my inner strength.
I asked for fame, so others would know me;
I was given obscurity, that I might know myself.
I asked for a person to love that I might never be alone;
I was given a life of a hermit, that I might learn to accept myself.
I asked for power, that I might achieve;
I was given weakness, that I might learn to obey.
I asked for health, that I might lead a long life;
I was given infirmity, that I might appreciate each minute.
I asked Mother Earth for strength, that I might have my way;
I was given weakness, that I might feel the need for Her.
I asked to live happily, that I might enjoy life;
I was given life, that I might live happily.
I received nothing I asked for, yet all my wishes came true.
Despite myself and Iktumi, my dreams were fulfilled,
I am richly blessed more than I ever hoped,
I thank you, Wakantanka, for what you've given me.
STUDY & RESEARCH GUIDE:
BILLY MILLS (wikipedia)
RUNNING STRONG FOR AMERICAN INDIAN YOUTH® official Billy Mills biography.
RUNNINGPAST.COM biography-profile.
FACTS FOR KIDS:
BIGORRIN.ORG website hosts a great "Lakota and Dakota Sioux Fact Sheet" for kids about the Sioux people and their language, culture, history in North America.
A SOVEREIGN INDIAN NATION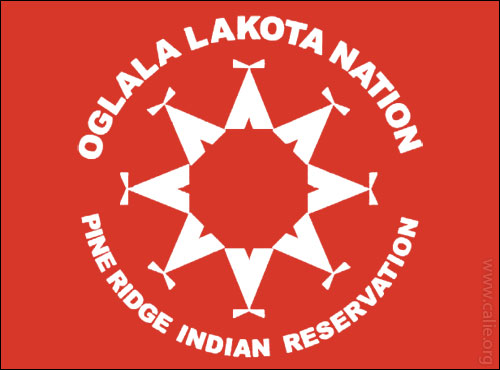 The Oglala Sioux Tribe is a federally-recognized Indian nation indigenous to North America — their tribal ancestors are believed to have occupied their vast ancestral homelands for hundreds of generations (thousands of years) before Europeans began immigrating into America in 1492.
Under authority of the United States Constitution (and various treaties), the tribe is considered to be a SOVEREIGN INDIAN NATION, and their reservation sovereign land. As such, federal, state and local governments must deal with the tribe on a government-to-government basis.
ABOUT TRIBAL HISTORY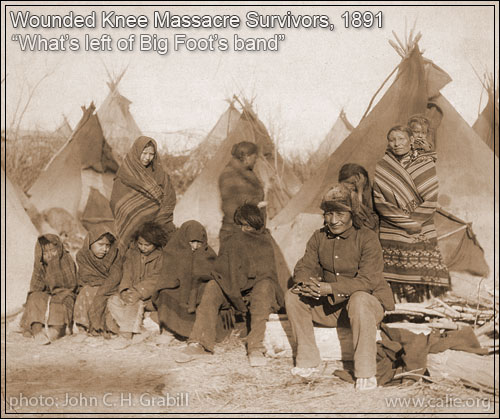 WOUNDED KNEE MASSACRE
Lakota Pine Ridge Indian Reservation, South Dakota, Dec. 29, 1890 — when the smoke cleared from the gunfire at the Wounded Knee Massacre, some 150 Lakota Sioux men, women and children had been shot dead and 51 were wounded (4 men, 47 women and children) by U.S. Army soldiers of the 7th Cavalry Regiment. Some surviving Lakota fled the killings, but U.S. cavalrymen pursued and murdered as many of them as possible — many unarmed men, women and children were killed during the massacre (according to published historical accounts).
Visit the WOUNDED KNEE MUSEUM website for moden multimedia presentations about the Wounded Knee Massacre, including on-line museum, virtual tours and exhibits, movies — woundedkneemuseum.org even hosts an area "For Decendants."
WIKIPEDIA has very in-depth articles about the massacre for historical reference.
GENERATION CYCLES OF POVERTY & NEGLECT
Historically recognized as one of the poorest Indian reservations in America — 2011 population estimates on the Pine Ridge Indian Reservation reservation range from 28,000 to 40,000...unemployment rate is about 80 percent of its residents are unemployed...per capita income in Shannon County (where the reservation is located) is $6,286 (wikipedia.org 2011).
It was from these humble beginnings that Mr. Mills' inspiring story emerged, and you may bet his people take great pride in his accomplishments.
SELF SUFFICIENCY, a chance for the American Dream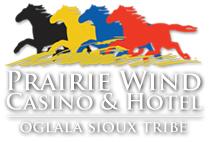 The Oglala Sioux Tribe recently opened their new Indian Casino — PRAIRIE WIND CASINO & HOTEL. Please visit our CALIE Indian Casino Locator map and research guide.
MORE CALIE STUDY GUIDES on inspiring American Indian Heros: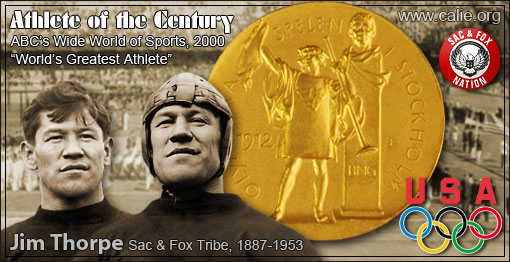 JIM THORPE (Sac & Fox Tribe) 1987-1953,
"Athlete of the 20th Century" | "Greatest Athlete in the World"....

JOHN CHIEF MEYERS (Cahuilla, Riverside, CA), 1880-1971, MLB teams the "Ironman" played for: New York Giants, Boston Braves, Brooklyn Robins. Career batting average .291, played in four World Series (1911, 1912, 1913, 1916)....

JOE "THE BOSS" HIPP (Blackfeet) World Boxing Federation (WBF) World Heavyweight Champion (1999) forms the All Nations Foundation and sets out on a mission to tutor and mentor tribal youth...
INDIAN BOARDING SCHOOLS:


Carlisle School for American Indians
CALIE is compiling a historical Web portal for research into what happened circa 1850-1930...
+++++
WHO PRODUCED THIS ARTICLE?


Ernie C. Salgado Jr.
Tribal: Luiseño
Reservation: Soboba Indian Reservation
EDITOR: The Indian Reporter www.theindianreporter.com
Founder/CEO CALIE: www.californiaindianeducation.org
Web Site: www.apapas.com
CONTACT
RESUME/BIOGRAPHY
PUBLISHED ARTICLES