VIEJAS EDUCATION
VIEJAS INDIAN RESERVATION, April 18, 2011 -- The Viejas Standing Together As Resilient Sisters (V*STARS) youth group rallied members of the Southern California American Indian community together and hosted the Public Safety & Native Wellness Conference (BROCHURE PDF) to promote youth and parent workshops featuring top keynote speakers, cultural activities, positive life skills, social networking and fun!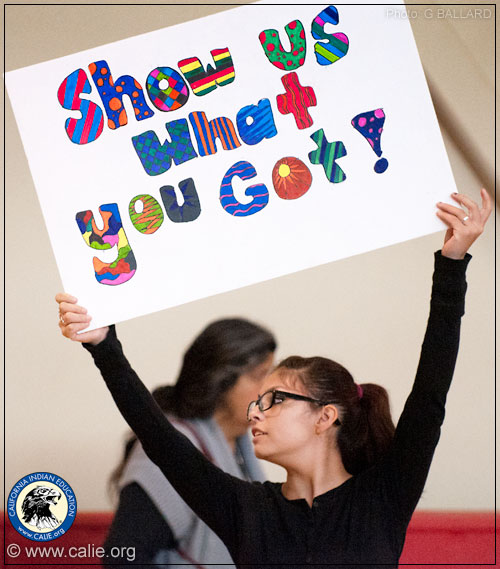 The young V-Stars put a lot of artistic effort into their poster artwork and live presentations — this "Show Us What You Got!" poster is an original hand-drawn Kumeyaay artwork and concept by the V-Star girls — outstanding creative!
V-STARS program was founded by Alan Barrett (Kumeyaay, Viejas).
Viejas cosponsors include:

THE PLACE:
Viejas Indian Reservation.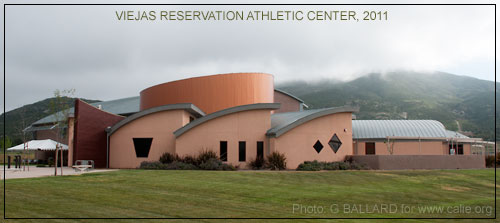 THE TIME:
Time to stand up and seize the moment.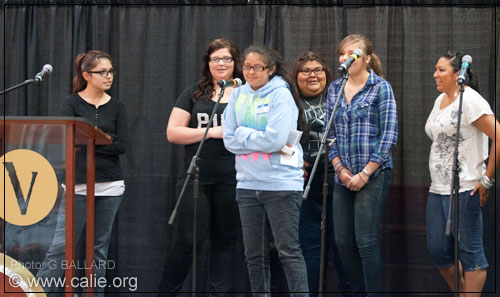 A group of young female V-Stars took the stage and warmly welcomed their honored guests.
THE MISSION:
Impart wisdom and inspire a new generation.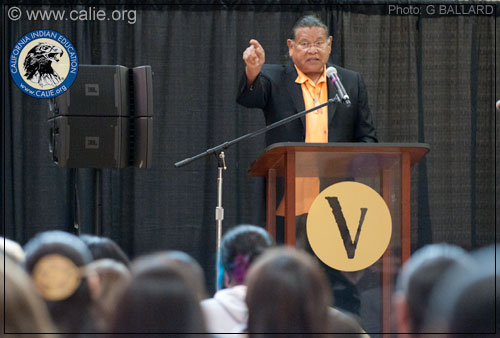 CHAIRMAN ANTHONY PICO gave a traditional-style Kumeyaay blessing and keynote address to his honored guests and esteemed tribal members.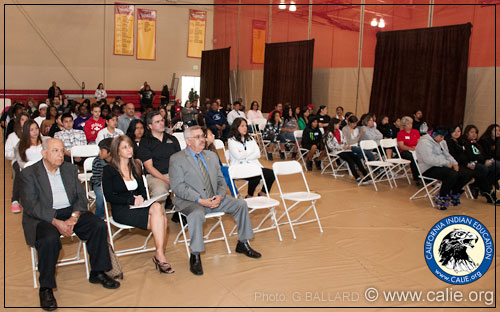 Viejas guests listen to Chairman Pico's presentation in the Viejas reservation gymnasium.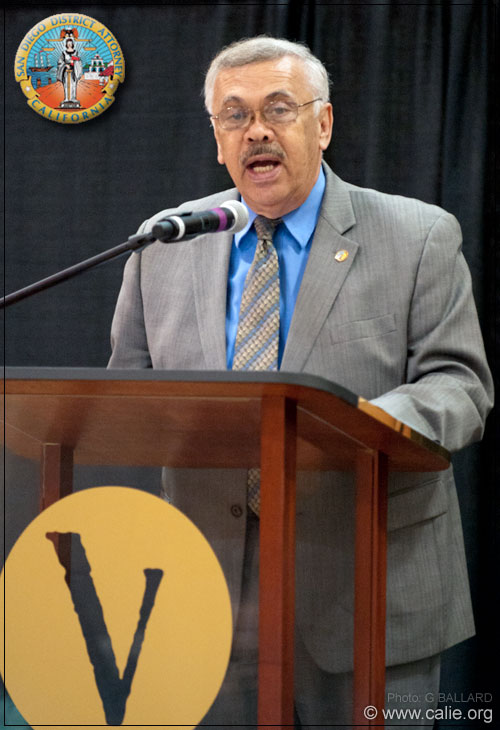 Jesse Navarro, Special Assistant to the San Diego District Attorney, was a keynote speaker and followed Chairman Pico's address.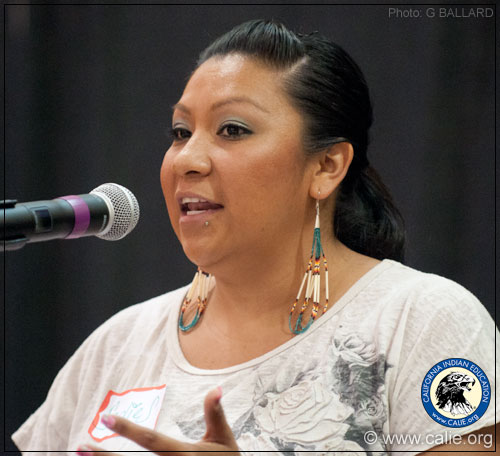 V-STARS advisor Mercedes Elliott (Kumeyaay, Viejas) introduced the keynote speakers and officially commenced with the program agenda.
"Caught Up" CALIFORNIA JUVENILE JUSTICE SYSTEM: Detective Jason Rouse, Juvenile Unit, Santee Station of the San Diego County Sheriff's Department presented students with a real-world insight into the California Juvenile Justice System.
The V-Stars' conference offered many other specialty workshops, including: Internet Crimes, Internet Safety, Positive Relationships, Health and Sexuality.
AMERICAN INDIAN TEACHERS — Native American Indian teachers from the NATIVE WELLNESS INSTITUTE presented on Native Youth Leadership.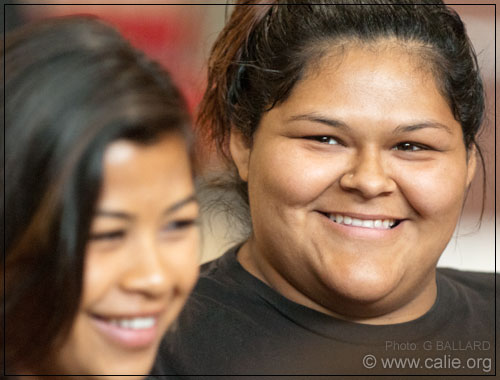 The lively presentation styles kept the young American Indian students engaged and smiling.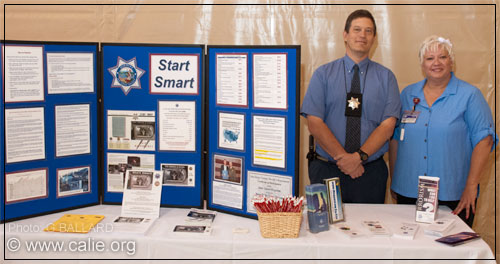 The San Diego County Sheriff's Department had a "Stay Smart" presentation and law enforcement officers manning its career and safety booth.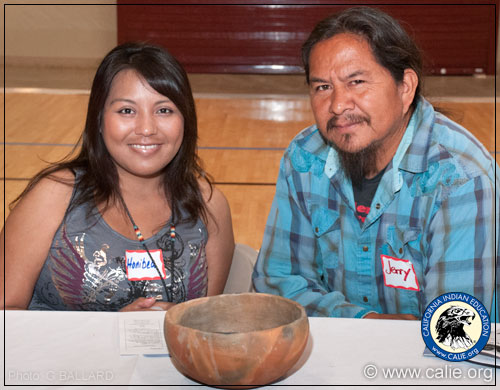 Honibea takes a snapshot at The Inter Tribal Long Term Recovery Foundation booth while sitting with Jerry Kien (Diné). Honibea displays a family heirloom, an antique clay olla pictured in the foreground. Jerry was promoting the Peace and Dignity Journey 2012 during this San Diego East County indigenous event.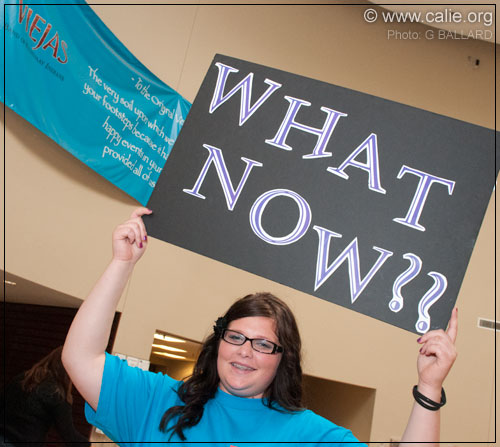 A young V-Star girl carries a "What Now?" sign and brings participants into one of the educational workshops.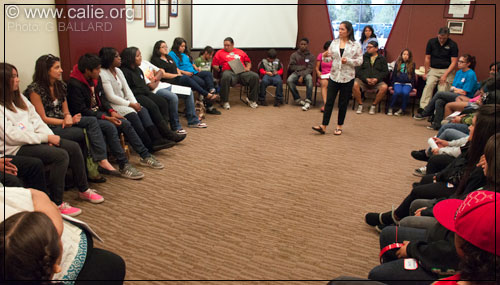 Regina Aguilera (Yaqui) of the Native Wellness Institute pictured in one of her specialized workshops.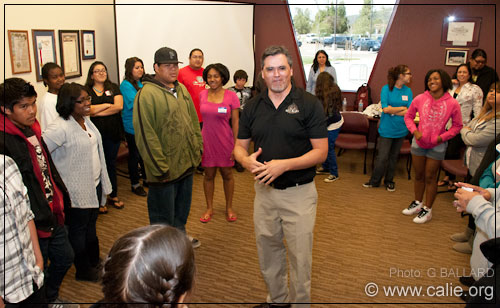 Jay LaPlante (Blackfoot & Cree) of the Native Wellness Institute pictured in one of his educational sessions.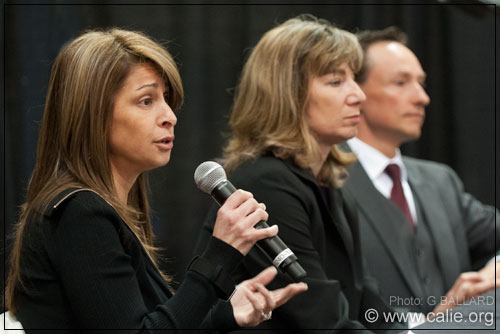 Judge Polly H. Shamoon tells the students and family members about the legal consequences of being arrested and what to expect if they enter the San Diego juvenile justice system. The three member panel is from the Public Defender's Office.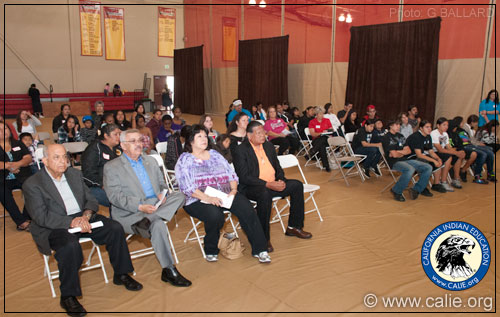 Candid photographs of participants...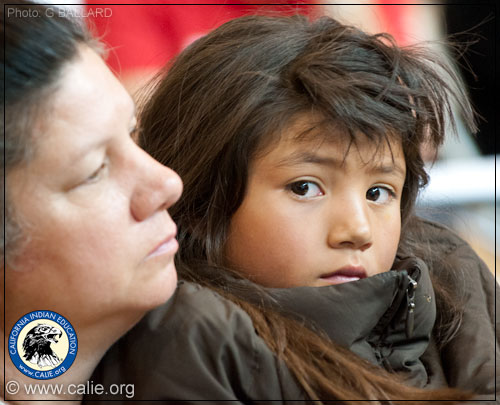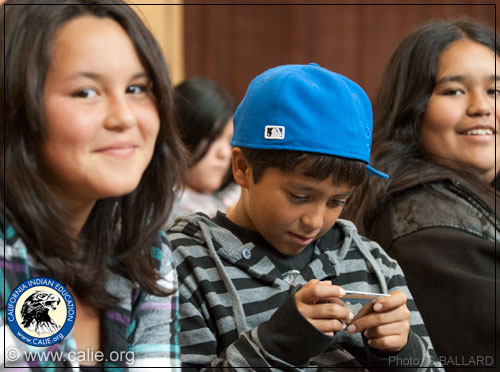 Texting on an Apple iPhone...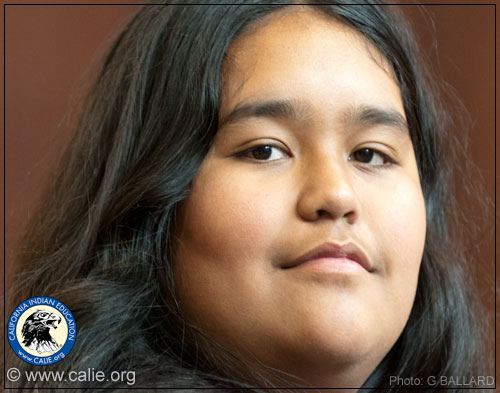 HEALTHY RELATIONS -- LOVE & SUPPORT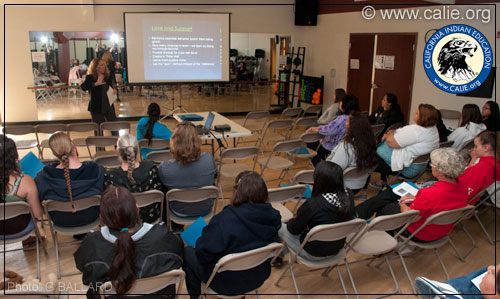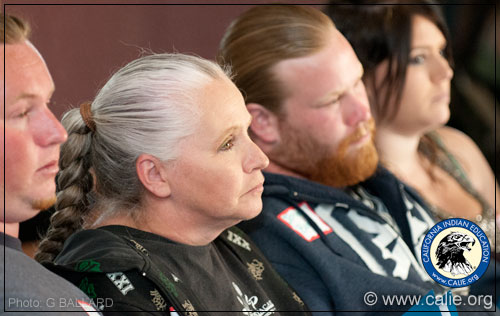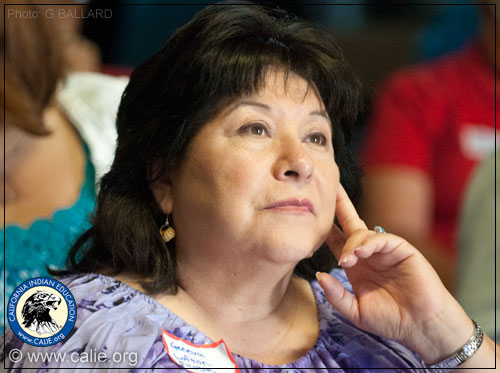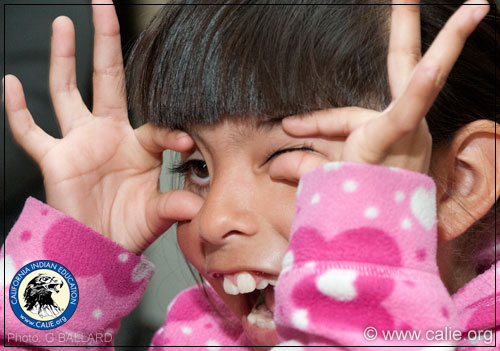 Whacky goings on in the back row...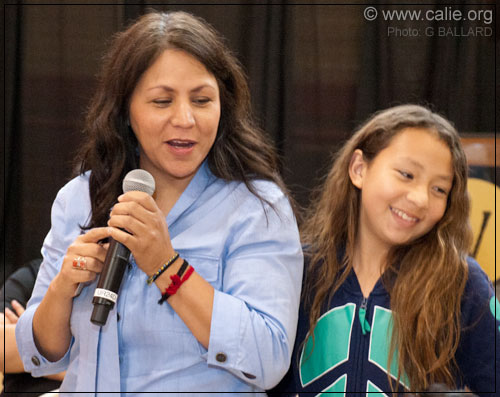 Jeri Brunoe (Wasco, Confederated Tribes of Warm Springs) pictured during a Native Wellness Institute training workshop with her daughter, Gavrielle.
STUDENT SEXUALITY WORKSHOPS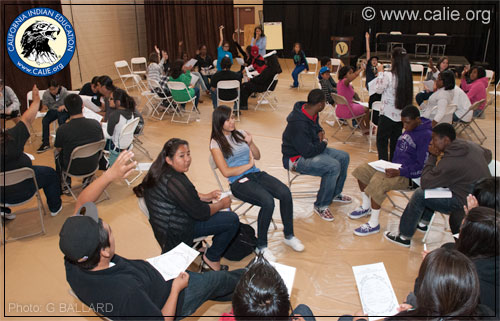 The large group broke out into smaller groups.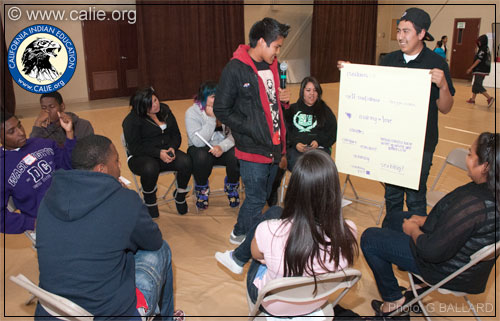 A young male student reads from his group outline.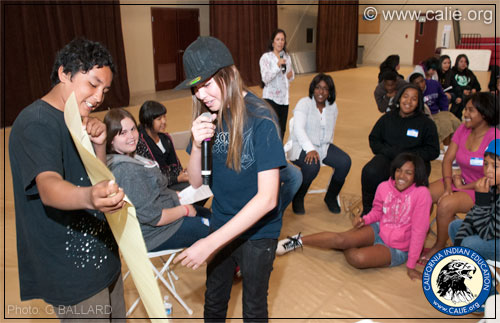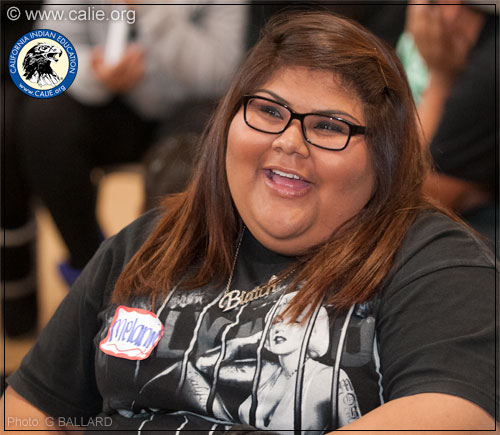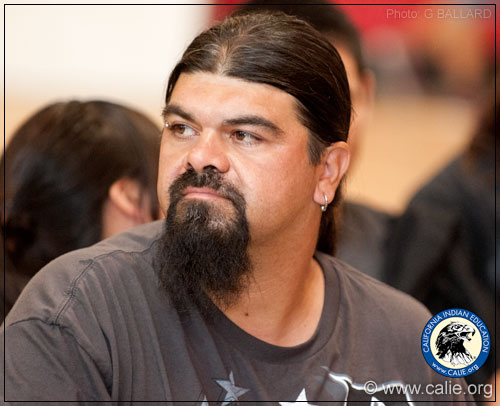 American Indian Education.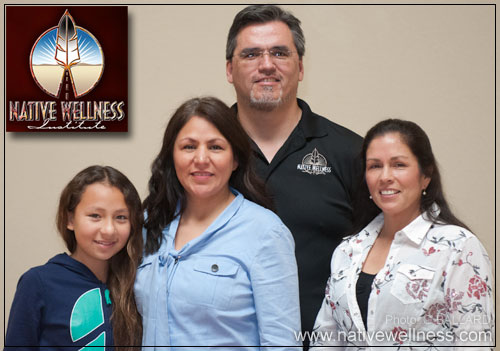 NATIVE WELLNESS INSTITUTE presenters posed for a team portrait.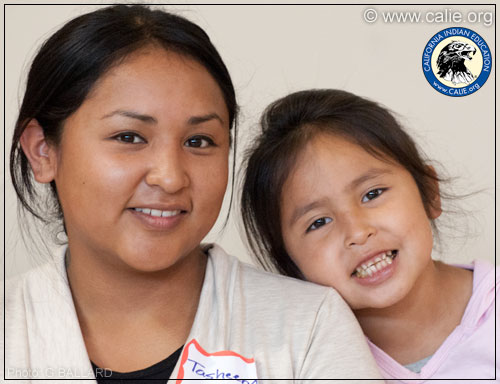 More than just pretty faces...
The PAUL MITCHELL SCHOOL SAN DIEGO beauty artists are always popular with the tribal guests.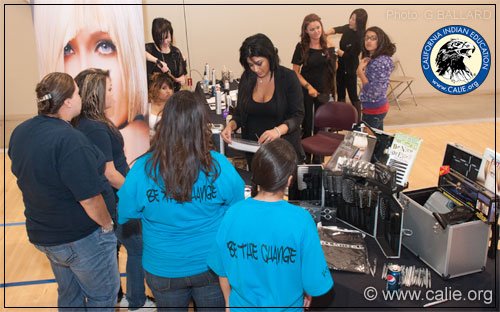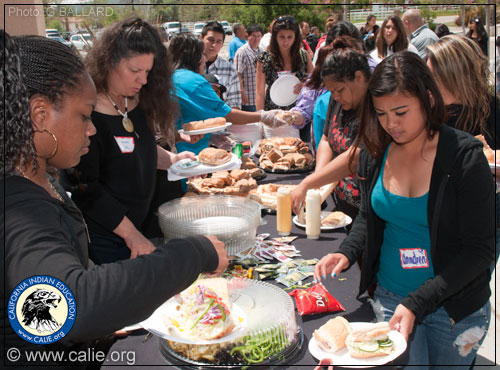 Good nutrition...participants enjoy a picnic-style lunch.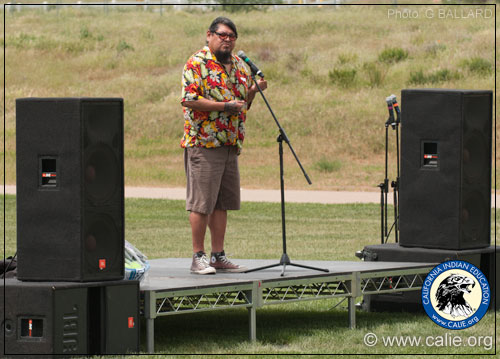 (need his name) Apache stand-up comedian took the Viejas stage and entertained the group.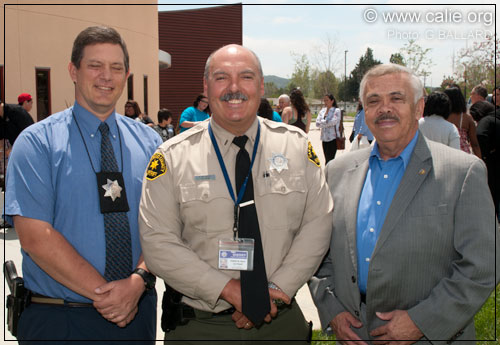 Law enforcement posed for a snapshot.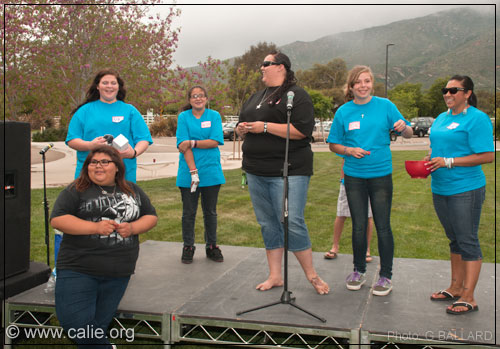 Viejas raffle drawings with Viejas V-Stars on stage and running the show.
Young female interns from the SOUTHERN CALIFORNIA AMERICAN INDIAN RESOURCE CENTER SCAIR manned their booth and answered questions about their family tribal family service centers in Alpine and San Diego
Perse Hooper (left), SOUTHERN CALIFORNIA TRIBAL CHAIRMEN'S ASSOCIATION SCTCA, talks with a group of young girls at the SCTCA booth.

DeVry University, National University, The Art Institutes all had career booths and representatives on hand to answer questions at the Viejas conference.
SMART START CHP: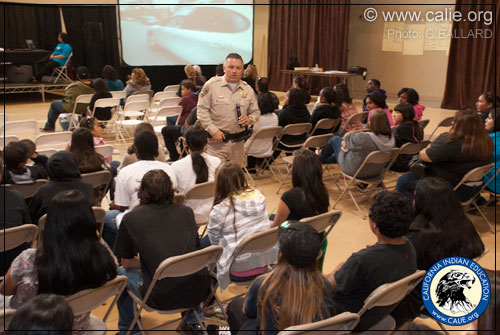 CALIFORNIA HIGHWAY PATROL (CHP) put on its "Smart Start" presentation — featuring a driver safety education class that that targets new and future licensed teenaged drivers between the age of 15-19 and their parents/guardians.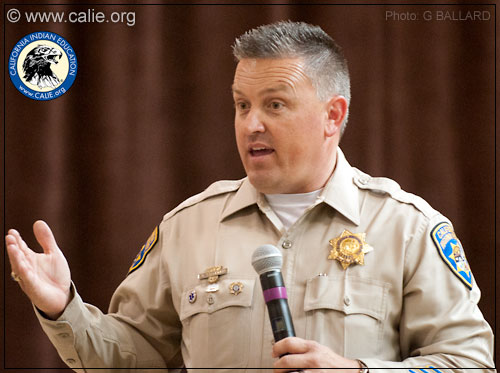 Veteran CHP Officer Brian Pennings (Public Information Officer PIO) gives hard facts about serious issues like driving drunk, collision avoidance techniques, collision causing factors, driver and parent responsibilities, using handheld devices while driving, and mandatory seatbelt usage.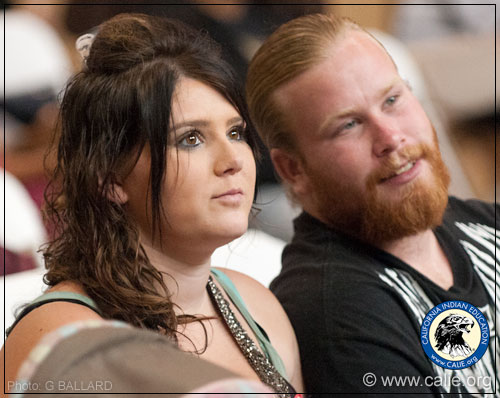 Participants listen to the knowledge...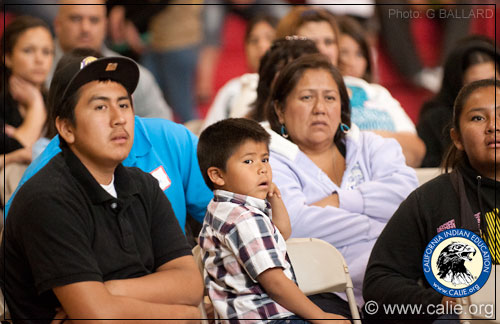 Officer Pennings cautions young children to look away as he begins a series of bloody car wreck and fatality videos included to drive home his safety message.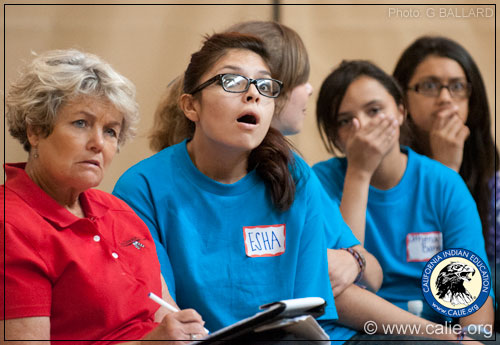 SHOCK & AWE — Participants react to horrific images on screen during the CHP traffic safety presentation.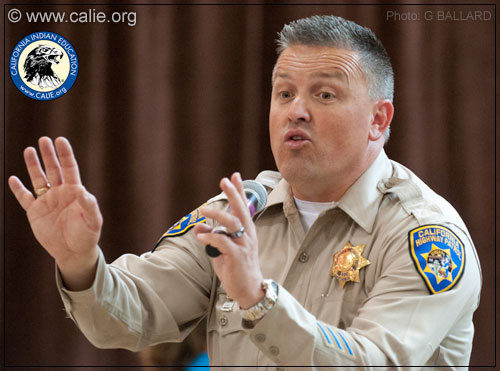 Officer Pennings stresses the importance of understanding the laws and responsibilities, liabilities and the consequences of not following the law.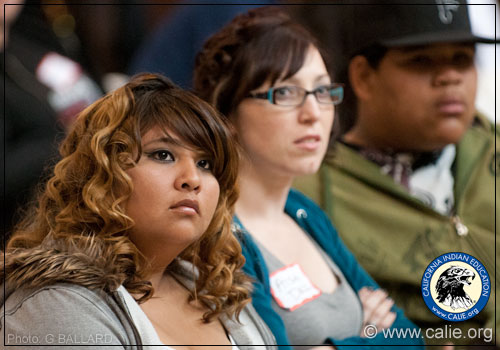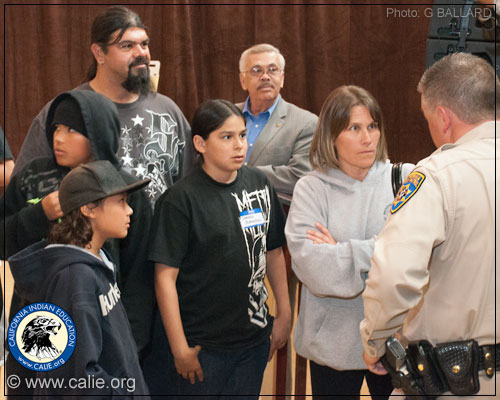 Officer Pennings answered questions at the end of his presentation.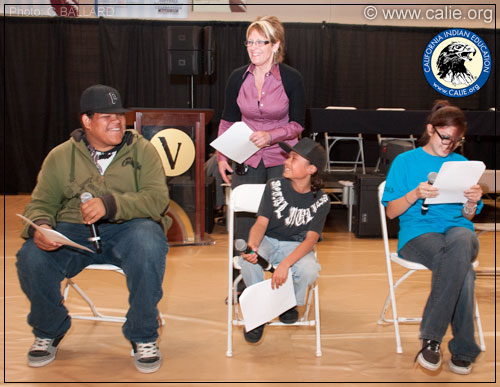 M.A.D.D. Mothers Against Drunk Driving presented — pictured here directing a scene where students read a live script.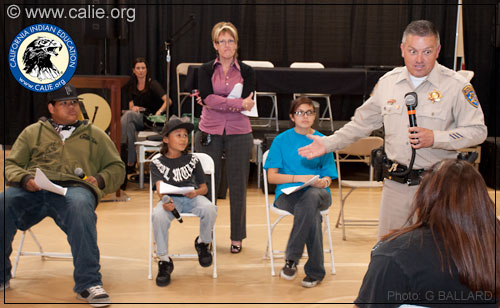 Officer Pennings stresses a major point.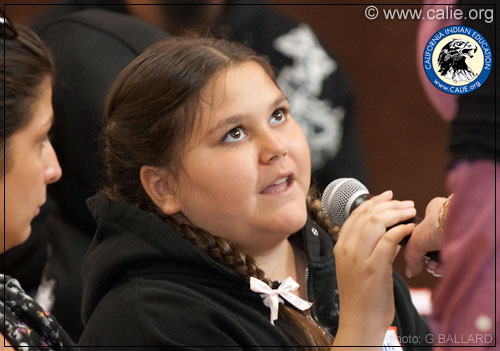 A young girl asks the MADD presenter a question.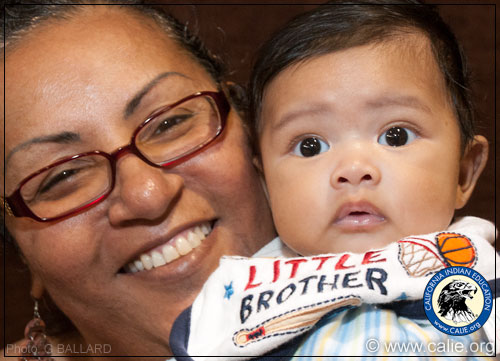 More beautiful tribal faces...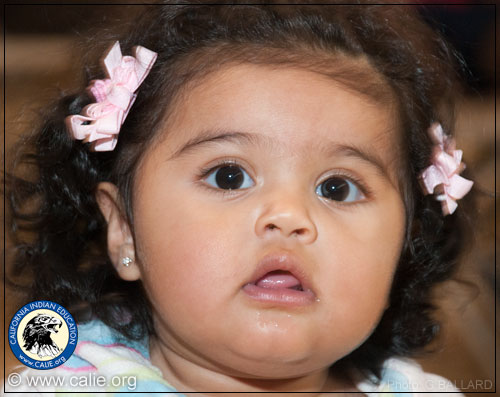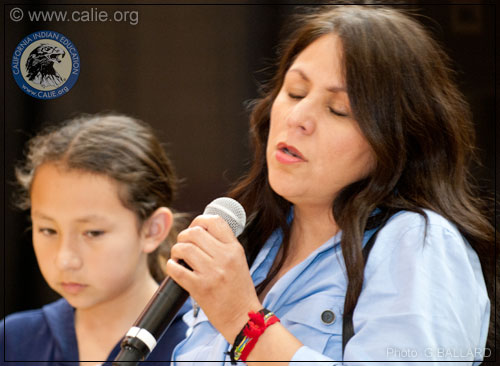 Jeri Brunoe sings traditional song...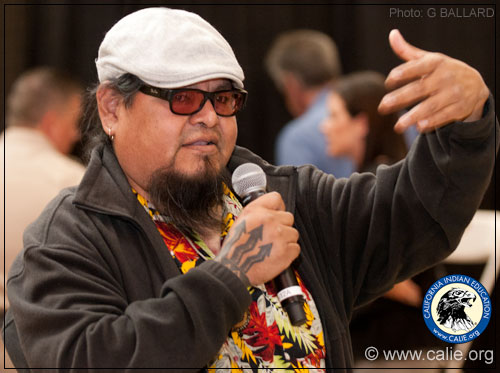 A 21st century Apache man...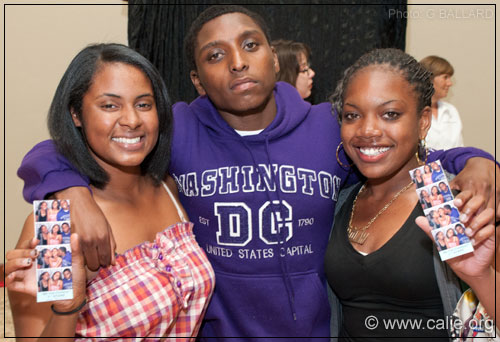 Photo booth pictures...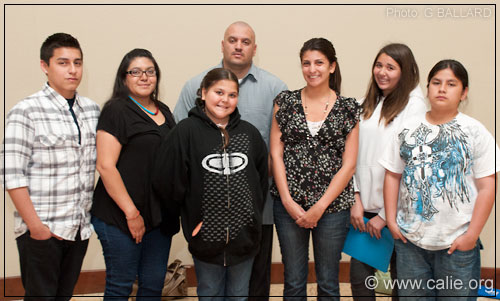 Karin Giron, Program Activity Leader, Urban Adolescent Prevention Program, posed her group for the photographer.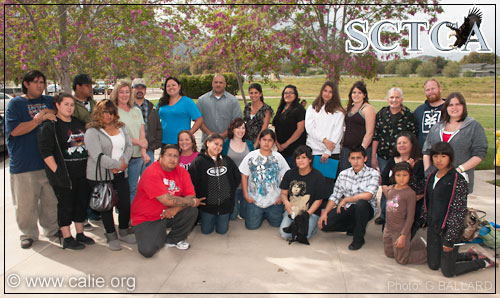 The SOUTHERN CALIFORNIA TRIBAL CHAIRMEN'S ASSOCIATION SCTCA tribal TANF group posed for a picture.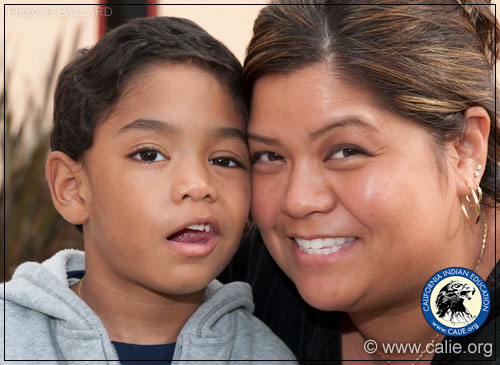 More beautiful American Indian faces.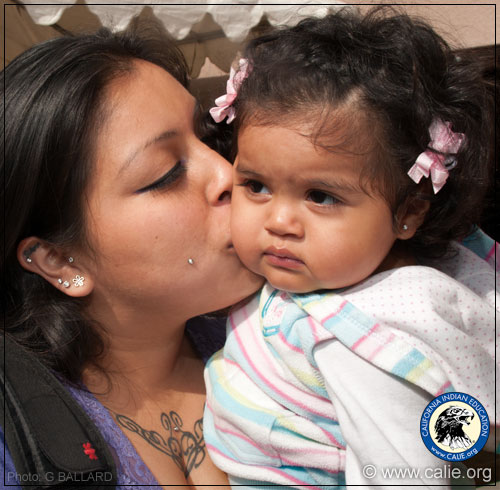 ATHLETICS — SPORTS — EXERCISE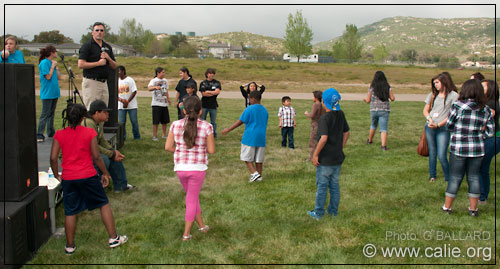 Native Wellness Institute staff brings the students together and explains how to play the game "Tuskis."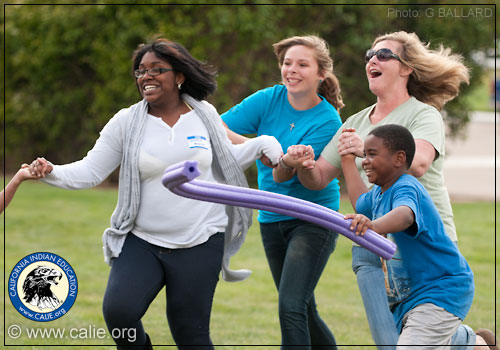 Still not sure what Tuskis is, but it involved a lot of holding hands and running around...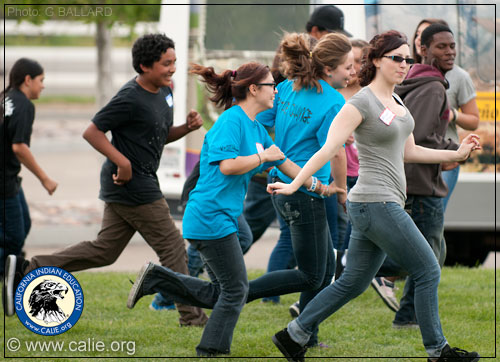 The gamers run around as individuals in a chaotic manner while the tusk holders in the group attempt to touch them with their "tusk" and bring them into the group.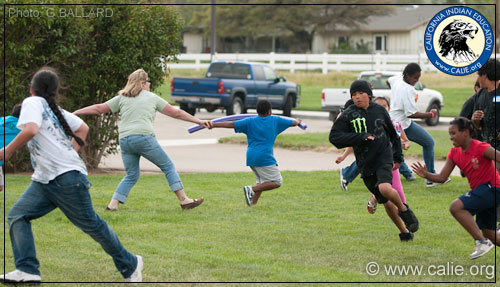 Eventually all but one gamer are holding hands in the main group...it takes a leader to emerge and lot of teamwork and working together to move the large group around the playing field without breaking the chain of hands.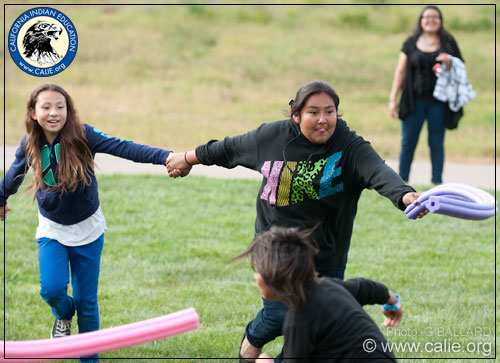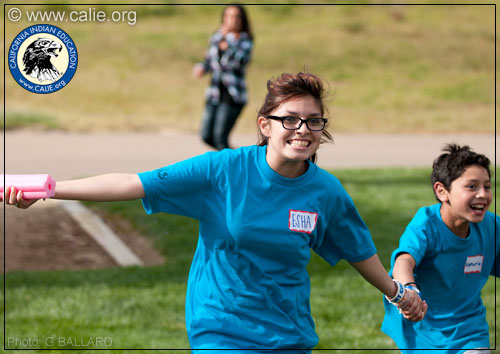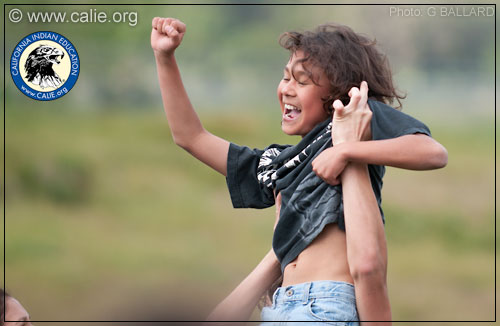 THE WINNER got carried off the field on the shoulders of victory!
Kumeyaay bird singers closed the event.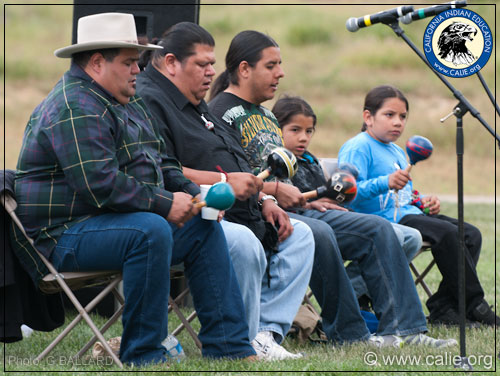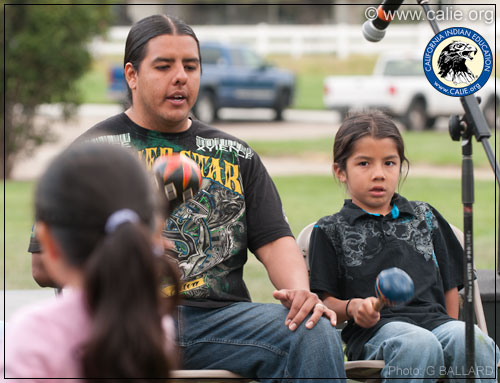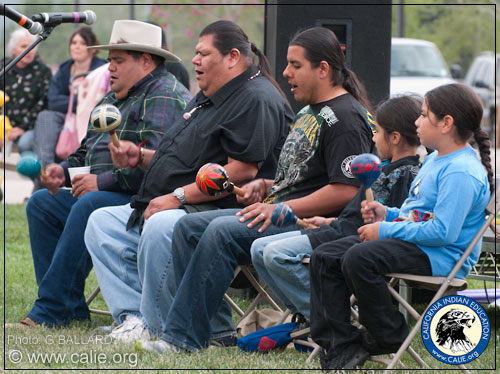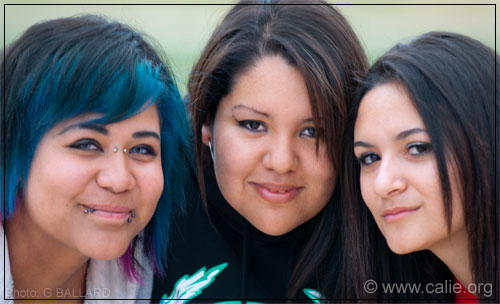 Last photographs of the day were these three pretty girls...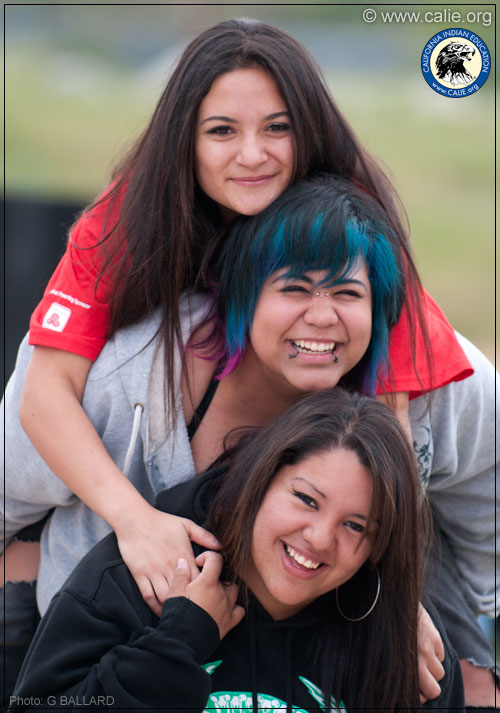 +++++++
WHO PRODUCED THIS BLOG?


Ernie C. Salgado Jr.
Tribal: Luiseño
Reservation: Soboba Indian Reservation
EDITOR: The Indian Reporter www.theindianreporter.com
Founder/CEO CALIE: www.californiaindianeducation.org
Web Site: www.apapas.com
CONTACT
RESUME/BIOGRAPHY
PUBLISHED ARTICLES
PROFESSIONAL PHOTOGRAPHY & DESIGN by G. BALLARD
+++++++
IF YOU LIKED THIS PHOTO BLOG, you may enjoy these, too:


Ron & Virginia Christman honored at First Annual Old Town Soaring Eagles Powwow.


SAN DIEGO DANCERS PERFORM LIVE AT VIEJAS students receive academic awards.


VIEJAS POWWOW — Young California Indian students dance live on the Viejas Indian Reservation.


CIEDA 32nd Annual California Conference on American Indian Education.


Graduation SDSU with BA in Social Sciences, 2004.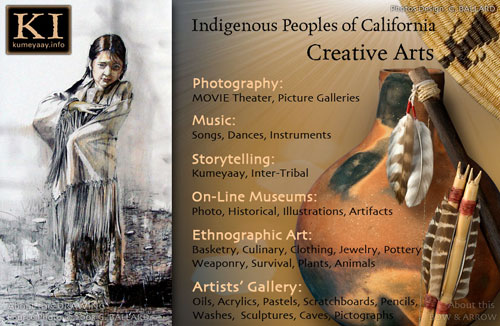 KUMEYAAY CULTURE — learn about the Kumeyaay culture online.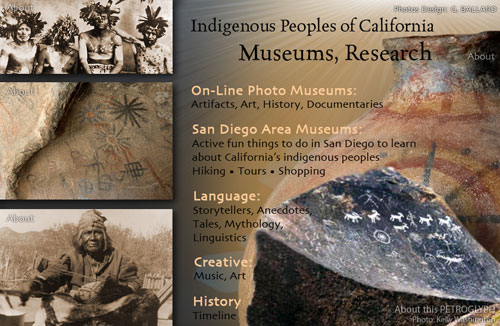 KUMEYAAY RESEARCH — learn information about how to research the Kumeyaay Tribe of Southern California.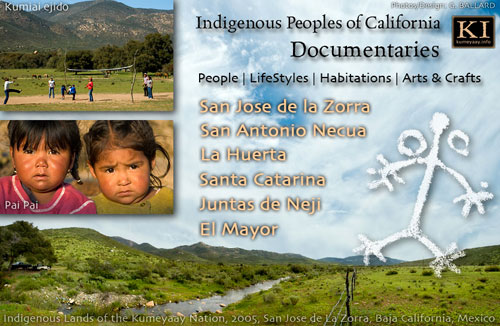 CONTEMPORARY BAJA TRIBAL MULTIMEDIA DOCUMENTARIES — San Jose de la Zorra, San Antonio Necua, La Huerta, Santa Catarina, Juntas de Neji, El Mayor.