Publishing Corner:
TRIBAL BLOGGERS:
ROY COOK NEWS BLOG
THE INDIAN REPORTER
JOURNAL FROM SDC
KAREN VIGNEAULT

Indian Community:
TRIBAL COMMUNITY
PROFILES
OBITUARIES
Science & Wonder
ASTRONOMY PORTAL
KID'S CLUBHOUSE
Indian Heros:
VETERAN COMMUNITY
MEDALS OF HONOR
CODE TALKERS
FAMOUS CHIEFS
HISTORIC BATTLES
POEMS ESSAYS
SPORTS-ATHLETES
MISSION FEDERATION
FAMOUS INDIANS
California Indian Art:
MISSION BASKETS
RED CLAY POTTERY
ETHNOGRAPHIC ART
CAVE ART
MUSIC
CALIE Library:
FEDERAL Resources
HEALTH & MEDICAL
INDIAN BOOK LIST
HISTORICAL Documents
STD Information
Academic Financial Aid:
SCHOLARSHIPS
GRANTS & FUNDING
Tribal Governments:
TRIBAL COURTS
SOVEREIGNTY
SOCIAL SERVICES
TRIBAL DIRECTORY
Indian Gaming:
INDIAN CASINO FORUM

Tribal Chairman
War Veteran, Activist

Anthony R. Pico, Ph.D., Kumeyaay, Viejas
1945-

Español | 中文 | 日本 | Française | Deutsch | 한국어 | Italino | Россию | پارس

Tribal Chairman Anthony Pico, official Viejas Tribal Council portrait, 2011-2015, courtesy of the Viejas Band of Kumeyaay Indians, photo: G BALLARD.

ANTHONY PICO NEWS:


Chairman Pico was named to San Diego's "The Daily Transcript" Top Influentials list for 2013! He was also elected to another term as Viejas chairman (2013-2014).

ANTHONY PICO

Anthony Pico is the elected chairman of the Viejas Band of Kumeyaay Indians. He has served as the Viejas tribal chairman for more than 24 years.

His tribal "rags to riches" story includes his Native American Indian band's rise from abject reservation poverty to tribal ownership of the successful multi-million dollar Viejas Casino and shopping outlet center on the Viejas Indian Reservation, Alpine, Calif.

Please visit the official Viejas website for information to learn about the sovereign Viejas Tribal Government, and Kumeyaay History from a Kumeyaay perspective.

SIX HUNDRED GENERATIONS IN SAN DIEGO

For some 12,000 years, Mr. Pico's Kumeyaay ancestors have occupied the region known today as Southern California (Imperial and San Diego counties) in the USA, and Baja California Norte in Mexico.

Chief Cinon Duro Mataweer (c. 1815-1910) is a famous 19th century American Indian spiritual leader (kuseyaay or tribal shaman). He is the great-great-grandfather of Anthony Pico. Photo courtesy of the Pico family archive, special to calie.org.

"Before gaming and revenue our people lived in despair, in abject and grinding poverty.

"This lifestyle was not a choice that we made.

"We were driven into the mountains, into the rocks — languished there for 150, 200 years not having an opportunity to access the economics of this rich and abundant country.

"We need to be in a place where those children that are not yet born — we know those seven generations ahead of today — need to be in a place where they can stand, have their own land to stand on to be able to make choices, to be able to live in dignity."

-Excerpted from Anthony Pico, PBS interview, 1997




Kumeyaay-Ipai-Tipai-Diegueño TIMELINE & HISTORY essay.

KUMEYAAY BIRD SINGER & POLITICAL ACTIVIST

Kumeyaay Bird Singer Anthony Pico pictured playing a Kumeyaay rattle and singing bird songs with Louis Guassic (Ipai, Mesa Grande), and John Christman (Kumeyaay, Viejas) during an election rally on the Viejas reservation in support of Proposition 1A in 2000.

PROFESSIONAL BIOGRAPHY of Mr. Anthony R. Pico, Ph.D.:

(special to CALIE)

Anthony Pico is a nationally recognized authority and lecturer on American Indian sovereignty and self-governance. For more than two decades he has been a strong voice for Indian self-reliance, economic development and diversification.

Mr. Pico served for most of the past two decades as the elected leader of his tribe, the Viejas Band of Kumeyaay Indians of Alpine, Calif. Under his stewardship and vision, the Viejas Band achieved national and state recognition for its economic and social progress.  Operators and Owners of the Viejas Casino, Viejas Outlet Center and two RV Parks, Mr. Pico currently sits on the tribe's Finance Committee which oversees and provides recommendations on the tribe's business enterprises and future economic development.

Mr. Pico was a driving force and spokesman in the landmark California ballot initiatives in 1998-2000 that brought economic growth to many of the 107 federally recognized tribes in the state and San Diego County. Pico served as co-chair of the Proposition 1A initiative to amend the California Constitution, enabling tribes to engage in gaming on tribal land.

During Mr. Pico's tenure as tribal chairman, Viejas was a leader in promoting inter-tribal business ventures, most notably the establishment of Four Fires and Three Fires LLC, tribal coalitions in the development of Marriott Residence Inns in Washington, D.C. and Sacramento, Calif.

A Kumeyaay leader and traditional bird singer, steeped in the customs and traditions of his people, Mr. Pico leads by consensus, example and a commitment to the well-being of the Viejas people.

Mr. Pico recently served as a director of the Native American Rights Fund (NARF), a nonprofit law firm dedicated to asserting and defending the rights of Indian tribes, organizations, and individuals nationwide. In 2007, Mr. Pico was appointed to the Board of Trustees for the Gene Autry Center. Based in Los Angeles, the Center celebrates the American West through three important institutions: the Southwest Museum of the American Indian, Museum of the West and the Institute for the Study of the American West. He is also a director for Borrego Springs Bank, one of the first American Indian owned banks in the United States.  Mr. Pico was named the National Indian Gaming Association (NIGA) Man of the Year in 1997 and received the organization's 2007 John Kieffer Award demonstrating a lifetime of achievement and commitment to Indian Gaming.  Pico is also a recipient of the prestigious 2008 Award for Public Service from the Woodrow Wilson International Center for Scholars of the Smithsonian Institution.

He has an associate of arts degree from Grossmont College in El Cajon, California, and an honorary doctor of humane letters from Long Island University, New York.  He served as a U.S. Army paratrooper in Vietnam, where he received a number of Distinguished Service medals.
VIEJAS INDIAN RESERVATION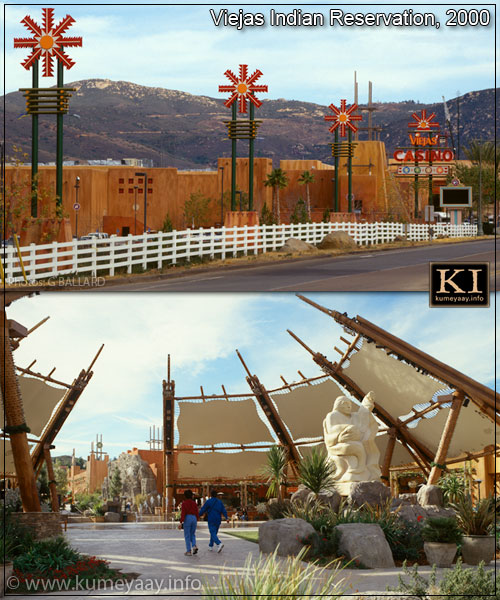 VIEJAS CASINO & OUTLET CENTER: As the elected Chairman of the Viejas band at the turn of the 21st century, Mr. Pico was instrumental in establishing the successful Viejas Casino and sprawling Viejas Outlet Center on the Viejas Indian Reservation. These two historical Viejas pictures were taken in January of 2000, courtesy of the Kumeyaay Information Village historical archive.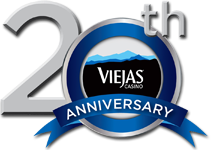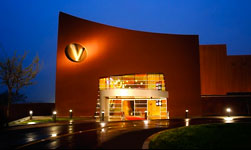 VIEJAS CASINO features 2,000 slots, 37 table games, plus 18 Poker tables, and the DreamCatcher Showroom for live concert entertainment. With family entertainment venue, the sprawling VIEJAS OUTLET CENTER (adjacent to the casino) features top name brand factory stores like Polo, Ralph Lauren, Nike, Vans, GAP, Guess, Coach, Chico's, Pacific Sunwear (to name a few of the 60 Viejas stores). The beautiful Viejas shopping center features seasonal Native American-themed live shows like Power of Nightfire, Splash Tracks and Ice Princess for live casino show entertainment, as well as an outdoor ice skating rink and a family bowling center: VIEJAS BOWL.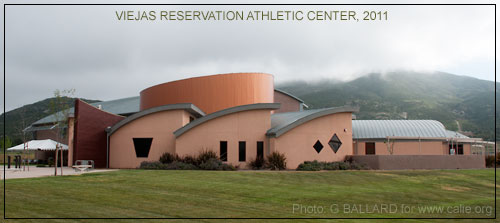 MODERN RESERVATION — The Viejas reservation sports state-of-the-art tribal facilities such as the sprawling athletic complex that was built on IPAI-TIPAI PARK "THE PEOPLES PARK" grounds, and includes a large children's playground, ball fields and a nearby tribal educational complex.
TRIBAL CHAIRMEN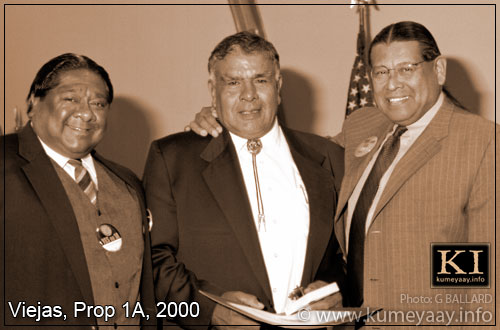 TRIBAL CHAIRMEN: Chairman Pico and his fellow Kumeyaay chairmen spearheaded the successful movement of California's historical Prop 1A in 2000. Pictured above during a political rally on the Viejas reservation above with life-long friend Chairman Leroy Elliott (Kumeyaay, Manzanita) and Chairman Danny Tucker (Kumeyaay, Sycuan).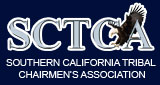 Please see SOUTHERN CALIFORNIA TRIBAL CHAIRMEN'S ASSOCIATION Web site for more information about the 19 member bands of Southern California Indians and their mission to protect American Tribal Sovereignty and important social issues related to the health, well-being, culture, education and fair economic growth of indigenous Americans across North American tribal lands.
VIEJAS EDUCATION — Viejas V-STARS rally Southern California Indian community tribal members on the Viejas Indian Reservation for their Public Safety & Native Wellness Conference for Native American Indian youth and families...professional photo blog.

VIEJAS TRIBAL ELDERS HONORED — Ron & Virginia Christman honored by famous Native American youth group during the First Annual Old Town Soaring Eagles Powwow...professional Indian Country community news feature.