Publishing Corner:
TRIBAL BLOGGERS:
ROY COOK NEWS BLOG
THE INDIAN REPORTER
JOURNAL FROM SDC
KAREN VIGNEAULT

Indian Community:
TRIBAL COMMUNITY
PROFILES
OBITUARIES
Science & Wonder
ASTRONOMY PORTAL
KID'S CLUBHOUSE
Indian Heros:
VETERAN COMMUNITY
MEDALS OF HONOR
CODE TALKERS
FAMOUS CHIEFS
HISTORIC BATTLES
POEMS ESSAYS
SPORTS-ATHLETES
MISSION FEDERATION
FAMOUS INDIANS
California Indian Art:
MISSION BASKETS
RED CLAY POTTERY
ETHNOGRAPHIC ART
CAVE ART
MUSIC
CALIE Library:
FEDERAL Resources
HEALTH & MEDICAL
INDIAN BOOK LIST
HISTORICAL Documents
STD Information
Academic Financial Aid:
SCHOLARSHIPS
GRANTS & FUNDING
Tribal Governments:
TRIBAL COURTS
SOVEREIGNTY
SOCIAL SERVICES
TRIBAL DIRECTORY
Indian Gaming:
INDIAN CASINO FORUM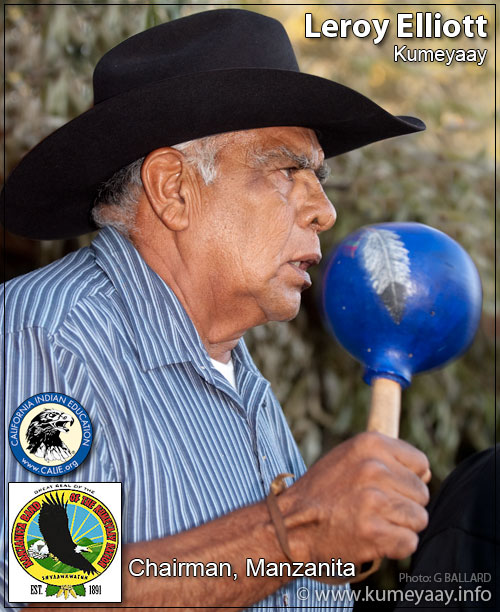 HISTORICAL KUMEYAAY PHOTOGRAPHS courtesy www.kumeyaay.info
KUMEYAAY INDIAN LEADER: As elected Chairman of the Manzanita Band of the Kumeyaay Nation, Chairman Leroy Elliott is a fluent Native speaker of his Kumeyaay language, a Kumeyaay bird song leader, and he is dedicated to the preservation and teaching of his Kumeyaay traditions and Southern California American Indian culture.
LEROY ELLIOTT

Forward by Anthony Pico, March 2, 2010 (special to CALIE)

have known Chairman LeRoy Elliott since we were children. 

I understand now in retrospect, he was even then, someone who cared deeply about others.  He was, even then a peacemaker.  He wondered why some people choose confrontation over harmony.  Why people chose dishonesty over truthfulness.  Why people chose indifference over compassion.

As a fluent Kumeyaay speaker, he embraced the Indian way of life. He was raised by the older people who gave him a profound insight into much of what was good about being Kumeyaay-values like generosity, patience, tenacity, active compassion, humility and having awe of the old way of life.  Often he chose what was noble rather than what was easy or expedient.  His interest in indigenous language, music and dancing were always and still are at the forefront of his life.

As he emerged into adulthood, he became more and more adapt at singing Kumeyaay Bird Songs and carried many people with him, me included, into the reality of what being Kumeyaay is.  It wasn't until he became chairman of his beloved Manzanita Band of Mission Indians, that all he learned about being Kumeyaay was woven like a tapestry into contemporary Indian leadership.  This set him apart from other leaders.

In my opinion, Chairman LeRoy Elliott leads his people using traditional values while embracing modern leadership ideas.  The love of his people manifests itself by providing Kumeyaay cultural direction, standard housing, emergency services, strong direction for the youth, self reliance, an economic pathway and unity for his people.

He is the optimum role model by saying little and doing much.  His professional life as a leader is grueling and time consuming but he is so generous with his time.  For example, when our people die he is frequently asked to perform our death ritual by singing and dancing all night (sometimes two nights).

His compassion and generosity know no bounds as he gives to who call his name.  He is singly responsible directly or indirectly for the teaching of Kumeyaay Bird Songs to every singer alive today.

I am privileged to have been taught many things by Chairman Elliott, not the least is my perspective on the Kumeyaay way.  I count LeRoy Elliott as my best friend; many others will say the same.  I am grateful to have been born in his era.

Anthony R. Pico, PhD.
Former Chairman of the Viejas Band of Kumeyaay Indians
TRIBAL CHAIRMEN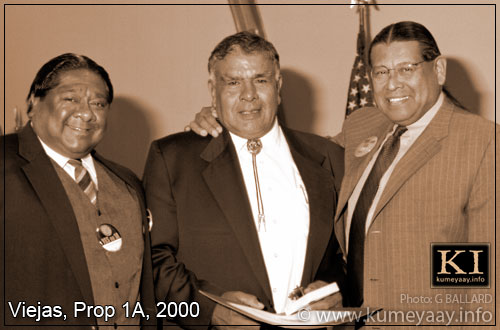 TRIBAL CHAIRMEN: Chairman Elliott and his fellow chairmen led the successful movement of California's historical Prop 1A in 2000. Pictured during a political rally on the Viejas reservation above with Chairman Anthony Pico (Kumeyaay, Viejas) and Chairman Danny Tucker (Kumeyaay, Sycuan).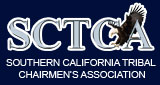 Please see SOUTHERN CALIFORNIA TRIBAL CHAIRMEN'S ASSOCIATION Web site for more information about the 19 member tribes of Southern California and their mission to protect American Tribal Sovereignty and important social issues related to the health, well being, culture, education and fair economic growth of indigenous Americans across the southwest U.S.A. and North American tribal lands.
KUMEYAAY BIRD SONG LEADER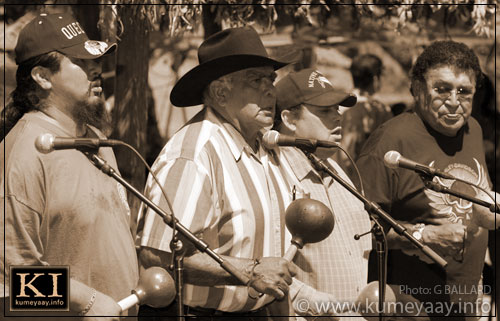 FAMOUS CALIF TRIBAL SINGERS: (L-r) Yet-to-be-identified tribal singer wearing a Quechan logo cap, Leroy Elliott (Manzanita, Kumeyaay), Louis Guassac (Mesa Grande, Ipai), George Prieto (Sycuan, Kumeyaay) — pictured 2005 during a large Kumeyaay gathering in San Diego County.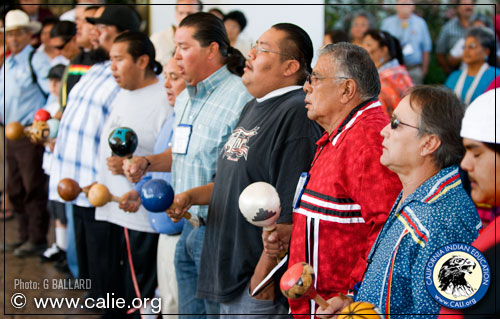 Wherever you find famous California birdsingers gathering, singing traditional California tribal songs and playing Yuman-style gourd rattles in Southern California Indian country, keep a sharp eye out for Leroy Elliott (above wearing a bright red ribbon shirt).
Pictured above on the Barona Indian Reservation during the 6th Annual Yuman Family Language Summit, the large group of Yuman singers include, Larry Banegas, Barona (in blue ribbon shirt), John Christman, Viejas, Louis Guassac, Mesa Grande, and Demetrio Pulido, La Huerta.
MULTIMEDIA: Listen to Kumeyaay birdsinger Jon Mesa sing a traditional Kumeyaay bird song.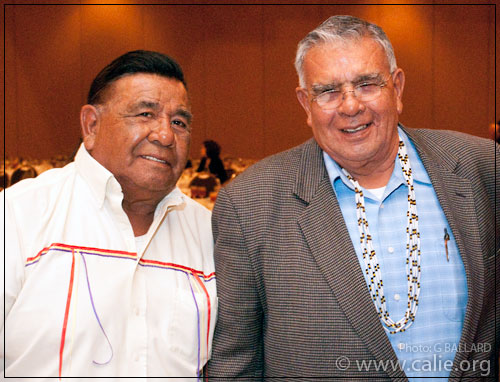 INDIAN BROTHERS: Leroy is pictured alongside his brother, Nick Elliott, in 2009.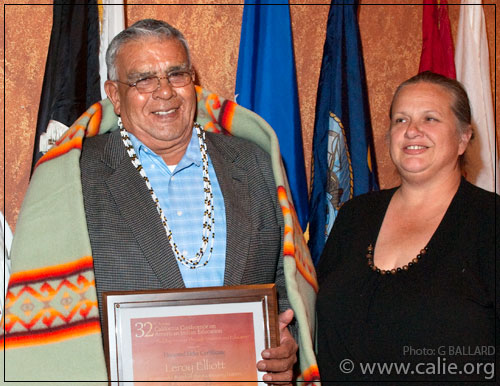 HONORED AND RESPECTED Native American Indian elder Chairman Elliott was presented with an Indian blanket and Honored Elder Certificate during the CIEDA 32nd Annual Conference on American Indian Education in Palm Springs, March 31, 2009. Debbie Cuero (former education director of the Campo reservation) presented the prestigious award honoring to Mr. Elliott.
LEROY ELLIOTT KUMEYAAY BIOGRAPHY
Biography source: CIEDA 32nd Annual Conference on American Indian Education brochure.
Leroy Elliott is the Tribal Chairman for the Manzanita Band of the Kumeyaay Nation and he has served the Manzanita people as their Chairman since 1998.
Leroy Elliott was born in 1943 to Adelina Aswayo (Aswayo Clan) and John Elliott (Hilmeup Clan), and he was raised on the Manzanita Indian Reservation.
Leroy Elliott is a Kumeyaay bird song leader and respected Kumeyaay elder.
As the last fluent speaker of the Kumeyaay language at Manzanita, Leroy Elliott is dedicated to preserving and teaching the Kumeyaay language to the Manzanita people. Mr. Elliott is a strong advocate for continuance of his language, traditions, culture and beliefs.
LEARN MORE ABOUT KUMEYAAY PEOPLE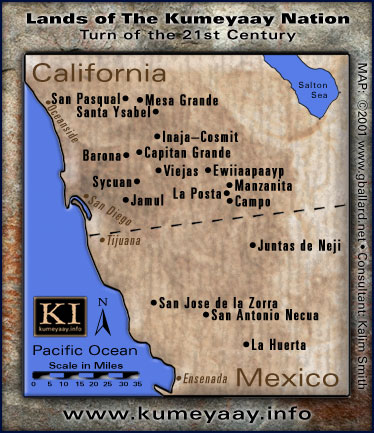 KUMEYAAY TRIBAL GUIDE lands of the Kumeyaay Indians at the turn of the 21st century.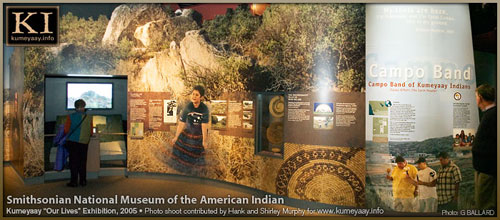 KUMEYAAY AT THE SMITHSONIAN — the Kumeyaay Nation was featured in the Smithsonian National Museum of the American Indian "Our Lives" exhibition in Washington D.C.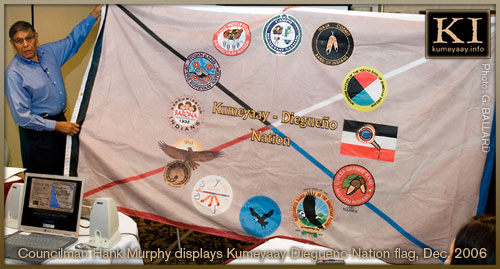 CALIFORNIA INDIAN SOVEREIGNTY — the Manzanita Band of the Kumeyaay Nation is one of thirteen federally-recognized Kumeyaay bands in Southern California that comprise the Kumeyaay Tribe of North America. In addition, there are four recognized Kumiai Indigenous Communities in Northern Baja California, Mexico.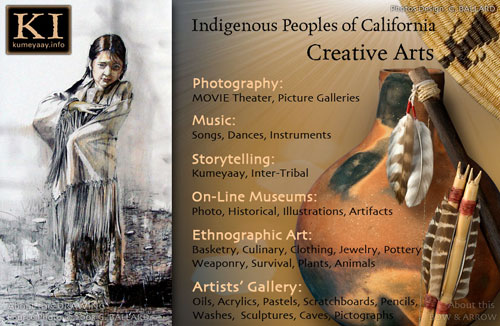 KUMEYAAY CULTURE — learn about the Kumeyaay culture.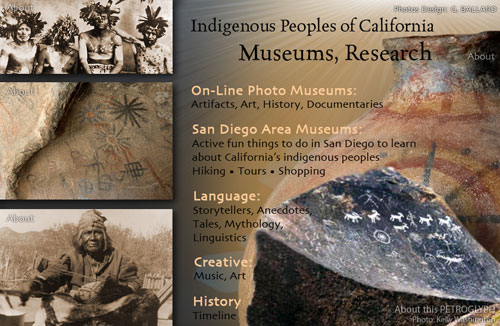 KUMEYAAY RESEARCH — learn how to research the Kumeyaay Tribe of Southern California.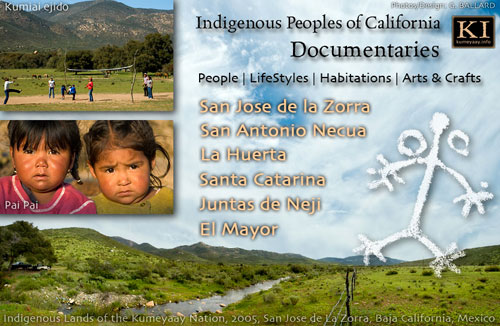 CONTEMPORARY BAJA TRIBAL MULTIMEDIA DOCUMENTARIES — San Jose de la Zorra, San Antonio Necua, La Huerta, Santa Catarina, Juntas de Neji, El Mayor.
PROFESSIONAL WEB DESIGN BY GARY G BALLARD