Jackson Bussell Boxing Statistics:

Soroco High School (1997), Oak Creek, Colorado
College: Oregon Institute of Technology
Weight & Height: 5' 4" 145 lbs.
Native American Boxer: Modoc, Klamath Tribes
Amateur Fights: 60
Professional Fights: 4 (1 win, 1 loss, 2 draws)
JACKSON "ACTION" BUSSELL (1978-2007)
Jackson K. Bussell, 28, died a day after he collapsed in the boxing ring at the end of a six-round professional fight with Javier Garcia, September 20, 2007. The fight took place in Calabasas, California, and ended in a draw.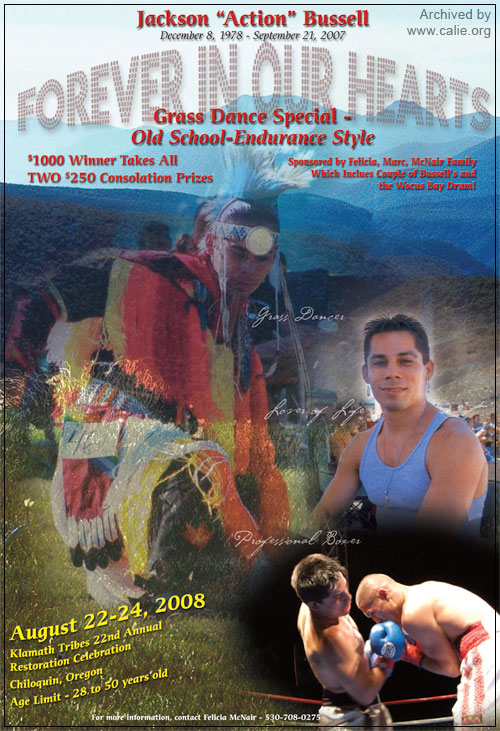 In Loving Memory of Jackson Bussell
by Felicia McNair (his mother)
Jackson Kit-tsie Bussell was born December 8, 1978, and died September 21, 2007.
Jackson boxed as both Amateur and Professional. His "ring" name was "Action".
Amateur Career:
JACKSON TURNED PROFESSIONAL IN 2006 when he moved to Reno, Nevada, and boxed out of Koncrete Davis Gym under Kelly Davis. See www.nevadaappeal.com article Heartache, Tragedy, Triumph for Davis Brothers. They still have a banner up that reads "In Memory of Jackson Gone But Never Forgotten".
During his boxing careers Jackson attended Oregon Institute of Technology and was working towards a major in Engineering, and a minor in Business Management. He was able to maintain a 3.4 GPA and was in his Junior year.
Jackson's school days started in the dark hours where he worked out, ran 12-15 miles then went to school, then to his part-time job. After work, he would then study, more training and more studying. He worked very hard to achieve his goals.
Jackson was very proud of his Modoc/Klamath heritage and was a member of The Klamath Tribes.
He was also a motivational speaker for different Native communities in California and Oregon. He talked to Native Youth of their "choice to choose NOT to drink and drug".
He spoke of his experiences and how he found boxing and used it as his resource for anger management. He didn't want trouble with the law.
It was hard enough to walk in his community just being Native.
He wanted Youth to know that with education you could be whatever you wanted to be. Education gives you the ability to compete in a world that can make it difficult.
He believed a dream didn't just have to be a "Dream!"
Don't wait for others and expect them to give it to you…Work for it, because if you do you will feel an accomplishment that no one can "GIVE" you.
He would also tell them "as a Native on the street you had no respect unless you gained it from intimidation and fear, which were ways that your Traditional Family did not be want for you because they worried about what might happen.
BUT after I started following my dream as a boxer and in college I got the kind of respect that did not even compare to forcing fear.
Jackson could now walk the street in his home town and all different races came up to him, excited to shake his hand and yes even some requests for autographs (which embarrassed him).
Jackson Bussell was now a name that was known for his boxing, college, and GOD.
He could speak to people (all people) at levels they chose- from "REZ" to Highly Educated, from pow wow to splitting atoms.
He was funny. Like stand-up comedy funny. He always had people laughing. He loved to dance as a Grass Dancer in the Pow Wow circle. He drummed and sang with his family drum Wocus Bay.
Family and his Native blood was everything to him. He had about 400 mourners at his service of "Life" that lasted over three hours. That is huge for such a Young man.
The Last three years Jackson's Family and Drum group Wocus Bay have  held a Grass Dance Special with 2010 being a Chicken Dance Special because Jackson was changing from a Grass Dancer to a Chicken Dancer. His regalia were under construction. His Special will be August 27-29 at the Klamath Tribes 23rd Annual Restoration Celebration.
Jackson's death was literally reported around the world.
You can still find many news article to this day by just putting in Jackson's name and you can see one after one…even Indian Country reported his death.
He loved God and he carried his small bible everywhere. He always read it while he waited for planes, or before a fight. He was not ashamed to love God!
He more than once literally gave the coat off his back to someone who he thought needed it more than he did. He was far from perfect but he was loved by many!
His Mother and Step Dad were honored by the Lion's Den Ultimate fighting under Ken Shamrock in Redding California.
Jackson helped train and work out with some of the team members, which his loss was also felt by the team.
The boxing ring bell was rang ten times all over in honor of my son, Jackson.
"Forever in Our Hearts" Jackson Bussell.
The McNairs-Bussells honor their son's memory by sponsoring a special event in The Klamath Tribes' annual powwows: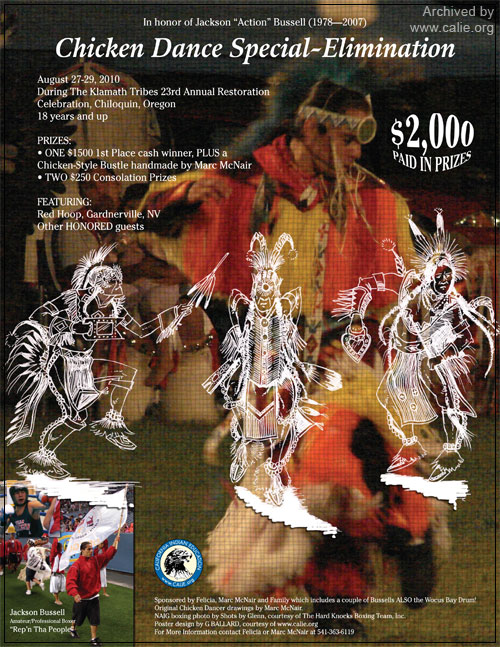 In this CALIE-sponsored pow-wow poster, Jackson is pictured dancing in his Grass Dancer regalia, and carrying the The Klamath Tribes flag at the Denver Olympics in 2006, original Indian sketches by Marc McNair.

Other athletic accomplishments:
Colorado State Wrestling Champion 1997.
Colorado State Second Place in 1996 and 1995.