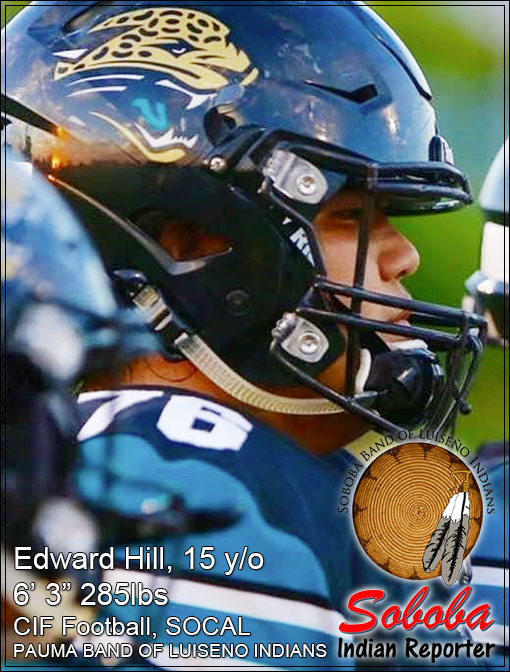 Pauma's Edward Hill All CIF Football
Stats: 15 years old | 6'3" | 285lbs
Standout High School Athlete
by Ernie C. Salgado, Jr., Editor, Soboba Tribal Elder
Edward is a tribal member of the Pauma Band of Mission Indians. He lives on the Pauma Indian Reservation with his mother, Bennae Calac and sisters.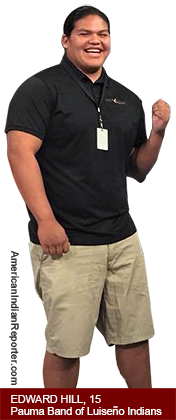 At six foot three and 285 pounds, 15-year-old Edward Hill, a Junior at Valley Center High School in Escondido, Southern California has captured the attention of some of the most prestigious football powers in the nation.
Not since the 2009 movie, "Blind Side" that immortalized All American Michael Oher has a high school offensive tackle garnished so much attention on a national level.
The standout young American Indian athlete has been the dominating force for the success of the Valley Center football team during 2016 and 2017 seasons and is expected to be even more intense in the 2018 season.
As co-captain of the team and his selection as the leagues MVP as an offensive lineman speaks for itself.
He was selected to the California Interscholastic Federation (CIF) 2017 football first team as an offensive tackle.
As one of the most significantly recruited player in the country not only for his athletic proficiency but his academic capability as well.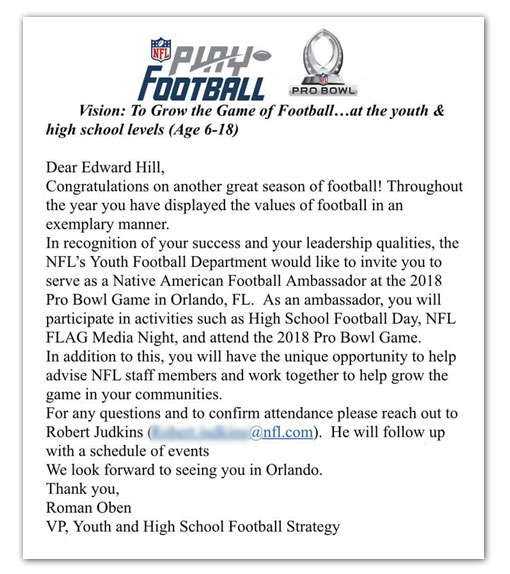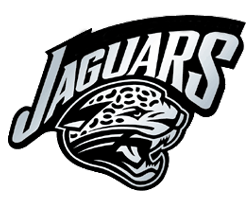 In addition to his recognition as one of the most exceptional line-man in the Nation he sports a solid 3.75 GPA. He is also a member of the school's academic team.
With all the adulations bestowed upon him he remains humble and solidly grounded. His mother, Bennae, makes sure of that. As a single mom, she is a strong willed Indian woman (an under-statement) she is a driving force behind her son.
Edward comes from a long family line of highly successful athletics, academics and tribal leaders.
His uncle, Dan Calac MD is a Harvard Medical School graduate and is a medical doctor. He is currently the head of the Indian Health Clinic in Rincon; his maternal grandmother was a Registered Nurse and another uncle served as the Superintendent of Schools of the Escondido School District.
Another great uncle, Pete Calac played professional football from 1916 to 1926. He was regarded as one of the best running backs of his time along with one of his team mates, the famous Jim Thorpe.
Although he has had many aunts, uncles and cousins that have been recognition for their outstanding abilities as athletic, academic and Tribal Leaders look for him to be taking it to a new level.
Edward Hill, is much more than an outstanding football player, he is a future tribal leader in training.
Ernie Salgado Seeks to Establish New American Indian Reporter Newspaper
Read his open letter to the SOCAL tribes
We invite your tribal participation with the American Indian Reporter newspaper.
Our goal is to release the first printed issue on April 1, 2018.
The American Indian Reporter will be designed to serve Southern California American Indian tribes. It will be the only tribal newspaper dedicated to serving the Southern California tribes ... We proudly use the Mission Indian Federation logo in our masthead as a historical symbol of tribal unity ... Read FULL LETTER at AmericanIndianReporter.com
WHO PRODUCED THIS AMERICAN INDIAN NEWSPAPER?


Ernie C. Salgado Jr.
Tribal: Luiseño
Reservation: Soboba Indian Reservation
EDITOR: The Indian Reporter www.theindianreporter.com
Founder: www.californiaindianeducation.org
Web Site: www.apapas.com
CONTACT
RESUME/BIOGRAPHY
PUBLISHED ARTICLES