Publishing Corner:
ROY COOK NEWS BLOG
THE INDIAN REPORTER
TRIBAL BLOGGERS
Indian Community:
TRIBAL COMMUNITY
PROFILES
OBITUARIES
Science & Wonder
ASTRONOMY PORTAL
KID'S CLUBHOUSE
Indian Heros:
VETERAN COMMUNITY
MEDALS OF HONOR
CODE TALKERS
FAMOUS CHIEFS
HISTORIC BATTLES
POEMS ESSAYS
SPORTS-ATHLETES
MISSION FEDERATION
FAMOUS INDIANS
California Indian Art:
MISSION BASKETS
RED CLAY POTTERY
ETHNOGRAPHIC ART
CAVE ART
MUSIC
CALIE Library:
FEDERAL Resources
HEALTH & MEDICAL
INDIAN BOOK LIST
HISTORICAL Documents
Academic Financial Aid:
SCHOLARSHIPS
GRANTS & FUNDING
Tribal Governments:
TRIBAL COURTS
SOVEREIGNTY
SOCIAL SERVICES
TRIBAL DIRECTORY
Indian Gaming:
INDIAN CASINO FORUM
PETE CALAC (1892-1960)
Rincon Band (Luiseño)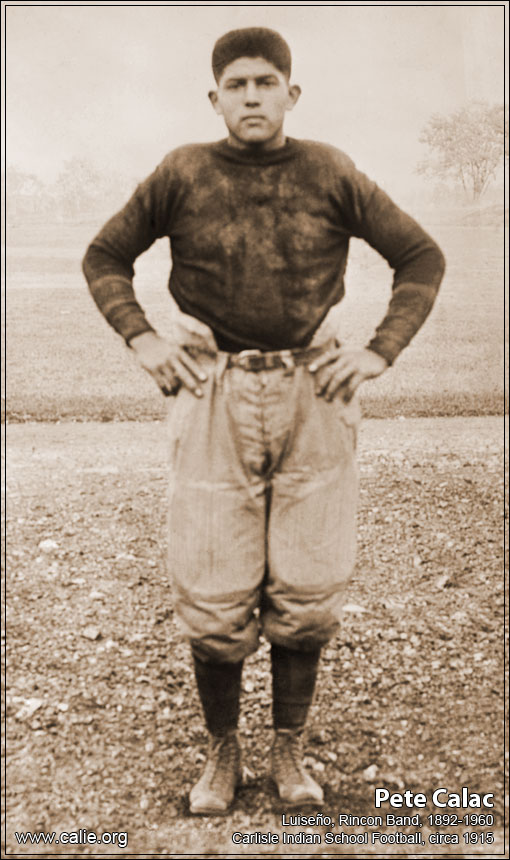 Pedro "Pete" Calac
Pedro "Pete" Calac (1892-1960) arrived at the famous Carlisle school for Native American Indians in November of 1908 — he was 15 years old at the time, and played football for the school.


Carlisle School for American Indians
CALIE is compiling a historical Web portal for research into what happened circa 1850-1930...
PROFESSIONAL SPORTS
After Carslile, Mr. Calac played professional football in the Ohio League and during the early years of the National Football League. During his successful 10-year professional sports career, the gifted athlete played for top American teams as the Canton Bulldogs, Cleveland Indians, Washington Senators, Oorang Indians and the Buffalo Bisons.
Pete played alongside such great American Indian players as Jim Thorpe (also a Carlisle football star).
AMERICAN WAR VETERAN
A WW I U.S. Army veteran, Mr. Calac served with the Wild West Division, 91st Division, in Belgium and France.
RESEARCH Pete Calac: WIKIPEDIA.ORG